Blogging can be used to help grow your brand and build an audience. You can offer value to your readers to entice them to return to your site and check out your products and services. Blogging helps you establish authority in your niche, build rapport with your customers, and create new growth opportunities.
By using a site builder for your blog posts, you can get a professional site up and running in a matter of hours. In this guide, we'll look at the advantages of using blog builders, the best content management systems you can choose, and how to decide on the best blog website builder for your needs.
The Benefits of Utilizing a Blogging Platform
Whether you're blogging as a hobby, opening a new business, or expanding content on an existing website, using an established blog platform is crucial.
When you create a blog using a website builder, you can choose from a set of pre-designed templates and just tweak the images and text. All the code for things like page navigation, social media integration, and search engine optimization (SEO) has been done for you. Additional tweaking can be done with SEO tools built into the website building software.
Blogging sites are rarely just blogs, too. You'll likely want other features, such as an Ecommerce shop, image gallery, or discussion board. The best website builders make it easy to add these alongside your blog.
Breaking Down Our Top Choices: Which Is Best For You?
The Top 10 Best Blogging Website Builders
1. Squarespace
Great-looking designs for an image-focused blog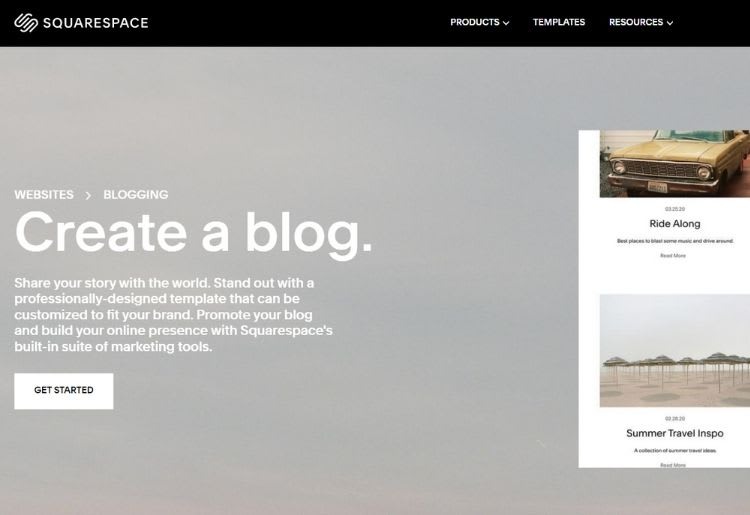 Best for: Photography blogs and image-heavy sites
Price: From $14/month
Free version: No
Squarespace stands out in the website builder market for its modern design templates. Its SEO tools are also excellent, and its learning curve isn't too steep.
Squarespace's blogging features are great, with blog categories, comments, really simple syndication (RSS) feeds, social sharing, and post scheduling. This makes Squarespace not only one of the best website builders around but also one of the best blogging platforms.
Why we chose Squarespace: With Squarespace, you'll get a huge range of professionally designed templates that are visually appealing and mobile-responsive. These templates are customizable, allowing dedicated bloggers to create a unique and visually stunning blog.
Pros:
Impressive professional designs

Great blog editing tools

Good integration with Ecommerce and marketing tools
Cons:
Lacks built-in site analytics

Limited customization

Squarespace Visit Site
2. Wix
The most flexible website editor around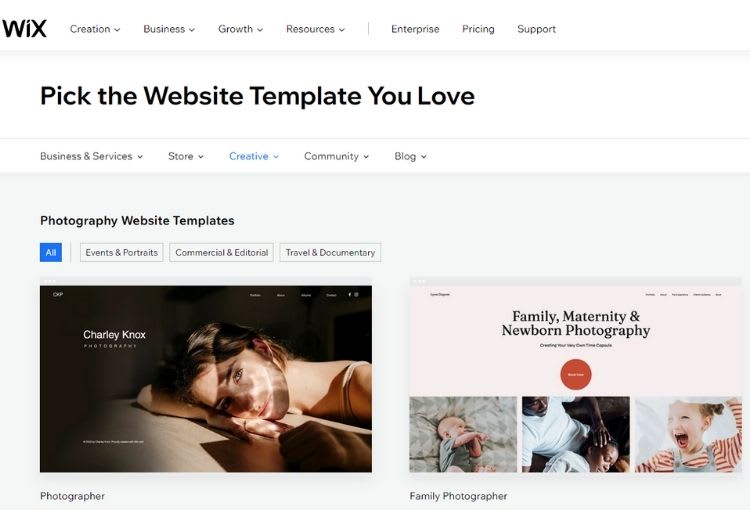 Best for: Users who like a lot of control over how their blog looks
Price: From $4.50/month
Free version: Yes
The most powerful website builder on our list, Wix has excellent blogging features and is one of the best design tools for creating a professional website. You can choose from nearly 1,000 templates, and the website editor is excellent.
Consider choosing Wix if you want greater control over how your blog will look, as you can drag and drop the elements of your website to exactly where you want them with the Wix editor. It might take a little longer to get to grips with Wix's user interface, but it can pay out in dividends with a professional, fast blog.
Why we chose Wix: Wix offers a wide selection of themes that come with an integrated and active blog component. Many of these themes are specifically designed with blogging in mind, allowing you to effortlessly focus on creating and publishing regular content for your blog.
Pros:
Massive template library

Sites work great on mobile

Excellent built-in analytics tool
Cons:
High-tier price plans are expensive

User interface has a steeper learning curve than most

Wix Visit Site
3. WordPress.com
The world's most popular blogging tool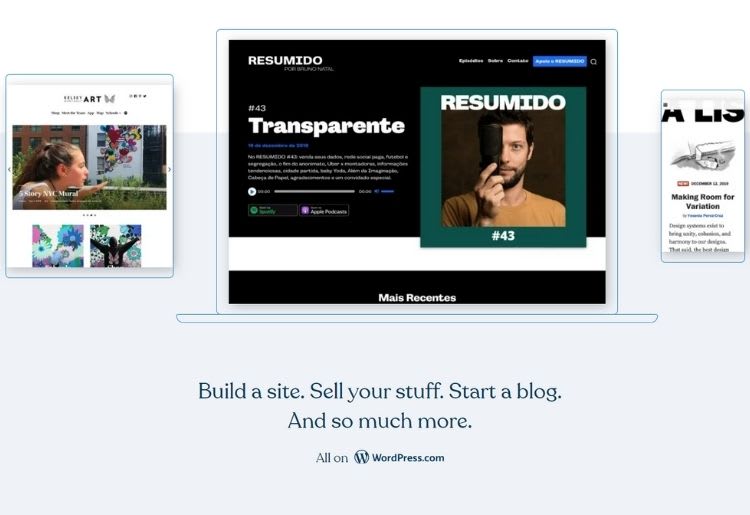 Best for: Traditional blog-focused websites
Price: From $15/month
Free version: Yes
The world's most-used blogging tool, WordPress.com is the most blog-centric website builder on this list, with a huge number of plugins and templates specifically focused on blogging.
Though WordPress.com has a drag-and-drop site design tool like Wix and Squarespace, as well as an Ecommerce solution called WooCommerce, it remains a more traditional blogging tool at heart. Its blog editor gives you all the power you need to create professional blog posts that rival the best online publications.
Why we chose WordPress: If you're serious about running your blog, you might want to work on it no matter where you are. WordPress.com's Jetpack mobile app is sleek and powerful, allowing for blogging from anywhere. You can draft endlessly, publish from any of your devices, and even schedule your posts to upload when you need them to with automatic social updates.
Pros:
Huge number of plugins and widgets

Good performance

Advanced blogging tools
Cons:
Limited customer support

Relatively steep learning curve

WordPress.com Visit Site
4. Weebly
A website builder with a good balance between features and simplicity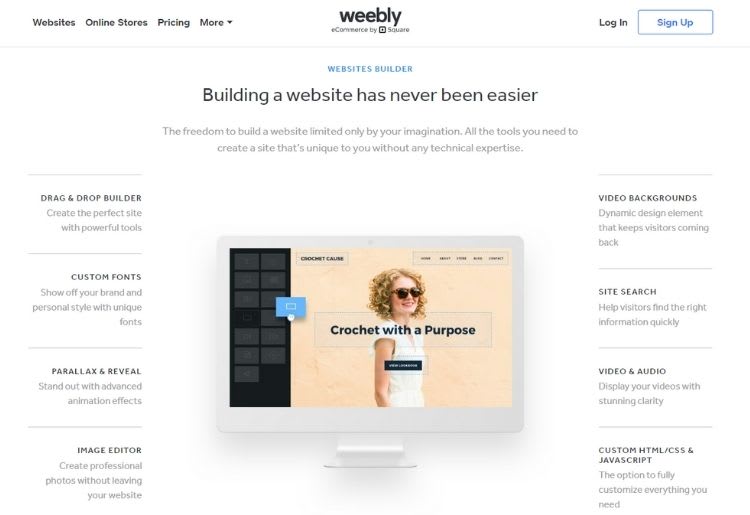 Best for: Personal bloggers who aren't concerned about customizability
Price: From $5/month
Free version: Yes
Weebly is a popular website builder for personal websites, thanks to its ad-supported free plan and overall good pricing. Its blogging features are great, with support for different user profiles, social bookmarking, built-in search, and viewer comments.
However, Weebly lacks site customizability. If you don't like the templates on offer, it's not easy to change them. But Weebly's excellent pricing may make up for this if you're happy with the default look of your site.
Why we chose Weebly: Weebly's free blogging templates provide aspiring bloggers with everything they need: a basic platform to unleash their creativity through the written word, with no obligations.
Pros:
Inexpensive pricing plans

Easy-to-use drag-and-drop editor

Strong blogging features such as built-in search
Cons:
Lacks customizability

Limited customer analytics

Weebly Visit Site
5. Zyro
Build a blog based on a simple grid layout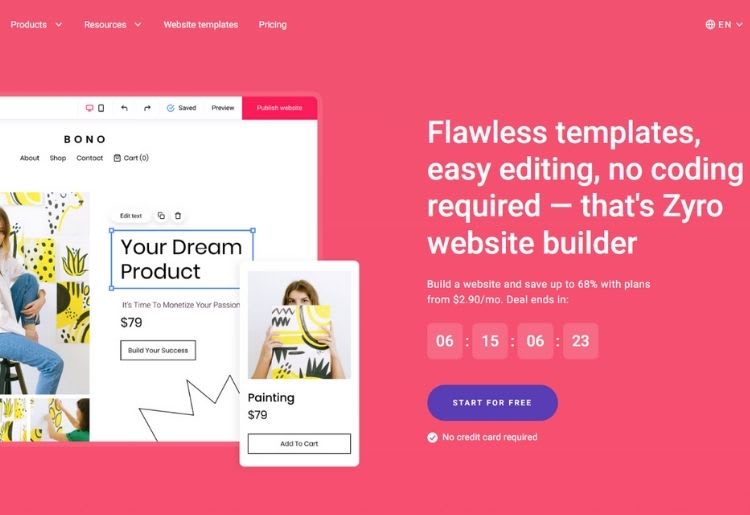 Best for: Simple, classic blogs
Price: From $8.99/month
Free version: No
A newer website builder, Zyro is one of the simplest options on the market and lacks some of the design customizations of products like Wix. But it has a solid ADI builder that will create a site for you based on your answers to a few questions, and the drag-and-drop editor is super easy to use.
For blogging, Zyro includes social sharing and SEO features. You can also have multiple writer profiles. But there's no blog search or the ability for visitors to leave comments, limiting Zyro's use if your blog will be a central part of your website.
Why we chose Zyro: Zyro's website builder primarily caters to users seeking simple portfolio or eCommerce site builders, with ongoing development of blogging capabilities. However, their blog offers valuable insights, inspiration, and business ideas, enabling you to enhance your blogging skills and create an outstanding website.
Pros:
Easy to use

Stylish templates

Impressive introductory pricing
Cons:
No blog search

No user commenting

Zyro Visit Site
6. Web.com
A simple website design tool with a fast, easy setup process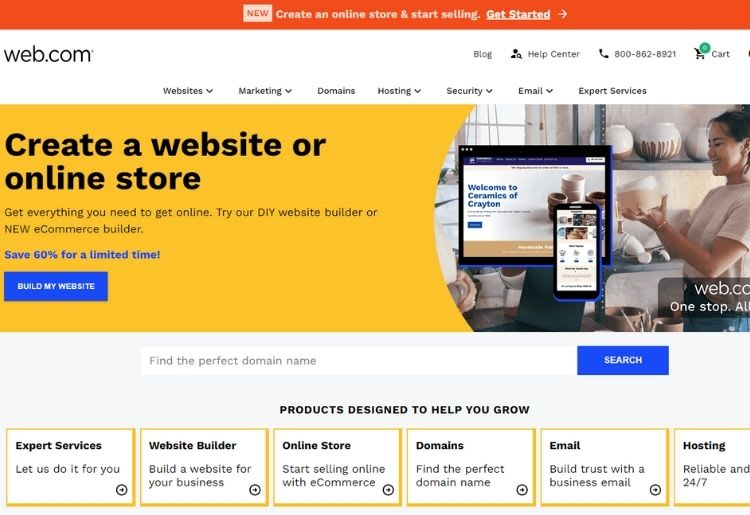 Best for: Bloggers who value customer support
Price: From $14.95/month
Free version: No
Web.com is a website builder that includes blogging features. It's simple to set up, and pricing is highly affordable. Looking at blogging features, Web.com lacks the power of industry giants like WordPress, but you may prefer the more stripped-back approach. We also like that Web.com has 24/7 technical support via phone, email, and live chat. Check it out if you want a website builder that doesn't leave you to fend for yourself.
Why we chose Web.com: Web.com may not be the top of the trade when it comes to its blogging capabilities, but it takes less than a few minutes to set up your website, allowing you to launch your right after choosing the right template.
Pros:
Cheap pricing

24/7 customer support

Easy setup
Cons:
Limited third-party app support

Blogging features are basic

Web.com Visit Site
7. SITE123
A website builder with basic templates
Best for: Simple blogs
Price: From $5.80/month
Free version: Yes
One of the simplest website builders around, SITE123 is great for those new to blogging. Best for small, personal blogs, SITE123 includes a commenting system, RSS feeds, blog post scheduling, and social media interaction.
There's some scope for extending the functionality of your website through the App Market, but SITE123 is squarely designed for beginners. The 24/7 free live chat support really helps here, too. If you're new to blogging and website design in general, building your site with SITE123 is one of the easiest ways to get started.
Why we chose SITE123: SITE123 enables you to create a multilingual blog, expanding your reach to a wider audience and enhancing the accessibility of your content.
Pros:
Easy, step-by-step publication process

Good blogging features such as social media interaction

24/7 live chat support
Cons:
Limited customization

Very basic designs

SITE123 Visit Site
8. Strikingly
An effective platform for small blogs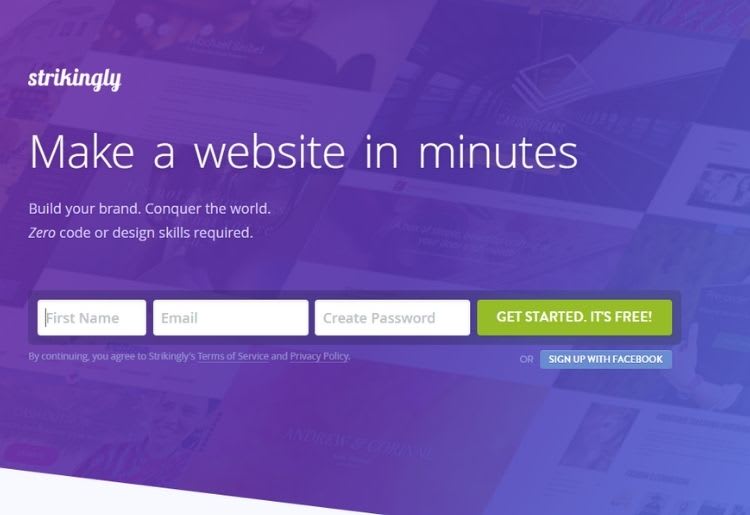 Best for: Personal, one-page sites
Price: From $12/month
Free version: Yes
Strikingly has a simple onboarding process that makes building a small website quite simple. For blogging, you can schedule your posts in advance and share them on social media. Visitors can leave comments on your posts, too.
Strikingly, however, has very few templates and limited customizability. The free plan limits you to just one page, and the paid plan pricing is relatively expensive compared to the other options above. We'd recommend Strikingly primarily for small personal sites.
Why we chose Strikingly: Strikingly handles hosting and provides robust security measures, ensuring that your blog remains accessible and protected from potential threats.
Pros:
Free-forever plan

Blog commenting

Easy to get started
Cons:
Free plan is very limited

Paid plans are expensive

Strikingly Visit Site
9. HostGator
A versatile drag-and-drop website builder with blogging features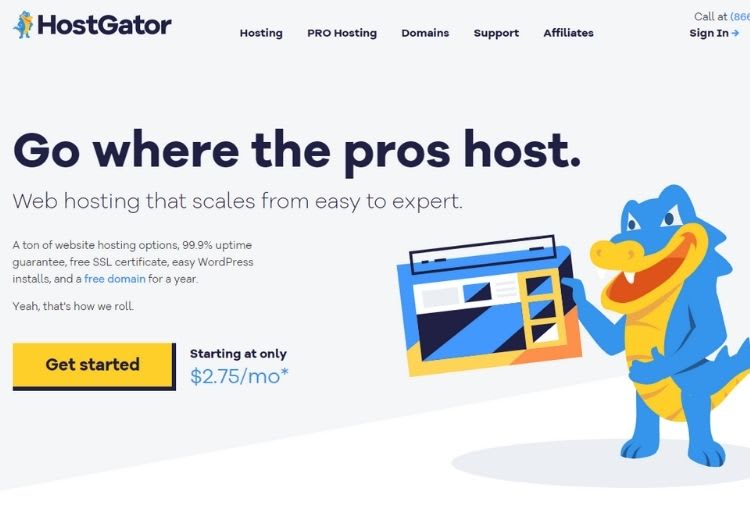 Best for: Bloggers that value performance
Price: From $4.99/month
Free version: No
HostGator Website Builder is a surprisingly versatile tool with well-designed templates, royalty-free stock photography, and Ecommerce support. Blogging features are impressive, too, with a highly intuitive blog post editor. The only thing we miss is the ability to schedule a blog post in advance.
Besides blogging tools, you get traffic reports, customer analytics, and a nifty website editor. And perhaps best of all, your blog will be hosted with HostGator, which is known for its excellent uptime and speeds.
Why we chose HostGator: HostGator provides round-the-clock customer support, ensuring that you receive timely assistance whenever you encounter any issues or have questions about your blog.
Pros:
Comprehensive website editing tools

Traffic reports and customer analytics

Powerful yet easy-to-use website editor
Cons:
Ecommerce reserved for high-tier plans

No free account

HostGator Visit Site
10. GoDaddy
Set up a blog in a matter of minutes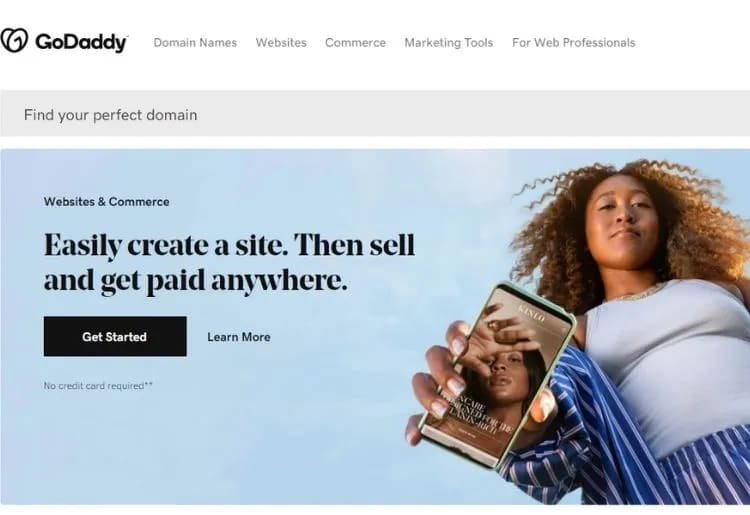 Best for: Quickly building a small blog
Price: From $6.99/month
Free version: Yes
GoDaddy shines for its Artificial Design Intelligence (ADI) builder, which essentially creates a website based on the answers you give to a questionnaire. If you need a website quickly and you're not fussed about getting every detail exactly as you envisioned, GoDaddy is a great choice.
Its simplicity does hinder you if you want a more complex blog, as it lacks things such as visitor analytics or even a search function. But it does offer SEO, social sharing, and user comments, all at a very low price.
Pros:
Simple to use
Includes the most important blogging features you need
Low price
Cons:
Limited customization
Lacks features useful for a growing blog

GoDaddy Visit Site
How to Choose the Best Blogging Platform in 2023
Choosing a blogging platform isn't easy, and with many different options available, it can be difficult to know if you're making the right decision. Below are several things you need to consider when selecting a blogging platform.
Features
Every blogging platform should enable you to create posts, embed pictures and multimedia, and configure the appearance and layout of your blog. You'll also want some way for visitors to comment, a moderation system so you can remove unwanted comments, and integration with third-party social media platforms so readers can spread your message.
The other features you need depend on your specific case. For example, if you run a blog for a high-profile fashion brand, you'll likely want advanced analytics so you can monitor web traffic and see how customers are arriving on the blog. But if you just keep a personal blog for fun, you may not care how many people visit your site.
Think about your long-term goals when choosing the features your blogging platform requires. Something that isn't important to you today, such as an email marketing tool, could be indispensable a year down the line.
Outstanding Templates
One major advantage of blogging platforms is the availability of pre-designed templates for your website. Website builders like Wix and WordPress offer the most templates to choose from, so you're more likely to find one in your niche.
But depending on your application, you may prefer design-focused builders like Squarespace that offer fewer templates that are arguably better quality.
Some website builders charge extra for premium templates, so factor that into your buying decision.
Price
The price of any service is always important to a business. Though some blogging platforms seem impressively inexpensive at first, it pays to check how much you'll pay for more advanced features.
If you might want an Ecommerce store in the future, for instance, check how much this will cost you on an ongoing basis. Many blogging platforms require you to subscribe to their most expensive plans to unlock Ecommerce and advanced marketing tools, so weigh them up carefully.
User-Friendliness
A significant reason why you'll want to use a blogging platform is that it will be easy for you to create a website, usually without touching a line of code at all. Take advantage of free trials to try out all the different blogging platforms you're considering, as you'll undoubtedly prefer the user interface of one over the other.
For example, Wix has a more complex user interface than SITE123 but offers more flexibility over website design choices. Whether you need this added versatility or find all the options too complicated comes down to personal preference.
Profitability Potential
Most blogs are built to help drive sales of products or services. If this is indeed your goal, consider how well the website builder you choose integrates with features like an Ecommerce store, payment gateways like PayPal, and site traffic monitoring tools like Google Analytics.
Once you've built authority through your blogs, people will be more likely to buy from you. A great blogging platform should seamlessly segway between the value you offer the reader through your content and the products and services you offer.
SEO and Audience Engagement Tools
The greatest blog in the world won't get any views if it's not easy to find. SEO tools in a website builder help you tweak your pages so they're more likely to appear higher in search engine results for important search terms.
Other audience-building tools you should consider include email marketing, social media marketing, and pay-per-click (PPC) ads. The best website builders for blogs include tools that support your marketing efforts via newsletters, social media, and online advertising, so you can build an audience quickly and efficiently.
Website Speed and Technical Support
The speed at which your blog loads greatly affects how your visitors will perceive your content. Fast-loading websites make for a much better user experience, so choose a blogging platform that's optimized to load quickly on desktop computers as well as mobile devices.
The cheapest blogging platforms leave you to fend for yourself when it comes to finding and fixing problems with your blog. If you're new to blogging, it's better to choose a website-building platform with a technical support team you can call on for advice, preferably over the phone or via live chat.
Are Free Blogging Platforms Worth the Investment?
Most website builders and blogging platforms include a free tier you can use to get started. It's an excellent way to check out the features and user interface of each product.
The free plans of blogging platforms usually have some tight limitations, though. Often, you can't use your own domain name, ads are displayed on your pages, Ecommerce features are limited, and you get very little storage space. As soon as you've settled on the right blogging platform for your needs, it makes sense to upgrade to a paid plan.