A crucial element to make your bakery stand out effectively is establishing a strong online presence with a well-designed website at its core. Fortunately, you don't need any design or technical skills to create one. Website builders like Wix make it easy to get online.
In this post, you'll find ten beautifully designed Wix templates that can help enhance your bakery's digital visibility.
» Launching your bakery online with Wix? Check out these useful plugins.
1. Bread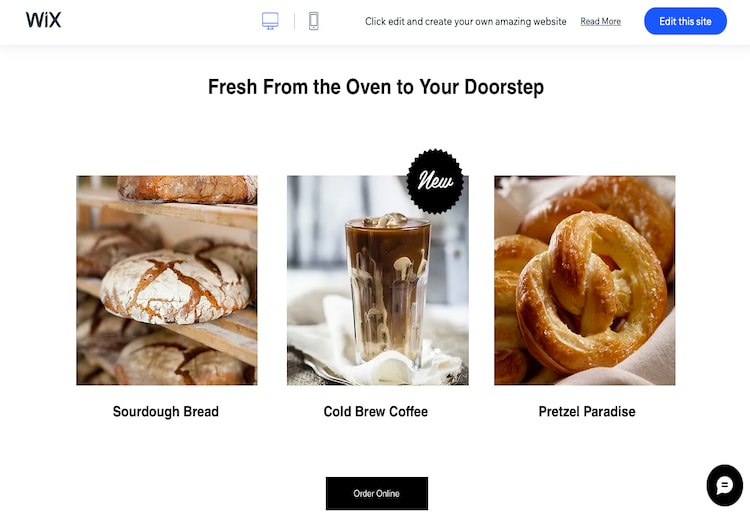 The first template on the list is aptly named Bread—and it's an excellent example of Wix's website design for bakeries. It has a classic black-and-white theme and supports dynamic scrolling. This template is ideal for businesses that are ready to launch an online store.
We chose this template for its simplicity and effectiveness. It enables you to create a visually impressive bakery presentation while allowing your customers to access your address, follow you on social media, and order online.
Why we chose the Bread template: It's best for those who want a minimalistic site with many images.
2. BRUN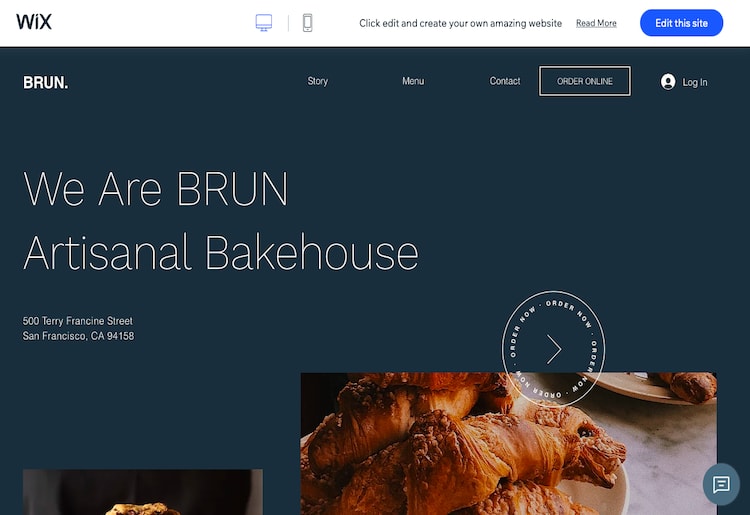 BRUN is an image-heavy template that features dynamic scrolling. This makes it ideal for bakeries looking to showcase their high-quality product photos.
Its colors and image placement create an iconic look. You can upload high-resolution photos to show signature products and customize the colors to match your brand and highlight the unique qualities of your business.
Why we chose the Brun template: It's the best choice for bakery sites with high-quality photos
» Follow these steps to optimize your site's images.
3. La Cantina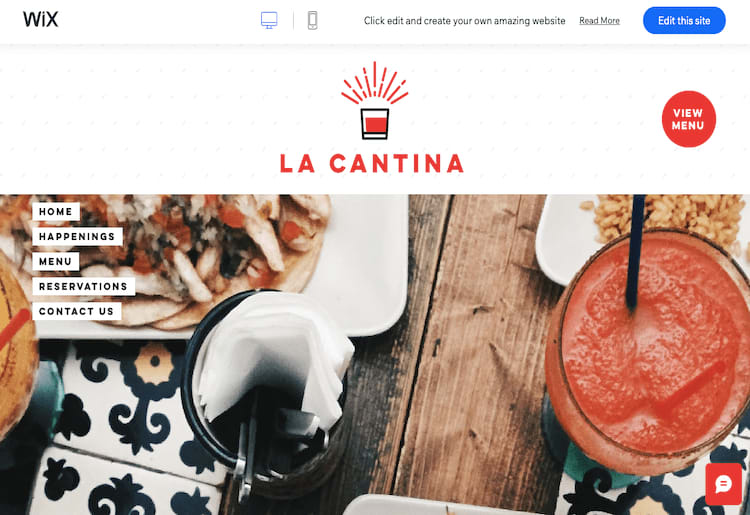 La Cantina is a template best for bars, but bakeries can easily adapt it to suit their business. Its design, unique placement of the navigation menu, and playful structure make it very distinctive, so it's ideal for entrepreneurs looking to make a bold statement.
Its originality is exactly what made us add it to this list. You can experiment with color combinations and backgrounds to create a website that offers a unique and fresh perspective.
Why we chose the La Cantina template: This template is most suitable for those looking to attract a younger audience with modern layouts.
4. 47th Cafe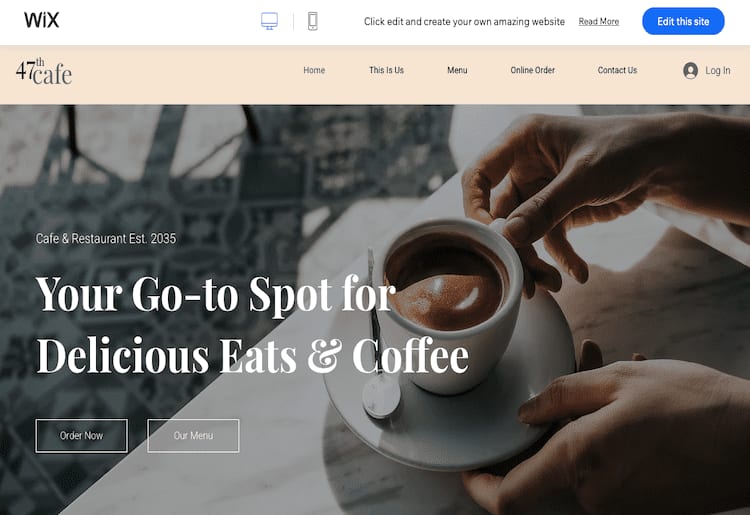 47th Cafe has a warm and welcoming design, which, combined with its intuitive navigation, makes for a very pleasant user experience. It's ideal for bakery owners aiming for a more timeless look.
We picked this template for its subtle charm and the way it beautifully combines serif and sans-serif fonts. You can keep the earthy colors but customize the button size and placement to your liking—and put the address somewhere higher.
Why we chose the 47th Cafe template: The warm and earthy colors of the template are perfect for bakeries looking to present a classic, Parisian-style aesthetic.
5. CRSN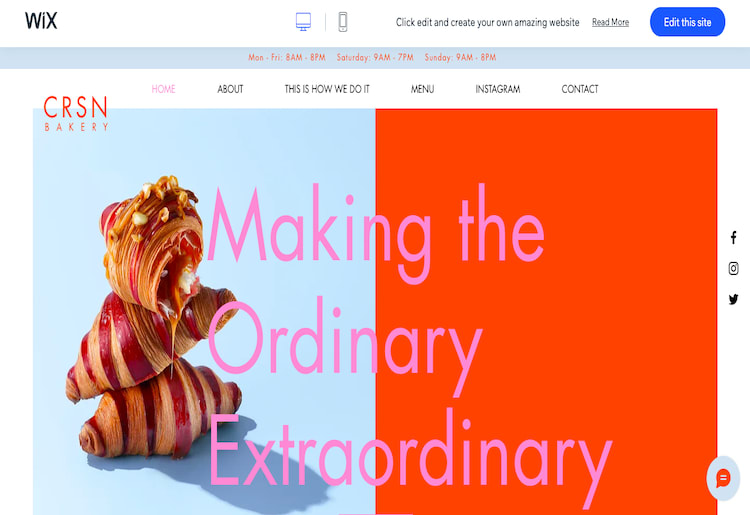 CRSN is a show-stopper of a template. Its vibrant hues catch the visitor's eye and make it visually striking, so it's perfect for bakery owners who want to project a bold and cheeky brand image.
This template's dynamic scrolling feature makes it stand out. You can keep bright colors and use many professional product photos to complement the design.
Why we chose the CRSN template: Bakeries with bold and cheeky aesthetics can really benefit from this template, especially with all the millennial-friendly color and font options.
6. Chocolat de Rêves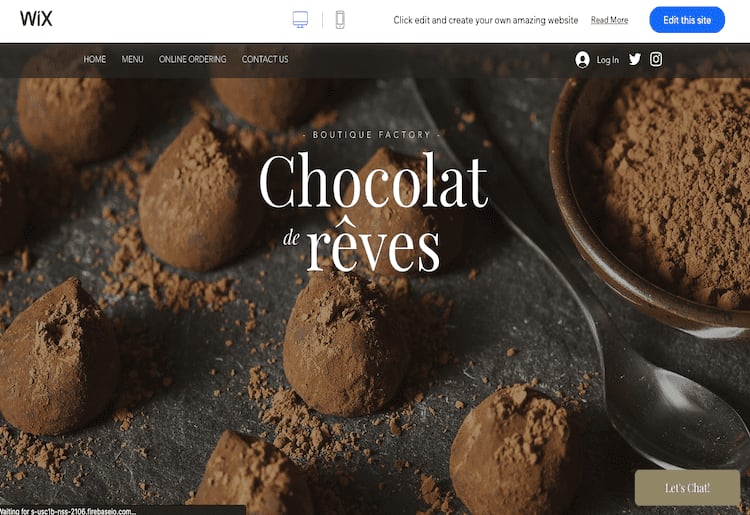 Chocolat de Rêves would be ideal for high-end bakeries. The design is minimalist, refined, and allows your products to take center stage.
We like how elegant this theme feels. To make the most of it, you can use high-quality photos, keep the font's grey color, and modify the beige color of the chat button.
Why we chose the Chocolat de Rêves template: This template is designed specifically for luxury bakeries or chocolateries looking for a refined look.
7. Barista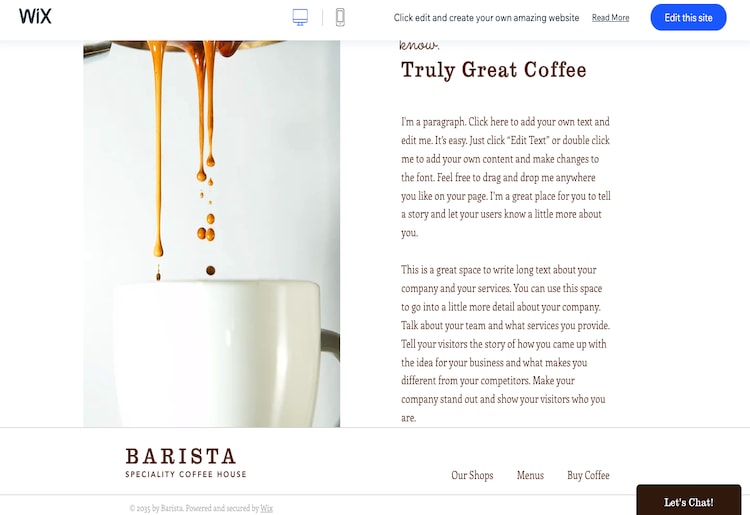 Barista is a sleek template for coffee shops, but it's also well-suited for bakeries. Its overall structure is clean, making it ideal for business owners who want to build a minimalistic, uncomplicated website.
Barista stands out for its simplicity. Its sticky menu is placed in an unconventional location (at the bottom of the screen), which adds a unique touch. You can use a different shade of brown as the accent color.
Why we chose the Barista template: This template is a suitable option for bakeries that also function as cafes, putting an emphasis on selling coffee and pastries together.
» Want to see your small business thrive? Discover 10 benefits of having a website.
8. Sugar & Spice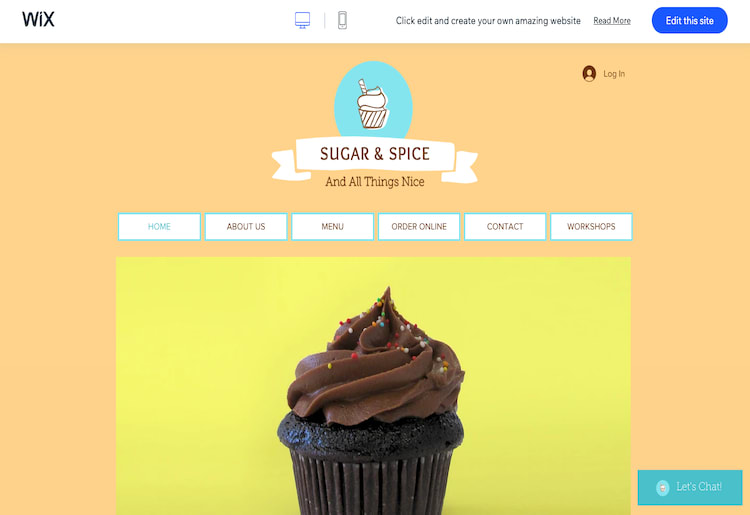 Sugar & Spice is another modern and simple theme that stands out. It's ideal for pastry shops and bakeries alike. Its bold color palette makes it unique and easy to remember.
We love how effortless it is to find your way around this theme. You can use Coolors' palette generator to create bold and unusual color combinations.
Why we chose the Sugar & Spice template: This template is great for bakeries with cheerful aesthetics, being especially suitable for children's cakes and pastries.
9. The Café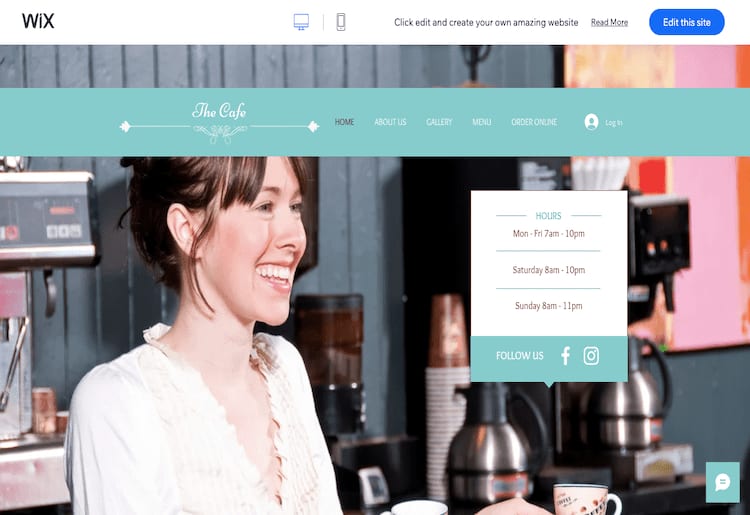 The Café template, with its bold colors, is ideal if you want to get online quickly and keep your website as simple as possible.
One of the main advantages of this template is its efficient way of displaying the business's opening hours. You can add your address to replace the social media icons.
Why we chose the Café template: Ultimate simplicity in design, allowing for creating an easy-to-navigate bakery landing page.
10. Bar 121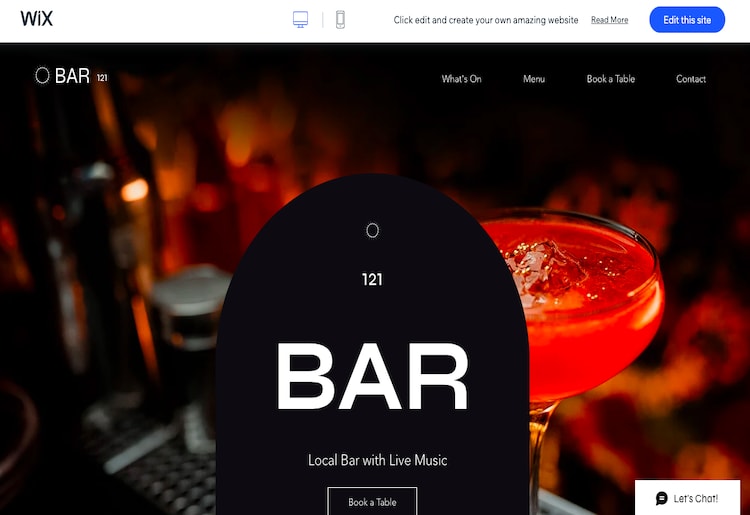 Bar 121 is the only dark theme on this list and features a few beautiful fonts. With some tweaks, it can be ideal for a bakery that works around the clock, or shifts to an event space.
This theme feels sleek and modern. You can even shorten the home page and pull the address and opening hours higher up.
Why we chose the Bar 121 template: If you're not into cutesy themes, this template is right for more elevated palettes.
Get Your Bakery Online to Attract New Customers
Creating a beautiful website for your business is one of the best ways to attract new customers. Building a bakery website using Wix can be a cost-effective and efficient way to create a professional online presence for your bakery.
However, if you're looking to explore other website builders, both Weebly and Squarespace offer excellent options for showcasing your bakery.
» Interested in more design options? Take a look at some of the best Wix alternatives.