In a Nutshell
Thrive describes itself as a results-driven digital marketing agency. And when it comes to designing websites, the team is certainly not afraid to roll up its sleeves. The list of sites it can design include ADA compliant sites as well as Ecommerce builds. The team also offers website hosting so everything needed to get online can be procured under one roof.
pros
Web hosting offered too
ADA compliant site design
Content writing add-on
cons
Custom builds can take up to 8 weeks or more

Thrive Agency Visit Site
Thrive Agency at a Glance
Template sites from $5,000
Full web design for general and Ecommerce builds
2 rounds of revisions as standard
Thrive Agency Web Design Examples
Thrive has a charming portfolio of client designs available for users to peruse on its website. On its site, users can sample a variety of different designs from categories including nutrition, finance, healthcare, education, technology, and entertainment.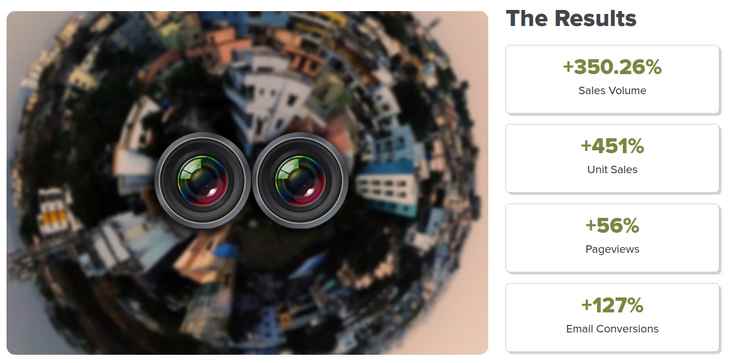 Additionally, the Thrive team has put together a detailed description of the process involved in each project as well as the results achieved. For a recent build, the company has displayed the achieved email conversion rate, increase in pageviews that was achieved, and the jump in email conversion rates. Prospective clients should look through some of the projects being spotlighted in order to get a feel for what the Thrive team could do for them.
What Services and Features Does Thrive Offer
Thrive can design both regular websites and those with Ecommerce capabilities. The agency is listed on Clutch, which is a popular review aggregator and listing site for agencies, and has achieved favorable ratings for a variety of services.
Within its web design product vertical, Thrive offers:
Custom Website Design
Thrive can both design fully customized builds and start from a template. For templates, users can add their own content around a basic skeleton built using HTML and CSS and change features such as color, font style, and images. The agency has experience building sites on top of both Wordpress and Shopify, but has particular expertise designing Wordpress sites. To date, the team has designed more than 350 websites for clients.
Ecommerce Site Design
Additionally, the team can design websites for companies that need to sell online. These sites can be equipped with complete online selling abilities including merchandising, payment gateway integration, and of course a cart and checkout functionality. The company specializes in using Shopify which is a very easy to maintain marketplace for creating performant and design-friendly ecommerce sites.
ADA Compliance
The American Disabilities Act (ADA) sets down a voluntary compliance standard for websites so that they can be accessed by individuals who are blind. By building an ADA compliant website users can be sure that they are creating online content that is accessible to all. Thrive uses an advanced AI-powered tool to make sure sites are built with accessibility in mind.
Additionally, for users that want to go the extra mile and enrich their website with further professional input, Thrive also offers the following add-on services:
Video production: Thrive works with a Dallas-based video production studio in order to offer customers a high quality video content add-on. For users that want to spruce up their pages with a rich multimedia experience, this can give sites an impressive edge. The range of projects available to view on Thrive's show reel include a promotional slot for a dusting tool and an explainer animation.
Website Hosting
Getting a beautiful site on the internet is only half the battle. That site has to be hosted somewhere in order for it to reach visitors. The good news is that you won't have to worry about understanding the difference between VPS and shared hosting. Thrive offers managed Wordpress hosting with maximized uptime and quick page load times. By signing up for hosting and website design, users can really get everything they need to build a site taken care of under one welcoming roof.
Prices, Plans and Value for Money
Thrive doesn't list prices on its website and users will have to get in touch with the team in order to get a definitive quote. However, some general ballparks are as follows:
Template-based sites take 4 to 6 weeks to complete on average, whereas Ecommerce sites can be completed in 10 to 14 weeks. Clients receive 2 full rounds of revisions for the quoted rates.
Ease of Use
Working with Thrive is an easy process for clients. The team can take creative briefs through email or any other means convenient to the client. After speccing out the desired design, during an in-depth collaborative process, all customers are entitled to 2 (full) rounds of revisions to make sure that the site they end up with meets their expectations.
What People Say About Thrive
"These guys are incredible. They've helped us to grow our business and now the biggest problem we seem to come across is having too much business"
Whitney Wells Lewis, Practice Manager, PARC Urology
"Working with the Thrive team has been a most pleasant experience! Their dedication and passion for what they do is exemplified by their unrivaled customer support and attentiveness to the specific needs of our business."
Chad Montgomery, CEO, Accurate Leak and Line
"Thrive are honest, straightforward, they take care of ALL your needs quickly, they are reliable, you can count on them and most of all, they do everything they say they will do"
Marci Wiersma, Broker, Roatan Real Estate
FAQs
Can Thrive write the content for my site?
Yes, Thrive also offers a content writing service. The team does on-site copywriting as well as blogging. All content is SEO optimized.
How does Thrive receive briefs?
The company takes briefs through clients in an in-depth and collaborative process.
Can Thrive build an Ecommerce site for my business?
Yes, Thrive can build both regular websites and those with Ecommerce capabilities.

Thrive Agency Visit Site
Bottom Line
Thrive is a US-based agency that has a reputation for customer attentiveness and for building excellent websites. To date, the team has put out more than 300 sites and offers both template-based and fully customized designs. Clients get 2 full rounds of revisions and can browse a selection of previous projects online.