In a Nutshell
Mainstreethost is a digital marketing agency that offers web design services including Wordpress development. The agency has 2 locations in Las Vegas and Buffalo. The agency specializes in developing Wordpress websites and can develop Wordpress sites with WooCommerce for website owners that require Ecommerce capabilities. The agency provides most things needed for web design … under one roof.
pros
Wordpress experts
Can build Ecommerce sites
In-house PPC and SEO expertise too
cons
US-based offices only
No self service features

Mainstreethost Visit Site
Mainstreethost at a Glance
Price: Upon quotation
Service type: Flat price for website design
Turnaround time: Design can be completed in a few weeks
Customization level: Agency can design according to full consumer briefs
Mobile responsive sites: Yes
Mainstreethost Web Design Examples
Mainstreethost has designed some truly eye catching websites. The agency's portfolio includes 800Maple.com (fine dining bar), CSSImpact.com, and JustPizzaUSA.com. The agency has designed attractive and responsive websites for clients in a number of different verticals.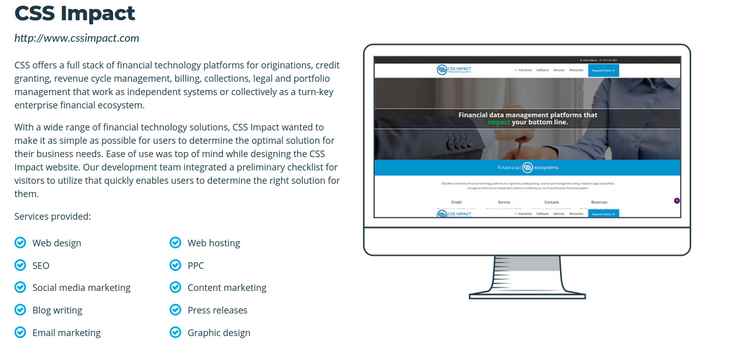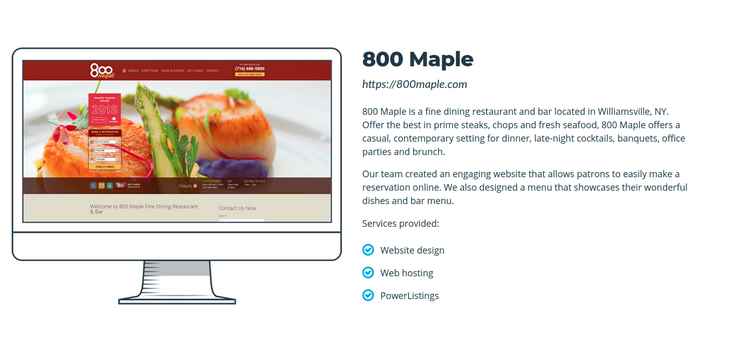 What Services and Features Does Mainstreethost Offer
Mainstreethost's service offering includes:
Website design: Mainstreethost's dedicated design team will work with clients to turn their briefs and visions into reality. The team has long standing experience designing eye-catching websites for a variety of different product niches. Clients supply Mainstreethostt with a creative brief and the agency's team of Wordpress and web design experts get to work on turning the dream into a live website. Additionally, every single site that the team works on utilizes responsive web design so that it looks as good on mobile as it does from a desktop.
Website hosting: After finishing the brief, Mainstreethost just doesn't hand you over a filesystem and database for you to host elsewhere. The agency actually provides a full-fledged hosting service. Mainstreethost offers 99% uptime and takes daily backups so you can rest assured that your data is safe. It offers shared hosting for smaller sites and hosting on dedicated servers for site owners that need to be scale-ready from the outset.
Ecommerce website design: These days, many companies need to do more than just talk about what they do online. They need to …. well, sell! Thankfully, Mainstreethost also has experience with designing Ecommerce sites with full online selling capabilities. The team has longstanding experience using the Woo Commerce plugin which sits on top of Wordpress and transforms what was once a blog into something a lot more … sales-like. WooCommerce supports inventory display and management, can integrate with inventory management systems, and also works with payment gateways to make sure that you get paid immediately.
Graphics design: Nothing can spoil a website more than poor graphics .. or turn a professional impression into a sour one. Mainstreethost has an in-house graphics design team to make sure that all the visual elements that go into making a website are as attractive as the sites they build.
UX insights: Poor navigation and usability can make even the most beautiful websites into low-converting flops. Mainstreethost offers a UX testing service. Using heatmap analytics, the agency can show customers captured screen recordings, the agency allows site owners to see exactly how consumers are experiencing the site.
Prices, Plans and Value for Money
Mainstreethost quotes on spec. Users can either opt to just let the team design their sites or subscribe to their wider array of product offerings. With Mainstreethost, clients are in control of every aspect of their spend.
Costs will vary depending upon:
What kind of hosting they choose for their sites. Dedicated hosting, in which clients are hosted on separate servers, costs more than shared.
The number of pages that need to be included in the finished site.
The nature of the site. Is Ecommerce needed or just a general website?
Ease of Use
Working with an agency like Mainstreethost to design your site is quick and easy. Clients work directly with the agency's design team in order to communicate their ideas. Whether clients wish to send over wireframes or discuss their ideas 1-on-1, Mainstreethost can work with client's requirements.

Mainstreethost Visit Site
FAQs
Does Mainstreethost offer hosting?
Yes, Mainstreethost handles both web design and hosting. Users can choose between shared and dedicated hosting with the platform.
Does Mainstreethost have any industry certifications?
The agency says that it is a certified Google Premier Partner as well as a Hubspot Certified Partner.
What else does Mainstreethost do besides web design?
Mainstreethost also offers SEO, PPC, and digital marketing services.
Bottom Line
Mainstreethost is the one stop shop for businesses that want to get a pixel perfect site on the internet. The team has deep experience building on the Wordpress CMS and can equip sites with Ecommerce capabilities. Customers that want to take things further can leverage the team's SEO and PPC experience to drive traction online