RingCentral is one of the top VoIP providers available today. Still, there's more to RingCentral VoIP plans than just phone and video chat. RingCentral also comes with an in-depth team messaging platform that your business can use to foster collaboration and enhance productivity. In this guide, we'll highlight 10 of the best RingCentral messaging features you should try today.
1. Direct Messaging
Having a dedicated messaging platform for your business is key to effective communication. One study has even found that IMs help employees improve their relationships with their coworkers.
That's why direct messaging is at the heart of RingCentral's team messaging platform. With direct messaging, you can send messages to a single person or as many coworkers as you want.
With RingCentral, you can create custom group text message boards in a few clicks, or set up team messaging with people you message frequently. You can add or remove collaborators to or from a team at any time and give each team a custom name to stay organized. If you want to make sure that someone in a team sees a message, simply tag them by name using the @ symbol.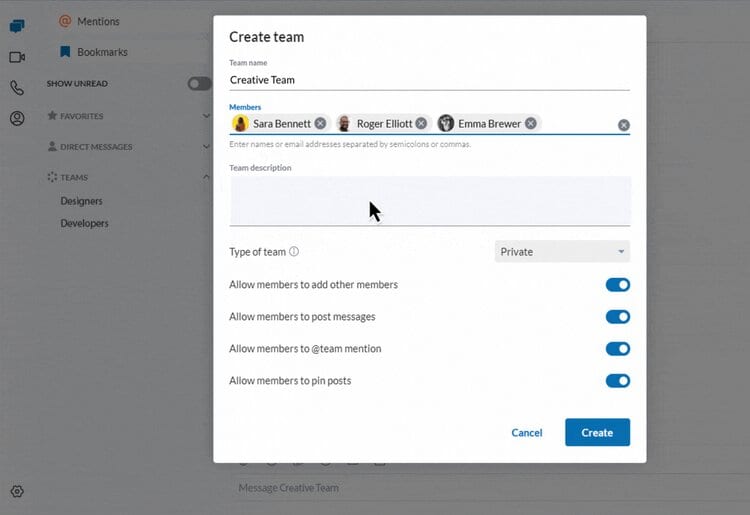 Another nice thing about the team messaging feature in RingCentral is that you control permissions for the chat space. It's up to you to decide whether the team should be public or private, whether other members are allowed to add members, or whether other members can pin posts to the top of the chat.
You can access team messaging and customize permission using RingCentral's desktop and mobile apps.
2. Conversation Folders
At medium and large-sized companies that encourage collaboration, it's easy for the number of teams in your RingCentral messaging dashboard to grow quickly. That's why RingCentral makes it simple to organize your teams and one-to-one chats into folders.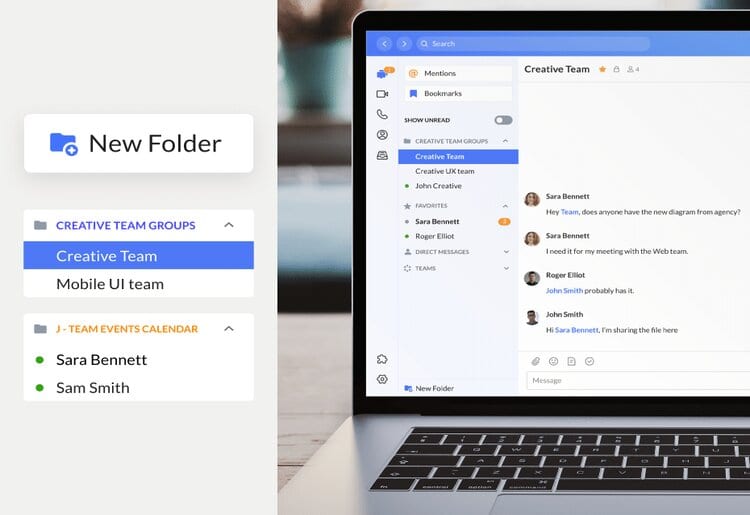 You can create an unlimited number of conversation folders and drop as many different chats into each folder as you need. RingCentral allows you to give each number a custom name, and you can even color-code them—a handy feature for anyone with department-specific team messages or chats with varying levels of prioritization. You can also nest folders within folders simply by dragging and dropping them around your navigation menu.
3. Pins and Bookmarks
RingCentral also helps you organize your messages with pins and bookmarks. When you pin a message, it automatically appears at the top of a conversation at all times. This feature is particularly helpful for department-wide or company-wide team messages, since pins enable you to ensure that messaging guidelines and important announcements are visible to everyone in the chat.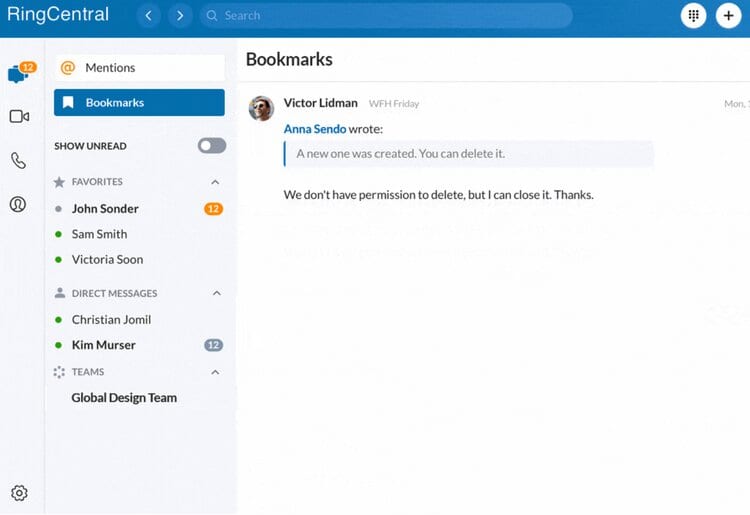 Whereas pins are designed to communicate information to everyone in a team, bookmarks offer another way to keep your messages organized. If you receive a message with important information that you need to return to over and over again, you can bookmark it to put it in a special folder. Bookmarks are also handy for saving text messages that you want to return to later, but that you're not yet ready to add to your to-do list.
4. Conversation Search
RingCentral offers a powerful search function for sorting through your text messages. Just type in any keyword or phrase, and RingCentral's search function will display any messages in your account that contain a match. RingCentral even highlights the match, making it easy to scan through your search results quickly.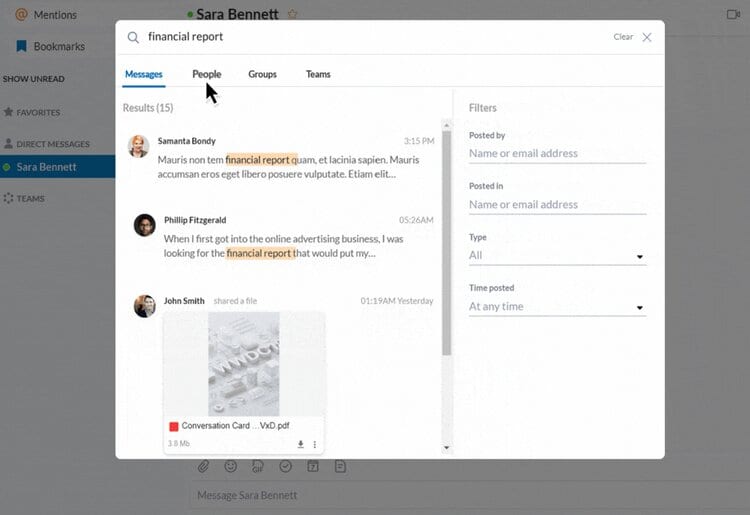 Helpfully, you can also filter your search by person or team, time or date, and whether messages contain images or shared files. Even if you only vaguely remember the details of the message you're looking for, these filters make it easy to narrow down your search results quickly.
5. Message Forwarding and Quoting
Another useful messaging feature within RingCentral is message forwarding. If someone sends you a message in either a one-to-one chat or a team conversation, you can share it with another coworker or team in just a few clicks. That way, you have the ability to pass along information without having to paraphrase and potentially leave out important context.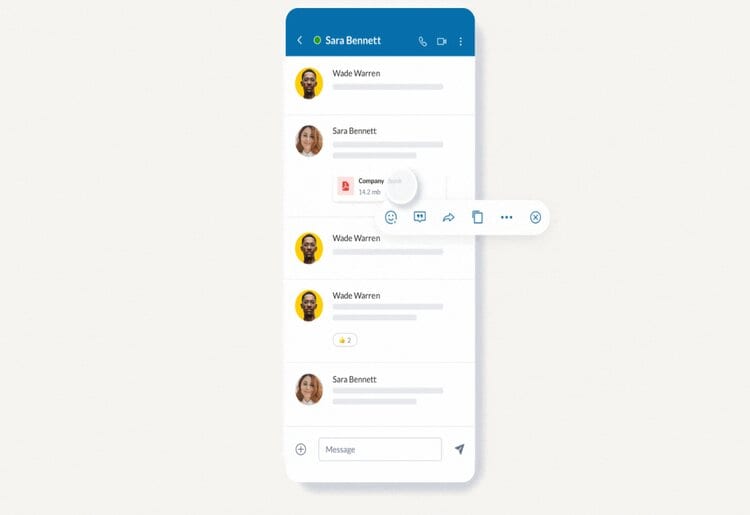 You can also quote messages in RingCentral. When you quote a message, you can send a copy of an earlier message and add your own thoughts. This is especially helpful if you're forwarding a message to another team since you can mention team members who need to see the message in your quote.
6. Slack and Microsoft Teams Integrations
RingCentral offers cloud-based video conferencing, phone, and messaging services, eliminating the need for software platforms like Slack and Microsoft Teams. However, if your business is already using Slack or Microsoft Teams, you'll find integrations in RingCentral that can unify your business messaging.
With RingCentral's Slack integration, you can move seamlessly between messaging and video. The integration enables you to launch RingCentral video and phone meetings right from Slack.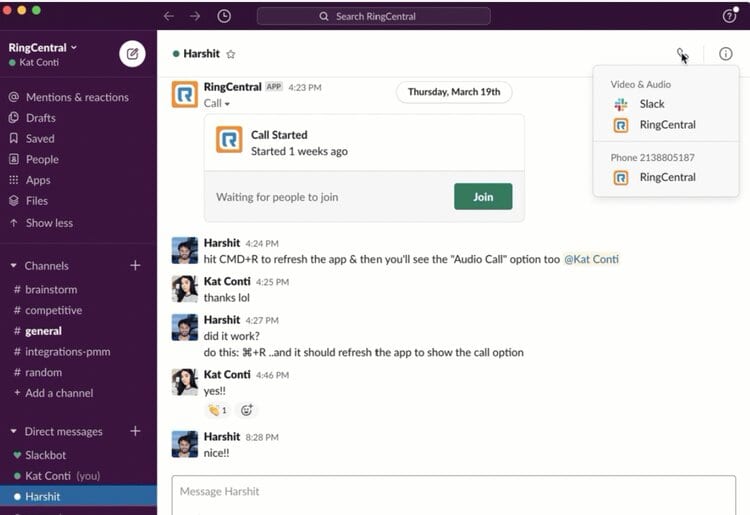 The RingCentral Microsoft Teams integration offers even more options. You can launch RingCentral calls and video meetings from within Teams, merge your contacts across the 2 platforms, and even view transcribed voicemail messages in your Teams inbox.
It's worth noting that RingCentral competitors like Dialpad also offer Slack integrations, but don't have built-in messaging systems on their own.
7. RingCentral Mobile App
VoIP apps make it easy to make and receive calls on the go and to access messaging. The RingCentral app for iOS and Android offers all the same messaging features you can get using RingCentral's desktop software. It offers a seamless way to send messages on the go, launch phone and video meetings, create and manage teams, and much more. A streamlined menu gives you access to your bookmarks and all of your conversation folders.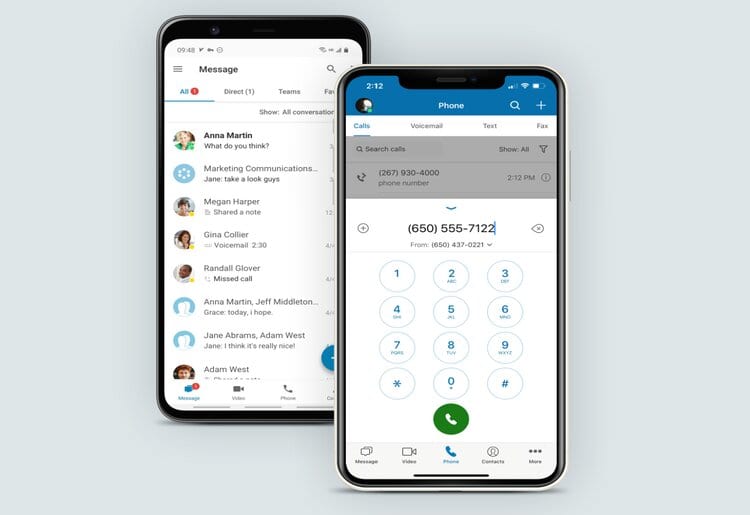 In addition, you can share files straight from your smartphone to any of your conversations in RingCentral when using the app. It offers a simple, quick way to send mobile photos and videos to your colleagues.
8. File Sharing
Sending files from your desktop is just as easy as sharing them with the mobile app. RingCentral messaging enables you to upload files from your computer, and there are no size limits to worry about.
In addition, you can share files directly from cloud storage services like Box, Dropbox, OneDrive, Sharepoint, and Google Drive. You can also share files from these cloud services using the RingCentral app.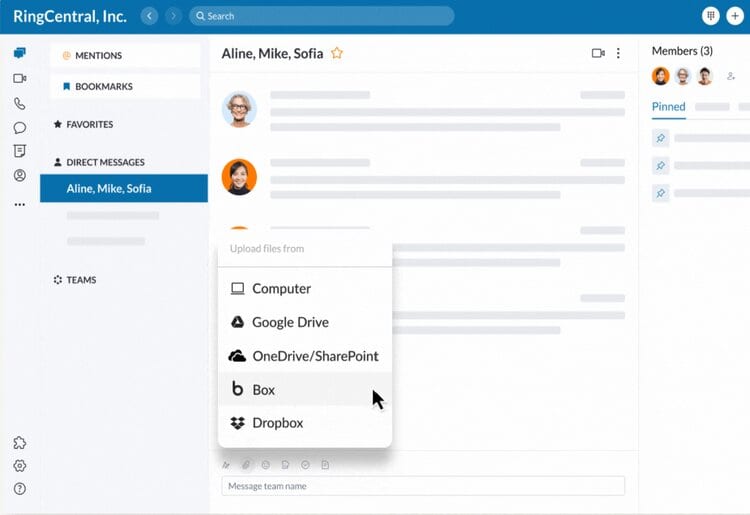 RingCentral also enables you to share recordings of video meetings with just a few clicks. Video meeting recordings are stored in your RingCentral cloud, so there's no upload required when sending recordings.
9. Customization Options
RingCentral's messaging platform is designed to be customizable, so you can tailor it to your needs. To start, you can choose any of 5 different themes for the RingCentral desktop app. A dark theme reduces eye strain, while a high-contrast theme makes text messages easier to read.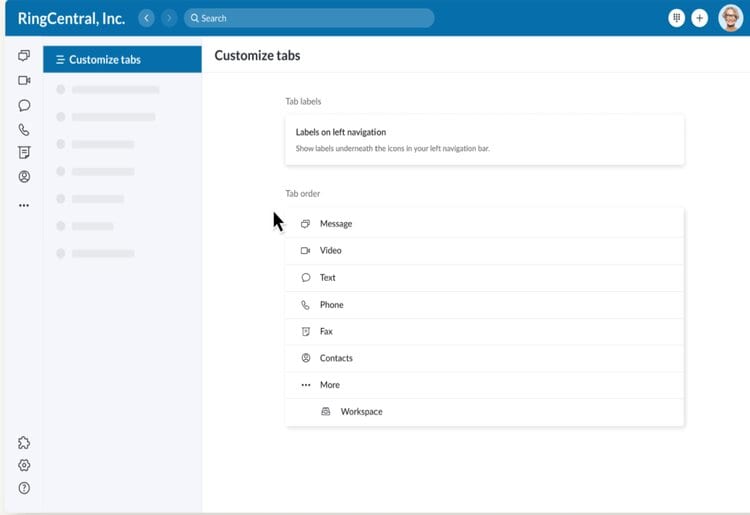 In addition, the left-hand navigation menu within the messaging center can be customized. You can choose which tabs are visible in your menu as well as what order the tabs appear in. Available tabs include shortcuts for your phone, messages dashboard, video meetings, text messages, contact book, faxes, and workspaces.
10. Create and Share Tasks
RingCentral uses tasks to help you stay on top of your to-do list and ensure that you never miss an important meeting. You can organize your tasks into lists as well as view them on your calendar.
While you can create tasks from scratch in RingCentral, you can also create tasks directly from messages. Just click on a message to create a new task, and the task description will be automatically populated with a copy of the message.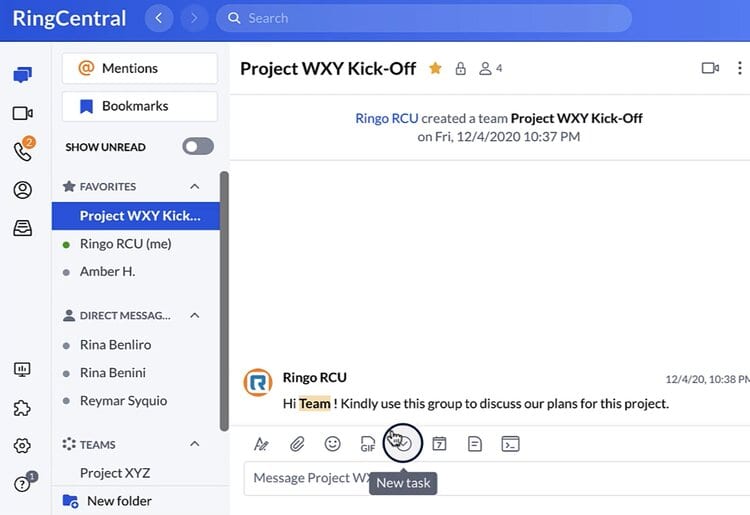 Even better, once you create a task in RingCentral, you can share it through one-on-one or team messages. If the task is associated with a calendar entry (like for a meeting), your co-workers can add the task to their to-do list and calendar with just a click.
Conclusion
There's much more to RingCentral than just phone calling and video conferencing. Its comprehensive team messaging platform with tons of features for collaboration and productivity helps make it one of the best VoIP providers for business out there. In fact, RingCentral's messaging platform plays a significant role in differentiating it from competing VoIP solutions like Vonage or Ooma Office.