In a Nutshell
Brightside focuses on treating anxiety and depression with evidence-based methods such as cognitive behavioral therapy. By combining therapy with the right medication, it claims that 86% of its members feel better in 12 weeks. Brightside's platform is data-driven and keeps track of your symptoms via bi-weekly questionnaires. It gives you access to a network of licensed, experienced professionals from the comfort of your own home.
pros
Hyper-focused on treating anxiety and depression
Intuitive design
Psychiatrists prescribe you medication
cons
Offers relatively little flexibility in its matching process
No app available

Brightside Visit Site
How Much Does Brightside Cost?
Brightside offers online therapy at a monthly rate of $299. An alternative plan includes medication on top of online therapy for $349 a month.
Four 30-minute video sessions per month, unlimited messaging, and interactive lessons
Comprehensive video evaluation and a personalized treatment plan, plus everything included in the therapy plan.
Is Brightside Covered by Insurance?
Brightside has partnered with Cigna (including Allegiance), Evernorth, and Aetna, so if you're covered by one of these providers, you'll only be responsible for any copays, coinsurance, or deductibles associated with your plan. Whatever your insurance situation, you should check with your provider if you are covered for Brightside's therapy. You can get a receipt from Brightside if you'd like to request full or partial reimbursement through your provider.
During the signup process, you are asked to include your insurance details, after which Brightside will verify if your plan is covered. As of writing, Brightside does not offer any insurance coverage if you're from Minnesota, regardless of who your provider is.
There are no financial aids available for Brightside therapy beyond insurance. Brightside also doesn't currently accept Medicaid or Medicare.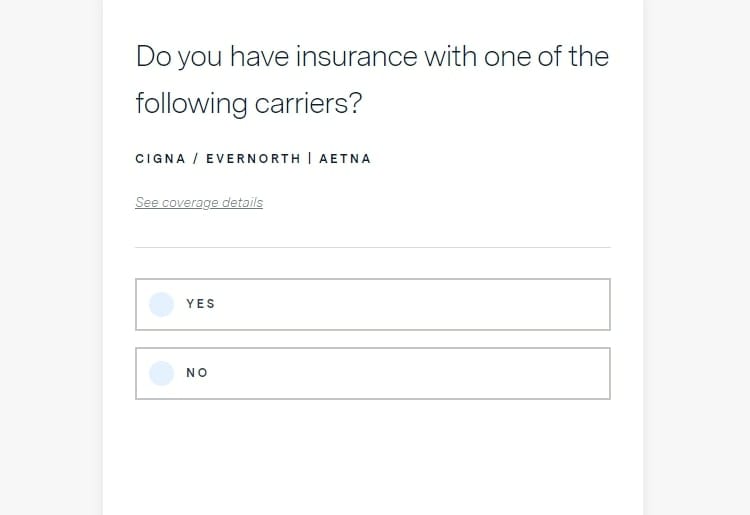 Are Brightside Counselors Licensed Professionals?
Therapists are required to meet a number of criteria before being able to work for Brightside. They must be licensed professionals, with a master's degree in either counseling or psychology (for example, MHC, MFT, MSW, MS, MA) from an accredited program. Brightside's network includes Doctors of Medicine (MD), psychologists, psychiatrists, and counselors.
Therapists are required to have been independently licensed for at least one year, with at least two years' experience providing evidence-based approaches, like cognitive behavioral therapy (CBT).
All therapists follow a hiring procedure that verifies all their credentials, after which Brightside's clinical advisory board decides whether to hire or not. Its website mentions that only 17% of applying therapists are accepted into its network.
Brightside Specialties and Areas of Expertise
Brightside focuses exclusively on treating depression and anxiety. Its therapists specialize in providing evidence-based approaches such as cognitive behavioral therapy (CBT), combined with prescribing the right medication to treat your mental health condition.
Brightside focuses on treating the following mental health conditions:
Social anxiety disorder

Postpartum depression

Generalized anxiety disorder

Panic disorder

Major depressive disorder

Phobia

Obsessive compulsive disorder (OCD)

Post-traumatic stress disorder (PTSD)

Burnout

Insomnia

Bipolar II

Seasonal affective disorder (SAD)

Premenstrual dysphoric disorder (PMDD)
Brightside quantifies your progress by having you complete a bi-weekly questionnaire. Additionally, its platform offers interactive video lessons to help you build your skills in managing your anxiety or depression.
How to Get Started with Brightside
Signing up
Signing up with Brightside is straightforward—just provide your name, ZIP code, and email address. You have to be at least 18 years old and located in the United States.
You'll then be provided with a comprehensive questionnaire that will determine your levels of depression and anxiety. For example, you'll be asked if you're feeling down, depressed, or hopeless, and to indicate if these problems make it hard for you to do your work, take care of things at home, or get along with other people. Based on your answers, Brightside will offer you a plan to help you reduce your symptoms.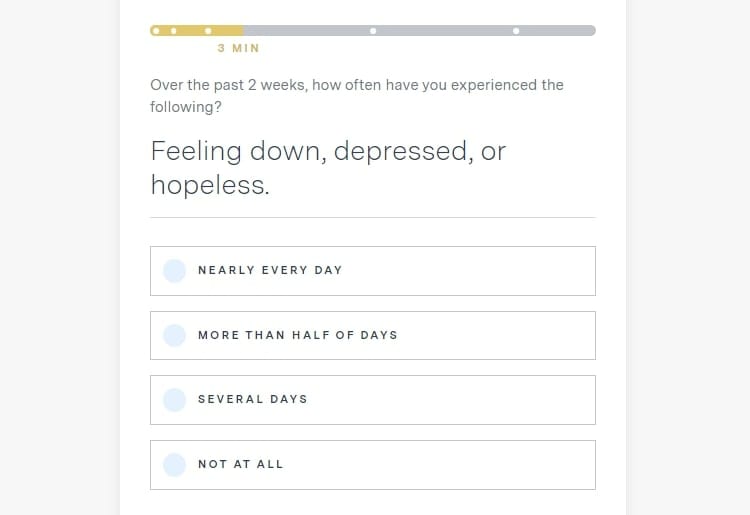 Getting matched with a counselor
Brightside matches you with a counselor based on multiple factors, including state licensure and schedule availability. Unlike other online therapy platforms, Brightside doesn't offer the ability to choose your own counselor or filter therapists based on your preferences.
If you've opted for the Medication and Therapy plan, you'll be matched with a medical doctor for a video consultation that usually lasts 15 minutes. Based on this, the doctor can decide to prescribe you medication to help reduce your symptoms. If you've opted for the Therapy plan, you'll be matched with a counselor for a 45-minute video consultation to fully get to know each other.
If you want to switch counselors, you're advised to contact Brightside's support team to discuss your options.
Booking sessions
Booking weekly sessions with your therapist is easy. After the first video session, you can schedule weekly sessions and communicate with each other in a chatroom. After a session is booked, you'll receive an email with a link to a Zoom meeting.
You can reschedule video sessions as long as you do so 24 hours in advance. If you miss more than one appointment, you may be charged a no-show fee of $20. If your therapist misses an appointment, you can contact Brightside's support team to reschedule.
Confidentiality and Privacy
Brightside collects a lot of sensitive information from you during the signup process, but you don't have to worry about your privacy. The company encrypts all data using 256-bit SSL security and is fully HIPAA compliant. Only your matched psychiatrist will have access to your information. Video sessions are done via Zoom, which also uses end-to-end encryption for all its calls.
Is There a Brightside App?
As of writing, Brightside doesn't have an app. However, its platform is designed in a way that makes it easily accessible on a browser from all devices. Unlike other online therapy platforms, Brightside uses Zoom for video sessions, which is available on both Android and iOS.
Help and Support
Brightside offers customer support via email or by telephone from Monday to Friday, 9am to 5pm PT. I found their support team to be responsive. For example, I emailed the support team and received a reply the next day. As of writing, there is no chat support available.
In addition, Brightside's website contains an FAQs page with thorough answers to 31 common questions about billing, scheduling appointments, and therapy in general. There is also a blog with helpful articles on important topics such as how to deal with panic attacks or how to recognize symptoms of depression.
How Brightside Compares to Other Online Therapy Providers
Video and instant messaging
PsyD, MD, LMFT, LMHC, LCSW/LMSW, LPCC
PsyD, LMFT, LCSW/LMSW, LPC
PsyD, LMFT, LCSW/LMSW, LPC
PsyD, LMFT, LCSW/LMSW, LPC
Brightside vs. BetterHelp
Where Brightside stands out is in covering anxiety and depression, whereas BetterHelp casts a wider net. Both companies offer weekly video sessions, at a similar price, but Brightside excels in its data-driven approach and its ability to prescribe meditation with its network of psychiatrists. Brightside is also covered by some insurance providers, whereas Betterhelp is not.
Brightside vs. Talkspace
Talkspace offers online therapy for a range of mental health issues, whereas Brightside is specifically focused on treating anxiety and depression. Talkspace is priced slightly higher than Brightside, and isn't partnered with any insurance providers. Similar to Brightside, Talkspace's network includes psychiatrists that are able to prescribe medication. Unlike Brightside, which uses Zoom, Talkspace offers therapy in its own app.
Brightside vs. Online-Therapy.com
Online-Therapy.com and Brightside are similar in many ways, as both platforms focus on CBT to treat your mental health issues. Like Brightside, Online-Therapy.com provides worksheets and video lessons to assist you in your growth. Both platforms check your progress by periodically tracking your data. Online-Therapy.com is cheaper than Brightside but is not covered by any insurance providers.
The Bottom Line
If you're one of the millions of Americans that suffer from depression or anxiety, Brightside specializes in helping you recover via its platform. It uses evidence-based methods such as cognitive behavioral therapy and keeps track of your progress with its bi-weekly questionnaires.
Brightside's online therapy is covered by some insurance providers. Its network includes psychiatrists that can prescribe you the right medication. The combination of medication and therapy Brightside offers makes it an affordable and competitive alternative to traditional therapy.