Although WordPress offers many tools, choosing the right options can be difficult. Installing too many plugins can slow your site down, but using too few plugins means you'll be missing out on important tools that make WordPress one of the most powerful website builders on the market. To guide your search, we've outlined the top 10 WordPress plugins you need to add to your website.
1. Yoast SEO
WordPress offers powerful native search engine optimization (SEO) tools, but it can be difficult to get the hang of using them. Plugins like Yoast SEO are beginner-friendly and enable you to optimize every page and piece of content on your site.
More and more people are becoming aware of SEO, but most still don't understand what's involved with achieving a high search engine ranking. Yoast presents a selection of tools to help you add the right keywords, optimize your images, and create the right metadata.
Both free and premium versions of the Yoast plugin are available. The free version is great for small websites. It offers comprehensive SEO and readability analysis, support for a number of languages, automatic XML sitemaps, and more. A premium subscription adds support for various SEO extensions, insights into the success of your campaign, advanced keyword optimization tools, and more.
Yoast SEO has long been a leading WordPress SEO plugin, and we'd highly recommend adding it to your website.
2. WP Rocket
WP Rocket is a leading WordPress caching plugin that's designed to help you reduce page load times and boost the user experience. The correct use of plugins like this is one of the key reasons why WordPress.org websites generally have such great performance on average.
One thing we particularly like about WP Rocket is its out-of-the-box functionality. When you install and activate it, the plugin will automatically perform a wide range of actions to speed up your website. Because of this, there's no need for coding or other tech skills.
WP Rocket isn't free, but it's well worth paying for if you're serious about building a successful website. Prices range from $49 per year for a single website to $249 per year for unlimited websites.
It's also worth noting that the hosting provider you select can significantly impact your website's performance.
3. WPForms
Another popular WordPress plugin is WPForms, which enables you to create smart surveys and forms in a fast, efficient manner. There are more than 300 templates covering everything from contact forms to registration forms and surveys.
One thing we particularly like is WPForms' drag-and-drop builder. This makes it very easy to create personalized forms, and it requires no special skills to use. All forms are 100% mobile-friendly, and there's an advanced entry management area that you can use to manage form submissions.
However, WPForms is a premium plugin with no free version. The cheapest of its four plans starts at $39.50 per year, but prices increase to $299.50 per year if you want to unlock the full feature set.
4. MonsterInsights
Most SMB website builders enable you to link to Google Analytics, but WordPress goes one step further. With the MonsterInsights plugin, you can link your Google Analytics account to your WordPress dashboard.
This will enable you to access stats and information about your site's performance without leaving WordPress. There are various report customization tools. You'll benefit from enhanced Ecommerce tracking, and you can view real-time stats directly on your WordPress dashboard.
MonsterInsights also integrates with various other third-party plugins, including MemberPress, WPForms, WooCommerce, and Yoast. It's one of the best free WordPress plugins available.
5. OptinMonster
OptinMonster is one of the best WordPress plugins for lead generation. It comes with various tools to help you grow your email list, convert leads, and boost your sales. It also enables you to add various popups and other elements to your website to collect customer information.
There are more than 100 templates that you can add to your site, and it's possible to offer coupons or discounts when people complete a specific action. For example, you might offer 20% off for everyone who signs up for your newsletter list.
Like many of the plugins on this list, OptinMonster isn't free. Prices start from $9 per month, but you can expect to pay up to $49 per month for access to all features.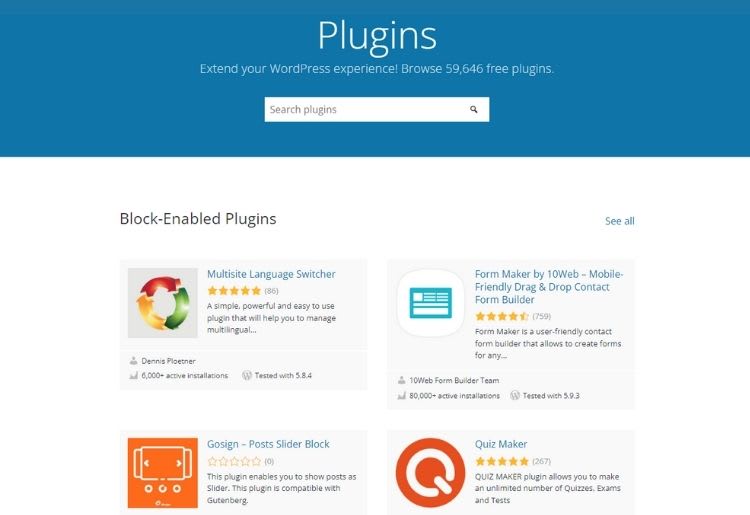 6. WooCommerce
Global Ecommerce has grown rapidly over the past decade and is expected to continue increasing. WordPress Ecommerce plugins such as WooCommerce enable you to harness this trend and leverage it to your best advantage.
At its most basic, WooCommerce enables you to add a simple online store to your website. You can customize product pages, add your own content, and process orders in a fast, secure manner. You'll also find numerous complementary plugins that you can use to make your store even more powerful.
For example, there's a WooCommerce Subscriptions extension that you can use to accept and process recurring subscriptions. There are various marketing add-ons and tools to help you optimize your conversion rate.
The most basic version of WooCommerce is free to use, but most extensions require a one-off license payment. It's also an open-source platform, meaning that you can edit the code if and as required.
7. Akismet
WordPress is a rather secure platform, but it's still vulnerable to spammers. This is where Akismet comes into play. It's a relatively simple plugin, but it's designed to filter spam comments and contact form submissions automatically.
To get started, you'll have to sign up for a premium subscription, with prices starting from $8.33 per year. Entering your API key will activate the plugin. All you need to do after that is sit back and wait while the plugin scans for spam.
One of the best features of Akismet is its integration with numerous WordPress form plugins. There's also API access, enabling you to develop a custom connection if required.
8. Jetpack
Jetpack is one of the most widely-used WordPress plugins, and it's easy to see why. It comes with a suite of tools that encompass security, performance, analytics, and backups. There's a neat free version, although more advanced features are only available with a premium subscription.
You'll benefit from 24/7 security and proactive monitoring. Jetpack also offers brute force attack protection, uptime monitoring, and two-factor authentication. Its performance optimization tools, including lazy loading images, free video hosting, and a custom site search option, are also excellent.
The analytics portal enables you to keep track of your site's performance. Jetpack even integrates with third-party platforms, including WooCommerce, PayPal, Instagram, and Google Analytics.
9. Elementor
WordPress.org is one of the world's leading blogging platforms, and there are various plugins that you can use to help you design your blog. Elementor is one of our favorites. It enables drag-and-drop page building backed by a selection of design tools.
It's fully compatible with WooCommerce and other popular WordPress plugins. There are more than 100 widgets available to all users, a complete theme builder, and multiple marketing and performance optimization tools.
One interesting thing about Elementor is that it enables you to purchase a fully-hosted subscription for $99 per year, which includes Google Cloud hosting. There's also a free version of the WordPress plugin and various premium subscription options.
10. MemberPress
Installing the MemberPress plugin will enable you to sell memberships through your WordPress website. This is particularly useful for business owners who would like to add premium content behind a paywall, encouraging people to support your work.
Along with simple paywall functionality, MemberPress offers a suite of other tools. You can add dynamic pricing pages to your website, create coupons and discount codes to encourage purchases, and drip content slowly according to release and expiration rules.
You can also sell online courses through the MemberPress Courses platform. With this, you can create your own courses, upload them to a professional learning management system (LMS) interface, and enable people to subscribe to and work through them.
Conclusion
Although there are numerous WordPress plugins, you only need a handful of the best to keep your site in peak condition. Here, we've outlined 10 of the best WordPress plugins your website needs, but remember that this is far from an exhaustive list. There are plenty of less popular add-ons available that you might benefit from if you offer niche services or have a particularly specialized website.