Squarespace is one of the most versatile and feature-rich website builders out there. It even has its own built-in email marketing suite known as Squarespace Email Campaigns.
If you want to achieve stable growth for your online business, email marketing is one of the best ways to do that because you can:
Be in charge of every aspect of it
Build a strong relationship with your customers
Build your brand's presence and recognition
Want to create an email campaign?Squarespace has a built-in email marketing suite that has everything you need for a successful campaign

Get Started
What Is a Squarespace Email Marketing Campaign?
Squarespace is among the best website builders for your small business because of its wide range of robust features, specifically Email Campaigns.
Squarespace Email Campaigns is an add-on feature that allows you to send an email campaign to all the subscribers on your marketing list. This add-on can be used as part of the website builder or as a standalone feature.
» Ready to take your business online? Check out our top picks for the best website builders.
Key Features
Beautiful pre-designed templates
Responsive design
Reusable design elements
Easy-to-use email editor
Automation
Detailed stats
Pricing
Not all Squarespace website builder plans come with an email marketing feature—Mobile Start plans, for example, don't.
You can send up to three blast email campaigns with your Squarespace subscription for free.
But if you want to send more, you'll need to purchase Squarespace Email Campaigns separately. These subscription prices range from $5 to $48 per month.
» Here are our top tips for building a website on a budget.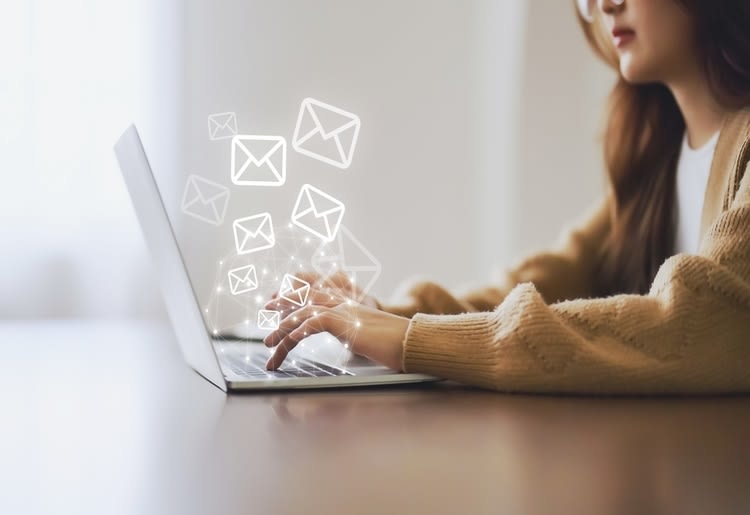 Set Up Squarespace Email Marketing Campaigns in 5 Simple Steps
In this section, you'll learn how to set up a Squarespace email marketing campaign, even if you have zero experience with email marketing.
1. Set Up Sender Details and a Mailing List
Head on to Home > Marketing > Email Campaigns. Here, you'll be able to set up your sender details and a mailing list that you'll need to grow over time.
Make sure your sender details are clear so subscribers can easily see who the email is from.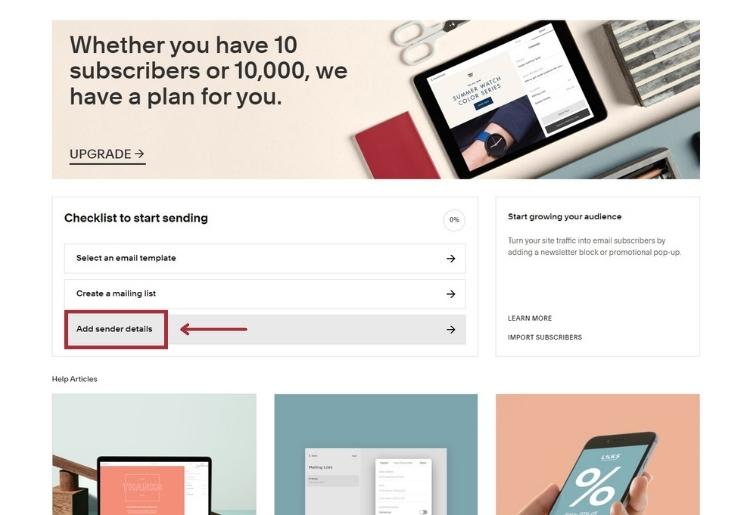 2. Invite Users to Subscribe
Next, you need to build an email marketing list. This can be done by:
Prompting buyers to sign up for it
Promoting it on social media
Adding a "Sign up to our newsletter" button on your website
Once a user signs up for your newsletter, Squarespace will automatically add them to your mailing list.
3. Create a New Draft
Create a new draft and start building your email. You can use a ready-made template, which you'll need to customize.
With Squarespace's email editor, you can easily add and edit sections, headers, and footers. Make sure to include images to make your email more appealing. And always send a test email to yourself or a coworker before you email your subscribers.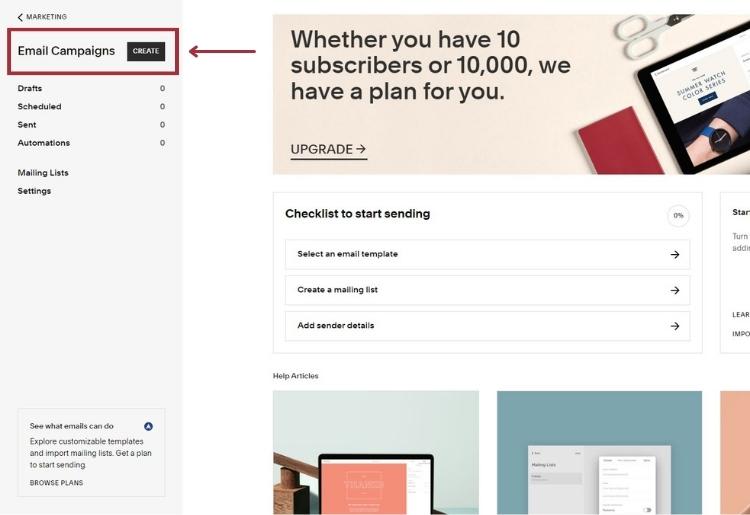 4. Choose Between a Blast Campaign and an Automated Campaign
Next, you need to decide whether to set up a blast campaign (sent to a specific group of users) or an automated campaign (triggered by a specific action, such as a purchase).
Both can help you achieve the same end goal: grow your brand's recognition and presence and forge a better relationship with your customers.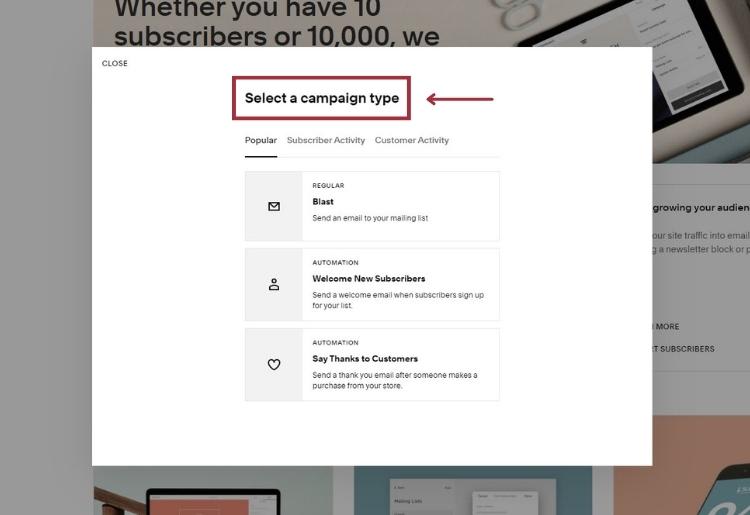 5. Send Your Campaign and Track Results
Finally, send your newly created campaign and track the results. Key metrics to look at include:
Open rate
Clickthrough rate
Conversion rate
Bounce rate
Unsubscribe rate
These will help you see which campaigns perform best and why.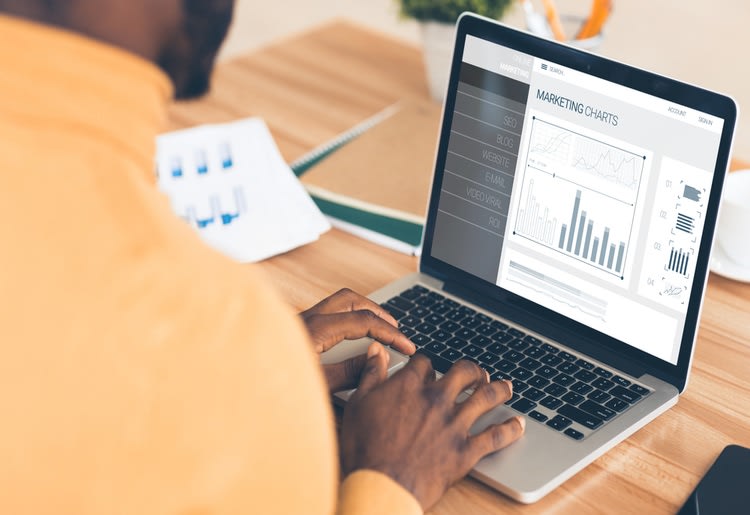 5 Quick Tips for Successful Email Marketing Campaigns
Want to make sure your campaigns are successful? Follow these tips.
1. Pick a Catchy Subject Line and Preview Text
Your subject line and preview text are the first things your subscribers see, so you need to make sure they stand out.
Write a catchy subject line and an attention-grabbing preview text that are brief and intriguing.
2. Keep Content Short and on Topic
Don't write walls of text—your subscribers will simply close your email and never open it again.
Use short, catchy phrases, bullet points, and lots of white space to make your emails readable. And remember not to stray off the newsletter's main topic too much.
3. Include a Clear CTA
Include a single, clear call-to-action (CTA), such as "Buy Now," "Find Out More," "Join the Waiting List," etc.
Make sure your CTA stands out, too. For example, you can use a different color for the CTA button to make it easier to see.
4. Use Images Strategically to Draw Interest
Remember to add images to your emails to make them more interesting and to break up the text. You can include product photos, photos from recent events, photos of your team, or even stock photos.
But it's always a good idea to have something that's visually related to your brand.
» Follow these steps to optimize images for a better user experience.
5. Reuse Templates
You don't need to create every campaign from scratch. Instead, reuse templates to build new campaigns faster and give them a consistent look.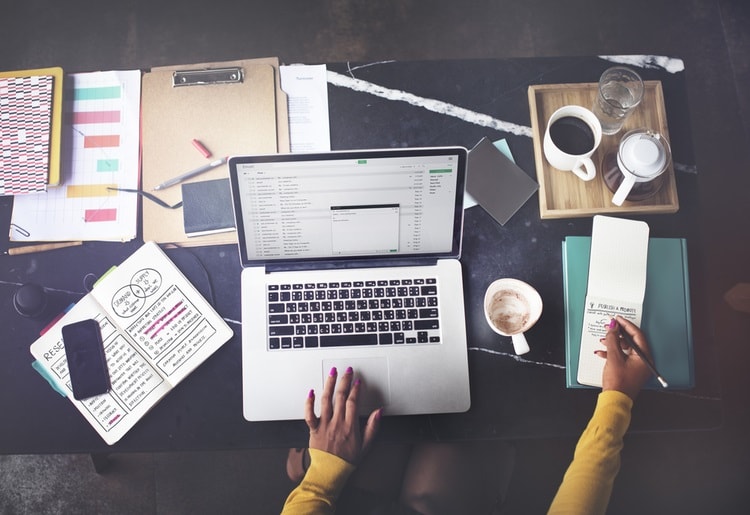 Create Successful Email Campaigns Easily With Squarespace
Squarespace is an all-in-one website builder that—like GoDaddy—makes it possible to do everything on a single platform, from creating a beautiful website and SEO-optimizing it to drafting successful email campaigns.
Squarespace Email Campaigns is super intuitive and easy to use, which is a big plus if you have no experience with email marketing.
» Looking for more ways to increase website traffic? Try these effective tips to promote your website.