Thankfully, with website builders like Squarespace, you can now build a beautiful website to have your portfolio stand out, even if you have zero web design experience, thanks to its dozens of professionally-designed themes.
And it doesn't have to be expensive, either! With Squarespace, you only pay a monthly subscription starting at $16/month—and if you'll only use it for a portfolio site, you'll likely get everything you need in the basic plan. What about the templates, though? They're all included in your plan and you don't have to pay anything extra.
So, if creating a stunning website for your wedding photography has been sitting on your to-do list for a while, this article is for you. In it, we share the 10 best Squarespace website templates for photographers and explain the benefits and features of each one.
Free Squarespace Subscription Website Templates for Photographers
1. Beaumont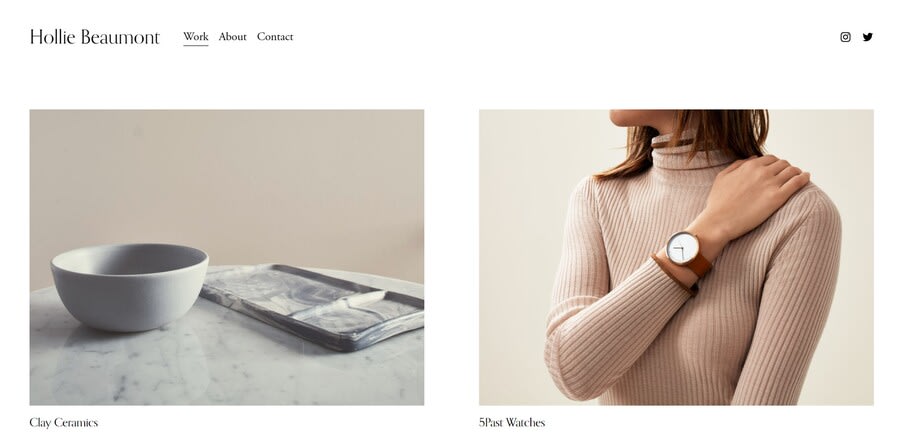 Beaumont is a stylish, minimalistic template that uses white space generously to let your work speak for itself. It comes with beautiful serif fonts and a short bio section at the bottom of the page for you to tell visitors a bit more about yourself.
It comes with the following pages: Home, About, and Contact, all in a horizontal menu in the upper left corner, but you can add more pages or rename those. At the upper right corner, you can add social media icons, which can be another way for visitors to see your work, get in touch with you, and follow you.
2. Minetta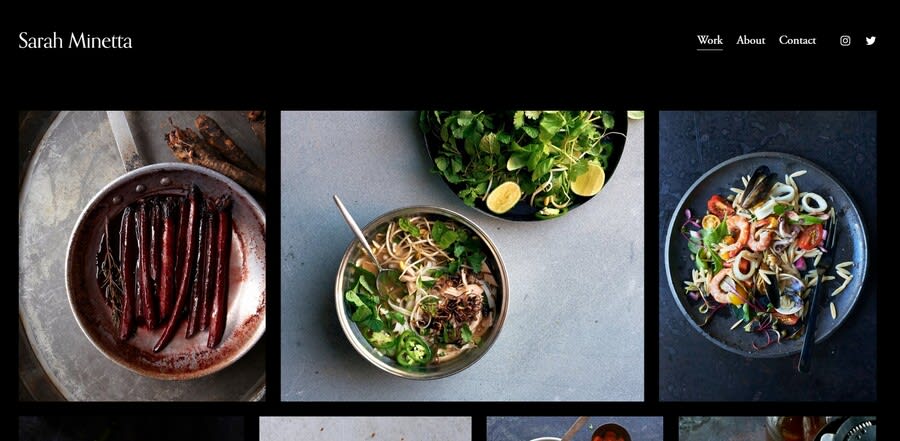 Here, we have a template that might surprise you: it has a black background instead of the usual white or light-colored backgrounds of most wedding photographers.
That's exactly why we think the Minetta template deserves to be on this list: it'll really help you and your work stand out, not least because of the strong contrast between white wedding dresses and a black website background.
It features the same sections as Beaumont: Home, About, and Contact, plus social media buttons, but this time everything is in the upper right corner.
» Starting your own side hustle? Here's how to turn your hobby into a business.
3. Bergen
Bergen is another classical and stylish theme that's ideal for wedding photographers. It features parallax scrolling, meaning that the background images don't move at the same speed as the rest of the content, which creates a beautiful visual effect.
It comes with a few sections: Work, About, Our Services, Projects, and Contact Us, which are ideal for wedding photographers, and uses serif and sans serif fonts.
4. Nevins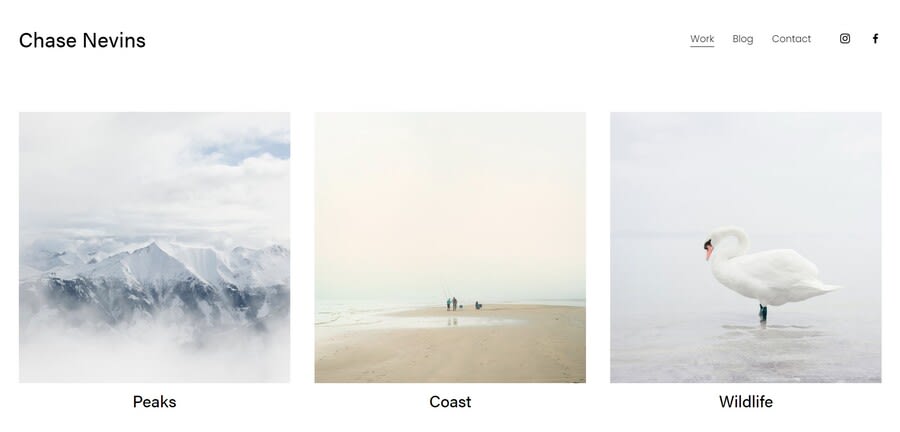 If you'd like something a bit more traditional that has a luxurious feeling to it, the Nevins template is a great choice. With Nevins, you really let your work do the talking and attract visitors' attention, thanks to its grid layout with lots of white space.
The sans serif fonts make the design feel very minimalistic, which adds to the overall classy and uncluttered impression the template leaves.
The sections it features by default are Home, Blog, and Contact, but you can add more.
» More: Tips for building websites for artists.
5. Matsuya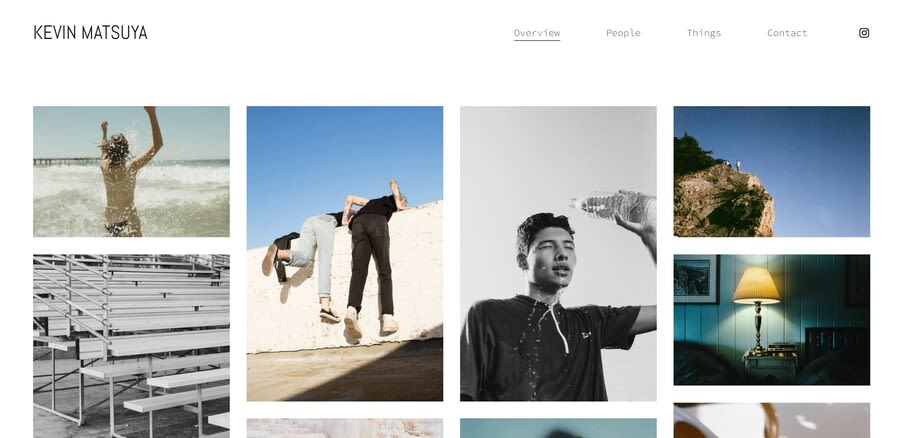 Grid templates are a very effective way to show your work, which is why we've featured a few of them in our list. Matsuya is ideal for wedding photographers, because it displays your work as a whole, letting it tell the story of the wedding. This also means you need to select the samples carefully to create a well-curated portfolio.
Its default sections are Overview, People, Things, and Contact, but you can change them in any way you like.
6. Elliott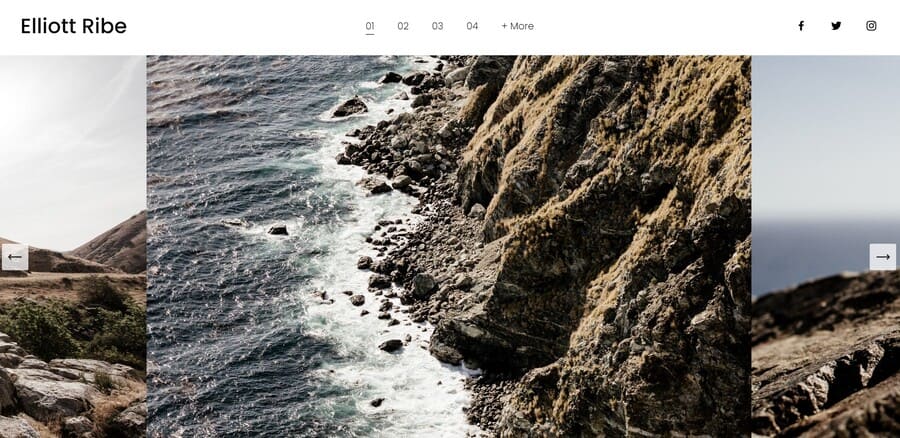 Elliott is a different type of template, one with horizontal gallery pages, and we think that's an excellent idea if you want a distinct and original wedding portfolio. It's perfect if you want to avoid having long pages where you need to scroll a lot to get to the bottom of it.
Its sections are also very original: 01, 02, 03, 04, and +More, where you have About and Contact. The different numbers stand for different wedding projects you want to show.
» More: How to monetize your website.
7. Sonora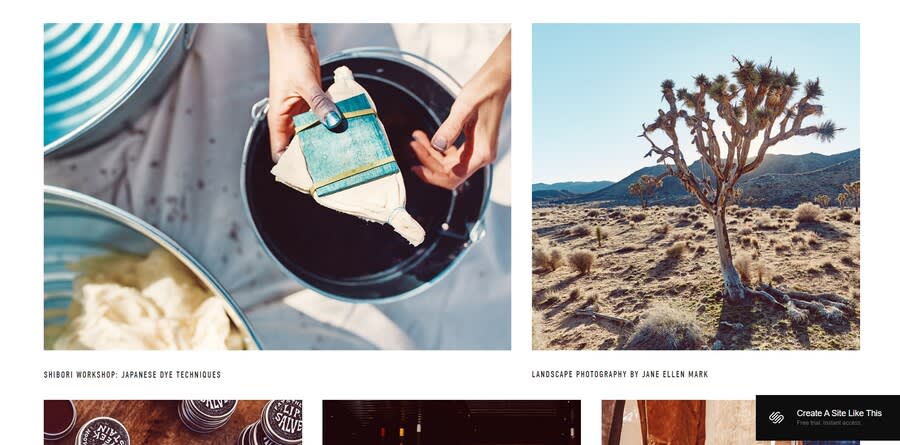 You might find it surprising that a theme that's geared towards event and festival organizers is on this list, but there's a good reason for it.
Sonora is very visual and features 2 elements that are ideal for wedding photography sites: a grid layout and parallax scrolling. This helps create a beautiful dynamic website that feels full of life -- and what's a better way to celebrate life than a wedding?
Sonora's default sections have little to do with portfolio websites (About, Schedule, Vendors, Attend, Blog, Past Events), but feel free to rename them and trim them down.
8. Novo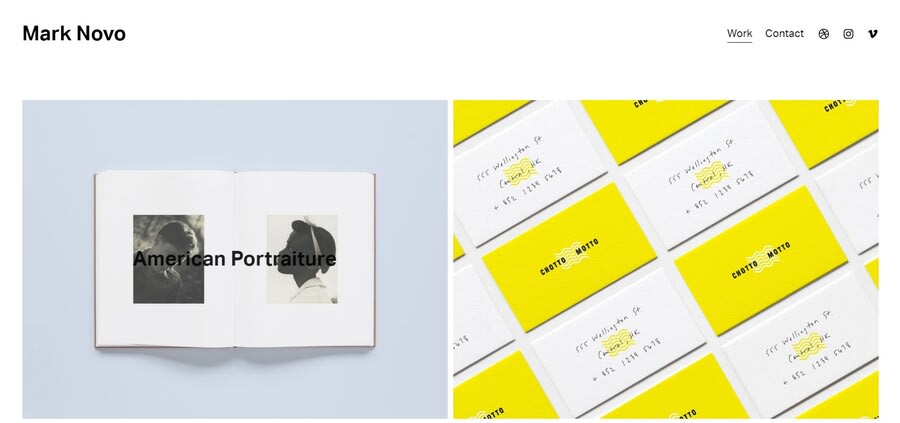 Here, we have yet another minimalistic and impactful theme: Novo.
The symmetric grid layout is great if you want to simply let your visitors make their own impressions of your work, without saying a word about it. Of course, you can describe each project in more detail on its individual page, which users can navigate to by clicking one of the large photos on the home page.
The sections this template comes with are just as minimalistic: you only have Work and Contact, plus social media icons.
» Using an image-heavy website? Here's how to optimize images for page speed.
9. Flatiron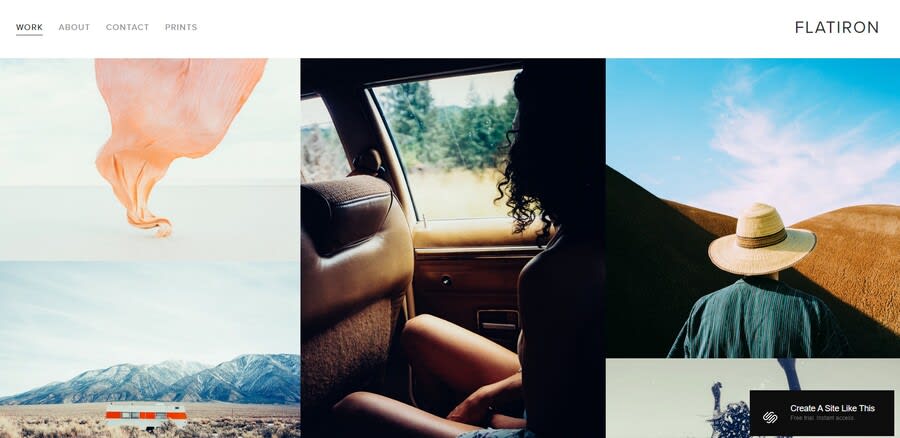 Flatiron is a grid layout theme where the images aren't separated by a gap between them. That's an unusual approach that not many wedding portfolio websites use but a very effective one if you choose the images well.
Its navigation menu is in the upper left corner and by default features the following sections: Work, About, Contact, and Prints. Sans serif fonts add to the minimalistic feel of the theme.
10. Quincy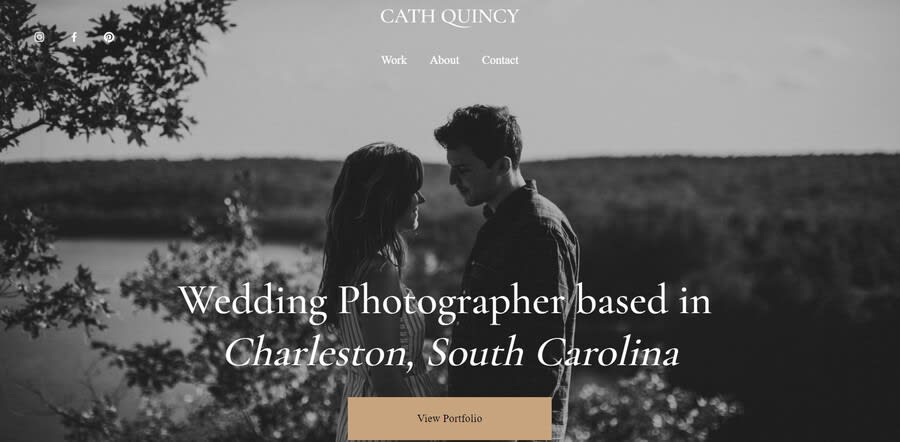 Quincy is a great choice for photographers who want to display a large version of each of their photographs and not have them on a grid or in a horizontal gallery.
It's a classic, simple, and beautiful theme that is built specifically for wedding photography. Beware that many others might be already using it, though -- which is great if you want to blend in but might work against you if you want to build a unique brand image.
In a Snapshot
With website builders like Squarespace, Wix, WordPress, and many others, it has never been so easy to create a sleek portfolio website as it is today.
Squarespace is an excellent option if you want to build a visually heavy website that really lets your work do the talking. As you can see, powerful, minimalistic designs are their forté, and what's better than that for a wedding photography portfolio?