Both call centers and contact centers make liberal use of Voice over Internet Protocol (VoIP) to deliver customer communication and support over the phone. However, contact center providers go further, offering support through additional digital channels to improve the customer experience.
In this guide, we'll look at the 10 biggest differences between a contact center vs call center so you can decide which type of service is best for your business.
1. Call Centers Focus on Inbound and Outbound Phone Calls
A big difference between contact center and call center is how agents communicate with customers.
Call centers specifically focus on interacting with customers over the phone. This includes inbound call centers that handle customer support and outbound call centers that perform sales calls.
Modern call centers often use VoIP software such as RingCentral or Vonage to keep costs low. Instead of making and receiving phone calls through the traditional phone network, VoIP makes use of broadband internet connections. This results in much lower capital costs and can make for a more flexible work environment.
Call centers remain vital to most businesses today. Phone support is still the most popular support channel in the United States, with 42% of respondents to a 2020 survey stating they prefer to resolve customer support issues over the phone.
2. Contact Centers Offer Multi-Channel Support
Contact centers usually offer phone support too, but they also offer customer communication through other channels. Email, social media, and live chat are all common channels you'll find in a contact center. Some contact centers that offer omnichannel customer support make use of a ticketing system.
Contact centers enable a company to offer sales or support on multiple fronts. Over 90% of consumers say they expect a company to be able to offer a seamless transition between one channel of support and another, and contact centers offer companies the best way to provide this.
3. Contact Center Agents Must Be Multiskilled
Contact center agents are typically required to offer customer interaction through multiple channels, whereas call center agents are principally tasked with talking to customers over the phone.
As contact center agents will often be writing responses via email, live chat, and on social media, they must be able to write professionally and without grammatical errors. Contact center agents must also be able to multitask effectively, as they may have multiple concurrent conversations with customers.
4. Contact Centers Have Additional Compliance Requirements
Compliance requirements affect both call centers and contact centers. For instance, by law, callers must be advised in advance if their calls will be recorded.
Contact centers typically have additional compliance woes to consider, though. Many discussions via digital channels put things in writing, so it's important for managers to think about how such transcripts of digital interactions will be captured and stored.
Companies with contact centers that deal with financial or medical information must ensure they comply with laws ensuring customers' details are securely stored and that only relevant information is saved. Failing to secure customer details can result in extensive fines and significant loss of reputation.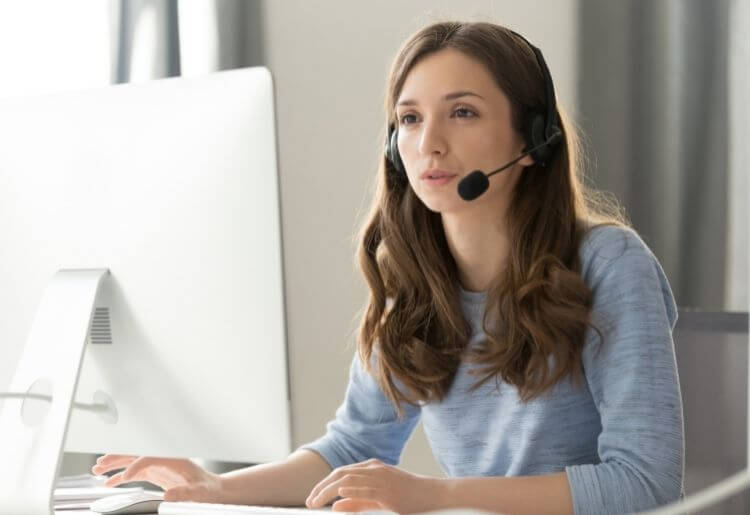 5. Contact Centers Have Different KPIs Than Call Centers
Contact centers that handle phone calls will monitor all the stats that call centers do, including average handle time, average answer speed, first call resolution, and cost per call. But contact centers also have additional key performance indicators (KPIs) that call centers don't record.
Most contact centers begin by extending the types of KPIs used for phone calls to their digital channels. Recording the volume, first contact resolution, customer satisfaction, and cost per contact of each channel enables you to see how important each of your channels is to your business overall, how well it is performing, and how much of your resources you should designate to the channel.
There are also additional KPIs that don't mirror those that call centers record. Social media interactions don't have an abandon rate metric, for example, so you need to be able to record successes and failures through alternative metrics like customer replies within 24 hours, retweets, and likes.
6. Contact Centers Offer More Customer Choice Than Call Centers
Being able to choose the method through which they contact a company is important to most people. As noted above, some customers strongly prefer the use of the phone, particularly when there is a more complex problem they need to solve. But it's also been reported that 57% of customers prefer to contact businesses via digital media instead of over the phone.
Offering more choices improves customer satisfaction. And as customer satisfaction is a principal driving force in a company's success, a contact center will typically be a better option for a business than a call center, especially if the contact center is intelligently set up and managed.
7. Contact Centers Can Mean Better Agent Satisfaction
Contact centers usually offer agents more autonomy over how they handle customer issues. For example, low-priority tasks can be handled in an email queue whereas a time-critical task can be dealt with immediately by calling the customer over the phone and resolving the problem in real time before it becomes a bigger issue.
Call centers, on the whole, must follow a more rigid pattern of work because there are fewer ways through which an agent can communicate with customers. This can lead to frustration and even burnout if the job feels particularly monotonous.
However, improved agent satisfaction in a contact center is reliant on good management and state-of-the-art tools. If agents like multitasking and you give them excellent software that helps them perform their duties to the best of their abilities, you will see better performance and lower staff turnaround.
8. Contact Centers Require More Sophisticated Routing Than Call Centers
With customer requests coming in through a whole host of different channels at the same time, it's important to use omnichannel routing software to sift through the requirements in real time to decide which tasks are prioritized.
For instance, live chat requests and phone calls must be prioritized over asynchronous channels like social media or email. Smarter routing can also be used to prioritize preferred customers and flag requests with more alarming text (e.g., "legal action," "court," "media").
Call centers also require smart routing of calls, but there are fewer moving parts to consider than with contact centers that deal with several digital channels alongside phone support.
9. Contact Center Agents Need Additional Training
Call center agents, whether they focus on outbound or inbound calls, are highly skilled at dealing with customers over the phone. Contact center agents are generally expected to also be able to deal with customers professionally over the phone, but they require further skills, too.
For instance, it's vital for contact center agents who write and respond to social media posts to be well-trained in social media etiquette. The information they post on social media represents your company, so if they make unprofessional comments or commit to promises you can't fulfill, it reflects very poorly on your company.
10. Contact Centers Need Better Workforce Management Software Than Call Centers
Deciding how many staff you need for each shift and which staff should cover which tasks becomes more complex when you run a contact center compared to a call center.
Managing the staff of a call center is possible through the use of call center software, examining KPIs like call volume, average handle time, and average time in queue. Contact centers are less straightforward, as each digital channel typically has different levels of volume and KPIs. You might need phone calls to be answered within 20 seconds, live chat responses every 60 seconds, and email responses within 12 hours, for instance.
You must also consider that some agents will be multiskilled, whereas others may only be trained to work on one channel or support one element of your business. Excellent workforce management software is, therefore, a requirement when running a busy contact center.
Conclusion
We've asked why you should run a contact center vs. a call center, and there are several reasons your business might choose to do so. Contact centers offer customer interaction via multiple channels, which results in more customer choice and higher satisfaction.
Contact centers require additional thought into how they should be set up and run. To offer customer interaction through so many channels, you need multiskilled, well-trained agents empowered by excellent software. Duties must be intelligently assigned through sophisticated routing, solid workforce scheduling, and smart forecasting.
Overall, contact centers can offer a better customer experience than call centers, but only when managed efficiently and effectively.