These pocket-sized products have shorter treatment times than many other whitening products, making them a convenient choice if you're always on the go. Plus, if you have sensitive teeth or gums, you'll be pleased to know many teeth whitening pens don't contain as much of the chemicals found in some whitening treatments and so are gentler on your smile.
In this guide, we review the best teeth whitening pens available right now, comparing their prices, ingredients, and even flavor to help you decide which is right for you. They're all available to purchase online today, so a brighter smile is just a few clicks away.
Top10 Best Teeth Whitening Strips Pens Ranked:
Best for fast whitening—Auraglow whitening pen
Best for natural and organic ingredients—Dr. Brite Get Brite brilliant teeth whitening pen
Most affordably priced whitening pen - Zimba Complete whitening pen
Most convenient whitening pen - Colgate Optic White Overnight pen
Best value for money - SmileDirectClub Touch-up whitening pen
Best vegan, gluten-free, cruelty, sensitivity-free whitening - GLO Science GLO to Go whitening pen
Easiest to apply - Polar teeth whitening pen
Best personalized whitening - Laughland To-Go pen
Best flavor teeth whitening - MOON - Kendall Jenner teeth whitening pen
Best for sensitive teeth - VieBeauti teeth whitening pen
How to Use a Whitening Pen
Once you've chosen a teeth whitening pen that's right for you, the application process is pretty straightforward in most cases. Most instructions recommend using a pen twice daily.
Reading your specific whitening pen instructions is essential, as the application frequency and time you leave the product to set can vary.
Before use, it's best to brush and floss your teeth with a soft-bristled toothbrush, so they're clean and ready to go.
When you're ready to apply the whitening gel, smile broadly, ensuring lips are out of the way of the teeth you want to whiten. This helps keep the gel on the teeth and stops it from moving away from the bleached area.
The application process will vary slightly according to your choice of teeth whitening pen. Some whitening pens are squeezable, so you can position the tube against your teeth and squeeze to apply gel directly. Others come with a separate brush to paint the serum onto individual teeth.
Once you've applied the pen to the teeth, let the product sit for five to 10 minutes. Keep your mouth open and try to avoid swallowing the gel.
Finally, rinse your mouth with warm water until no product traces remain.
What Are Teeth Whitening Pens?
Teeth whitening pens are a fast and easy way of enhancing and brightening your smile whenever it starts to look dull. They're popular with people looking to reduce tooth enamel stains caused by coffee, tea, red wine, smoking, or eating highly pigmented food. Once teeth become stained, it's hard to whiten them with conventional oral care methods such as brushing and flossing.
Structurally, whitening pens are thin plastic tubes containing a whitening gel that removes stains from tooth enamel and improves its color. While they're called pens, they're generally just containers that hold the gel connected to a brush to apply it to your teeth. Whitening pens are designed to be small and portable and can be easily slipped into your purse or pocket. Alternatively, whitening pens can be included as part of a twice-daily oral care routine at home.
Using a teeth whitening pen regularly can help maintain a whiter smile. It's a good solution for touching up the whiteness of teeth in between professional teeth-whitening treatments if you have a special event or want to give your smile some added sparkle.
How Do Teeth Whitening Pens Work?
While various ingredients differ between teeth whitening pens, they all include some form of peroxide as the active whitening agent, whether carbamide peroxide or hydrogen peroxide.
Tooth stains are compounds with dark or colored shades called chromogens that accumulate on the outside of the tooth (extrinsic) and inside (intrinsic). Peroxides bleach the compounds, causing the color of the chromogens to lighten and the tooth enamel to appear whiter.
When it comes to brightening, there's no significant difference between the effectiveness of these two types of peroxide. However, how the agent is formulated into the whitening gel can affect tooth sensitivity and the speed at which the gel works. When selecting a whitening pen that's right for you, look for one that's effective yet gentle on teeth and gums.
So how do whitening pens work? The whitening agent is drawn across the teeth using the brush end, while a quick crank of the pen's bottom end causes the serum to rise from beneath the bristles. When it touches the teeth, the bleaching gel forms a film that breaks down staining, making the teeth appear whiter and cleaner.
The Best Teeth Whitening Pens on the Market in 2023
With a wide choice of teeth whitening pens available, it's hard to know which one to choose. Fortunately, we've done some research and uncovered seven of the best. So, let's jump in and take a closer look.
Auraglow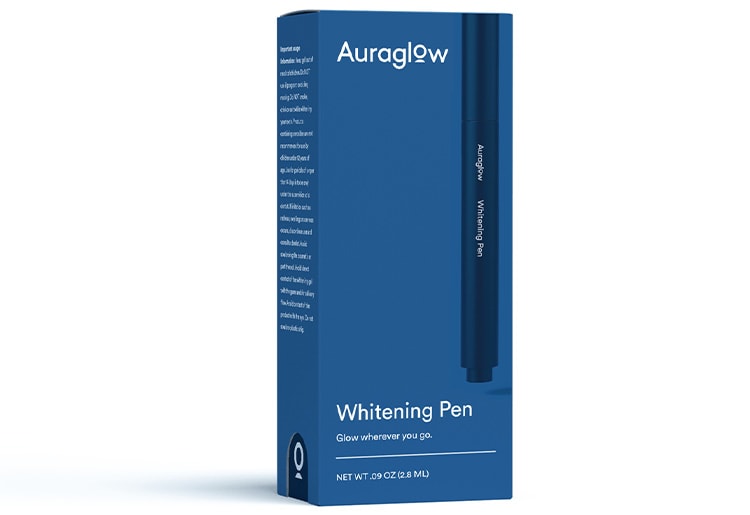 Whitens in just two minutes per day
The Auraglow teeth whitening pen fits neatly into a purse or backpack, is quick to use, and freshens the mouth with a cool mint flavor. But does it work?
Auraglow utilizes 35% carbamide peroxide as an active bleaching agent to lessen tooth sensitivity and gum irritation and claims to whiten teeth by up to 10 shades in seven days. Once applied, you only need to leave the gel on your teeth for 60 seconds. Used twice a day, it's easy to fit into even the busiest of schedules.
The results indicate that it does what it says on the tin, as 100% of participants in a study conducted over seven days saw some degree of whitening after use. According to many customer reviews on sites such as Amazon, results were noticeable after the first use.
Pros
Save money with a subscription

Minimal time commitment

Each pen contains 15+ treatments
Cons
Packaging is a little flimsy, resulting in leakages in some cases

Some reviewers had trouble getting the gel to come out

Auraglow Try Now
Colgate Optic White Overnight
Sleep your way to whiter teeth
Colgate is a global brand and a leader in teeth whitening innovation, so it's no surprise that it launched its Colgate Optic White Overnight teeth whitening pen in 2020. This pen is designed to whiten the teeth while you sleep. The unique whitening formula contains a protective layer, preventing saliva from washing the gel away.
The instructions recommend cleaning the teeth and applying the clear gel before bed. What could be easier? Colgate claims the pen removes 15 years of stains in a single week and offers a 30-day money-back guarantee if you're unsatisfied with the results.
Amazon reviewers praised how easy the pen was to use and that the whitening gel could be applied at night and brushed off in the morning, fitting in perfectly with their regular oral routine. Other reviewers mentioned that the gel dried quickly, leaving a barely-visible layer that remained in place all night. Most importantly, people report that their teeth look whiter after use.
Pros
Relatively low price point

Easy to use

Readily accessible in supermarkets and pharmacies
Cons
Product dries up quickly

Potential for gum irritation
Read Colgate Optic White's review

Colgate Try Now
Dr. Brite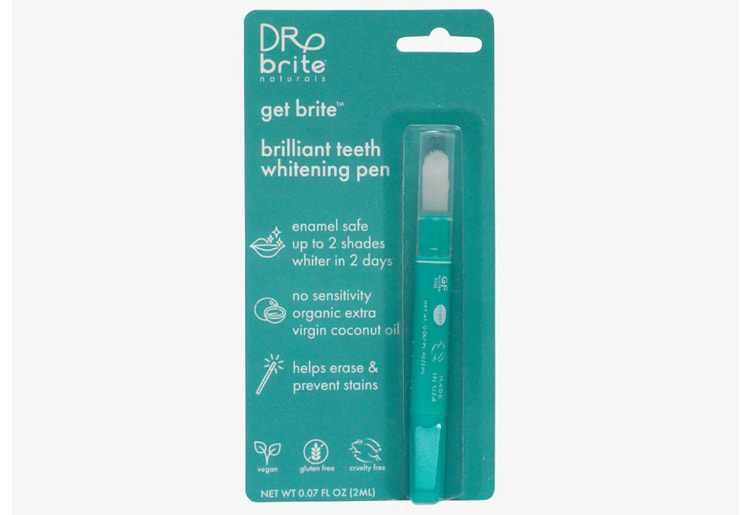 Target specific types of tooth stains
When it comes to teeth whitening pens, Dr. Brite offers an excellent range targeted to specific stains such as those from drinking coffee, tea, and red wine or habits such as smoking and vaping. Its Get Brite teeth whitening pen claims to reveal a two-shades-lighter smile in just two days.
The pens are easy to use, simply requiring you to dry your teeth before applying a thin layer of gel. Then you wait two minutes for the gel to dry naturally and avoid eating or drinking for a further 30 minutes.
I love that all Dr. Brite's pens are filled with natural and organic ingredients, but what do customers think about the Get Brite teeth whitening pen?
Amazon and Walmart reviewers found the pen easy to use, liked that there were no harsh chemicals involved, that the products were safe for the environment, cruelty-free, and affordable. Most customers saw results quickly, some within two days.
Pros
Plant-based ingredients

Good value for money

Formulated by doctors
Cons
Complaints of slow delivery

No eating or drinking for 30 minutes after use

Dr. Brite Try Now
GLO Science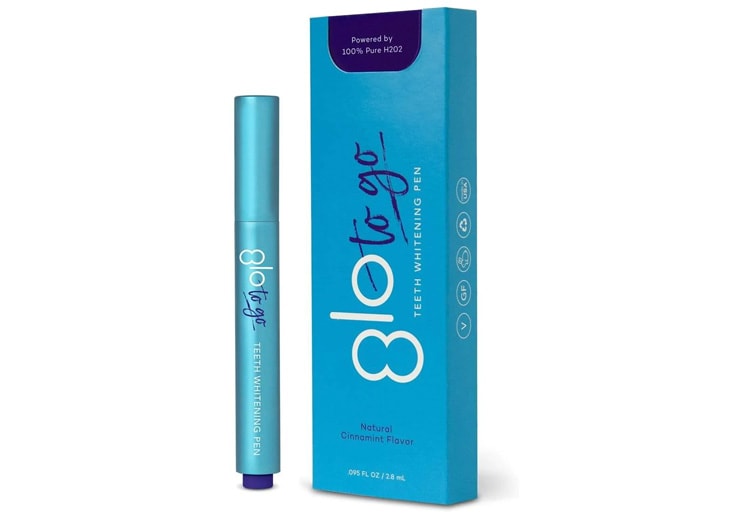 Quick whitening with antimicrobial benefits
GLO Science proudly launched their GLO to Go teeth whitening pen in May 2021. The gel is sensitivity-free, safe, and powered by hydrogen peroxide, and the company claims it produces noticeable results within a week.
The compact GLO to Go teeth whitening pen stands out from the crowd because, rather than a standard brush, it has an ultra-hygienic angled silicon tip, which, according to the company, makes application as easy as putting on lip balm. Drying in only 30 seconds, this is one of the fastest teeth whitening pens available, making it easy to incorporate into your daily routine.
The product receives mixed reviews on sites such as Amazon.com, although, to be fair, there were only 21 reviews. On the positive side, most customers seemed happy with the results, but some disliked the silicone applicator and the gel's taste and found it difficult to dispense from the click pen.
Pros
No need to brush the product off after use

Customers report that teeth appeared whiter after one use

Antimicrobial properties
Cons
Some people disliked the flavor

The click pen can be difficult to use

GLO Science Try Now
Laughland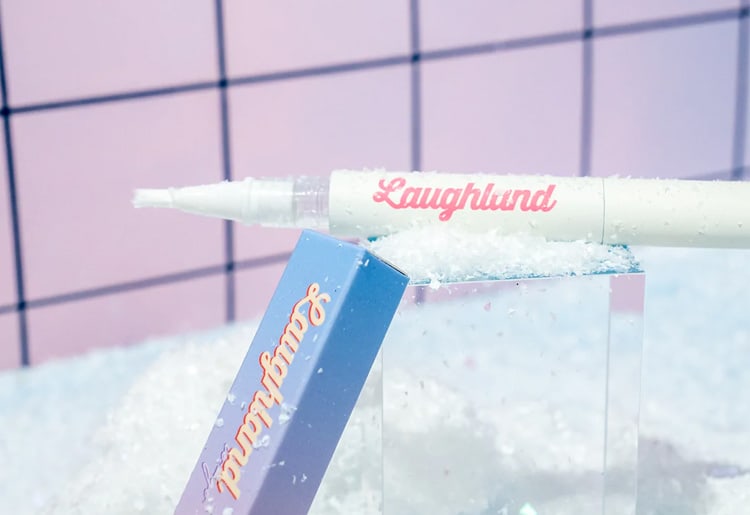 Choose the best whitening formula for you
Laughland is a relative newcomer to the teeth whitening industry with two main products—an at-home teeth whitening kit and on-the-go teeth whitening pen. Vegan and cruelty-free, Laughland's compact To-Go Pen is also ideal for whitening on the go.
A stand-out element of the To-Go Pen is a suite of whitening formulas catered to different needs. The Everyday formula caters to those with mild to sensitive teeth and is recommended if you're just starting out with whitening. The Super Strength formula is for those who don't have sensitivity issues, while the Gentle formula is intended for anyone suffering from severe sensitivity.
Each pen contains sufficient formula to last approximately two weeks if used daily and typically costs around $30. However, at the time of writing, the company has an excellent anniversary deal for just $9, so it's a good time to stock up while you can.
Checking out customer reviews, the To-Go Pen seems to give customers something to smile about, with most people saying they saw a visible difference within a few days of use.
Pros
Various formula strengths

Flexible subscription plan

Easy-to-use twist-action pen
Cons
A little on the pricey side

Must wait 30 minutes to eat or drink after use
Laughland Try Now
SmileDirectClub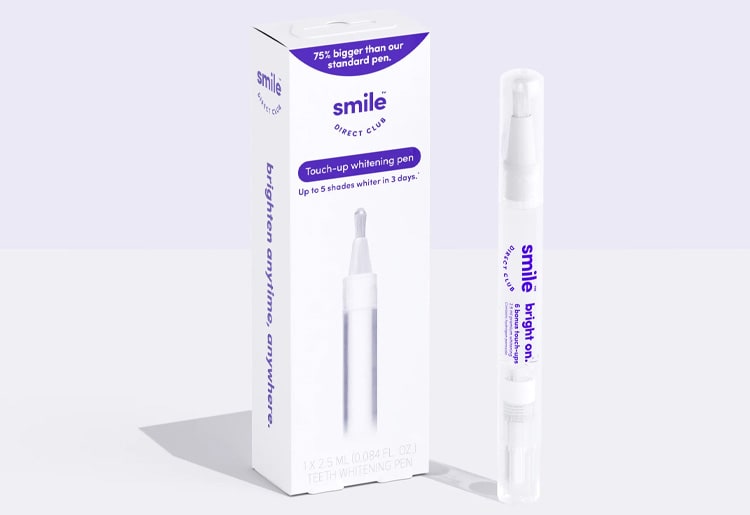 Join the club for whiter teeth
Probably better known for its clear aligners, SmileDirectClub has recently added teeth-whitening products to its inventory, enabling customers to enhance their newly straightened teeth. For those looking to maintain the color of their teeth, it's worth considering SmileDirectClub's Touch-Up Whitening Pen.
Containing 75% more gel than their standard pens, this value-for-money product offers professional results at a fraction of the cost. The brand claims that its gel, powered by hydrogen peroxide, brightens teeth by up to five shades in just three days.
The touch-up pen has a no-mess brush applicator, enabling you to paint the gel directly onto the teeth without getting it everywhere. At the same time, its patent-pending Bright Boost formula promises good results minus sensitivity.
The overall customer verdict on SmileDirectClub's Touch-Up Whitening pens is favorable, with most customers saying that it works well and produces good results at a reasonable price.
Pros
No sensitivity

Claims to remove stains in just a few days

Easy to use
Cons
Pen's twisting mechanism can be tricky

Some customers disliked the flavor

SmileDirectClub Try Now
Zimba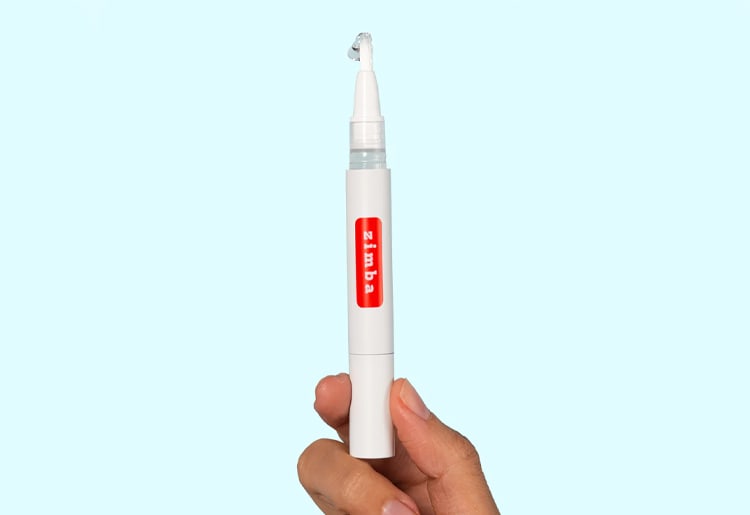 Low-cost, travel-friendly teeth whitening
Zimba was founded in 2018 with a quest to make teeth whitening more affordable without compromising quality. In addition to everyday low prices, Zimba also offers a discounted subscription program to provide customers with regular replacements without the hassle.
The Zimba travel pen's convenient size means it fits easily in a purse or backpack when traveling, and its simple touch-up procedure takes around five minutes. Just brush the gel on, wait for it to dry, and rinse out. While the drying time is longer than many other whitening pens, Zimba doesn't suggest you need to wait 30 minutes before eating or drinking.
Note, however, that the pen is not a full-on whitening treatment. Instead, Zimba recommends that you use it to maintain the results gained from their other teeth whitening products.
Overall, customer reviews on Amazon were positive. Customers stated that the pen worked well, with little to no sensitivity, and that they would definitely use it again.
Pros
Affordable prices

Good customer service

Ideal for touch-ups
Cons
Some people disliked the taste

Whitening agent takes five minutes to set

Zimba Try Now
Polar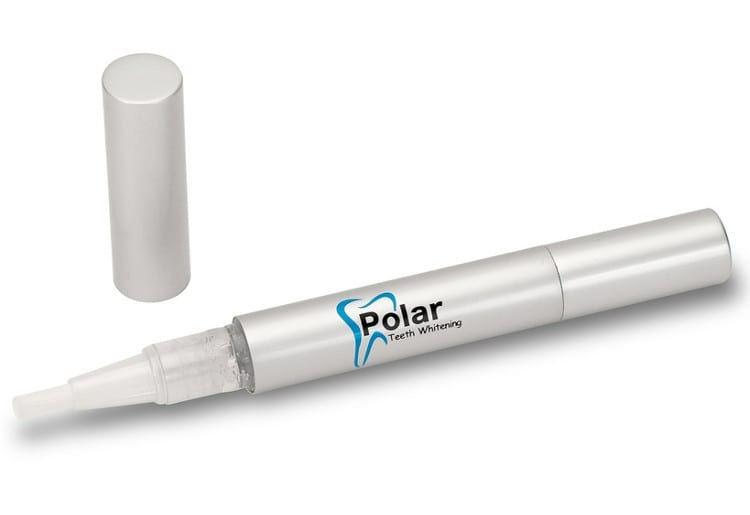 Whiten teeth in 20 seconds on the go
Teeth whitening can be a chore, but not with the Polar teeth whitening pen. Simply brush on, wait for 30 seconds for the gel to dry, and you're good to go. With no need to rinse, the Polar teeth whitening pen offers a portable and convenient solution to brighter, whiter teeth.
This handy little pen is ideal for use on teeth that have already been whitened or for touch-ups of one or two teeth in particular. A twist of the pen brings delivers the whitening gel to the tip of the applicator, so all that's left is to paint it directly onto the teeth. Powered by 12% dental-grade hydrogen peroxide, it's enamel-safe and sensitivity-free. We like that there's a shade guide included in the box, enabling you to monitor your before and after results. But does it really work?
Most of the reviews from Amazon customers for Polar were positive, with the majority seeing visible results. However, some people found the applicator tricky to use and thought that it used a lot of gel to cover the teeth.
Pros
Pleasant peppermint flavor

Affordable price for up to 20 applications

No sensitivity
Cons
Can be tricky controlling the amount of gel that comes out

Some people felt the whitening gel didn't last long

Polar Try Now
MOON
Fast, flavorful whitening from a fashion icon
MOON made its debut in late April 2019 with its founder, Shaun Neff, joining forces with fashion icon Kendall Jenner to create its signature Kendall Jenner Teeth Whitening Pen. MOON was founded with a mission to elevate oral care into a "beauty experience," and it certainly has style written all over it.
The pen contains light-reflecting pigments and carbamide peroxide that MOON claims instantly brightens teeth, whitening gradually over time. 100% vegan and cruelty-free, Jenner's "Elixir III" formula contains a soothing blend of lavender oil infused with strawberry and honeysuckle extract with a vanilla mint flavor for lasting freshness. Free from parabens, SLS/SLES, and artificial flavors, it could be an ideal choice for anyone looking to brighten teeth naturally.
MOON also offers the Platinum Teeth Whitening Pen for those willing to spend a little more. This product has twice the whitening power for faster results.
Most reviews were positive, suggesting Kendall Jenner's whitening pen is worth the hype. Customers mentioned that teeth appeared whiter after just 30 seconds and that the product dries quickly, making it easy to use. Others said that there was no sensitivity and the product was good value for money.
Pros
Vegan and cruelty-free

Easy to use

Sustainable packaging
Cons
Some disliked the flavor

Not enough product

Moon Try Now
VieBeauti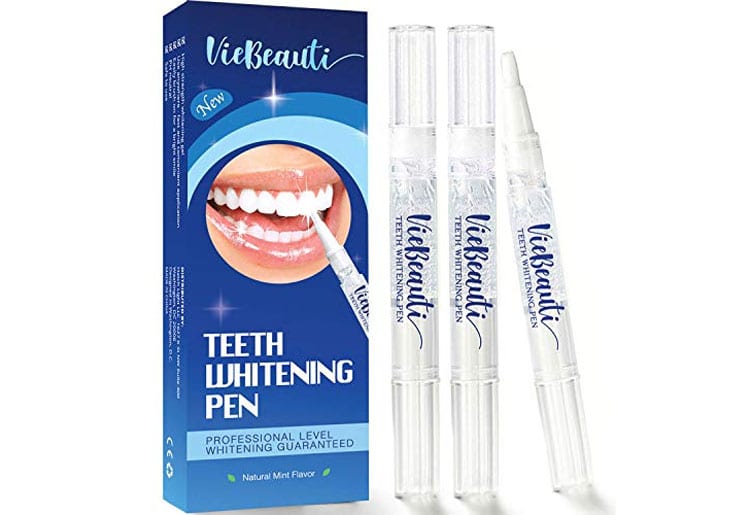 Affordable whitening for sensitive teeth
VieBeauti is a brand dedicated to producing natural, luxurious products at an affordable price. A recent addition to their range is the VieBeauti Teeth Whitening Pen, which offers exceptional value since the package includes three pens, each with enough gel for 30+ applications, at a discounted price of just $19.99.
Safe and gentle for daily use, the VieBeauti whitening pen claims to eliminate years of stains, making teeth four to eight shades lighter with consecutive use. VieBeauti utilizes 35% carbamide peroxide for gentler bleaching. One stand-out feature of the whitening pen is its transparent tube, which allows you to see how much of the product is left. Customers also raved about the easy-to-use twist mechanism. The compact design measures just five inches, making it ideal for keeping in your purse. But does it work?
Apparently, it does. Out of 17,019 global ratings, 65% gave the VieBeauti Teeth Whitening Pen a 4.3/5 rating. One review was entitled "shockingly effective," referring to a huge difference in the color of their teeth after just four uses. Other users stated the pen was easy to use on a single discolored tooth and that there was zero sensitivity.
Pros
Transparent tube

Easy twist mechanism

No sensitivity
Cons
Some people disliked the flavor

A few users said the product hurt their throat

VieBeauti Try Now
Summary of the Best Teeth Whitening Pens
So, we've given you our pick of the seven best teeth whitening pens of 2023, but which should you choose? Ultimately, it depends on your personal preference.
Like anything to do with oral hygiene, the main points to consider are your teeth, their needs, what they can handle, and how much time you can commit to dental care.
Other points to consider are: Do you want a whitening pen for sensitive teeth? Would you prefer a twisting base action to dispense the gel? What about flavor? Are natural ingredients your priority?
Whatever your preference, don't worry. We've got it covered. This section summarizes the best whitening pens to meet all needs and budgets, so you can choose what's best for you.
Are Results Instant?
In many cases, teeth whitening pens can work instantly and continue to whiten for several minutes to several hours following application. However, most whitening products take longer to achieve more noticeable results. These results are also not permanent; most people find the whitening effect lasts for around seven to ten days.
Whitening pens typically use carbamide peroxide or hydrogen peroxide as their active whitening ingredient, and while they achieve the same results, they take different times to work.
Hydrogen peroxide releases most of its whitening power within 30 to 60 minutes. In contrast, carbamide peroxide takes longer to break down, emitting around 50% of its bleaching power in the first two hours and remaining active for up to six more hours.
Since hydrogen peroxide works faster than carbamide peroxide, it's a popular option for many teeth whitening pens. It will achieve visible results quicker than whitening pens containing carbamide peroxide. Typically this means that the wear time for a hydrogen-peroxide-based whitening pen is shorter, although this doesn't affect the length of a course of treatment.
Ultimately, the number of days or treatments that you'll need to use a teeth whitening pen before seeing results depends on your individual diet and your tooth color when you start treatment.
How Often Should You Use Whitening Pens?
The recommended frequency of use for a teeth whitening pen depends on the brand in question. However, many manufacturers recommend using the pen at least twice a day—once in the morning following breakfast and again in the evening before bed.
For the best results, you should always read the instructions for your particular pen. Dentists typically recommend that whitening pens only be used for 14 days at a time.
As a top tip, avoid drinking beverages, eating food, and rinsing your mouth within the first 30 to 60 minutes of use for hydrogen-peroxide-based whitening pens and within two hours if using a carbamide peroxide whitening pen.
Overusing a whitening pen could result in gum irritation from the serum and potentially damage the tooth enamel. Remember, whitening pens are best suited to a quick fix if you have a special event and want to look your best or for maintenance between professional teeth-whitening treatments.
Are Teeth Whitening Pens Safe and Effective?
How safe are teeth whitening pens?
You can purchase teeth whitening pens over the counter, which means they're safe to use at home, provided you follow the instructions. However, like most things in life, excessive use can be harmful.
According to one study, hydrogen peroxide-based and carbamide peroxide-based tooth whitening is safe and effective. However, some whitening pens may contain additives and chemicals that could cause tooth sensitivity. If you're using the product correctly, any sensitivity should ease within 24 hours.
How effective are teeth whitening pens?
Peroxide-based teeth whitening pens work on extrinsic stains, i.e. external stains on the surface of tooth enamel caused by environmental factors. Thus they work best on generally yellowish teeth and stains caused by food or smoking.
Unfortunately, teeth whitening pens do not work on internal (intrinsic) stains caused by certain medications, age, genetics, and other health problems. Consequently, teeth whitening pens are ineffective if your teeth have a grayish tint or are brown or discolored due to medication, trauma, or dentin exposure.
Whitening Pen Alternatives
If you don't think a whitening pen is quite what you are looking for, there are plenty of alternatives when it comes to brightening your smile. Let's take a look at some of the main options.
Teeth Whitening Strips—If you don't like the idea of using a pen to apply gel to your teeth, gel whitening strips are a great alternative. Strips are embedded with a formula similar to that found in a pen, but they are easier to apply. Simply stick a whitening strip to your teeth and wait.
LED Teeth Whitening Kits—These kits use an LED mouthpiece to activate ingredients in the whitening agent, delivering longer-lasting results with a smaller number of treatments. Treatments are a little more involved and take longer per session than whitening pens, but you may be happier with the overall outcome.
Whitening Toothpaste—There's no easier way to introduce teeth whitening into your daily routine than by replacing your normal toothpaste with a whitening variant. That said, whitening toothpaste is only really designed to maintain the results gained from using other products, and you are unlikely to see any significant benefit from using it in isolation.
Why Should I Use a Teeth Whitening Pen?
Whitening pens have several advantages over other whitening products.
Quick worry-free application—Whitening trays must be worn for several hours or overnight, disrupting your schedule and sleep. Strips need to be worn for at least 30 minutes to an hour. Portable teeth whitening pens are far easier to use than these at-home products. Apply them to your teeth and go about your daily business.
Precision whitening—A teeth-whitening pen enables you to target individual teeth that are stained or discolored, thus avoiding other teeth, while strips and trays bleach all teeth, including those that don't need whitening.
Faster whitening—Most at-home whitening products contain 10-22% carbamide peroxide or 3% hydrogen peroxide, which, although effective, take longer to see results. Teeth whitening pens contain up to 30% hydrogen peroxide and 35% carbamide peroxide, meaning they act faster.
Safer whitening—Many over-the-counter whiteners are abrasive and can cause tooth sensitivity or gum irritation. Bleach contained in whitening pens does not wear away the tooth enamel, and you can control the pen's application to stop short of the gum line, preventing gum irritation.