In a Nutshell
LifeReader is the tried and true veteran of online psychic services. With over 30 years of experience and a dedication to customer satisfaction that is second to none, users can feel secure in choosing this site for their psychic needs. Navigating the Psychic Source website is extremely intuitive, and you will never be at a loss for information or guidance about which psychic is a great fit.
pros
Highly experienced and dedicated to superior service
Comprehensive psychic profiles to help you find the best fit
Membership rewards program
cons
Rates may vary based on the type reading: video, phone, or chat
No way to talk with a psychic before starting a reading

LifeReader Compare All
How Much Does LifeReader Cost?
LifeReader is by far one of the most reasonably-priced psychic websites. Its pricing ranges from $2.50 - $6.50 per minute (set by the reader), with the average rate at around $4.50. That's even lower than the minimum rate on some other sites.
You can either load your account beforehand or opt for a pay-as-you-go method. LifeReader offers two discounted packages to load your account: pay $15 for $30 worth of credits, or $40 for $80 worth. So it definitely seems like pre-loading your account is the way to go.
LifeReader also has a massive discount on your first-ever phone reading. You only pay $0.19 per minute for the first 10 minutes, switching to normal rates afterward. In addition, every time you start a chat with a new psychic, the first 4 minutes are completely free.

What payment methods are accepted?
LifeReader accepts Visa/Mastercard credit and debit cards, as well as prepaid Visa/Mastercard gift cards. PayPal is also accepted.
Pricing and Special Offers
$15 for $30 credits, or $40 for $80 credits
$0.19 per minute for first 10 minutes. Free first 4 minutes of chat with each new psychic.
Is LifeReader Legit?
How does LifeReader screen potential readers?
After reviewing a potential reader's application, the LifeReader team requires a test reading with at least one of its assessors before the reader can offer their services to the public. LifeReader looks for readers who "have a high Standard of Ethics and Professionalism, and who take great pride in helping others." It should be noted, however, that LifeReader doesn't publish a specific code of ethics and conduct anywhere on its website.
Do LifeReader psychics work for the company?
Like most other psychic networks, LifeReader is a platform for psychics to offer their services. All communication and services are mediated through the site, but readers are independent.
How do users feel about LifeReader?
Most LifeReader psychics have a positive rating of 97% or higher. Psychics are rated on a 5-star scale and it's not clear how many stars LifeReader views as a "positive" rating. Even though users seem to like the psychics overall, there are complaints about the site's customer service.
How to Get Started with LifeReader
How easy is it to sign up?
Very easy. Create an account with a username, along with some personal information, then load some money into the account and you're good to go.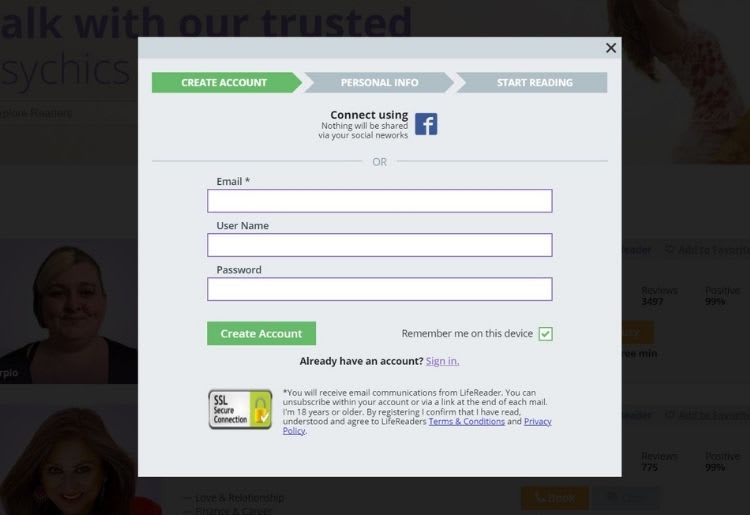 What personal information do you have to provide?
LifeReader asks for a little more personal information than some other sites, although they assure users the information will not be shared. They require you to provide your name and address and ask for your phone number (though this part isn't required).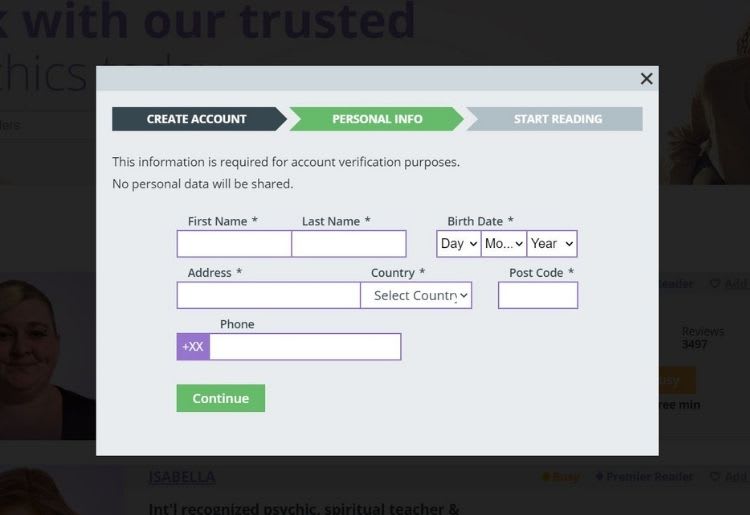 After entering your personal info, the site will push you towards putting in your payment information. You can do this now, or click "Browse Readers and add Payment details later" at the bottom of the window and browse the site first.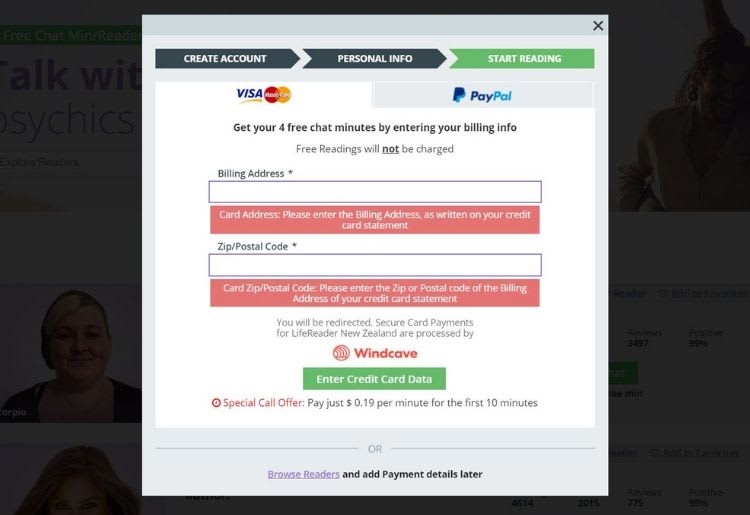 Do you have to deposit funds before being able to choose a reader?
Yes. LifeReader asks you to deposit funds before starting a reading. There is a pay-as-you-go option, but it seems you can only do this after an initial deposit has been made.
LifeReader Features and Tools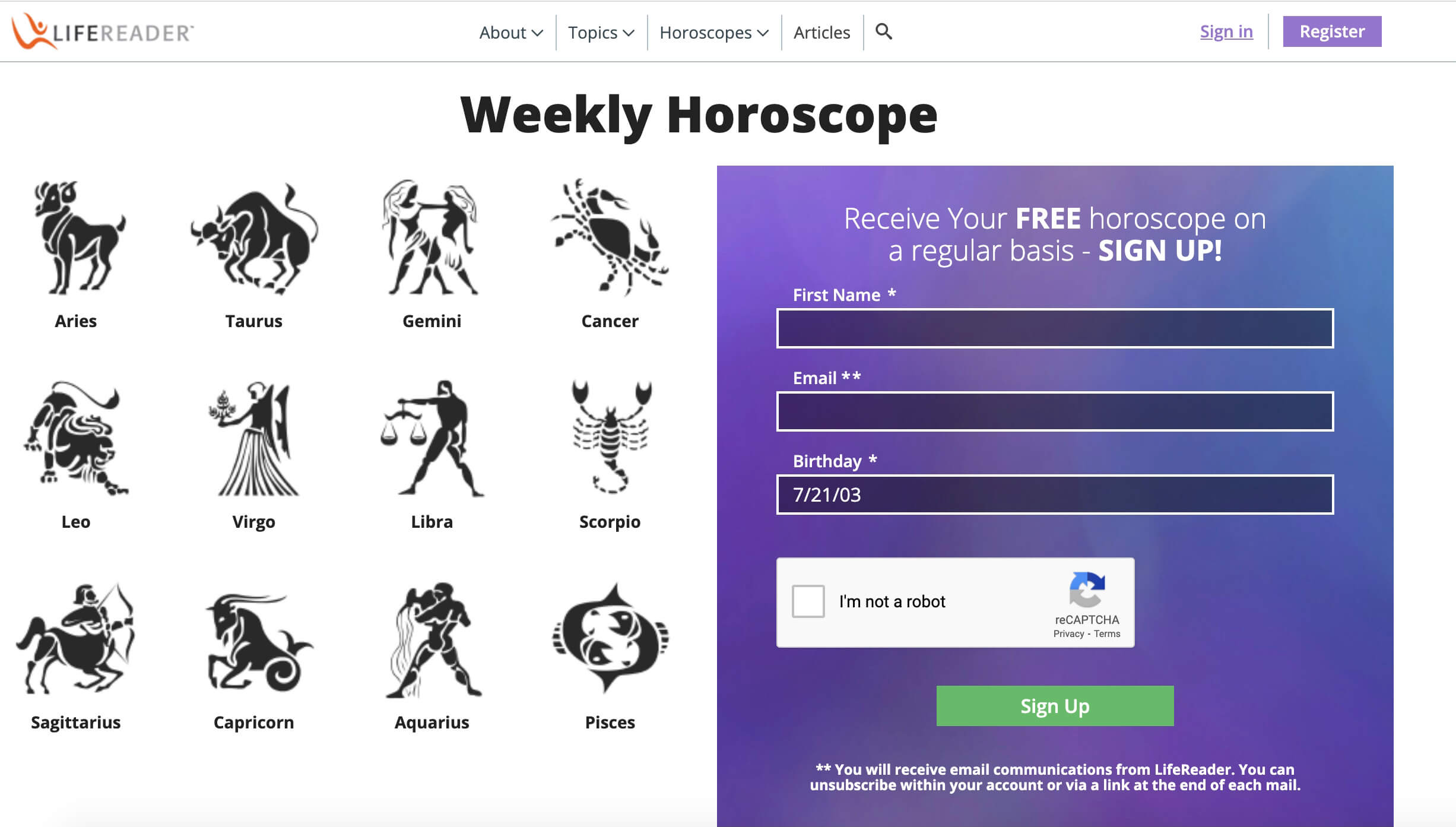 LifeReader has some of the best rates for psychic services on the web. Even their premium readers only charge $6.50 per minute!
Great value packages and an awesome introductory offer: only $1.90 for 10 minutes!
Wide range of reading types and simple menus to help filter psychics by type of reading or by topic.
Daily and monthly LifeReader horoscopes, as well as blog articles, written by the resident psychics.
Phone or chat readings.
How to Choose a Reader at LifeReader
What types of readings does LifeReader offer?
Although LifeReader has only five general types of readings, you can use a drop-down menu to open things up to a vast array of readings and topics. For instance, under Tarot Card Readers, you're given the option of which deck the psychic is reading with: Crowley, Lenormand, Angel cards, and many others. And be prepared for a monster list when looking at the Mind Body Spirit menu. You'll find everything from Reiki and Aura reading, to diet advice and fertility readings, to pet communication and feng shui.
What type of reader information is available?

Each reader has a profile page where they provide background information about themselves, their experience, and their abilities as a reader. There isn't a standard set of questions/requirements that the readers are responding to, so the profiles can range in length, detail, and kind of information offered.
Featured and recent ratings/reviews for the psychic are also clearly available. A reader's profile also lists how long they've worked on LifeReader, how many readings they've done, the total number of reviews, and the percentage of positive reviews.
Are there customer reviews of readers?
Users are encouraged to leave feedback about their experiences with LifeReader's psychics, and some of the site's readers have thousands of reviews. However, it is a little tedious to search through the reviews if you're looking to get more of a feel for the reader. And the reviews tend to be short rather than offering any substantial information about the reading and/or giving feedback to the reader.
Some of the reviews don't have any text and are only a rating on the 5-star scale. The site also doesn't provide the psychic's average star rating, so if you want to see whether the reader has any negative reviews, you have to search manually.
How easy is it to book a reading?
Booking a reading on LifeReader is exceedingly simple. Just find the psychic you want the reading from and click hit the button corresponding to either phone or text chat. If the reader is busy or offline, you have the option of reserving a callback.
You must indicate how long you'll be available, e.g., for the next 3 hours, and the reader will do their best to call you back during that time period. If the psychic isn't able to make the callback, you can also use LifeReader's webmail system to schedule a specific time for a reading in the future.
How can you connect with LifeReader advisors?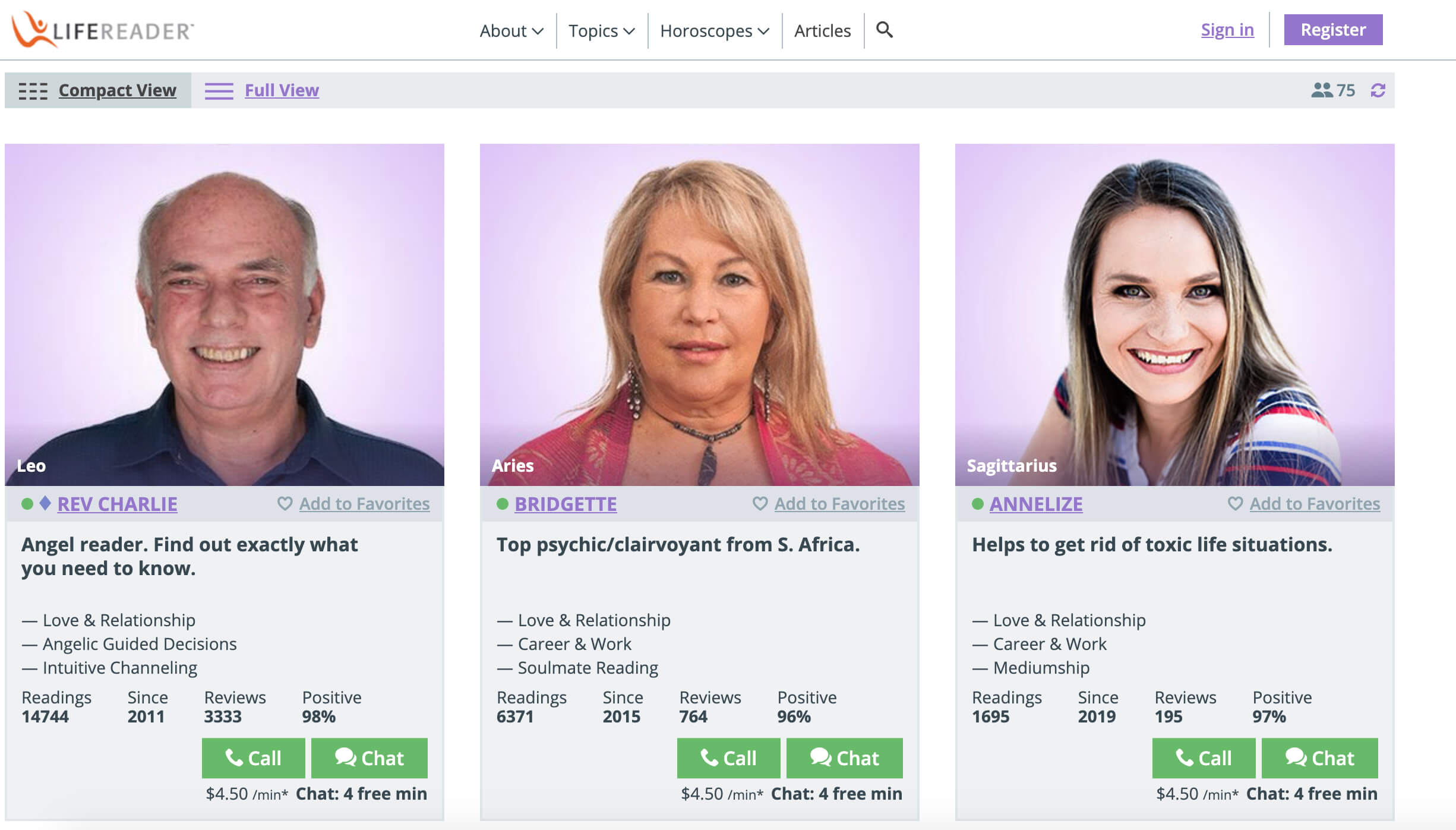 LifeReader offers two methods of readings: either by phone or by text chat. Psychics who are currently online will indicate whether they offer their services by phone, text, or both. If a psychic does not currently offer one of the two reading types, it is not clear whether this is always the case, or if it just happens to be that reader's preference at the moment. You can always reach out using Lifereader's webmail system to inquire further.
Can you block an advisor?
Yes. You can (un)block readers from contacting you via LifeReader's webmail service. All phone communication between you and the readers is handled through the website, so the psychic will not have your phone information to call you outside of a reading you requested.
Can you leave feedback or rate an advisor?
Yes. You can leave feedback and provide a rating on a 5-star scale for the psychics on LifeReader. You are only allowed to leave feedback up to seven days after receiving a reading. If you would like to leave feedback after that period or edit previous feedback, you must contact LifeReader's customer support. Also worth noting is that LifeReader reserves the right to edit any feedback that is derogatory or defamatory.
Can you create a favorite list?
Yes. You can create a favorites list on LifeReader. This will help you monitor when your preferred psychics are online and available.
Can you ping your personal advisor?
Yes. Users can message readers at any time via LifeReader's webmail, although there is no guarantee when the reader will respond.
Does LifeReader Have an App?
LifeReader also has apps for both Android and iOS. The Android version has very favorable feedback and likely provides an easy way to schedule and conduct readings anywhere you want. Since LifeReader only offers phone and text readings, you don't have to worry too much about it leeching your data.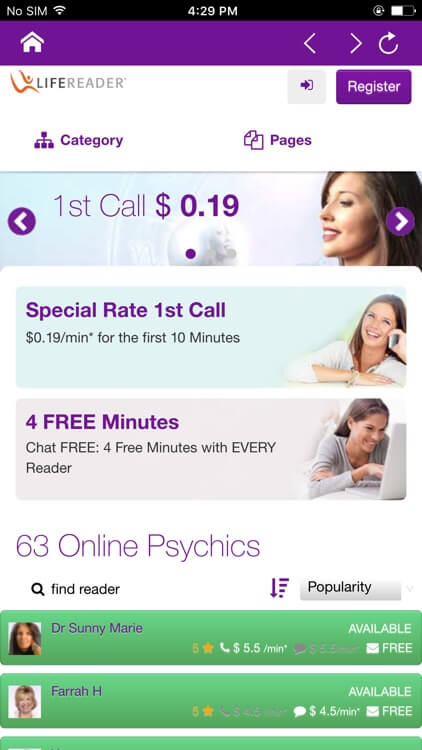 There are a few negative reviews, however, with users saying they were charged for their first reading when they expected the first couple of minutes to be free. If you install the app, make sure to carefully read Lifereader's pricing model. It's also probably a good idea to preload your account and keep track of how long you talk so pay-as-you-go charges don't sneak up on you. As for the iOS version, there is very little information or feedback available.
How Does the LifeReader App Work?
The app functions exactly the same as if you were using the website. You can use your LifeReader login or else easily create an account and enter your payment information. Then you're free to browse the available psychics and start your readings. The website's articles are also available through the app, which is a nice feature if you don't want to take time to read them on your computer.
Help and Support
LifeReader's help and customer support features are definitely one of the areas that are lacking compared to other psychic reading sites. The Help page is a pretty sparse FAQ section consisting of fairly simple questions and short answers. Although LifeReader's services are not as comprehensive as other sites, their attention to customer service is more on the page's looks than its information. Many of the FAQ answers simply redirect you to other pages on the site. However, there are no links to those other pages so you're forced to root around the site to find full answers.
As far as tech support, LifeReader only mentions that users have a current browser and may want to clear their cache and cookies. The only links in their whole FAQ are to outside sites that explain how to deal with those latter issues. The only way to deal with issues not covered in the limited Help page is to submit a message in their Contact section. You may only submit a text description of your problem and must also provide your email address. General reviews of their customer support say that LifeReader is slow to respond and not very helpful.
How to Get a Refund From LifeReader
Yes, you may request a refund from LifeReader within 72 hours of the reading. Refunds are limited to 15 minutes worth of the reading and you may only request up to one refund per month. Refunds are issued as pre-paid credits to your account. You may also request a refund for pre-paid credit in your account up to 18 months after the purchase, and the refund is returned to your original method of payment.
How easy (or difficult) is it to request a refund?
It's a little difficult to find Lifereader's refund policy, as the only place mentioning a refund is deep within their Terms and Conditions page. Once you find the refund policy, it's pretty straightforward to request it: You must send an email to support@lifereader.com and include the date of the reading, the fee, and the reader. However, LifeReader ultimately decides whether to refund in full, partially, or not at all.
How long does it take to get a refund?
LifeReader doesn't state any time frame for issuing refunds. Based on user ratings of their customer service, refund requests would likely be a little slow.
How LifeReader Compares to Other Psychic Reading Sites
LifeReader's pricing is not the cheapest, but also not among the most expensive. This leaves it as a cheap-ish provider with a great selection of reading types and readers. Readings via phone and chat are fairly standard and unless you prefer video chats, you will find what you need here. What sets LifeReader apart is the 4 minutes you get for free at the start of every chat with a new psychic. That's a fantastic way to find your perfect reader without spending a lot of money.
$2.50 to $6.50 per minute
$0.19 per minute for first 10 minutes by phone. 4 minutes of chat free per psychic.
Introductory free 3 minutes or $1.99 for 10 minutes
3 free minutes and 70% off first session (up to $50)
Introductory value package of $1 per minute for 10, 20, or 30 minutes
Lifereader vs. Keen
Lifereader is hands-down the more affordable option compared to Keen: both have low minimums, around the $2 range, but Lifereader caps out at just $6.50 compared to Keen's $30 per minute rate. Both of their introductory offers give you 10 minutes for less than $2, which is a fantastic rate compared to many other sites. They also offer a similar range of services and reading methods: phone and text chat being the most prominent. Lifereader can require a little more caution in your search for a good psychic experience, whereas Keen's rating and matching system helps you find the reader to suit your needs.
Lifereader vs. Kasamba
Lifereader definitely comes out ahead on overall cost compared with Kasamba - while the latter does have a lower minimum rate, $1 compared to $2.50 per minute, Lifereader's maximum per minute rate is almost one-fifth of Kasamba's $30. While both sites have great introductory offers, Kasamba's has the potential for offering a better value, allowing you to save 70% (up to $50), compared to Lifereader's $1.90 for 10 minutes. Both sites also offer a similar range of reading styles, but Lifereader does have an edge in that it gives the option for phone readings instead of Kasamba's solely text-based service.
Lifereader vs. Psychic Source
If you're looking to shell out less money for a psychic reading, Lifereader is probably a better bet than Psychic Source - at $6.50, Lifereader's maximum per minute rate is only slightly higher than Psychic Source's $4.99 minimum per minute rate. Although Psychic Source does have a good introductory offer, up to 30 minutes for just $1 per minute, Lifereader has a much more impressive introductory 10 minutes for under $2. That said, Psychic Source does come out ahead in the range of services they provide, offering video readings in addition to phone and text chat. Psychic Source also has a proven history of quality psychics which is hard to beat, whereas on Lifereader you may have to be more selective about choosing your reader.

LifeReader Visit Site
Bottom Line
The overall verdict on LifeReader is that it's ideal if you're looking for a bargain on your next psychic reading as a first-time customer. The extremely affordable introductory offer coupled with the low normal rates — $4.50 average — makes it a good option if you're short on cash or just curious about the psychic reading experience. The site also offers a great selection of reading types and helps you find the reader that's a good fit for you with their easy-to-navigate filter menus. Pretty much all of their psychics have excellent positive reading scores (97% or higher), although it's not clear how that rating corresponds to the 5-star system or the readers' feedback.
The downside to bargain-hunting is that you have to rely on yourself to find the service that suits you. You're not going to find nearly as much customer service support as you do on other psychic reading sites. The FAQ page offers minimal answers and is not designed to help the user actually find the information they need. On top of this, LifeReader only uses an email-type support system, which could leave you waiting for a response for hours, if not days. If you do end up having an issue, or want to request a refund, you're going to be stuck watching your inbox for a response with no guarantee, making it a bit riskier than other websites.