Many couples find that when communication and intimacy become difficult to manage, it may be time to seek the help of a certified marriage and family therapist. A licensed, neutral outsider can help couples communicate more effectively to navigate the sometimes rocky waters of partnership. When both parties participate with open minds, relationship coaching can be an important part of growing as a couple.
Online platforms are growing in popularity for couples seeking relationship help. Like traditional in-person therapy, online couples therapy involves formal sessions between a counselor and both spouses.
Instead of meeting at the therapist's office, virtual sessions are offered by local therapists using their own practice's platform, or through a subscription platform that employs a network of professionals. Plans often include live video sessions, along with opportunities to connect between meetings, like chats and messaging. You can learn more about the offerings of online therapy platforms in our list of the best online therapists.
What is marriage and family counseling?
This American Psychological Association article suggests that when couples find themselves having the same arguments repeatedly – about finances, parenting, or other issues – it may be time to seek professional couples therapy.
Whether using face-to-face or online methods, a marriage and family therapist facilitates productive conversations between partners using evidence-based techniques. Couples therapy can help spouses:
Develop improved ways to communicate their needs and fears

Learn to be better listeners

Create goals for the relationship

Recognize long standing patterns in communication and behavior within the relationship
A survey reported in this educational article from the American Association for Marriage and Family Therapy found that the overwhelming majority of couples who participated in marital and family counseling reported improvements in individual and relationship emotional health.
It's important to note that if you believe either of you is in danger due to mental illness, abuse, or other dangerous issues, marriage and family counseling is not an option: you should call emergency services immediately.
If you believe that your relationship could benefit from professional coaching, there are a range of options available. The first step in the decision-making process is to determine whether to visit a provider's office or participate in virtual sessions. Here are some pros and cons of online options to help you decide if virtual therapy is right for you.
Pros of online couples therapy
1. Convenience
With online therapy platforms, you choose the best therapist for your needs, regardless of their location. You will not be limited to the counselors with offices near your home who are accepting new clients. Using resources like our list of the best online therapists, you can search for a couples counselor with the specific experience you're looking for, whether they have an office near your home or not. You don't need to line up transportation for sessions–just a computer or other device with internet access and a camera.
2. Flexible hours
In many marriages, time is already in short supply. If you are already feeling overwhelmed and overscheduled, skipping work or other activities to dedicate to couples counseling can add a new level of unwanted stress. With online relationship counseling, many licensed therapists offer unconventional hours, so you will discover more flexibility to line up appointments that work for BOTH of your busy schedules. Because sessions happen in your own home, you won't need to build in the extra travel time you'd need to visit an office.
3. More anonymity
While no one should be ashamed to be "seen" going to a therapist's office, one or more partners may be reluctant to sign up for face-to-face couples counseling out of a fear of being recognized in a waiting room. All therapy—whether in-person or virtual—has a guarantee of confidentiality, but the increased feeling of privacy with virtual options can make it easier to convince a spouse who may be resistant to starting therapy.
4. Comfort
For many people, it can be comforting to be in your own home to discuss private and/or difficult issues. Sitting in an unfamiliar setting like a therapist's office can cause some couples to feel a reluctance to open up. In this study of virtual couples therapy, participants reported that the online setting allowed them to feel less judged, and thereby more apt to reveal thoughts and feelings that made them more vulnerable to their spouse and their counselor.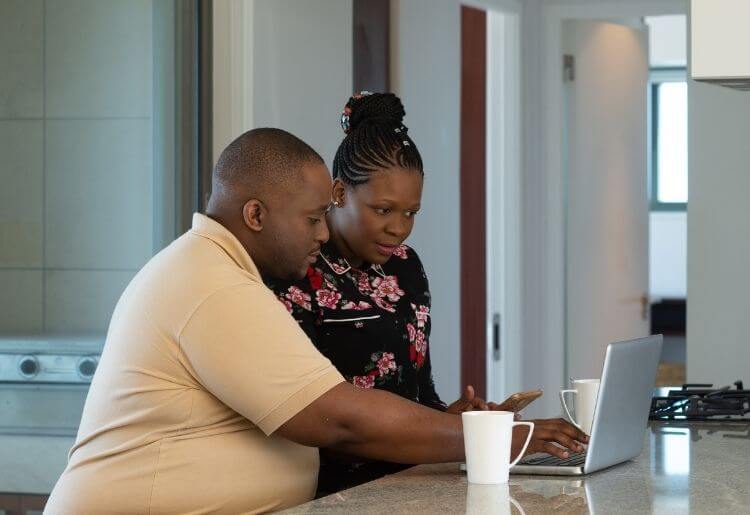 5. Usefulness for long-distance relationships
If you're in a serious partnership with someone who lives far away from you, online couples therapy is an ideal solution to come together in a virtual setting to work on communication and other relationship issues. Geographic location doesn't matter in online therapy, as long as you can both find the same hour or two per week to fit in teleconference sessions.
6. Lower price tag
Money management is a key sticking point in many marriages. Expensive in-person therapy sessions may be difficult to add to the household budget. Therapists who use a virtual platform generally do not have to charge premium rates to help pay to maintain a physical office space. These savings are often passed on to clients. Not needing to travel to appointments also means less time off work, and no need for extra gas or public transportation costs. If you are interested in exploring the options available for online couples therapy counseling, check out our top 10 list of the best online platforms for relationship counseling.
7. Added features available through online platforms
Many companies that offer virtual couples therapy include bonus features such as educational materials, the ability to chat outside of sessions and free messaging between appointments. Traditional in-person practices may not offer these extra features. Calmerry is an online platform with licensed board certified therapists for a range of counseling needs, including couples therapy. Their plan includes unlimited text messaging and video chats.
Cons of online couples therapy
1. Body language limitations
Licensed family and marriage counselors are trained to pick up on a variety of cues, such as words and tones used in communication, facial expressions, and body language cues, like leg and arm positions. In an in-person session, therapists are able to note all these cues, while in a virtual setting, certain body language cues may be out of range of the web cam.
2. Interruptions
While virtual sessions may be more affordable and convenient, they also don't provide the separation that is often needed to focus on the relationship. A therapist's office provides a dedicated space for counseling, while telehealth is more likely to suffer from interruptions from other family members, technical glitches, or other issues.
3. Excessive familiarity
While online relationship therapy has the benefit of a comfortable home setting, this can lead to a casual feeling, where one or both members of the couple stop paying attention, don't complete homework tasks, or otherwise show signs of not taking therapy as seriously as they should.
4. Not appropriate for all relationship issues
Online couples therapy can help partners focus on their relationship and communication skills to address a wide variety of concerns. However, severe problems cannot be addressed in a virtual setting. If either partner is in danger of physical harm or abuse, contact emergency services immediately. In cases of severe depression, addiction, or other illnesses, it's important to seek in-person help immediately.
Conclusion
Marriage and family therapy is a great resource for many couples looking to improve their relationships. Whether you choose in-person or online options, there are several items to keep in mind with couples counseling:
Do your homework. Be sure that you are signing up to work with a licensed, board-certified professional with experience in your areas of concern. When looking into counselors, you can also explore whether or not the service you are considering accepts medical insurance.

It takes time. No relationship can be "fixed" in a few sessions. Make sure you and your partner are educated about the possible outcomes, the number of sessions you may need, and the level of participation needed to make meaningful changes.

Keep an open mind. During the course of therapy, you may learn things about yourself and your partner that you weren't anticipating.

Some issues are beyond the scope of counseling. Be on the lookout for possible red flags in your relationship. If you are being abused, seek help immediately. Some relationships are not worth mending.
For couples seeking to strengthen their communication skills and improve their intimacy, relationship counseling can be an excellent source of coaching and a chance to focus on one another.