The timing has never been better.
The National Institute of Mental Health estimates that nearly 31% of US adults have had an anxiety disorder at some point in their lives. That same organization says that only half of people with mental illnesses receive treatment.
One potent topic for this year is the rise of online therapy services. With mental health issues a growing concern in the US and across the world, more and more experts are expressing their support for online therapy, which they say can be a viable form of treatment for anxiety, depression, and lesser-severe forms of mental illness.
The reasons are myriad, though the most common obstacles to seeking therapy are cost, accessibility, and social stigma.
Online therapy services have emerged as one way of answering the call. Though forms of teletherapy, or remote therapy, have been used by the military for decades, a new crop of online services have sprouted up, drawing on the internet's penchant for bespoke, on-demand services to provide traditional therapy to people via non-traditional settings.
By providing affordable access to licensed therapists and counselors via smartphone or computer, online therapy is making a case for itself as this generation's answer to mental wellness.
What Is Online Therapy?
Online therapy services provide remote counseling for non-emergency mental health issues. Popular online therapy services such as BetterHelp, Talkspace and ReGain pair you up with licensed therapists to conduct sessions via Skype, live chat, phone, and even email.
As experts and even the online therapy sites themselves will tell you, online therapy is not ideal for those experiencing serious psychological issues. But for people suffering from general anxiety, depression, grief, relationship problems, and eating disorders, it can be a helpful means of therapy.
What Are the Experts Saying?
One of the biggest benefits to online therapy is its ability to reach people who otherwise couldn't make it to a therapist's office in person. David Kaplan, the chief professional officer of the American Counseling Association, told The Atlantic, "Online counseling can be especially useful with individuals in rural America, as a great many rural counties do not have a single licensed mental-health professional."
The magazine also mentions patients with agoraphobia, or those whose anxiety limits their mobility, as other potential benefactors of online therapy.
The web may just be catching on to this phenomenon, but the US military is no stranger to the benefits of distance therapy. For more than 20 years, the military has been using a form of teletherapy to help soldiers work through anxiety and PTSD.
A recent study published in Behaviour Research and Therapy compared the effects of remote therapy compared and traditional face-to-face counseling. Researchers chose 132 military veterans with PTSD and provided each with 10-12 prolonged exposure therapy sessions. Half of the veterans were given face-to-face counseling at a VA center while the other half's sessions were conducted by video conference from the comfort of the patients' homes.
"Our effects with PTSD were just as good in person vs. home based telehealth," psychologist Ron Acierno, who led the study, told the Huffington Post. While those who were given at-home treatments were less prone to completing the program than those who visited the VA center, Acierno and his colleagues were surprised and inspired by the lack of success between the two modes of therapy.
College students are another population that studies have shown may benefit from web-assisted therapy. Megan Jones, PsyD, is an adjunct clinical assistant professor of psychiatry and behavioral sciences at Stanford University School of Medicine. In 2004 she led a study for college students with eating disorders, and found that using a digital body-imaging program and web-based coaching through Lantern, an online therapy site, increased students' to become proactive about their disorder and seek follow-up care.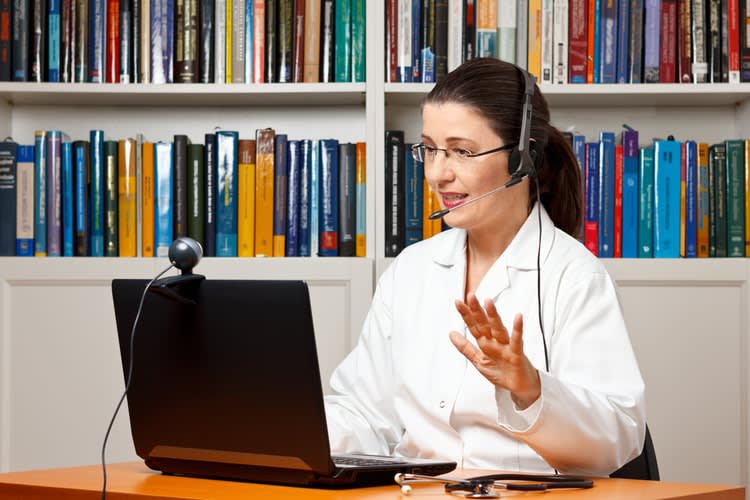 What Is the Psychology Community Saying?
There's been less pushback than you might expect from the psychology community, given that online therapy services could pose a real threat to traditionalists in the field. The American Psychological Association (APA) has covered the topic extensively, offering a hopeful, yet cautious endorsement of what it sees as a new avenue to helping those who need it find support.
"With some caveats, the Internet continues to be extremely useful for disseminating health and mental health information," the APA said back in 2001. A more recent APA article, titled "A Growing Wave of Online Therapy," celebrated online therapy's potential and stated that "the onus is on psychologists to make sure they comply with federal and state laws."
Psychology Today has been following the trend closely as well, and has featured numerous articles from psychologists who have given online therapy a try. "My colleagues viewed my new endeavor with skepticism and sometimes overt disapproval," said Joseph Burgo, Ph.D. "To my surprise, I discovered early on that practicing by video conferencing platform isn't as different from in-person work as I had expected."
Things to Keep in Mind
Online therapy is clearly filling a need for many throughout the world, giving those with limited funds, privacy concerns, or travel limitations the ability to access therapy. But to paraphrase the APA, a few caveats are needed.
For one, online therapy isn't for everyone. Those with more severe mental health issues should stick to more traditional face-to-face sessions with therapists they know or have been referred to by professionals.
Secondly, those who are interested in online therapy should do some vetting before choosing a service. Pay attention to the website's licensing and privacy policies; you'll want to find therapists with accreditations such as LMFT, LCSW, LMSW, or Ph.D/PsyD.
World Mental Health Day is an opportune time to think about how we can make mental health resources more accessible to those who need them. Online therapy is one obvious answer. By allowing those with anxiety, mobility, or financial concerns that impede their ability to seek therapy the option of finding support from the comfort of their homes, online therapy has the potential to be a gamechanger in the world's approach to mental health.
The truth is, there's no single answer for how to respond to mental wellness. Every client is unique and requires a unique approach to treatment. Though online therapy can suffice for many who suffer from more generalized forms of anxiety and depression, it's not always the right option. The most important thing is that those who need help receive it. Sometimes that means support from friends, loved ones, work, and school. Other times it might mean traditional therapy or in some cases, in-patient care.
But for those in situations where online therapy could be of benefit, this year's World Health Day is as good a time as ever to explore the benefits and setbacks of online therapy so that moving forward we can collectively come up with more methods of offering support to those who need it.