Home meal kit delivery companies provide a service that can definitely make things easier for seniors who want to make healthy food at home. You don't have to go to the grocery store or spend hours researching recipes—you simply pick out your meals online with the best meal delivery service, and they're shipped directly to you.
Even better, the meals are designed to be easy, and even a kitchen novice can whip them up in about a half hour or so. Also, all the recipes come with nutritional information that can help you keep on top of your diet and learn how to use those calories best.
The Benefits of Meal Delivery for Seniors
One of the main attractions of meal kits is the convenience of it all. You don't need to run to the grocery store, you don't need to chase down random ingredients across town, you don't even need to come up with any ideas for dinner.
All you do is go online take a look at the week's offerings and then make your selections. The meals will then come directly to your door without you ever leaving the driveway.
Meal kits can help you live healthier for a number of reasons. One, the kits introduce you to fresh, organic ingredients that you may not have been used to eating, and by encouraging you to cook at home, you're less likely to step out and eat less healthy food outside the house.
In addition, meal kit companies make a point of including the nutritional information on every recipe, so you can see exactly the amount of calories, fat, and vitamins if you're on some sort of diet regimen or you'd just like to keep track of things.
Now that you have an idea about what meal kits entail, let's take a closer look.
Here Are the Best Meal Kits for Seniors
1. Blue Apron
($7.49 - $9.99 per meal depending on the plan and number of servings you order. Shipping is free except for all except the lowest tier plan, which requires a $7.99 shipping fee)
Blue Apron offers a convenient and tasty alternative to ordering in or making trips to the supermarket. Its meal kits include fresh ingredients and simple recipes inspired by Mediterranean flavors, making them the perfect middle ground between take-out and home cooking.
Most of Blue Apron's recipes can be made in around 30 minutes. They include pre-portioned ingredients, sides, condiments, and easy-to-follow instructions that require minimal preparation and kitchen work. The menu itself offers a rich variety of healthy entrees such as oregano chicken thighs, glazed fish with snow peas, and kale salads.
With its easy-to-make recipes and focus on freshly sourced ingredients, Blue Apron offers seniors a convenient way to eat healthy without having to leave home.
You'll want seconds: Seared Chicken & Kale Salad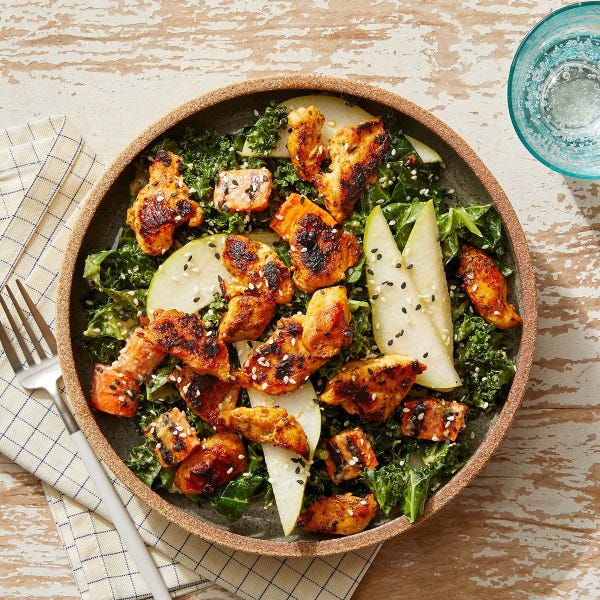 Healthy and hearty, this chicken salad can be made in under 30 minutes and includes a flavorful potpourri of tender kale, sweet pears, and roasted carrots dressed in a tahina and dijon dressing.
Read the full Blue Apron review

Blue Apron Visit Site
2.Plated
($9.95 to #11.95 per serving depending on the number of servings you order. Shipping is $7.95 each order and free if you order more than 2 nights per week.)
You know what they say - variety is the spice of life, and with Plated you get to choose from 20 meals per day plus 2 desserts. You can also easily mix and match your dishes and change the serving sizes for each item.
You'll want seconds: Pan-roasted pork chop with salsa verde and rainbow carrots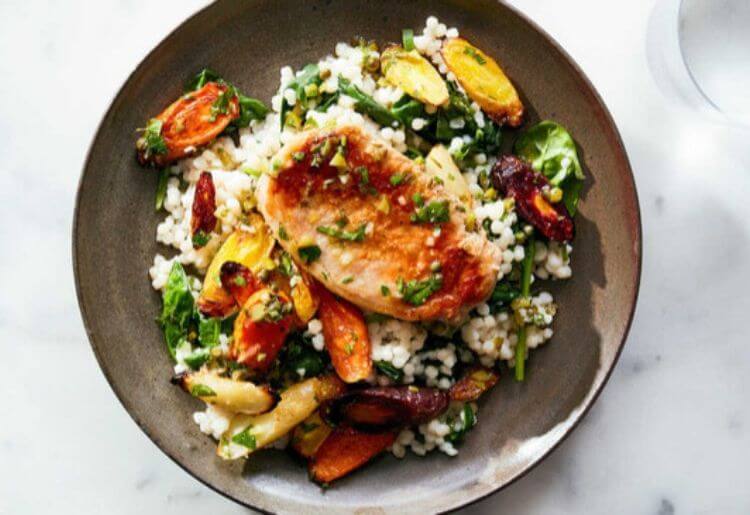 All of the meals use organic produce and antibiotic free proteins, and recipes that range from exotic fare like squash coconut curry to well-known household classics like seared steak.
And if you ever have any questions, you can easily reach the customer service department of Plated by email or phone.

Plated Visit Site
3. Diet to Go
($9.48 - $13 per meal depending on the plan and number of servings you order. Shipping is around $19.99 per order.)
Diet to Go is tailor-made for those on weight-loss and medical diets. Its team of chefs and nutritionists design doctor-approved meal plans with attention to each ingredient and how it contributes to the goals set out by its customers. The plans, which focus on weight-loss, diabetes diets, and more, feature a rotating menu of ready-to-eat meals that only need to be heated to enjoy.
You'll want seconds: Turkey burger with salad and a side of fresh fruit.
Read the full Diet to Go review
Diet To Go Visit Site
4. Freshology
($9.48 - $13 per meal depending on the plan and number of servings you order. Shipping is around $19.99 per order.)
Powered by Diet to Go, Freshology operates in a similar vein as its sister health-conscious meal delivery service. Customers can choose from doctor-approved meal plans to accommodate their dietary and lifestyle needs. Like Diet to Go, Freshology offers a number of customization options and resources such as nutritional and dietary support for customers.
You'll want seconds: Baked salmon with glazed baby carrots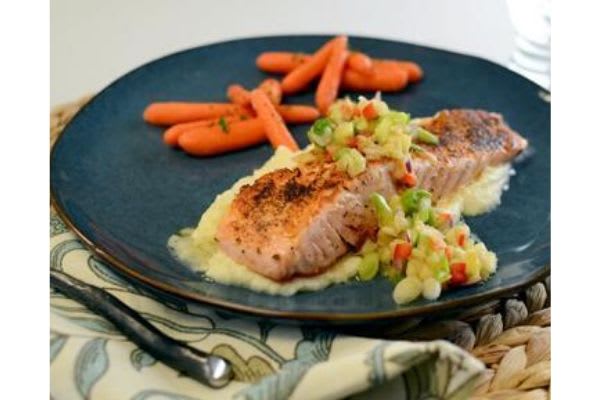 Read the full Freshology review
Freshology Visit Site
So What's on the Menu?
With meal kits, it's not just about convenience - it's also the opportunity to learn about all types of new spices and recipes and techniques that can change your cooking for good. Not only that, it makes eating healthy easier than ever before—which is no small task when we get a bit older. Once you've decided which meal plan is right for you, then it's time to wait for that first box to arrive and get to cooking.