It's time-consuming to pick and adapt a website template to best suit your e-commerce store's needs. As with most website builders, you can't easily switch between themes in Zyro, meaning you'll have to redesign your template from scratch if you change your mind.
This makes it all the more important to make the right choice from the start, which saves you time, money, and effort. So, let's have a look at the 10 best Zyro e-commerce themes to help you get started without having to backtrack.
» Haven't got a time-saving website builder yet? Check out our top 10 picks for the best website builders of 2022.
1. Munk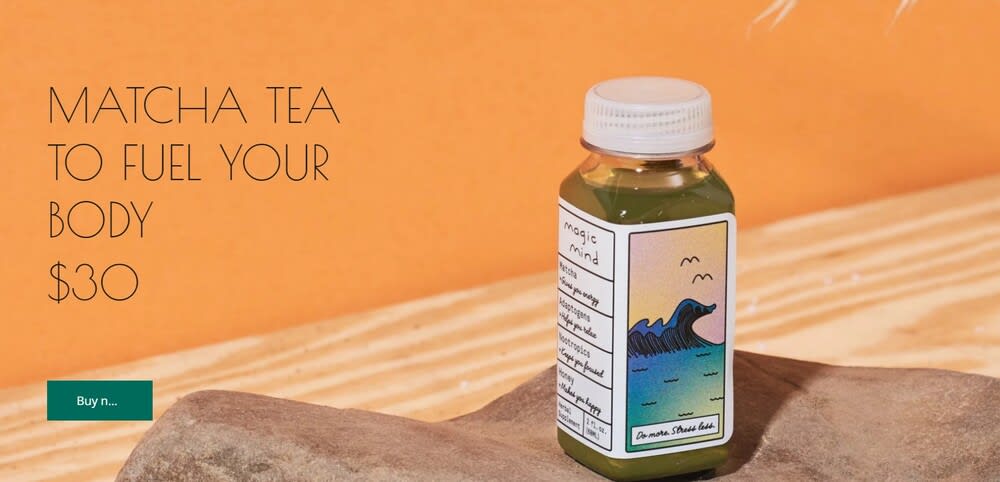 Best for: Businesses that want to make a statement
Say you've got your products and you know they have unique value compared to your competitors. So, you'll certainly want them to stand out to your customers without being too in-your-face about it.
Munk may just be the theme for you.
It absolutely screams quality, professionalism, and confidence. Its selection of fonts and colors will make your products stand out more than most generic e-commerce templates out there would. This is also ideal for image-heavy websites. And if you want to portray your business as unique and modern, it's perfect for attracting a base of loyal customers who care about quality and style.
2. Augustine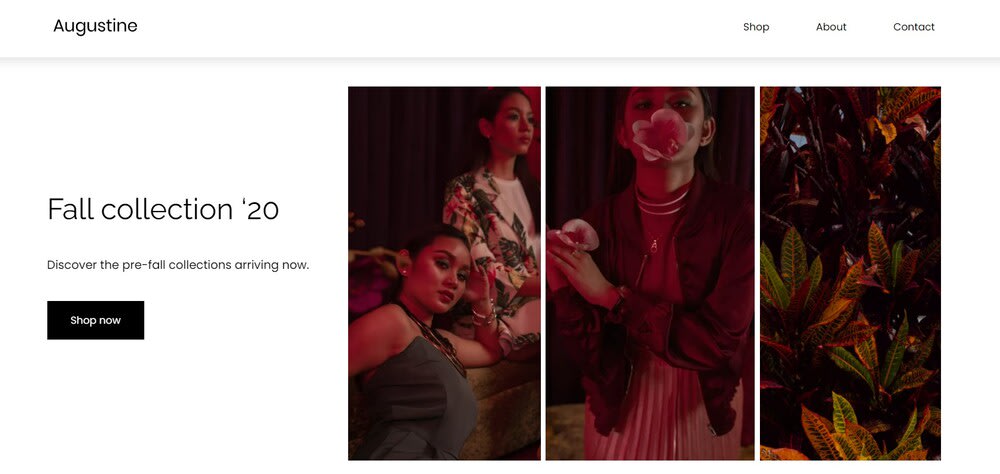 Best for: Fashion brands (clothing, shoes, bags, accessories, etc.)
If you need a no-nonsense, sleek-looking website template that will direct customers straight to your products, Augustine will do that. It's a stylish, fashion-centric theme that's ideal for clothing brands of all kinds, like men's and women's, clothing and accessories, bags and shoes, jewelry, and watches.
As with other Zyro themes, it's quite minimalistic and therefore helps your products stand out — and works best if you have professional photos that show your products in use.
» Need an easy-to-use website builder dedicated to e-commerce? Try Shopify.
3. Mina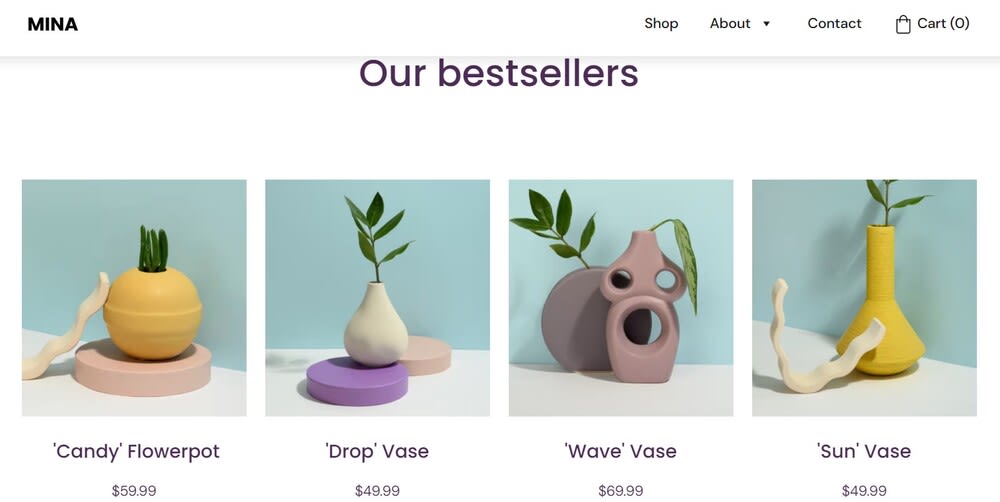 Best for: Wall art, ceramics, and hand-made decorative products
Mina is a great Zyro website builder template if you have decorative pieces that you easily want to be grouped according to style, design, artists, etc. Customers will be able to quickly navigate, find what they're looking for, and make that final purchase.
It's bold yet not overpowering in its design, making your website and product catalog more memorable.
4. Haven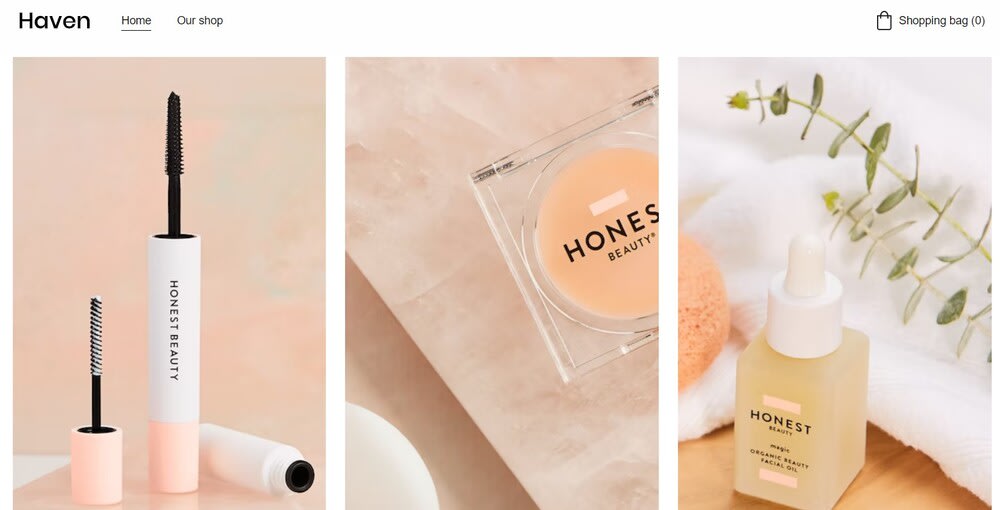 Best for: Cosmetics and supplements
Haven is a simple pink-and-white theme that's ideal for your store if you sell cosmetics, supplements, or other lifestyle products. Its polished design is meant to help your store stand out and be easy to navigate at the same time, featuring a simple horizontal menu in the upper left corner.
This is an image-heavy theme, so if you pick it, make sure you have high-quality, professional product photos.
» Need a new online store theme? Check out this guide on choosing the right e-commerce template.
5. Hobart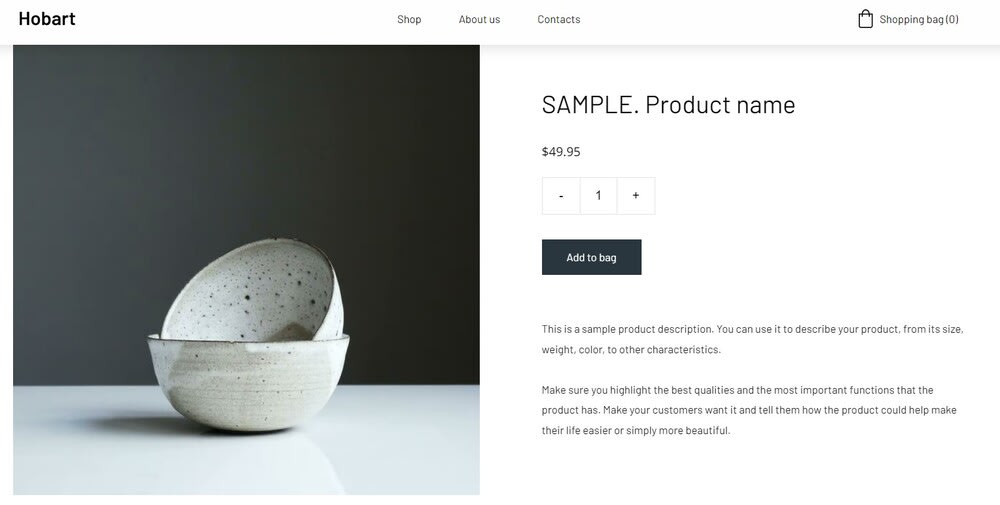 Best for: Designer items
Hobart is a clean template that comes with a white background, large photos, and simple product pages by default, making it easy to set up. Its minimalistic design lends itself especially well to online stores that sell designer or luxury products.
Black and white themes are perfect if you want your brand to be seen as stylish, classical, and timeless. For example, you can see it in this selection of 30 websites by Awwwards, one of the most influential voices in web design.
6. Marlow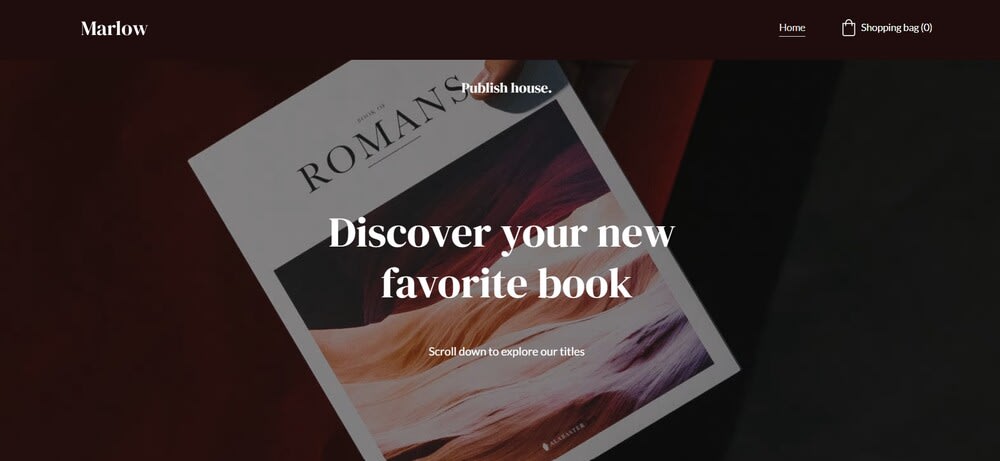 Best for: Timeless, durable products
Marlow is another black-and-white (but predominantly black) theme that's sober and toned down. This makes it ideal for products with little or no seasonal variation that will last a long time. This can be anything from books (as in the example) to high-quality electronics or furniture.
» Need your start-up to match up to the big names? Have a look at our picks of the best website builders for your small business.
7. Nyx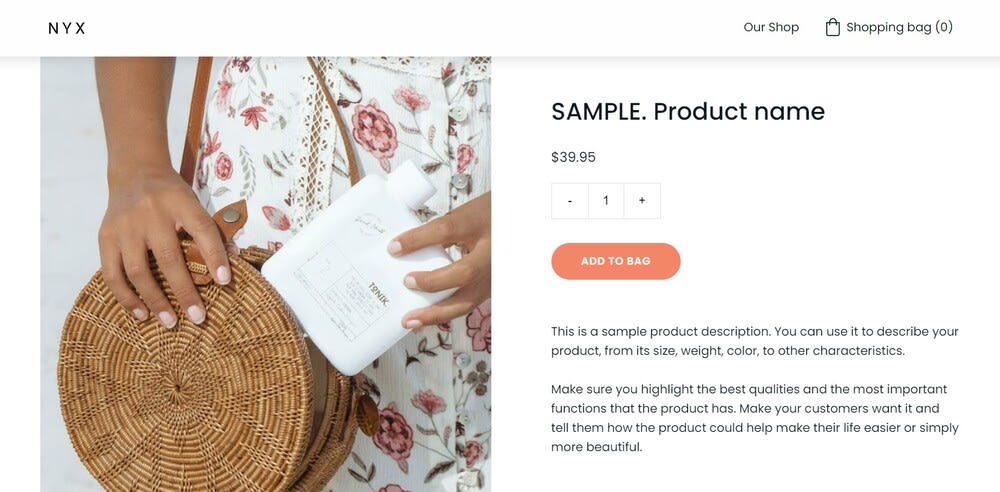 Best for: A younger audience
Nyx is a colorful template that speaks best to a younger demographic and is ideal for selling cosmetics, jewelry, or accessories. Its default colors are white, blue, and coral, and its horizontal menu and simple product pages make navigation easy and intuitive.
8. Aurora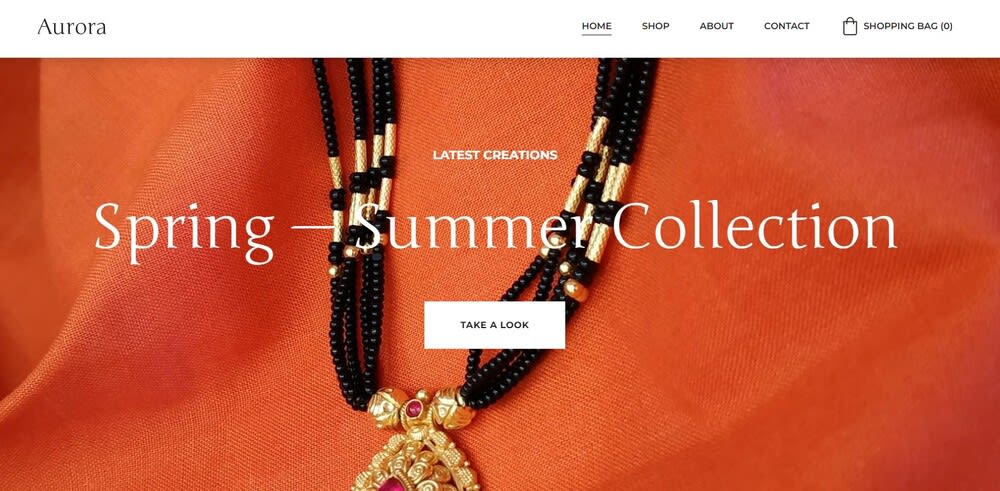 Best for: Image-heavy websites
Aurora is a theme for which you definitely need high-quality images to make it work — but if you do, it'll work beautifully. You can use it for anything from fashion to jewelry to home decoration.
Its default colors are red, black, and white, and it makes generous use of white space, which is key for letting your design breathe.
» Not sure if Wix is the best website builder for you? Read our review of Wix.
9. Gaon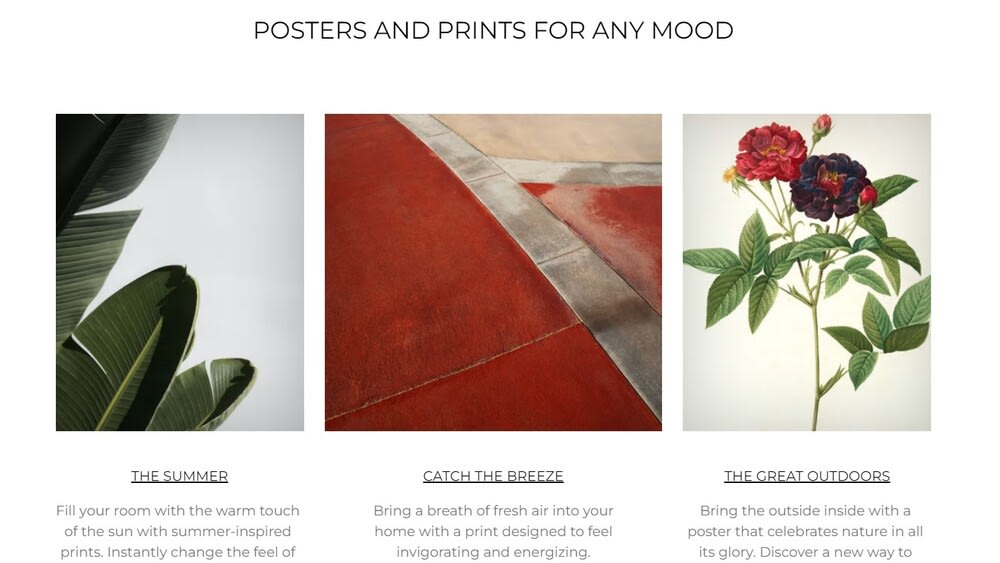 Best for: Boutique online stores
Gaon is elegant and simple, which makes it ideal for boutique stores that have small, bespoke collections of designer items. Its functional look makes it extremely easy to navigate, while its down-to-earth colors (beige, white, black, grey) help inspire trust and build loyalty.
10. Joyner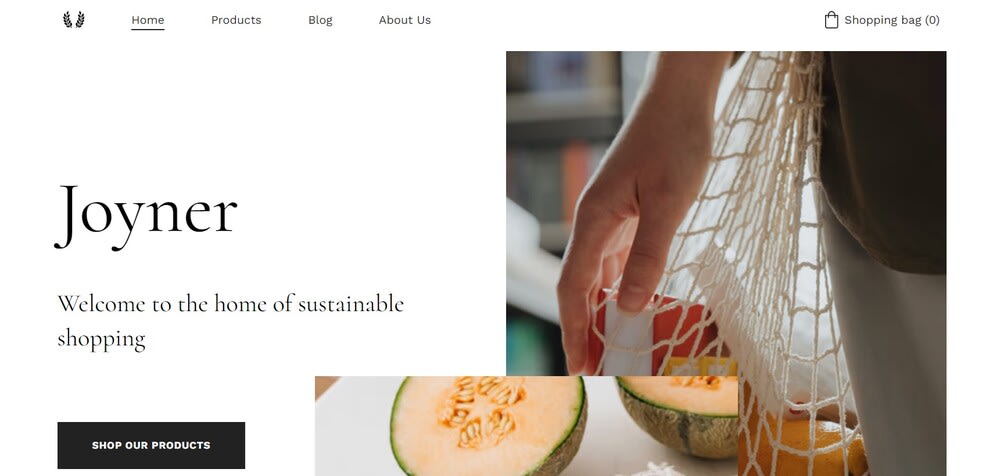 Best for: Businesses who want to tell a story
As with all other Zyro templates, Joyner is simple and functional, which also means it caters to a wide range of businesses and audiences.
Its creative use of images, however, helps you create a fresh and unusual look: photos aren't all aligned with each other. Instead, the theme prompts you to place them in a way that helps tell a narrative: the story of your business, of your products, of your creative process, or something else entirely.
Click and Pick
Zyro is ideal if you want to build an online store fast - and the themes above are among the best ones to help you get started. Plus, it's very beginner-friendly, which makes it perfect if you're starting out.
» Using Jimdo for your e-commerce business? Check out the 10 best templates to build a small online store.