In a Nutshell
VoIPstudio is a cloud-based phone system for business, offering Pay as You Go or monthly bundles for national and international calls. It has a powerful PBX system for internal communication, great business tools, and 24/7 customer support.
pros
Competitively priced
Excellent security
Great support across the board
cons
Mobile app is a little basic
No unlimited minutes plans

VoIP Studio Visit Site
VoIPstudio Pricing & Plans - How much does VoIPstudio cost?
There are 2 VoIPstudio subscription options. Neither offers unlimited minutes, but both come with a 30-day free trial. The Pay as you go option starts at $4.99 per user, per month. Outbound calls start at just $0.01 per minute, but prices vary according to the country you're calling to/from.
The 2K Bundle costs $16.99 per user per month. It includes a single number per user, comes with 2000 minutes of free outbound calls, and enables you to call 45+ countries, including the USA, Canada, Australia, and the UK. There's also a custom Enterprise option for larger businesses, and additional or special numbers can be added for an extra fee, which will vary.
If you require a VoIP system with low outbound minutes, VoIPstudio is a very competitively priced option.
Price per user, per month
Price per minute (outbound)
Minutes included (outbound)
VoIPstudio Available Features
VoIPstudio comes with a suite of advanced tools for call management, collaboration, productivity, and workflow management. We've listed a few of the most noteworthy below.
IVR
VoIPstudio's Interactive Voice Response (IVR) tool enables you to set up an automated answering machine. You can create pre-recorded messages with menu options, which can be accessed with both speech recognition and keypad selection.
Hold Music
You can add and customize hold music for your business with VoIPstudio's intuitive tools. Doing this will help customers remain engaged while waiting for someone to take their call, reducing the likelihood of them hanging up.
Conference Calling
There are loads of collaboration tools to help teams work together, including full video conference-calling support. With this, you can add an unlimited number of participants. Things like file sharing, screen sharing, and instant messaging are all supported, and you can quickly configure access controls to ensure only the right people can join a call.
Voicemail Transcription
VoIPstudio enables you to configure speech-to-text settings for voicemail transcription. When you don't have time to listen to your voicemail messages, you can have them recorded and sent to your email address, where you will be free to look over them as needed.
Integrated Analytics
Last, but certainly not least, VoIPstudio offers an excellent selection of built-in analytics tools. You will benefit from a highly customizable analytics dashboard, call center analytics, and call tagging, among other things.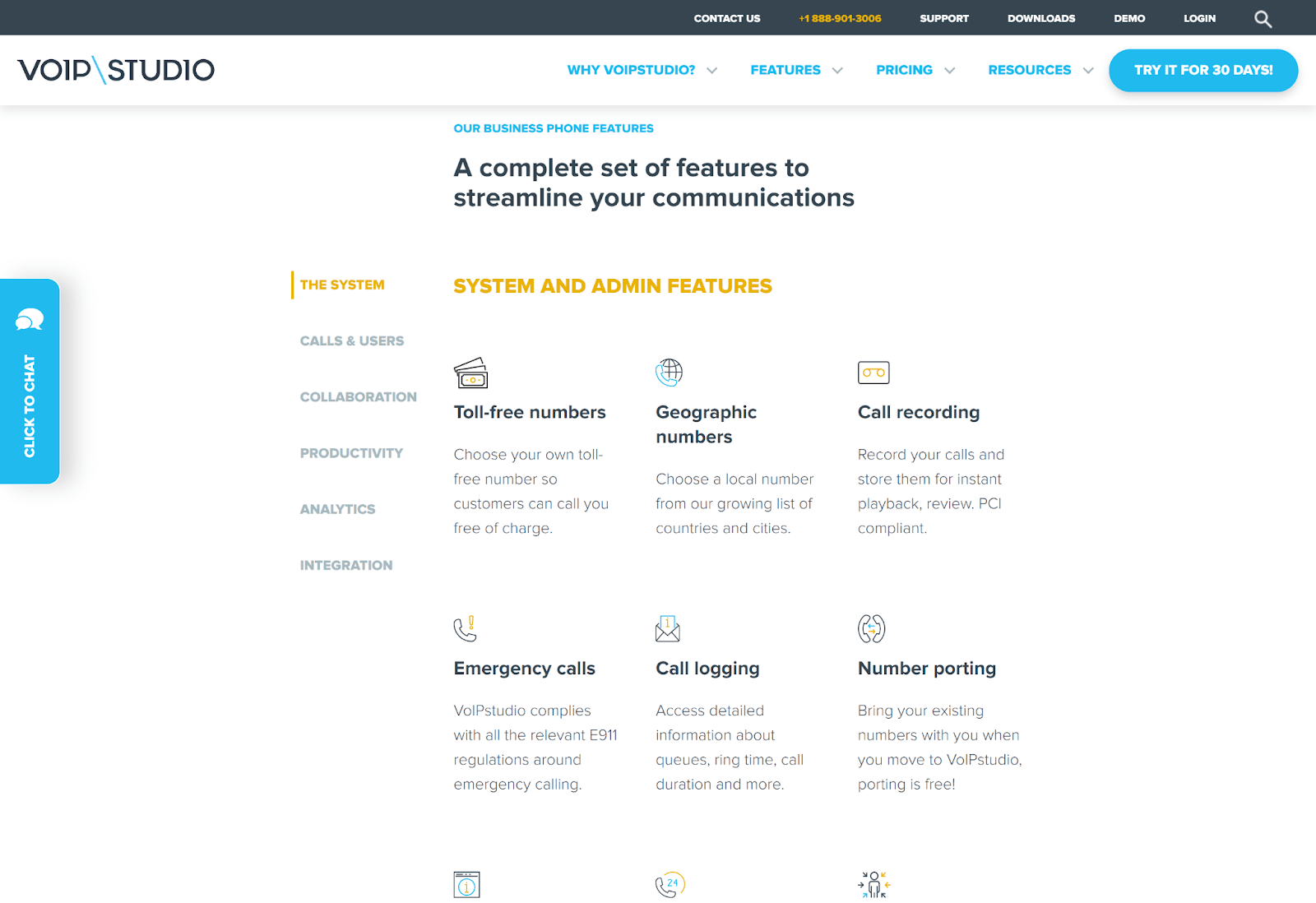 Security and Reliability
VoIPstudio puts a strong emphasis on security, and it has a comprehensive security policy that outlines the practices it uses. For starters, it uses advanced internal security measures to ensure employees don't pose a security risk, including full background checks and access restrictions.
On top of this, VoIPstudio places a strong emphasis on digital security. All of its data centers have the ISO 27001 security certification, and it's compliant with GDPR regulations. Any stored data is protected by AES-256 bit encryption, and transmitted voice data is protected by ZRPT encryption.
There are also a few security tools that are up to you to manage. You can assign permission-based access controls to restrict employee access to sensitive data. Comprehensive logs are kept detailing logins, enabling you to monitor your account for unauthorized use.
VoIPstudio Mobile App
The VoIPstudio app is available for both Android and iOS devices. It's free and comes with all of the main call-management tools. You will be able to access video, voice, and text communication, along with things like call recording and voicemail. The user interface is a little basic, but it seems effective and user-friendly. However, customer reviews are very mixed. There are plenty of 5-star ratings, but there's also a large percentage of reviews touching on things like a buggy app and poor call connectivity.
VoIPstudio Integrations
VoIP offers 14 native integrations with programs such as HubSpot, ZohoCRM, Salesforce, and Microsoft Dynamics 365. There's also a Zapier integration, which enables you to link VoIPstudio with numerous other third-party apps. Comprehensive guides are available to help you set up each integration, and many even come with step-by-step video tutorials.
Help and Support
VoIPstudio offers 24/7 live chat and email support. If you'd rather speak directly with an agent, you can take advantage of the phone support, which is available from Monday to Friday, 9:00AM to 10:00PM (GMT).
There's also a wide range of resources that you can use to familiarize yourself with the platform and its main features. These include complete user manuals, API documentation, and a comprehensive admin manual.
You will benefit from a wide range of tutorial videos and how-to guides, and just some of the other interesting resources include white papers, case studies, FAQs, and an information-rich blog.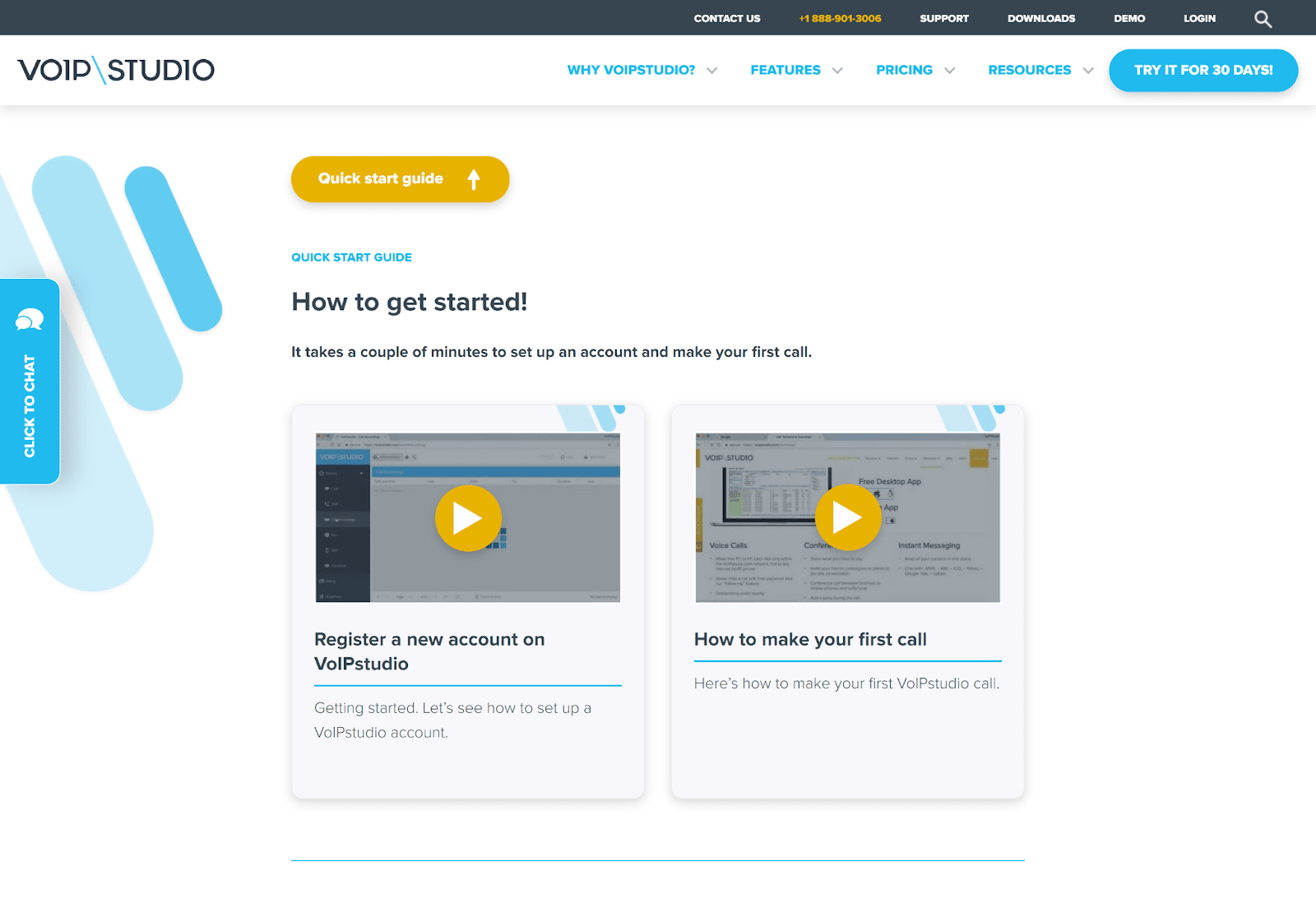 How VoIPstudio Compares to Other VoIP Providers
$4.99 per user per month plus $0.01 per minute
$23 per user per month for 3 extensions
$28 to $33 per user per month
$30 to $70 per user per month
24/7 live chat, 24/7 email, business-hours phone, support site
Phone, email, live chat, basic support site
24/5 phone, 24/5 live chat, email, support site
VoIPstudio vs Grasshopper
Grasshopper is even more affordable than VoIPstudio, but it's also much more basic. It has no video calling tools or integrations with third-party platforms. VoIPstudio also has better support, making it a more suitable option for businesses requiring anything except the absolute VoIP basics.
VoIPstudio vs Intermedia
Intermedia is a higher-priced option, but it comes with a selection of advanced features for larger businesses. Like VoIPstudio, it's a user-friendly option with great call-management tools. But unlike VoIPstudio, Intermedia's plans come with unlimited minutes, file backup tools, and advanced contact-center tools.
VoIPstudio vs Aircall
Aircall offers excellent VoIP solutions, and its mobile app is one of the best we've seen. However, it costs much more than VoIPstudio, and it lacks video conferencing tools. It boasts excellent value for money, but only for users who will take advantage of its wide range of features.
Is VoIPstudio Right For Your Business?
Overall, VoIPstudio presents as an excellent option for businesses with low outbound call volumes. Its subscriptions are very affordable and you will have access to a 30-day free trial. However neither offer unlimited minutes, which will be an issue for some businesses.
What's more, VoIPstudio boasts an excellent selection of call-management features, including voicemail-to-email, conference calling, and hold music. You will have access to excellent collaboration and productivity tools to streamline company workflows.
VoIPstudio also does well on the security front, with transparent practices meeting industry standards. Its support is excellent, there are integrations with a number of popular programs, and the mobile app is functional, if a little plain.
The bottom line: if you're looking for an affordable VoIP solution with unlimited inbound minutes and low outbound minutes, VoIPstudio could be a great choice.