In a Nutshell
CenturyLink Business is a decent VoIP option that's available for mobile and desktop devices. With it, you will have access to call management tools including call recording, video conferencing, and visual voicemail. However, CenturyLink Business has limited integrations and its support site is poor. Overall, while CenturyLink is a solid choice for small businesses, it's worth considering your alternatives as well.
pros
Integrated video conferencing tools
Attractive desktop app
Desk phone compatibility
cons
Small number of integrations
Below-par support site

CenturyLink Business Visit Site
CenturyLink Business Pricing & Plans - How much does CenturyLink Business cost?
CenturyLink doesn't openly advertise the prices for its small-business VoIP solutions. While it's clear from the product information page that there are two main subscription options, these are flexible, and we'd recommend speaking with the sales team to discuss a package that works for you. Some features, such as call recording, are available as an extra add-on. You will have to pay more to have them included with your VoIP subscription.
Premium Line with Unified Communications
Automatic software upgrades
Business Communicator app
One thing worth noting is that CenturyLink's small-business solutions are only available for up to 10 users, so larger businesses will have to look elsewhere. A good place to start is with the enterprise VoIP solutions offered by CenturyLink's partner, Lumen.
CenturyLink Business Available Features
CenturyLink Business comes with the expected business phone features, but there's little here to make it stand out from the competition. We've listed a few interesting features worth noting.
Video calling
Unlike some simple VoIP service providers, CenturyLink comes with integrated video calling tools. These are designed to help you communicate with team members and include everything from simple conference calling to screen and file sharing. You can also link with various other business apps to add functionality.
Hardware support
CenturyLink can be used on your desktop or mobile device through the CenturyLink Business Communicator app, but it's also compatible with a range of hardware devices, including desk phones and headsets. Speak with the CenturyLink team to find out more about the VoIP hardware solutions available with your plan.
Call recording
CenturyLink's call recording tools enable you to save an audio copy of all calls. This can be set to record all calls, or you can use the on-demand recording tool to save specific calls or parts of calls.
Visual voicemail
Last, but not least, CenturyLink's visual voicemail tools will enable you to view a transcription of your voicemails. This is particularly useful for those without time to listen to every voicemail, and it enables you to respond to customer concerns in a timely manner.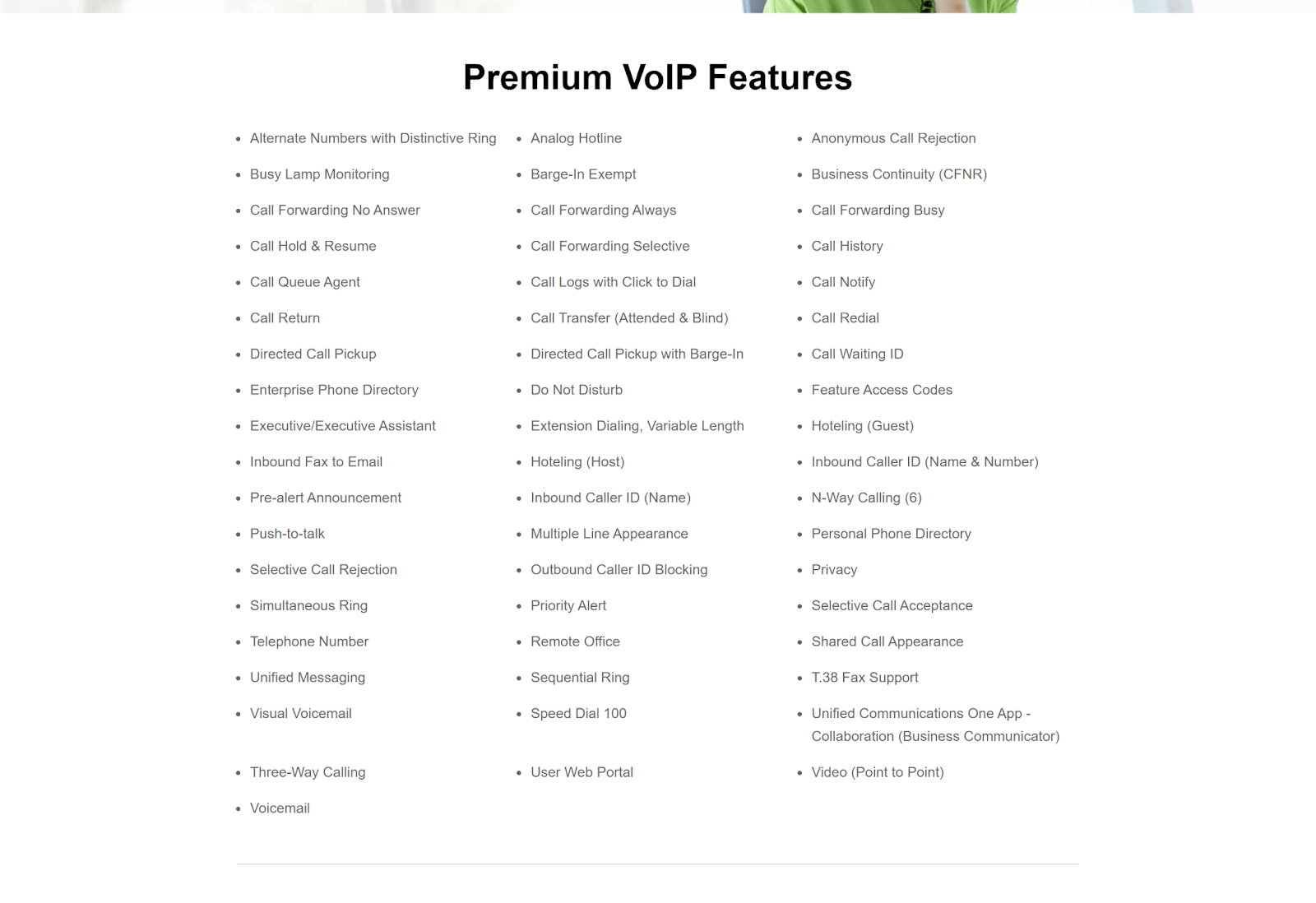 Security and Reliability
CenturyLink doesn't disclose the security procedures it uses to protect its VoIP systems. There's no information available on the company website, and we were unable to find out anything more from the customer service team. This could be a major concern if you're dealing with sensitive data.
Another slight concern is that CenturyLink openly shares your personal data and information with other parties. Its privacy policy outlines exactly how this is done.
CenturyLink Business Mobile App
CenturyLink's Business Communicator app is available on both Android and iOS devices. It enables you to access all your communication tools from a single management dashboard, and it includes integrations with various CRMs and other 3rd-party apps.
There are also numerous collaboration tools that enable you to work productively with other team members. What's more, the Business Communicator app can be used from anywhere, on virtually any device with an internet connection.
On the downside, most reviews of the CenturyLink Business Communicator app are resoundingly negative. They reveal a potentially buggy app that doesn't function as it should, which businesses may rightly find concerning.
CenturyLink Business Integrations
The CenturyLink Business Communicator app integrates with a small number of 3rd-party platforms. These include Outlook, Skype, Gmail, Salesforce, Box, and Google Drive. The integration procedure varies, but it tends to be quite straightforward. You will need to speak with the CenturyLink team to find out more about what integrations are available for your business.
Help and Support
CenturyLink has various contact channels enabling you to reach the sales, billing, and support teams separately. To access support for your VoIP system, you can get in touch via live chat or phone. These are only available from 6am to 6pm, Monday to Friday (CT), but the support agents are responsive (we were in touch within a couple of minutes) and usually happy to help.
There's also a wide selection of articles and how-to guides available in the CenturyLink help center. However, few of these are relevant to the company's VoIP solutions and the search box brings up a lot of useless results. You will also find a small number of Getting Started and user guides if you dig deep enough into the help center. But again, these are underwhelming and don't contain anything but the basics.
How CenturyLink Business Compares to Other VoIP Providers
Business hours phone, live chat, support site
Business hours phone, email, live chat, support site
24/5 phone, 24/5 live chat, 24/7 email, support site
24/7 phone, 24/7 live chat, support site
CenturyLink Business vs Verizon
Verizon offers extremely basic VoIP solutions with voice and text communication options. It's also quite expensive and lacks video calling, and you will likely be better off exploring CenturyLink's small-business solutions.
CenturyLink Business vs Dialpad
Dialpad is a competitively-priced VoIP option that brings a lot to the party. It boasts significantly more integrations than CenturyLink, has effective support, and comes with a versatile, well-performing mobile app. It's clearly a better choice for most users, but CenturyLink could be useful for those requiring a custom solution.
CenturyLink Business vs Ooma Office
Ooma Office offers streamlined VoIP solutions with text, voice, and video communication functionality. Its no-frills service is ideal for companies that don't require extra tools, and it has a friendly, efficient support team. CenturyLink Business could be worth considering for small businesses that want a custom solution, but Ooma Office stands out as better in almost every regard.
Is CenturyLink Business Right For Your Business?
CenturyLink Business offers custom-priced VoIP solutions for small businesses with up to 10 users. It's quite a basic option, with simple text, voice, and video communication functions. The CenturyLink Business Communicator app is effective on both mobile and desktop devices—although the mobile version could be better—and it's also compatible with a range of desk phones and other VoIP hardware.
On the downside, CenturyLink provides no information about its security practices. Its support site is cluttered and confusing, and it only integrates with a small number of 3rd-party platforms.
CenturyLink could be a good option if you're looking for a custom small-business solution. However, it has little to offer that sets it aside from its competitors, and we'd suggest checking out a few of the other options on the market if you're looking for a transparent, versatile VoIP system.