This surge in popularity over recent years shows no signs of slowing down, making our meal delivery service comparison page one that our team has put a particular focus on recently. Part of that team is designer Brittnee Bade, who works as a designer for us on certain special projects.
Brittnee had the best meal delivery service on her mind because she was looking into them for her personal use at home, and during her research, she started imagining what it might be like if these kinds of meal kits existed for her favorite movie and television characters. Thankfully, she was able to take those ideas in her head and turn them into actual illustrations. Once she showed them to our team, we just knew we had to share them with the world!
You can also read about the best vegetarian meal kits and the best paleo meal kits if you find it relevant to you.
Stranger Things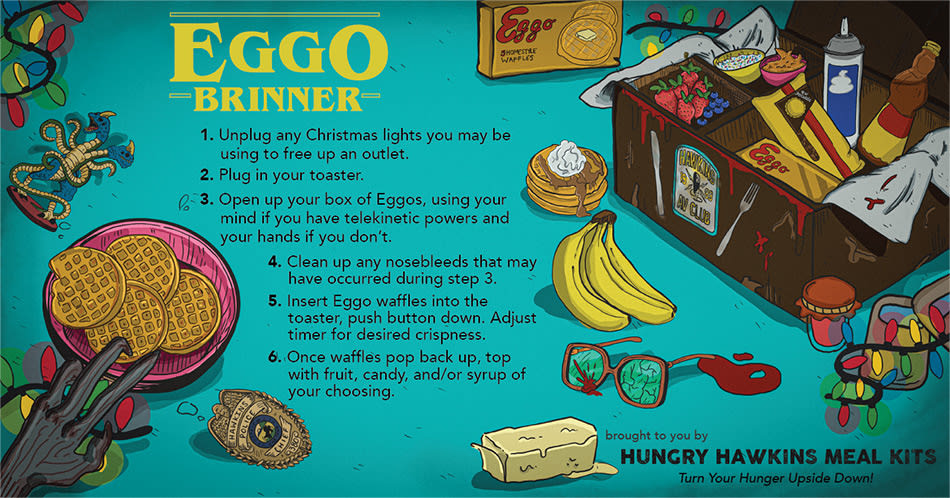 When it comes to Stranger Things, no foodstuff is more iconic and beloved by both fans and characters than a classic Eggo. The Hungry Hawkins meal kit tells you everything, including which side of the waffle you should butter, and regularly features meals that highlight the breakfast-time favorite. Complete with a variety of sugary sweet toppings, this meal kit is sure to be hit with humans and demogorgons alike!
Game of Thrones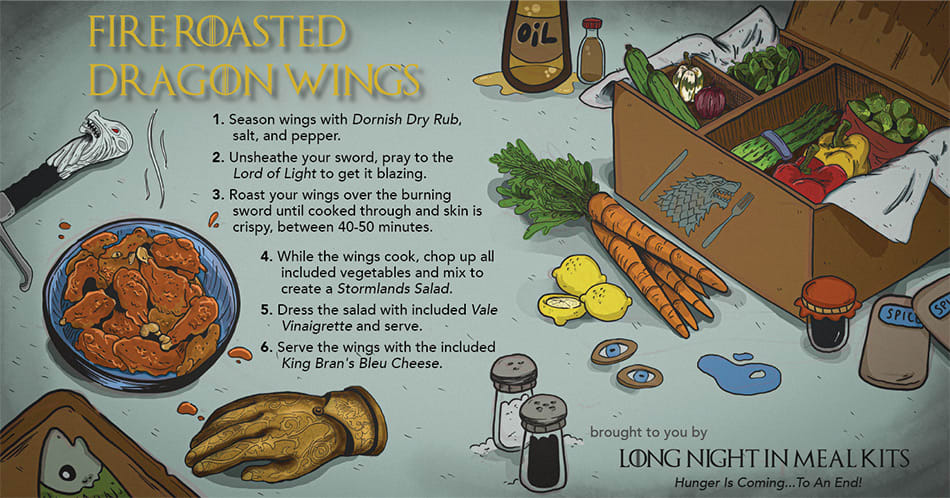 Even if Game of Thrones fans can't be King in the North, they can at least be King of the Kitchen thanks to Long Night In meal kits. This month's featured meal has the perfect solution for the cold nights indoors when winter is coming: hot wings! With Long Night In meal kits, anyone can crush their family's hunger and take their rightful place on the culinary Iron Throne.
Spongebob Squarepants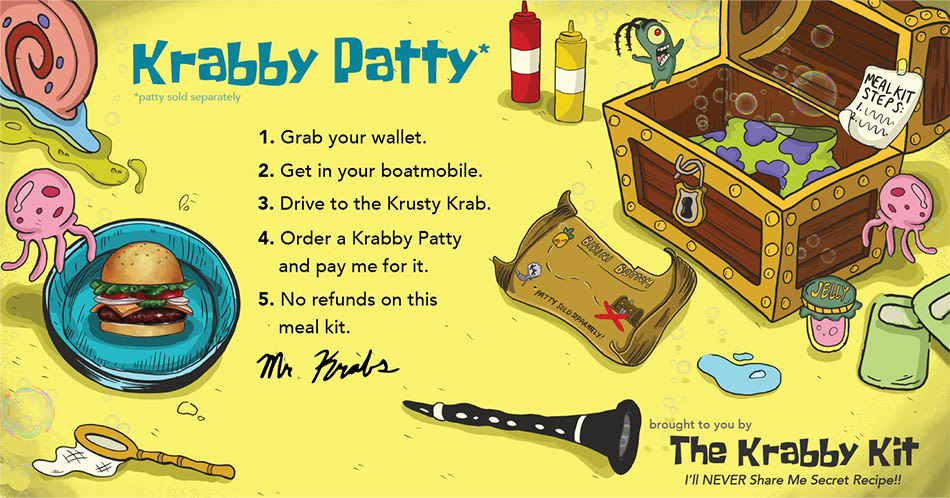 It's well established that the residents of Bikini Bottom on Nickelodeon's long-running and beloved SpongeBob SquarePants are crazy about Krabby Patties. Never one to miss an opportunity to make a buck, Krusty Krab owner Mr. Krabs created the Krabby Kit to make it possible for everyone to get the beloved burger at home...or at least he's figured out a way to put some more money in his wallet.
Star Wars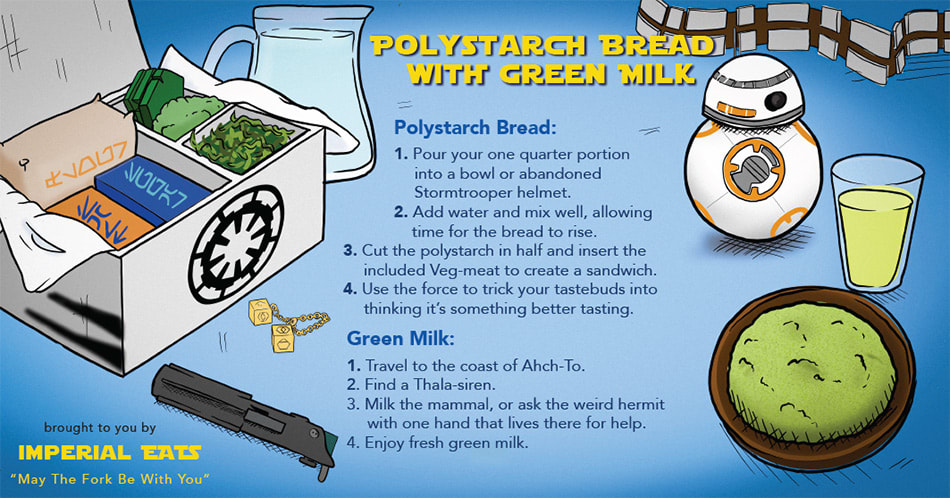 No matter where they are, people need to eat, even in a galaxy far, far away like the one in which Star Wars takes place. While there isn't much meal variety for galactic citizens who oppose the First Order, the Imperial Eats meal kit is definitely efficient, with most deliveries taking only 12 parsecs.
The Hunger Games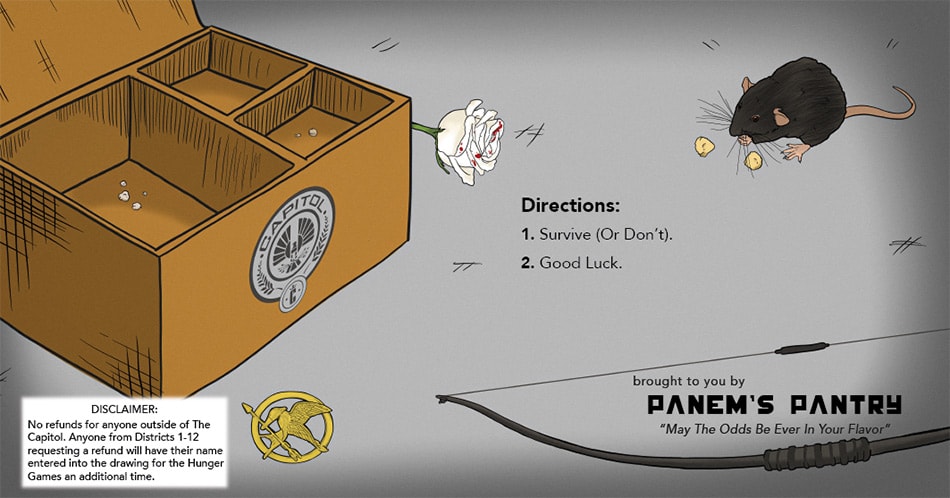 As the name of the franchise might imply, The Hunger Games universe isn't exactly the first place most people would turn for a good meal, much less a good meal kit. The Panem's Pantry meal kit promises nothing, and that's exactly what it delivers, and anyone that complains about it just might find themselves getting a free trip to the arena, where they actually can enjoy some food – as long as they survive, that is.
Rick and Morty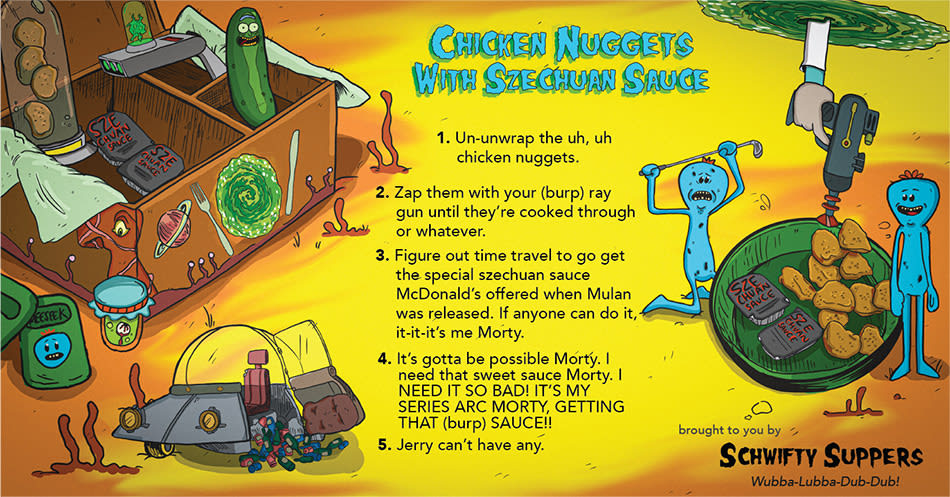 The titular Rick of Rick and Morty can travel the universe with ease, but the one thing he can't find is his beloved Szechuan sauce. The Schwifty Suppers meal kit hasn't quite cracked the time-travel code required to get the sauce either, but that's no reason to give up hope. Even if the prized sauce isn't perfect, meal kit subscribers are guaranteed one of the best meals in the multiverse, as long as they keep it away from Jerry.
Lord Of The Rings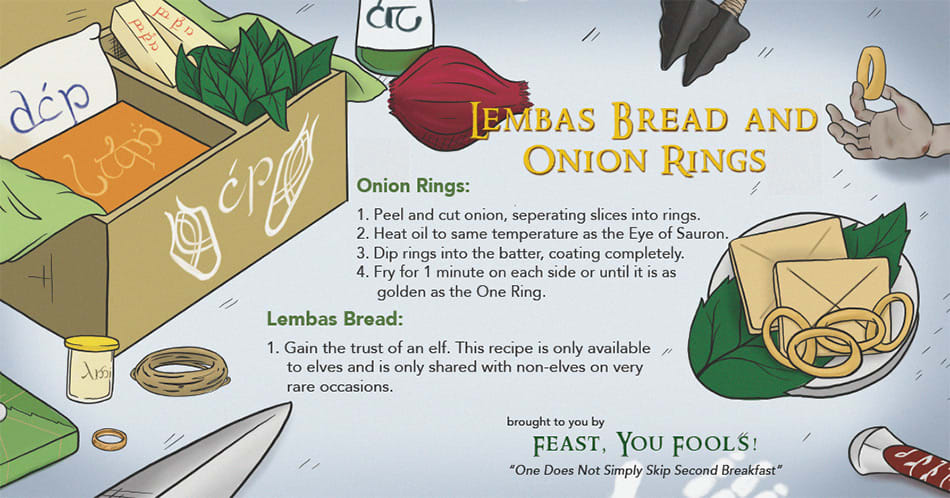 The Hobbit characters at the heart of the epic Lord of the Rings series do their best not to miss any of the seven meals a day they typically eat, even when traveling to Mordor. So it makes sense that there would be a huge market for meal kits in Middle Earth, which the Feast, You Fools! Kit ably services. This mix of classic elvish fare and offerings from the race of men are beloved by hobbits and non-hobbits alike, with many considering them a "precious" part of their regular diets.
It's Always Sunny in Philadelphia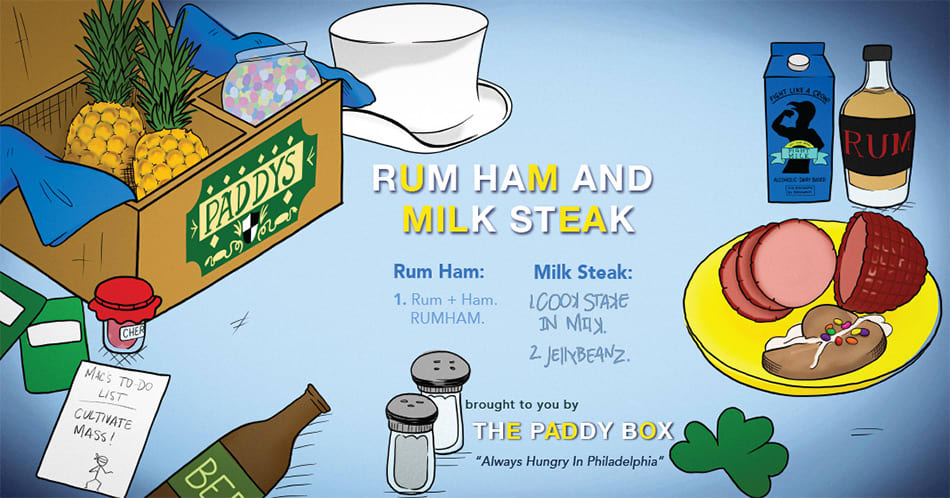 If there's one thing the gang from It's Always Sunny In Philadelphia is known for, it's schemes. With that in mind, it's no surprise that Philly's newest meal kit offering is The Paddy Box, from the same people that created the much-beloved Fight Milk. This month's featured entree includes a pair of dishes lovingly crafted by two members of the Paddy's family, meals which can be enjoyed any day or time.
Harry Potter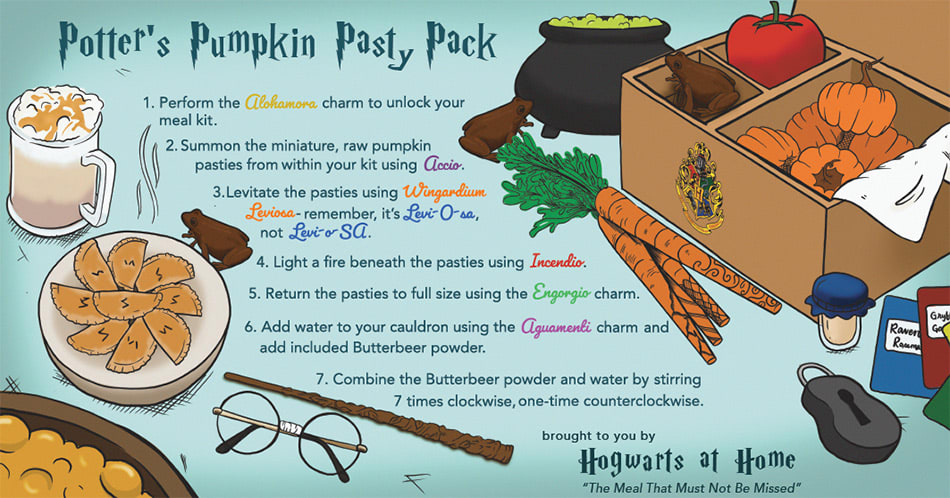 Whether talking about the books or movies, the Harry Potter series transports fans to a world that is truly and literally magical. So, of course, the Hogwarts at Home Meal Kit can best be described as a magically delicious delight by subscribers, who can enjoy wizarding favorites like pumpkin pasties and Butterbeer in the comfort of home with minimal wandwork required!
Avengers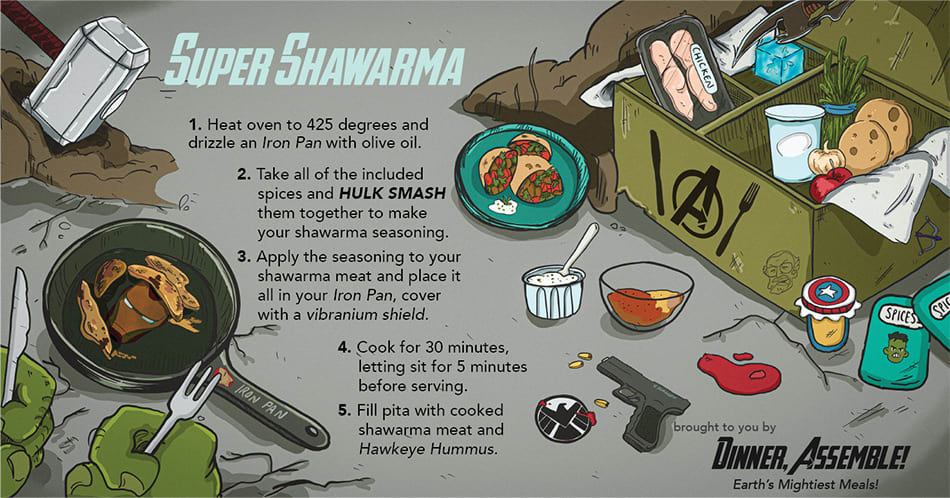 While Tony Stark serves as the primary source of funds in The Avengers films and comics, that doesn't mean Earth's Mightiest Heroes haven't explored other sources of revenue. This month's version of the Dinner, Assemble! Meal Kit is inspired by a particularly memorable meal the team shared after joining forces for the first time. This shawarma meal is sure to fill up any all subscribers, even those with a Hulk-sized hunger!
As you can see, Brittnee tried to cover as many corners of the pop culture universe as she could while coming up with these illustrations in the hopes that she would make sure anyone that looks at them will see one of their favorites represented. As for which one was her personal favorite to make, she says the choice is an easy one:
"Rick and Morty is, by far, my favorite. I have a similar art style to the show so it was easy to work with the design and have fun with it. Plus, the use of vivid and wacky colors is always a challenge but so worth it in the end."
When pressed for the overall source of her inspired work, Brittnee had this to say:
"I'm a HUGE fan of movies and TV shows, especially ones that are set in a completely different time or reality from our own. I was already researching meal kit services for my own personal use and I started thinking about what it would be like if Jon Snow, Spongebob, or anyone in between got the chance to do the same."
While you sadly can't actually purchase any of Brittnee's brilliant meal kit ideas, we hope that reading through them brought a smile to your face, no matter which one appealed to you most!