In a Nutshell
Plate Up is a New Zealand-based food delivery service that creates fresh, paleo meals and delivers them right to your door. Meals can be ordered individually or you can sign up for a recurring weekly subscription. As a paleo meal delivery service, you can expect meals that include beef, pork, chicken, fish, nuts, leafy greens, vegetables, and seeds—what you won't find on the menu are grains, lactose, gluten, additives, and refined sugar.
pros
Meals are delivered fresh and can last up to 7 days in fridge
Can order anywhere from 5-28 meals per week
Has Rewards Program
cons
No breakfasts or desserts
No discount when ordering a subscription

Plate Up Visit Site
Best For
People who want to stick to a paleo diet
One-personal meals served fresh or frozen
Busy professionals with limited time to cook
Plate Up Meal Plans
Plate Up's focus is on one thing, providing fresh, high-quality paleo meals. Nutritionists and chefs maximize freshness and quality by choosing locally sourced proteins and produce. What people may not realize is that by definition, a paleo diet is free from grains, lactose, soy, additives, and sugar so it can work for people needing meals that fit those diet restrictions. Many meals are allergen-friendly, though they are not prepared in allergen-free kitchens.
Plate Up's commitment to preventing food waste is noteworthy. Excess meals don't get wasted, they get vacuum sealed and flash frozen to preserve freshness. Then, they sell frozen meals to customers at a discounted price.
Whether you want fresh or frozen meals, you have a menu of 16 paleo meals to choose from each week.
Plate Up Weekly is their meal subscription service. The Hunter Gather Pack allows you to order either 5, 7, 10, or 12 fresh meals per week. This subscription service automatically renews each week. You can change the weekly meal items, or automatically receive the meals selected from your original order. Busy parents and professionals looking for help planning lunches and dinners will appreciate the automated meals delivered each week.
Plate Up One Time Order allows a customer to select the menu items and the quantities that work best for their week. Explore the menu selection and choose the number of meals you want. If a customer wants more menu freedom than a subscription or pack with a set menu, the One Time Order provides the greatest flexibility.
Plate Up Dine In Pack is a meal kit with the 7 best selling meals from Plate Up. Chefs prepare the meals from locally sourced ingredients, meals are vacuum sealed and sent straight to your door. If saving time is your priority, the Dine In Pack saves you another meal planning step by selecting meals for you.
Find nutritious crowd favorites in the Dine In Pack such as slow-cooked lamb shoulder, roast chicken and kumara mash, and shepherd's pie in the pack.
Last Minute Home Comfort and Dine In Packs are separate meal delivery kits that contain 7 pre-selected savory meals. The price is the same for both packs, but the difference is the menu options available in each pack. Meals have between 300 and 600 calories, making them good options for weight loss or as part of a healthy paleo lifestyle.
Here's a sample day's menu from our popular meal packs.
Last Minute Home Comfort Pack: roast beef with mushroom and onion, coconut chicken curry, and roast lamb.
Last Minute Dine In Pack: BBQ chicken, shepherd's pie, and braised beef.
Frozen meals packs do not have a set menu, but will depend on the meals prepared that week. There are no substitutions or menu selections allowed for frozen foods. You can, however, choose between the 7- or 14-meal frozen meal plan. Frozen plans will work if you are looking to save money on meals, stock the freezer for months and you don't mind letting Plate Up decide the meals in the kit.
How much does Plate Up cost
Individual Plate Up fresh meals range from $15.99 to $17.49. Frozen meals are offered to customers at a discounted price of $9.55 per meal.
A frozen meal 7 pack is $66.75 per week, while the 14 pack is $134.25 per week.
Plate Up's weekly packs of 7 fresh meals cost $109.
Plate Up's subscription plan has several boxes for you depending on how many meals you'd like per week. Subscription plans are as follows: 5-meal boxes for $87.45, 7-meal boxes for $122.43, 10-meal boxes for $174.90 and 12-meal boxes that cost $209.88.
There is a flat $18.50 fee for shipping on all orders and the prices outlined above do not include shipping fees.


Frozen: $9.53-$9.58/meal
Fresh: $15.99-$17.49/meal
Frozen: $66.75 - $134.35
Fresh: $109
How Plate Up Works?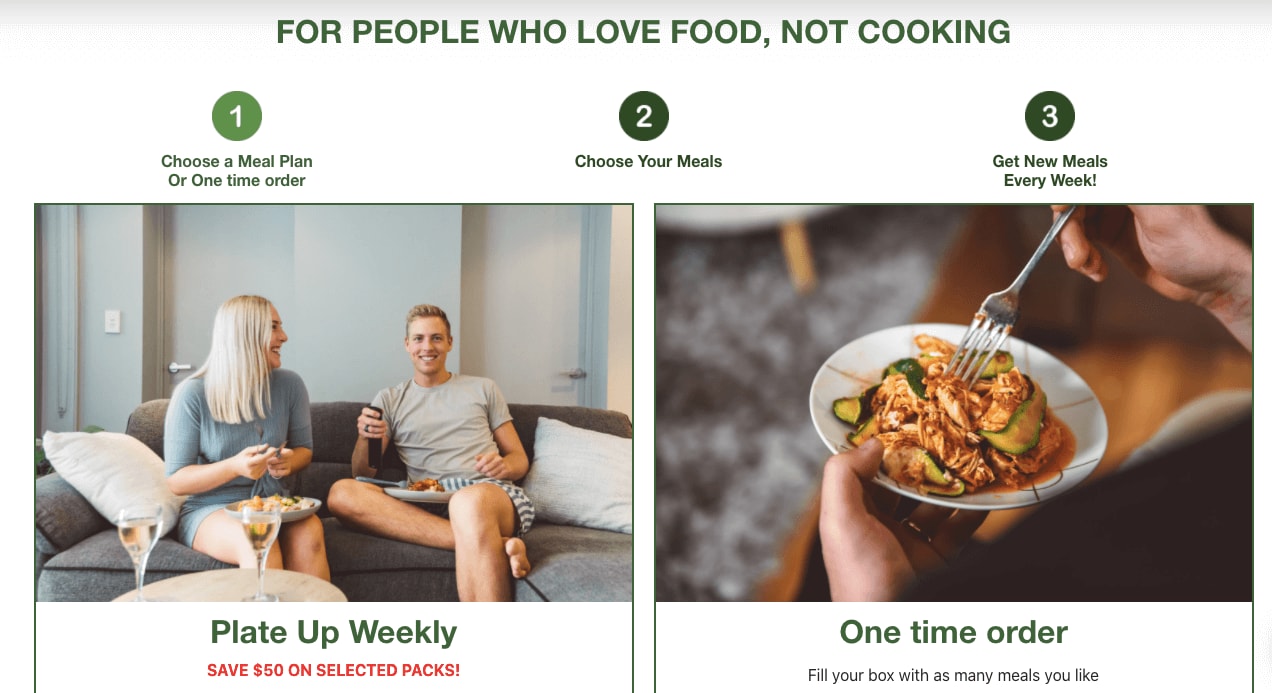 Ordering
Plate Up is a simple service to use. First, you decide whether you want meals à la carte, as part of a single order without a commitment or a recurring subscription.
If you are looking for the à la carte menu, discover individual meals on the One Time Order Menu. There is a 5-meal minimum for each order from the One Time Order Menu. You get to select which meals you want and as many meals as you'd like.
Plate Up also has ongoing meal delivery services available. Look for the Plate Up Weekly options and select The Hunter Gatherer Pack. Choose from over 15 different Paleo menu options.
If you like the idea of a kit, but not a subscription service, check out Plate Up's Packs. Dine In and Home Comfort Packs are pre-set kits of 7 meals that you can order weekly, but are not part of a subscription plan. If you need your kits in a hurry, choose the Last Minute Pack which can be delivered faster to your door.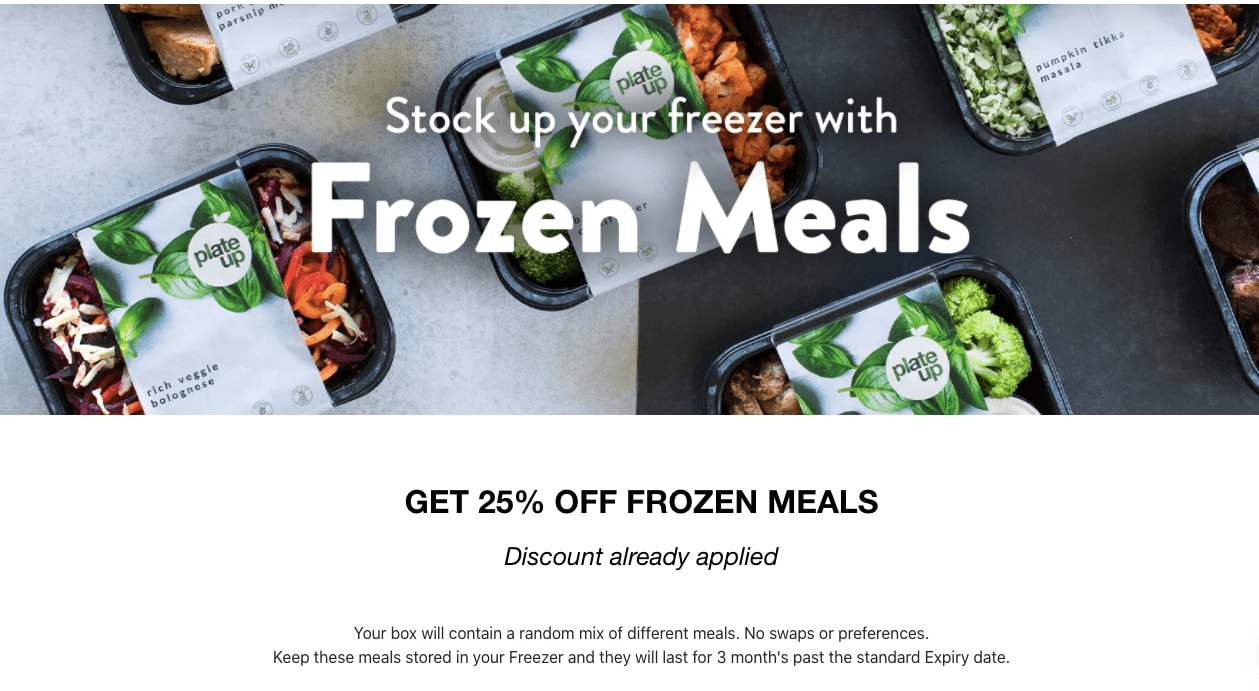 Cooking instructions
Enjoying your next Plate Up meal is as simple as opening the package and following the microwave or air fryer instructions. Heat fresh meals in the microwave for 2 to 3 minutes or cook in the air fryer for 10 to 12 minutes.
You can thaw frozen meals overnight in the fridge first before heating for 2-3 minutes in the microwave. If you don't have time to thaw a frozen meal, you can cook straight from the freezer. Defrost the frozen meal in the microwave for 3 minutes before heating on high for 2 to 3 minutes.
Add-Ons
Plate Up has a fixed menu featuring 16 paleo meals each week. There are no menu add-ons featured at this time.
Plate Up Dietary Options
All Plate Up meals are paleo, so they are naturally grain free, gluten friendly, lactose free, soy free, additive free, and added sugar free.
While many of the meals feature a meat main course, there are plant-based options for vegetarians. Kumara and Capsium Kora is a vegetarian curry dish sure to delight your taste buds.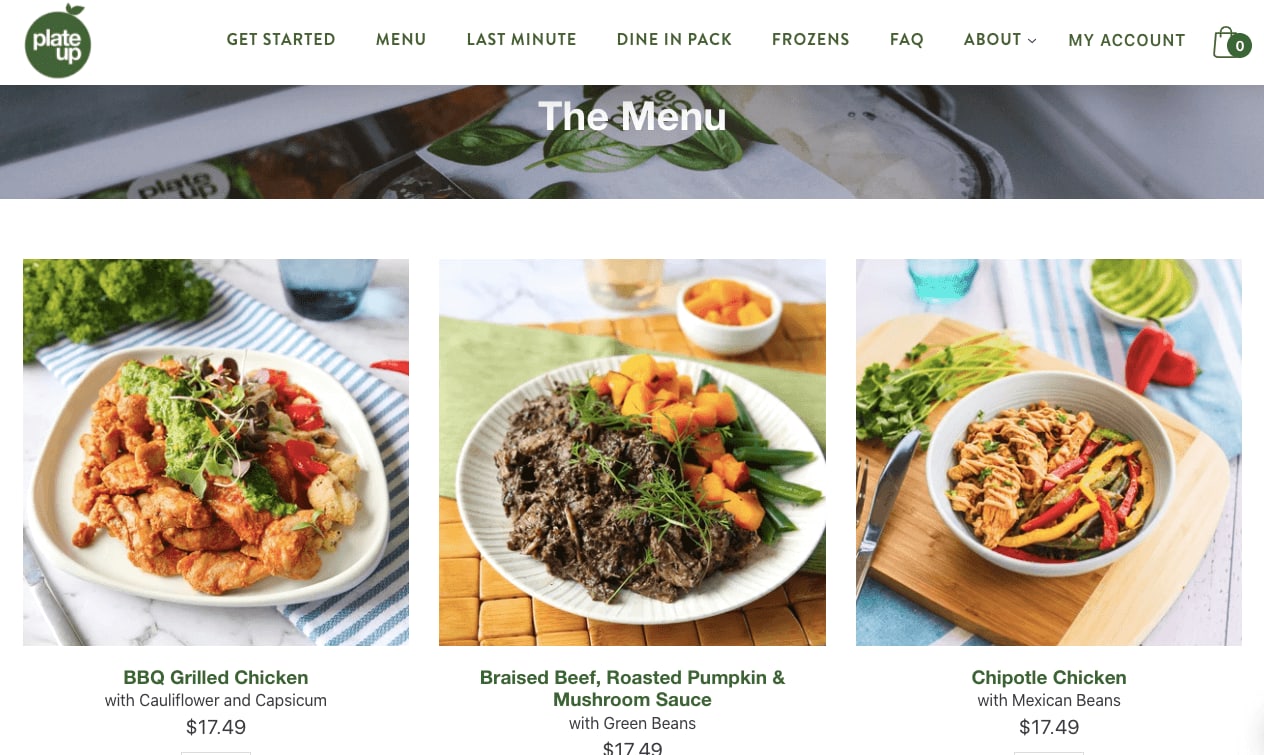 Plate Up Packaging, Shipping and Delivery
Plate Up will deliver meals to non-rural addresses in New Zealand. Meals arrive individually packed in recyclable plastic trays and cardboard boxes. Additionally, "Woolcool" insulation is biodegradable.
There is a $18.50 delivery fee for most shipments. Orders over 20 meals may incur extra charges if more boxes and materials are needed. Likewise, delivery to some locations may require an additional delivery surcharge. These charges will be calculated for you at checkout.
Plate Up App
Plate Up does not have an app, you can access your account information and order meals through the website.
Plate Up Customer Service
Plate Up customer support can be contacted via live chat, phone, in-site messaging, and email. There are also FAQ pages on the site that offer detailed information on topics ranging from the paleo diet to delivery. Reach Plate Up customer service by phone at 0800 PLATEUP or by email info@plateup.co.nz.
Plate Up will grant a refund in the case of incorrect meals delivered, damaged or broken product, delivery errors and poor ingredient quality. Contact customer service directly with refund requests.
How to Cancel or Pause Plate Up
You can change, pause, or cancel your subscription at any time, as long as it's before the order cut-off deadline.nWhen canceling, be sure to submit the changes to your account by 10 pm the night before the payment will be taken to avoid charges.
Cancellation and refund requests must be submitted by 3 pm on Wednesday the week prior for Wednesday deliveries or 3 pm Monday the week prior for Sunday deliveries.
How Plate Up Compares to Other Meal Delivery Services
Plate Up is the premier premade paleo meal delivery service in New Zealand, no preparation or cooking required.
Number of dietary restrictions available
Amount of prep work required
Recyclable plastic and cardboard
100% compostable wool pouch and cardboard
Soft plastics recycling and cardboard
Delivers on promises (e.g., 15 minutes to cook)
Plate Up vs Bargain Box
Bargain Box meals cater more to family and kid-friendly meals that are prepared at home. Bargain Box would not be a good option for a paleo diet, as it currently offers only vegetarian options. If you are looking to save time on meal preparation and want paleo meals, Plate Up is the better option.
Plate Up vs Hello Fresh NZ
HelloFresh kits include recipe cards and pre-measured ingredients for a large variety of recipe options that you can customize. If you want to prepare paleo meals at home, HelloFresh has more options for you, but Plate Up meals eliminate the need to cook and guarantee paleo foods at each meal.
Plate Up vs My Food Bag
My Food Bag costs less per serving than Plate Up, but what you save in money, you make up for in time because you have to prepare the meals yourself. There are quick 15-minute meal options available from My Food Bag, but they only offer gluten-free recipes, which is partly, but not all paleo compliant.
Bottom Line:
Plate Up's paleo meal delivery is best for the busy professional looking for quality, nutritious prepared meals. Nutritionist-designed and chef-prepared meals featuring local ingredients will support a paleo lifestyle whether you're looking to lose weight or live healthfully.