In a Nutshell
Metabolic Meals' menu sparkles with creativity and culinary influences that are elevated by their healthy ingredients rather than bogged down by them. Though most of the meals feature meat and poultry, and won't be ideal for vegetarian and vegan eaters, they offer a truly culinary spin on healthy food that makes for a well-rounded meal plan for health-conscious customers interested in eating healthy without sacrificing flavor.
pros
Meals made from scratch by chefs
Organic ingredients and grass-fed proteins
Good for many dietary restrictions and food allergies
cons
Limited options for vegetarians
Only one main meal plan

Metabolic Meals View Plans
Best For
Busy professionals looking to improve their diet
Health-conscious eaters who lack cooking skills
People with food allergies or other dietary restrictions
Metabolic Meal Plans
Metabolic Meals' menu features a robust line-up of breakfasts, lunches, and dinners. Every entree includes detailed descriptions showing its calorie counts and nutritional information, as well as heating directions and icons that signify gluten-free, paleo, and low-carb dishes.
The meals themselves feature Mexican and Southwestern-inspired flavors along with American regional specialties and global fusion dishes. Their menu gives you the flexibility to order as many meals as you need for the week. You can mix and match between breakfasts, lunches, dinners, and snacks and desserts.
Where Metabolic Meals outshines its competition is its sheer number of dietary restrictions it can accommodate. There are at least 15 different special nutrition needs Metabolic Meals can support.
Meals have between 350 and 450 calories, making them a good option for someone who is looking to lose weight or maintain a healthy lifestyle. Adding an "extra protein" to a meal increases the calories to between 500 and 600 calories per meal, which can work if you are looking to build muscle or need more calories during the day.
The main limitation of Metabolic Meals is that it offers one main meal plan. Though, you have many different options from that plan–you can continue with their weekly subscription service or order on demand. That said, there are 5 different meal categories from which you can design your delivery to meet your dietary needs and order from 6 to 22 meals per week.
Metabolic meals are great for all healthy eaters, but they do have a few specific meal categories that can work for a few dietary restrictions.
Both Low carb and Diabetic-Friendly meals on the menu generally contain less than 20 grams of carbohydrates per meal to prevent blood sugar spikes, which will work for people with prediabetes, diabetes or people who want meals for a low carb lifestyle.
Low Sodium meals have between 400 and 600 mg of sodium per serving and can be part of a heart healthy diet for lowering high blood pressure and cholesterol.
The Keto selection features an assortment of premier protein packs. Wild-caught shrimp, grass-fed beef and chicken have less than 1 gram of carbohydrates per serving and will fit in seamlessly with a keto diet.
The Under 450 Calorie meal category has portions that help keep calories under control to promote weight loss or weight maintenance.
Every Metabolic Meal is free of gluten, soy, artificial colors, artificial flavors, and refined sugars. Additionally, you can filter menu options that fit your individual nutrition needs by finding meal options that are free from other top allergens such as: dairy, egg, fish, shellfish, peanut, and tree nut.
Mix and match your meals as you need for the week. Don't miss these gluten free and low carb best selling meals:
Maple Bacon and Free Range Egg Scramble
Grass-Fed Beef Chorizo with Sweet Potato and Cauliflower Hash
Memphis Pulled Pork with Southern Tomato Braised Green Beans
Teriyaki Grass-Fed Beef and Broccoli
How much does Metabolic Meals cost
Metabolic's prices vary depending on how you design your meal plan. You can select between 6 and 22 meals per delivery. With no hidden membership fees, only pay for the meals you want. Meals cost between $11 and $13.
A minimum 6-meal order will cost an average of $72 plus shipping.
A maximum 22-meal order will cost an average of $264 plus shipping.
Shipping is free for the first order, but $19.95 per delivery for each additional order
How Metabolic Meals Works?
Metabolic meals' ordering is straightforward and easy to navigate. You decide how many meals you want per week and you get to choose the meals you want from the rotating menu.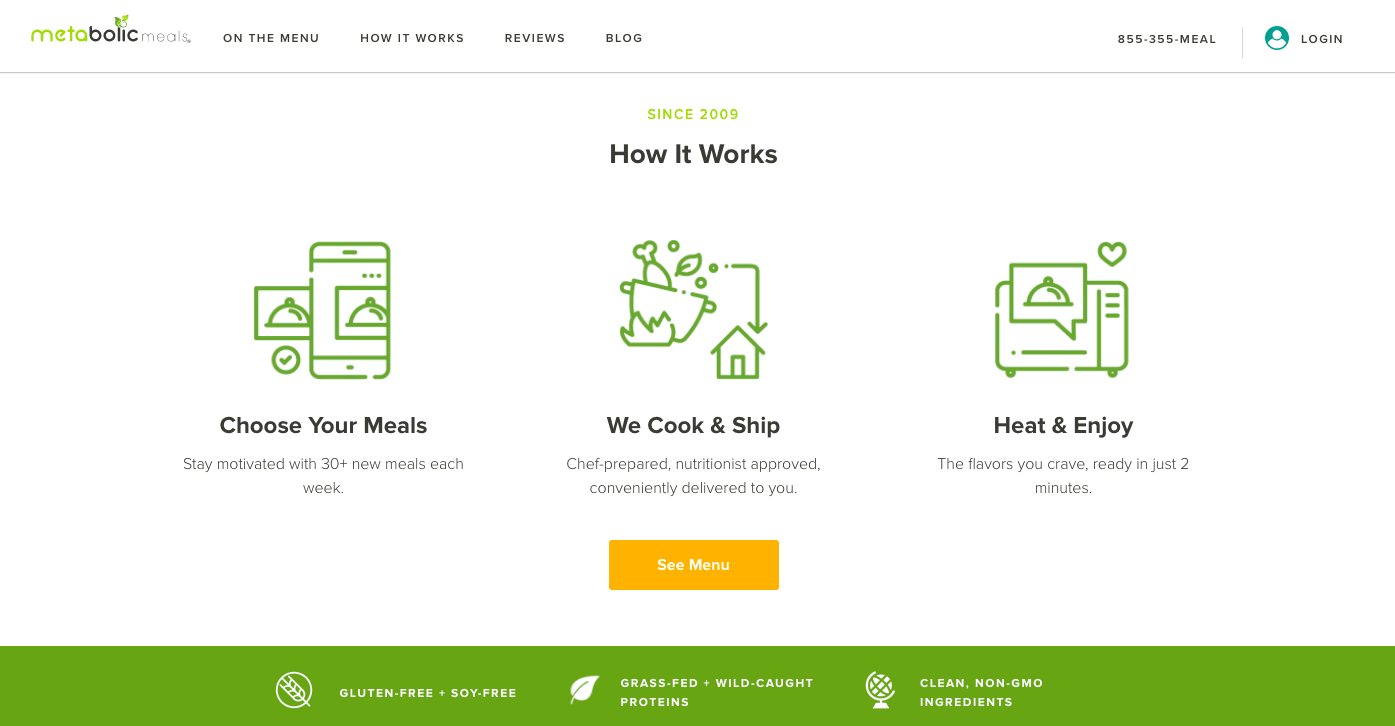 Ordering
Choose your meals 'On the Menu' by browsing the 30 weekly options. When you register, you are automatically enrolled in a weekly subscription. You have the option to change your subscription weekly by continuing, pausing or canceling your subscription.
If needed, use the filters on the menu to find meal categories that best fit your diet. Choose from

Low sodium meals have between 400 and 600 mg of sodium and can be a part of a dietary plan to reduce high blood pressure.
Low carb/Diabetic-Friendly have less than 20 grams of carbohydrates per serving to promote good blood sugar control.
Keto premier protein packs have less than 1 gram of carbohydrates per serving, perfect for the main entree of a ketogenic meal.
Under 450 calories are portion-controlled and the reduced calories can fit into a healthy eating lifestyle and can also work for weight loss.
Main menu items are organic, locally sourced, gluten- and soy-free, which can work for many health-conscious eaters.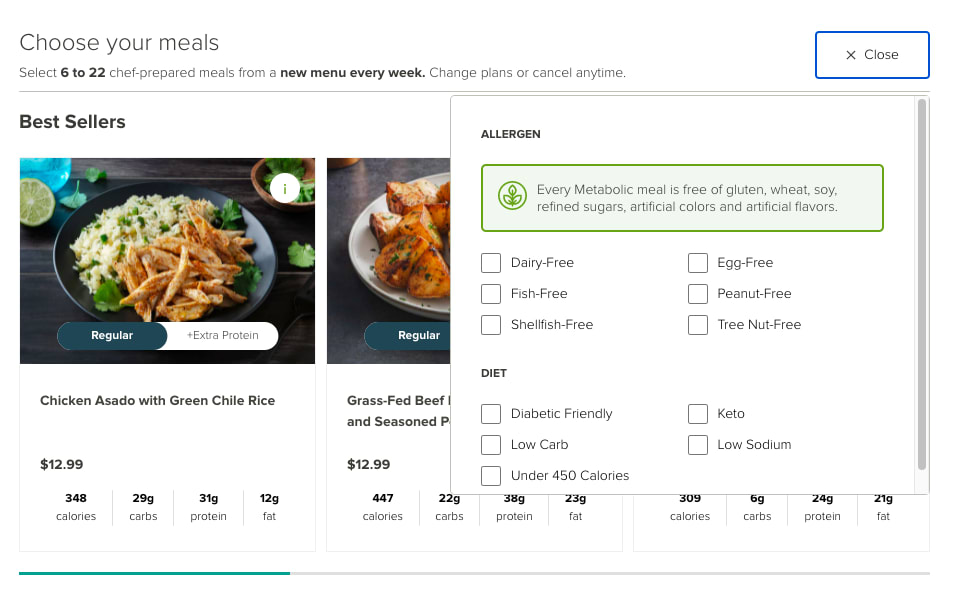 Cooking instructions/recipe cards

Meals arrive fresh and need to be stored in the refrigerator. Ideally, meals should be enjoyed within 4 to 5 days of delivery.
Some meals can be stored in the freezer if you need additional shelf life.
All meals include instructions for heating, no additional cooking is required. Most meal preparation is as simple as cutting a slit into the plastic on the meal tray and heating in the microwave for 2 to 3 minutes.

Add-On

If you need additional calories or protein at each meal, simply select the "extra protein" option for the menu item.

Metabolic Meals Dietary Options
All Metabolic meals are free from gluten, soy, artificial sweeteners, and refined sugars. If you have specific dietary restrictions, you can also use the filter to help find meals that are free from:

Dairy
Egg
Fish
Shellfish
Peanut
Tree nut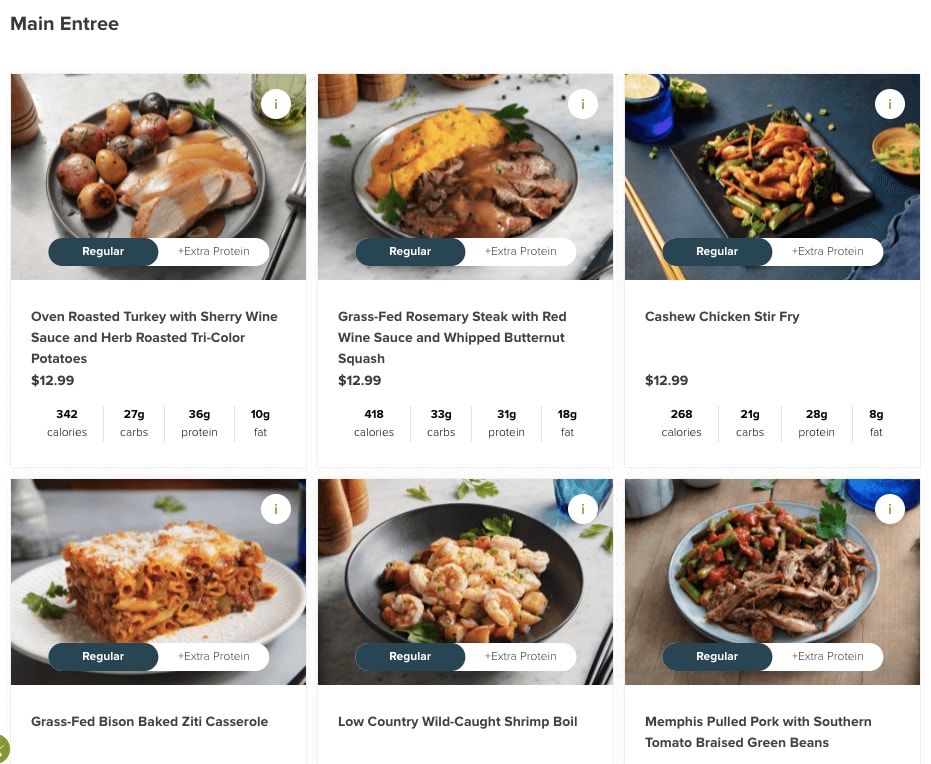 Metabolic Meals Packaging, Shipping and Delivery
Meals arrive fresh and ready to heat and eat. Metabolic meals' commitment to sustainable practices can be seen in the 100% biodegradable insulation liners, 100% recyclable plastic meal containers and cardboard boxes.
Metabolic Meals will ship to all lower 48 states in the US. They use UPS for shipping and no signature is required, so you do not need to be home for delivery. Orders are packed to stay fresh for at least 12 hours after delivery.
Metabolic Meals App
Metabolic Meals does not have an app, order your meals through their website.
Metabolic Meals Customer Service
You can reach Metabolic Meals by phone or by email. For general questions, email info@mymetabolicmeals.com. For questions regarding billing, delivery, or plan details, email customerservice@mymetabolicmeals.com.
During weekday hours you can also call at 855-355-6325 and speak to a customer service representative, who are available Mondays through Fridays from 9am-5pm CT.
Find recent articles on a variety of topics on their blog such as carb cycling, tips for a healthy metabolism, sugar and the immune system, and more.
How to Cancel or Pause Metabolic Meals
By ordering your first meal, you are automatically enrolled in Metabolic Meals' weekly subscription. You have a decision to make each week–continue with autoshipment, pause delivery or cancel subscription. To cancel or pause Metabolic Meals shipments, you must log into your account and specifically select to pause or cancel by the deadline.
All changes to your memberships should be made by Wednesday 9:00 am CST of the week before your meals ship.
How Metabolic Meals Compares to Other Meal Delivery Services
Metabolic Meals offers more dietary preferences and restriction options than their competitors while also offering the most flexibility with meal plans.
Number of dietary restrictions available
Amount of prep work required
Biodegradable fibers, 100% recyclable plastic and cardboard
Go-Green plastic containers in partially recycled insulation and packaging
Insulated boxes with gel packs
Insulated boxes made with recyclable materials
Delivers on promises (e.g., 15 minutes to cook)
Metabolic Meals vs Freshly
Metabolic Meals and Freshly both offer flexible meal plans for individuals looking for single serving nutritious meals. Freshly has options to order packages with 4 to 12 meals per week, while Metabolic Meals allows you to order up to 22 meals per shipment. Metabolic Meals has an advantage over Freshly by offering more options for specialty diets and dietary restrictions.
Metabolic Meals vs Factor_
Metabolic Meals and Factor_ are two of the few meal delivery services that offer meals for a low carb and ketogenic diet. Both services feature chef-designed meals for a variety of diets and have similar prices. However, if you are someone with food allergies or diet restrictions, Metabolic Meals has more weekly menu options.
Metabolic Meals vs BistroMD
If you are looking for single serving weight loss meals, both BistroMD and Metabolic Meals are viable options. BistroMD meals are frozen and their 150 meal menu is set each week. Metabolic Meals arrive fresh and their Under 450 Calorie category can work for weight loss. Metabolic Meals' menu is smaller, but the items change each week ultimately providing a greater diversity of choices.
Bottom Line:
Metabolic Meals has a wholesome and nourishing menu for the fitness professional looking to complete a carb cycle to the busy parent wanting healthy meals. What the limited menu lacks in numbers, it more than makes up for in quality ingredients using only grass fed and sustainably sourced proteins and works for over 15 different dietary restrictions.