In a Nutshell
Kettle & Fire is a survival meal kit delivery service that really goes the extra mile. Its meals are loaded with nutrients, made from all whole, clean ingredients, and they're even paleo and keto-friendly. What's more, Kettle & Fire meals come with collagen for a real protein boost. Most orders ship for free, have a 2-year shelf life and come with a 30-day money-back guarantee. Is Kettle & Fire as good as it sounds? Let's dig deeper to find out.
pros
Gluten-free, paleo, and keto-friendly kits
Flavorful and varied menu
Non-GMO and collagen-rich
cons
Only broth-based meals
No vegetarian options
Kettle & Fire Visit Site
Kettle & Fire at a Glance
1, 6, 12, 18 pack cartons every 30 or 60 days
What's Unique About Kettle & Fire?
There are a lot of good survival food delivery kit services out there. So, what makes Kettle & Fire any better than the rest? There are a few things that come to mind, including the unusually tasty variety of meals on offer and the free shipping.
What really makes Kettle & Fire stand out from the competition is this: health. Kettle & Fire puts a strong emphasis on health with all of its survival food kits. The idea makes sense: if you're going to survive, you've got to be healthy. So, Kettle & Fire survival food kits are all made with optimal health benefits in mind. All meals are made using the best quality ingredients, including no antibiotics or hormones and 100% grass-fed, grass-finished, and humanely raised cattle and chicken bones. There are also no additives, preservatives, GMOs, MSG, or artificial flavors. It's the cleanest meal you'll probably ever eat.
Kettle & Fire actually takes the health kick one step further. We're talking immune system boosters to give you the best immune support in case you need it (and if you're breaking out the survival kits, you might very well need to have a robust immune system!). Meals are packed with fruits and veggies and high in vitamin C and other important vitamins and minerals. But more than that, Kettle & Fire food kits are full of clean proteins like collagen and glycine. These meals also have a boatload of electrolytes tucked in there.
Bottom line, Kettle & Fire survival kits are a great source of immune boosters, great protein, and essential vitamins and minerals that can help support your joints, gut, and skin. For that reason, a lot of customers order these meal kits even for non-emergency situations (a quick and easy nutritionally-dense meal, protein-filled post-workout meal, etc.).
How It Works
You can buy Kettle & Fire meals at certain local supermarkets, or you can order them online. There is one-off ordering available, or you can sign up for a subscription. Here's how online ordering works:
Go online to Kettle & Fire's website and browse the selection. You can filter the products based on your dietary preferences, what type of food you want, alphabetically, or by price.

Once you've found a meal you like, add it to your cart.

Kettle & Fire has a cool feature that shows you how much you need to order to unlock a series of prizes (i.e., discounts or freebies).

Next, you'll choose if you want this to be a one-time order or a subscription and pick the number of cartons you want.

When you finish your order, proceed to checkout.
Your shipment will arrive within 1-5 days of ordering, depending on where you live. Kettle & Fire ships all over the US (even Hawaii and Alaska, though there's a $35 shipping fee for those 2 states).
Kit Options
Kettle & Fire offers a lot of variety for a soup-based survival kit service. You can choose from soups or broths, and you can select from a range of dietary requirements, including paleo-friendly-keto-friendly, whole30, high protein, dairy-free. Here's a look at what you can get:
Broths
Beef

Chicken

Turmeric ginger

Mushroom chicken

Lemongrass ginger pho

Chipotle beef

Coconut curry
Soups
Miso

Butternut squash

Creamy tomato

Chili with beans

Thai curry
Keto-specific soups
Broccoli cheddar

Mushroom bisque

Butter curry

Spicy cauliflower
Favorite Kettle & Fire Meals
Kettle & Fire is known for having some of the most interesting and flavorful meals on the market. Considering these have a shelf-life of 2 years and are condensed, that's a pretty tall claim. We needed to try the meals out for ourselves. And honestly, we were pleasantly surprised with how much flavor these guys packed into their meals. Here are 3 of our favorite Kettle & Fire broths:
1. Beef Chili with Beans and Bone Broth Soup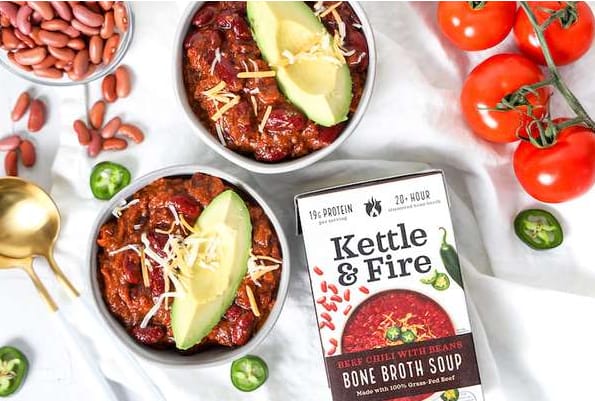 Cost per serving: From $2.25
Prep & cook time: 5 minutes
Difficulty level: Easy
Calories per serving: 30
Other available info: Enjoy the nutritious punch of grass-fed ground beef coupled with red kidney beans, hearty spices, and smoky beef bone broth.
2. Mushroom Bisque Bone Broth Soup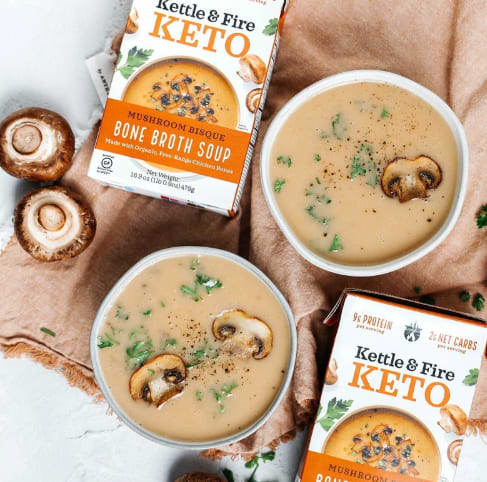 Cost per serving: From $2.25
Prep & cook time: 5 minutes
Difficulty level: Easy
Calories per serving: 240
Other available info: This dish pairs the smooth, creamy goodness of organic buttery mushrooms with garlic and onion for a true comfort food effect.
3. Broccoli Cheddar Bone Broth Soup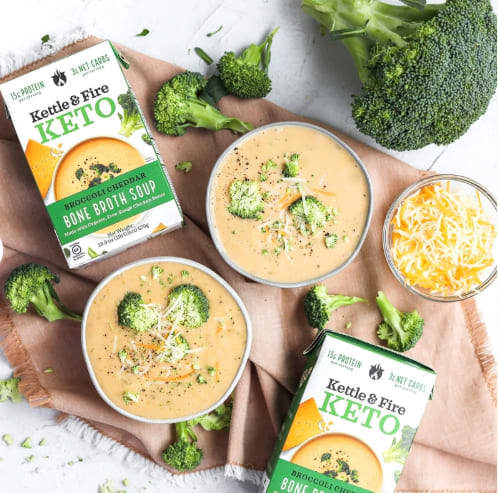 Cost per serving: From $2.25
Prep & cook time: 5 minutes
Difficulty level: Easy
Calories per serving: 320
Other available info: This broth soup has a great punch of flavor with organic broccoli, aged cheddar, and a burst of chicken bone broth.
Pricing
Kettle & Fire has affordable pricing plans that become cheaper the more you buy. What's more, Kettle & Fire offers discounts like 15% off (at the time of this writing), and free shipping on your first order. Here's a look at the typical pricing for Kettle & Fire meals:
You can order Kettle & Fire survival food kits on a one-off basis, or you can subscribe to save. Subscriptions are available for 30- or 60-day frequencies. Each carton or pack comes with 2 servings included, and you can order as many cartons as you'd like. You can save quite a lot by signing up for a subscription and buying in bulk. The price for a single carton of one-off deliveries is $7.99 per carton, while the subscription plan is $6.49. So, that's a big saving.
Kettle & Fire Visit Site
Help & Support
Kettle & Fire has a huge help center with questions and answers to all of the most commonly asked questions about shipping, delivery, subscriptions, ingredients quality, and more. You can also reach out to a help representative via the online contact form (email) or call or text them.
Bottom Line
Kettle & Fire is a healthy and, quite frankly, delicious option if you are looking for a good hearty broth. Made with all organic products and packed with collagen, electrolytes, and more, Kettle & Fire meals are even helpful if you're not trying to survive the apocalypse. Pricing starts at $2.25 a meal, a bargain compared to most meal delivery services. And shipping is free if you order 6 cartons or more. If you're looking for a real kickstart to your health, Kettle & Fire is a good option for you.