In a Nutshell
If you're looking for a flexible and delicious meal delivery service offering easy-to-follow recipes, HelloFresh may be perfect for you. HelloFresh delivers fresh, pre-portioned ingredients to make home cooking easy. Plus, you get to choose from over 40 recipes each week, depending on your personal preferences.
pros
No commitment or contract
Roughly 30 minutes to prepare
Similar price point to competitors
cons
No gluten-free or nut-free meals
Few plant-based proteins

Hello Fresh AU View Plan
HelloFresh Video Review - Delicious and Responsibly Sourced Meals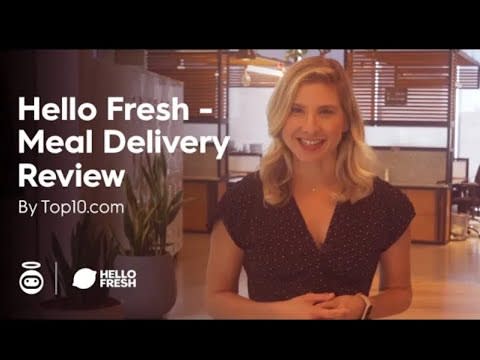 Best For
People on a non-restrictive diet plan looking for nutritious options.
Busy multi-person households or families with young kids.
HelloFresh Meal Plans
HelloFresh offers a variety of menu preferences. When building your plan, you can choose your favourite preference so HelloFresh can show you the meals you'll like best at the top of your menu. Then you pick how many recipes you want on a weekly basis, which can be from three recipes per week for two people, up to five recipes per week for four. Simply put, you'll get between six and 20 servings per week of the food you like.
HelloFresh Dietary Options and Programs
The main protein sources used in all HelloFresh meals are either chicken, fish, prawns, beef, tofu, plant-based meat substitutes, or beans.
The HelloFresh Classic preference plans feature a wide variety of recipes that include meat, fish, and seasonal produce. The Vegetarian preference plan from HelloFresh highlights fresh veggies and seasonal produce and includes dishes like, Sweet Potato & Lentil Dhal, and Cheesy Grilled Gnocchi & veggies.
HelloFresh also offers a Family-Friendly preference, made up of recipes intended for households with multiple age groups and picky eaters. Some of our favorites include the Beef & Onion Chutney Burgers and Aussie-Spiced Chicken Schnitzel.. If you're always running out of time, or simply lead a busy lifestyle, we recommend the Quick & Easy preference from HelloFresh, which involves meals with minimal prep and clean-up, yet still taste great.
For those looking to get into a nutritious mealtime routine, HelloFresh offers Calories Smart meals that are nutritionally balanced and include delicious options like Plant-based Mince Cottage Pie, American Seared Pork & Slaw, and Garlicky Chicken & Quinoa-Millet Salad. If you're a pescatarian, HelloFresh has plenty of seafood paired with seasonal veggies, like Seared Salmon & Chermoula Couscous, and Seared Prawns & Baked Zucchini Risotto.
Our Favorite HelloFresh Meals
The Falafel & Charred Corn Salsa Toss from HelloFresh was a delicious plant-based recipe with plenty of flavour and enough for lunch the next day. It came with chimichurri, garlic rice and plant-based Aioli, so the mayo was not missed.
All of these meals required fewer than 30 minutes of prep time. The clean-up was easy, as the majority of the waste and recyclables could be disposed of while I was cooking, which included the plastic ingredient bags and unusable parts of produce left after chopping. Every recipe I received was minimally labor-intensive, only requiring some chopping, frying, or baking in the oven, the last of which took the most time.
How Much Does HelloFresh Cost?
HelloFresh offers a number of options depending on which meal subscription you choose. Individual meals cost between $7.99-$11.99/serving, with a standard $9.99 for shipping. There is no membership fee.
Dinner for 2 (2 meals per week)
Dinner for 2 (3 meals per week)
Dinner for 2 (4 meals per week)
Dinner for 2 (5 meals per week)
Dinner for 2 (6 meals per week)
Dinner for 4 (2 meals per week)
Dinner for 4 (3 meals per week)
Dinner for 4 (4 meals per week)
Dinner for 4 (5 meals per week)
Dinner for 4 (6 meals per week)
How Does HelloFresh Work?
The process for setting up your HelloFresh subscription and choosing your box is simple. All you have to do is decide which menu preference is most important to you, and then choose the number of people you're feeding and how many recipes you'd like to receive for the week.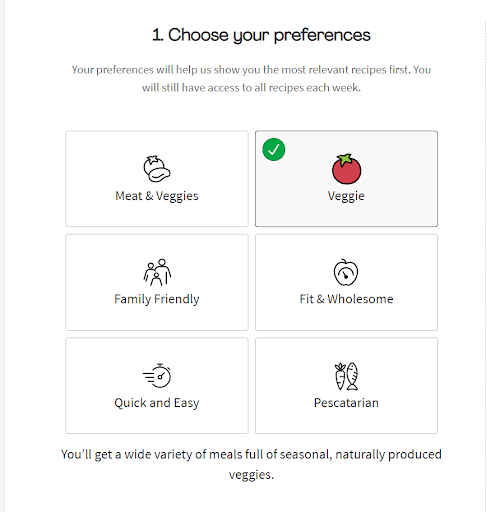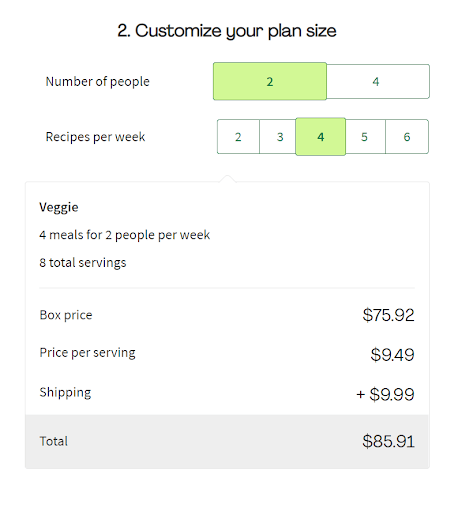 Placing an Order With HelloFresh
Next, you'll create a log-in for your HelloFresh account, including a username and password. After that, you input your shipping address and payment information for your subscription. Your credit card will then be charged for your first delivery.
Your upcoming box will be packed with pre-determined recipes for the week that fit your selected menu preference. You can also view all of the available recipes for that week and swap out recipes for others. You can even look several weeks ahead to start planning your future delivery menus.
You'll receive a confirmation email of your order, followed by reminders that your delivery is coming and when to expect it. If you agree to receive text messages, you will also get a text when your box has been delivered.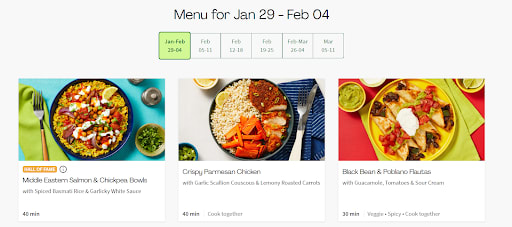 How to Choose Meals with HelloFresh
The main protein sources used in all HelloFresh meals are either chicken, fish, prawns, beef, or beans. HelloFresh is clear about the fact that they don't offer nut-free or gluten-free options, and instead leave it up to you to look at the recipe cards ahead of time.
Does HelloFresh Come with Cooking Instructions?
Every delivery box contains individually packed meal-kit bags for each recipe, which include all of the pre-portioned ingredients you need for the meal (with the exception of pantry staples such as olive oil, salt, pepper, and butter) and an easy-to-follow recipe card. The printed recipe card lists the ingredients and amounts, has a photo of the finished product, and easy, step-by-step instructions for how to make the meal.
What Makes HelloFresh Stand Out?
If you're looking for something out of the ordinary, HelloFresh has a few elevated recipes on the menu that you can try every week. These meals are made with premium ingredients, explore exciting new flavours, and may have larger portion sizes. Look for menu items labeled Gourmet, Gourmet Plus, Taste Tours, or Takeaway Faves, which include dishes like Quick Bacon & Mushroom Boscaiola with Garlic Bread or Crumbed Chicken Katsudon.
HelloFresh Packaging, Shipping and Delivery
When you sign up for HelloFresh and enter your post code, you can select a delivery day based on the days available in your area.
Prior to delivery, you'll get a text message confirming the delivery address and instructions, and then a reminder that the box is going to be delivered that day. You'll also get a message when the box is delivered.
The box itself was medium-sized and packaged in recyclable, leak-proof materials to keep the food cold. The ingredients for each meal are divided into their own brown meal-kit paper bag, clearly labeled with which recipe they are for. The bags are neatly fit into the box, and the recipe cards for the week were stacked on top.
I was able to organize the paper meal-kit bags in my refrigerator for the week and easily dispose of the insulation materials. At the end of the week, the ingredients for the last meal I prepared were still in good condition.
It's also noteworthy that the two-person option had enough for leftover lunch the next day.
Is There a HelloFresh App?
There is a HelloFresh app that you can download for iOS or Android phones. The app is easy to use, quick to load and you can manage your account from there, order new plans, update your contact details, or contact customer service.
How to Contact HelloFresh Customer Service
HelloFresh customer service hours of operation are not listed on the site, but the online chat with a virtual assistant is available 24/7. For more detailed questions, the assistant can connect you with a customer service agent.
The HelloFresh website has a blog that offers fun information about kitchen tips and tricks, recipes to try for every occasion, lifestyle tips, and behind-the-scenes information about HelloFresh's partners and friends. There is also a handy FAQ section answers to topics around selecting meals, delivery protocol, payment and account details, and how to get started.
How to Pause or Cancel Your HelloFresh Account
HelloFresh is easy to cancel or pause online or through the app. You can access your account and make changes at any time. Skip one or multiple deliveries on the "My Menu" page, and deactivate your account altogether with ease on your Account Settings page.
Is HelloFresh Worth It?
HelloFresh has plenty to offer for households looking to reduce meal prep time and increase meal variety. Most people will be able to find a great meal plan that fits within their food budget and saves them time in the kitchen.