As a once-in-a-year event, cooking for such an important occasion can be daunting because you want everything to be perfect. The challenge is how to prepare a special family dinner without breaking the bank or spending all day in the kitchen.
Of course, meal delivery services offer a quick, convenient and affordable solution for creating a delicious, healthy dinner on Mother's Day. Plus, you still get all the fun of preparing the food yourself—less the trip to the grocery store, hunting for ingredients. Incidentally, a meal delivery subscription also makes a great Mother's Day gift for busy moms!
If you're looking for inspiration, you can also try out one of these budget-friendly family dinner ideas for Mother's Day.
1. Instant Pot Hungarian Goulash
A home-cooked meal is still a favorite for special occasions, but it can be challenging if you lead a busy life or have to endure a long commute each day. Hungarian Goulash, done in an instant pot, is quick and simple, nourishing and comforting. You'll need seasoned ground beef, garlic, onion, tomatoes or tomato sauce, water, pasta, and shredded cheese.
Place the meat, onion, and garlic in the instant pot and cook until brown. Add the other ingredients and close the instant pot's cover for four minutes of high-pressure cooking. Once the dish is ready, add the cheese—if you wish—to top it off. Serve in large, flat-bottomed bowls or plates with a rim.
2. Warm potato salad with chickpeas and spinach
This quick vegan meal is both satisfying and refreshing. You'll need cubed potatoes, cooked or canned chickpeas, chopped bell peppers, onions, and crimini mushrooms, fresh spinach, and, to season, rosemary, garlic, paprika, fresh basil, salt, ground cumin, and olive oil.
Cook the potatoes in a frying pan with a splash of olive oil, until golden-brown. Add the chickpeas and cover. After about two minutes, add the other ingredients except the spinach and the basil. Once the remaining vegetables are cooked, stir in the spinach, switching off the heat once the spinach wilts. Serve the dish with torn basil leaves sprinkled on top.
If you're not an expert on vegan food but want to prepare a nice dish for Mother's Day, a vegan diet meal delivery service can help you by offering a variety of nutritious and delicious plant-based meals.
3. Polenta with mushrooms two ways
For vegetarian moms, try this dish of creamy polenta with meaty mixed mushrooms. We recommend shiitake, oyster, and beech mushrooms, but any will do. You'll also need a scant cup of instant polenta, two cups whole milk, one or two cloves of garlic, one tablespoon of butter, a bunch of kale, a cup of Parmesan cheese, plus salt, pepper and chile flakes to taste, and the juice of one lemon.
Cook the mushrooms until golden brown. Remove half the mushrooms from the pan, and mix with lemon juice, kale and parsley. To the remaining mushrooms in the pan, add the garlic, and a pinch each of salt, pepper and chile flakes.
To make the polenta, bring two cups of water and the milk to a boil. Whisk in the polenta, adding the butter and a pinch of salt. Lower the heat, add the Parmesan cheese, and continue stirring until the dish is thick and creamy. To serve, add a healthy portion of polenta to each plate, with the mushroom mixtures on either side.
For a dish like this, a meal delivery service like Home Chef can help make dinner prep easier by providing pre-portioned ingredients. Irrespective of your skill level, you'll get detailed instructions on preparing various meals to give you a tasty dish.
4. Sheet pan chicken fajitas
Sheet pan chicken fajitas are another simple, delicious meal for Mother's Day. Juicy chicken breasts are wrapped with onions and vegetables in a warm tortilla.
To prepare the dish, cook the chicken breast and cut into strips. Slice bell peppers, onions, garlic, and any other vegetables you'd like, then combine with the chicken breast in a bowl, and add a generous pinch each of salt, pepper, chili powder, smoked paprika, and cumin. Toss together, then spread the ingredients out on a non-stick baking sheet.
Preheat your oven to 425 degrees and cook for about 20 minutes. Then, broil them for about two minutes to add a bit of color. Add the tortillas for the last 30-60 seconds to warm, then heap the chicken mixture into a bowl. Top with lime juice and cilantro, and serve with the warm tortillas. You can prepare the fajitas yourself or let the family have fun making their own.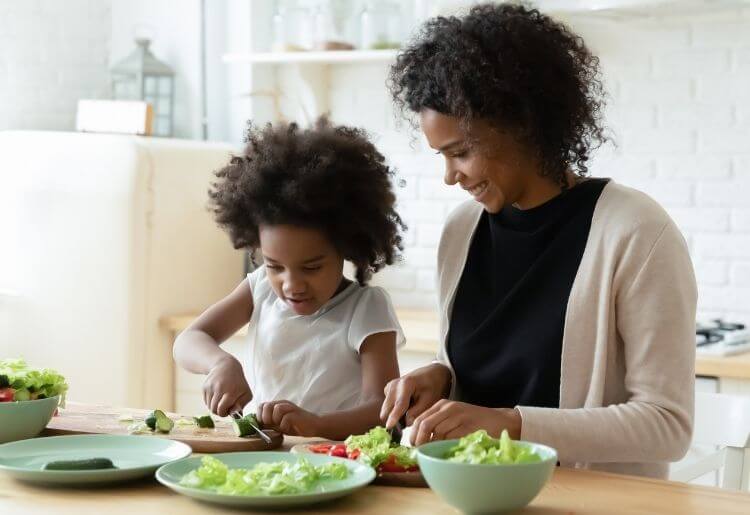 5. Pot roast in a slow cooker
Most Americans spend close to 40 minutes per day preparing food. That's why slow-cookers (also known as crock-pots) are so magical: just a few minutes of preparation, and you can leave your food to simmer away all day for a spectacular meal in the evening. This dish comes together in less than 20 minutes and gets better and better the longer it cooks.
You'll need chuck roast—a fatty beef cut from the section between a cow's neck and shoulder—and a variety of hearty vegetables, such as potatoes, carrots, and peppers, plus garlic, thyme, and parsley. About two pounds of beef will be enough for a family of four.
Cut up the vegetables in large chunks and put them in your slow cooker. Season the chuck roast with salt and ground black pepper, and brown the beef in a pan before adding it to your pot. Add beef broth to the mix and slow cook everything for eight hours. Once it's ready, garnish with parsley to finish.
6. Shrimp scampi
For a tasty and easy-to-make seafood dish, try this simple meal of shrimp, garlic, lemon, parsley, pepper, melted butter, and salt. Thaw the shrimp if it came frozen. Cooking frozen meat, fish and shellfish is one of the worst mistakes people make in the kitchen. It leads to the meat being overcooked on the outside and undercooked on the inside. About four pounds of uncooked shrimp will be a hearty meal for four.
Add butter and garlic to an oiled pan and heat for about two minutes. Add the shrimp and the remaining ingredients into the pan and turn them in the pan until they are cooked. Once the shrimp turns color, the dish is ready to serve. Sprinkle parsley to finish it off, and serve with rice or crusty bread.
7. Pressure-cooker curry chicken with cauliflower rice
If your mother likes a bit of spice, this dish takes only a few minutes to prepare and is sure to please. You'll need boneless chicken thighs, a tablespoon minced garlic, one onion, one or two tomatoes, and yellow or orange sweet peppers, plus a tablespoon each of cayenne pepper, curry powder, cilantro, salt, and one can of unsweetened coconut milk.
Cook the cauliflower rice according to instructions. If you can't find store-bought cauliflower rice and don't want to go to the trouble of making your own, this dish works equally well with traditional rice.
Add all the ingredients except cilantro to a pressure cooker. Give them a stir, then cook on high-pressure for about eight to ten minutes. Place a helping of rice on each plate, top with a chicken thigh or two, and spoon over the sauce. Finish with chopped cilantro.
8. Roasted salmon with lemon
For a quick and healthy meal, prepare this simple but yummy salmon dish. You'll need salmon filet with the skin still on, lemon slices, mayonnaise, lemon zest and juice, sugar, fresh parsley, tarragon, chives, black pepper, minced garlic, and salt.
The secret to this recipe is wrapping the salmon in aluminum foil, which traps in moisture and keeps it juicy. Place the salmon skin-down on the aluminum foil, top with a few slices of lemon, and season with salt and pepper. Wrap the lemon in the foil, and roast at 450 degrees Fahrenheit for about six minutes. Remove the salmon from the oven and let it rest for five minutes.
Mix the remaining ingredients to make the sauce, adding water if you prefer a looser consistency, then pour over the salmon. Serve with rice or salad.
9. Spaghetti Bolognese
This simple Spaghetti Bolognese comes together in about 45 minutes. You'll need dried spaghetti, ground meat, Parmesan cheese, garlic, onion, oregano, tomato paste, black pepper, fresh basil, and water, red wine, or broth. Prepare the sauce first by browning the meat, then add the rest of the ingredients. Cover the pan to allow the sauce to simmer for about 25 minutes.
Place the spaghetti in salted boiling water. Once it's ready, mix the basil leaves into the sauce, then add the spaghetti. Sprinkle the Parmesan cheese on top and the dish is ready to serve.
10. Crispy chicken and fries
Crispy chicken and fries can work well if you're having a smaller Mother's Day party. You'll need thinly sliced potatoes, chicken breast, bread crumbs, flour, salt, pepper, garlic powder, and eggs.
Mix the salt, pepper, bread crumbs, and garlic powder. Beat the eggs. Take each of the chicken breasts and cut them into four or five strips. Roll the strips in the flour, dip them in the eggs, and then roll them in the bread crumbs. Fry the slices of chicken breast in enough oil to come halfway up the strips, turning once after a few minutes to cook both sides. Once golden-brown and crispy, place on a paper towel while you fry up the thinly sliced potatoes. Serve with ketchup, barbecue sauce, or any other condiments you like.
If you're a fan of family-friendly meals like this but are tight on time, several meal delivery services like HelloFresh have family plans, with kid-tested recipes that are sure to be a hit.
Conclusion
Mother's Day is a day to celebrate moms, and all the love, support and compassion they bring to us. It's only fitting moms get a special day to celebrate them, and these budget-friendly and easy-to-prepare recipes will be a great addition to any Mother's Day feast.
That being said, there's no need to panic if you're short on time. There are plenty of affordable meal delivery services available, with a wide range of dishes for all different kinds of diets, offering a convenient and affordable option to time-consuming trips to the grocery store.