Common electrical hazards are no stranger to the home and its surroundings. The National Library of Medicine shares that an estimated 20% of all electrical incidents happen to children in the US. Aside from harm to you and your children, poor electrical safety precautions and measures can even invalidate your homeowner's insurance or home warranty.
Fortunately, some preventative measures—mixed with educating your children on electrical safety guidelines from a very early age—can stop these accidents from happening.
» Learn which home maintenance skills you should master.
1. Steer Clear of Electrical Wires
It's no one's fault, but very young children are often drawn to electrical wires. In particular, they may like to put them in their mouths, especially when teething. But biting into a live wire can result in electrical shock.
There are multiple ways you can avoid electrical fires and injuries due to high currents flowing through your household wires.
Keep wires out of reach of young children
As kids get older, explain electrical safety rules in a way they'll understand.
Follow electrical codes, such as the National Electrical Code, which stipulates homes should not have internal aluminum wiring as they're prone to fires.
If you have an overflow of electrical current, use circuit breakers until a professional can come in to fix your wiring.
» Not sure about all risks? Find out ways to spot electrical problems in your home.
2. Childproof Electrical Sockets
As long as your child is old enough to crawl, injuries from electrical sockets must be taken seriously. A curious toddler inserting their finger into an electrical outlet can quickly lead to a hospital visit. A study done by the Electrical Safety Foundation shows that nearly a third of parents with young kids still need to safeguard sockets.
Some fixes include:
Dampen excess electricity and avoid electrical burns by ensuring your outlets use grounding
Use plastic outlet covers to close off unused receptacles—when applied, the entry points virtually disappear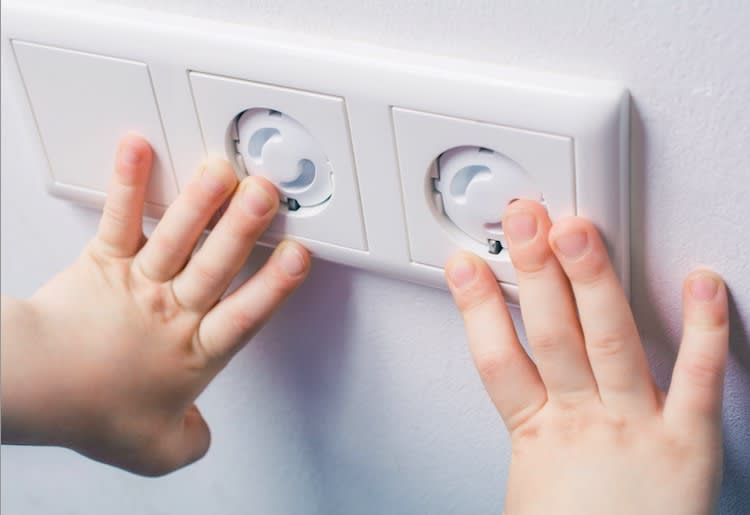 3. Electrical Devices and Water Don't Mix
The bathtub or the pool is no place for an electric hairdryer or a recharging cell phone. Water conducts electric current, which can magnify the impacts of electrical shock.
For example, it can cause Electric Shock Drowning (ESD). Because of the impact of the currents on one's nervous system, temporary paralysis can kick in and result in drowning.
To help prevent this and other water-aggravated electrical injuries, you can:
Install ground-fault circuit interrupters (GFCIs) in kitchens, bathrooms, and even outside
Educate your children about the risks of electricity and water damage in the home, plus encourage them to avoid using electronics in or near open water
4. Avoid Flying a Kite Near Electric Cables
Should a kite string become entangled in electrical cables, it can carry an electric shock back to the child holding the kite. This can be sufficient to cause injury.
For us, this has easy prevention. Once kids realize kites and aerial obstacles don't mix, they'll naturally want to kite-fly in unobstructed areas. Advising them of the potential hazards of electric cables can provide additional motivation.
5. Don't Climb Trees Near Power Lines
If your child is a tree climber, they may be tempted to use a nearby cable as an additional supporting device—much like a tree limb. Should the cable snap, your child can be severely electrocuted because of a power surge or fall and suffer other injuries.
To minimize the chance of these outcomes, you can:
Report trees that are in close contact with power lines to your local power utility
Carefully instruct your child on the dangers of this type of setup and why it should be avoided
» Safeguard your child and also see how you can save electricity to help the planet.
6. Never Climb a Utility Pole
There's a reason utility poles don't have ladders, and that's to keep people from climbing them. Risks vary from shocks to falls. But the elements can exacerbate the danger.
For instance, if lightning strikes a utility pole, it can cause an electrical surge, injuring your child—even fatally—if they're mid-climb. Plus, if it's powering your home and your child is interacting with sockets or active devices, it can also cause harm.
To curb these devastating events, you can:
Make sure your power supply and sockets use surge protection
Explain the dire consequences of climbing utility poles to your child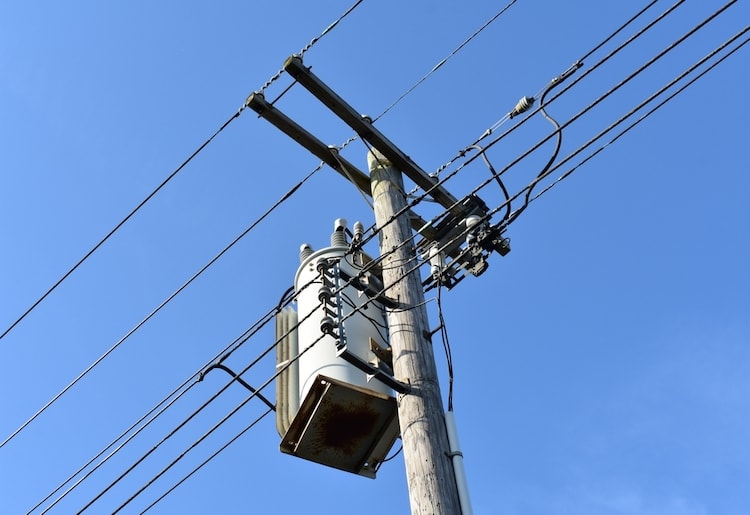 7. Discourage Touching a Fallen Power Line
A downed power line should be considered the equivalent of a highly venomous snake. Do not touch or go near it. Electricity can spread around these lines even if they're down, meaning anyone nearby can still suffer shocks and other injuries.
You can help by assuming the line and surrounding area are still energized, then report downed power lines in your neighborhood to your electric utility immediately.
8. Don't Put Metal Objects into an Electrical Device
Touching the inside of an electrical device (like a toaster or hotbed) with a metal object can quickly transfer that electricity to the holder, causing injury. Or this can damage components in the device which can later short circuit and pose as an electrical fire risk.
So, to instill fire safety and mitigate the potential for injuries, you should:
Use wooden tongs to retrieve stray pieces from the device, such as bread from the toaster
Keep metal objects away from active and plugged-in electrical appliances
Supervise your young children when they use any electric devices, especially kitchen appliances
9. If Your Child Suffers an Electrical Injury, Get Medical Help Immediately
Never assume that any electrical contact was minor. Injuries can be anything from easily visible burns to internal damage, like cardiac arrest.
But try to stay level-headed in these situations and have actionable steps you can take:
Keep emergency numbers nearby
Be sure not to touch your child if they're still in contact with an electric current
Know exactly where the nearest hospital and emergency clinics are
10. Replace or Repair Defective Electrical Systems and Devices
Without proper electrical system maintenance, damaged components that are past their useful life or were improperly installed are hazardous. Your child could pick up or try to use any electrically-powered component of your home.
Some tips I recommend are:
With a home warranty, you can easily repair systems or replace old appliances if the damage is due to regular wear and tear.
Practice power tool safety by replacing electric tools that have faulty or frayed wiring.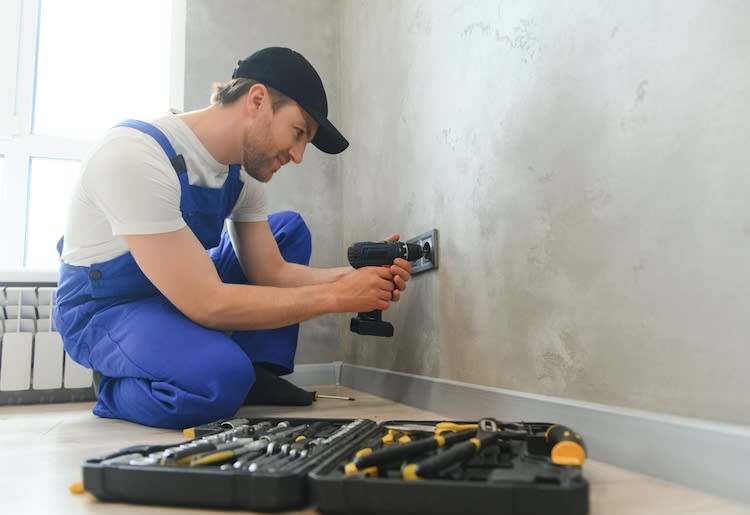 You Are Your Child's Best Protection from Electrical Hazards
With basic childproofing, following safety protocols, and honest, educational moments with your kids, electrical hazards can be combatted. And, with our tips, you'll be prepared in case disaster strikes.
An inclusive home warranty that covers pre-existing issues with electrical systems and related damages is worth considering, especially if you have children. But shop around first for one that suits your budgetary needs. This way, you'll have extra peace of mind.
» Check out Home Service Club or Cinch Home Services for warranty options.