First American Home Warranty Visit Site
Overview
First American Home Warranty at a Glance
If you'd like to take out a plan with First American Home Warranty, the first step is typically to receive a quote online. To do so, you'll need to enter details such as:
Your name
You address
Your email address
Your property type
Whether you are in the process of buying/selling
Based on these details, you'll receive quotes for both the Basic and Premium plans. You can also select whether you'd prefer to pay monthly or annually or if you'd like to add any optional extras to your policy.
At this stage, one of the company's agents will attempt to phone you to discuss your needs, which could be off-putting for those in the early stages of researching a plan.
Although the amount of time you need to wait before filing a claim will vary depending on your plan, this is typically 30 days.
Overall, we were impressed by our user experience when we tested the site and didn't encounter any issues when submitting our information or receiving a quote.
Coverage Plans
If you'd like to take out coverage, you can choose between 2 plan types.
Best for kitchen and household appliances

Best for appliances and household systems

The provider also offers specialized plans for those buying or selling their home. If you'd like to apply for this type of coverage, you can ask your estate agent to take out a plan with First American Home Warranty.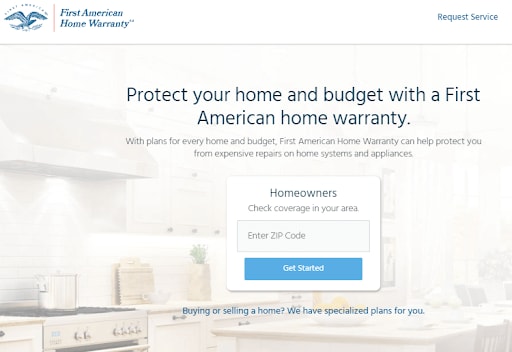 Optional Add-Ons
When you take out a plan, you can also add the following items:
Central air conditioning (electric)
Additional refrigeration
Pool/spa equipment
Well pump
First-class upgrade
Septic tanking pumping
HVAC tune-up
You can also choose a First Class Upgrade, which will cover:
Building permits and limited upgrades caused by building codes
Improper installations completed before coverage start date
Disposal of appliances, systems, or components the provider replaces
Plan Exclusions
When you take out a policy, you'll only be covered for those items specifically named on your plan. However, the following exclusions also apply:
Costs to bring out-of-code systems into compliance
Structural modifications
Modifications to existing equipment
Secondary damage
Cosmetic fixes
Items already broken prior to your plan's start date (may vary on real estate plans)
How to file a claim with First American Home Warranty
If you'd like to make a service request, the first step is normally to call the provider directly or log on to your online account. In most cases, First American Home Warranty will contact a fully vetted local tradesperson within 48 hours, who will then contact you to arrange a home visit.
If the item is beyond repair, First American Home Warranty will replace it with a brand new item of the same (or similar) design or offer you cash in lieu. It will then guarantee the work for a 30-day period.
Although the provider does not place a limit on the number of service calls you can make, the following payout caps will apply:
Garbage disposal: $3,500
Dishwasher: $3,500
Oven Range: $3,500
Cooktop: $3,500
Microwave: $3,500
Trash compactor; $3,500
Refrigerator: $3,500
Additional refrigerator: $1,000
Well pump; $1,500
Is First American Home Warranty Legit?
With more than 35 years' experience and over 590,000 customers, First American Home Warranty is a reputable and well-established business. It has an average rating of 3.7 out of 5 on Trustpilot, which is based on more than 7,000 customer reviews. We were particularly impressed to see that 61% of reviewers rated the provider as excellent. While the provider is accredited by the Better Business Bureau, it does fare less well in terms of customer reviews on this site, with an average rating of 2.79 out of 5.
What's Unique About First American Home Warranty?
Although the majority of home warranty companies offer broadly similar services, First American Home Warranty does offer several that set it apart from the crowd. If an item is beyond repair, it will offer you a brand new replacement, while many of its competitors only offer the current market value. It will also cover your appliances regardless of age, while many similar companies refuse coverage for older models.
Mobile App
First American Home Warranty doesn't currently have an app for customers.
Help and Support
If you need to make a claim, you can do so 24/7 via a dedicated phone line or through your online account. You can also contact the provider via live chat or its social media accounts. When we contacted First American Home Warranty over email, we received a response in less than 1 day, although this reply did not offer all the detail we would have liked.
The provider also has a detailed selection of FAQs on its website and a dedicated resources section, which contains a blog and how-to guides on a range of topics relevant to home maintenance.
First American Home Warranty Pricing
How Much Does First American Home Warranty Cost?
As First American Home Warranty doesn't display its prices online, we entered the details for a single-family dwelling of less than 5,000 square feet with a Texas zip code into the quote tool on the provider's website, and received the following prices.
We then entered details for a condominium in an Ohio zip code and received the following details:
After providing the company with our email address, we later received an email offering a $125 discount and a 30-day money-back guarantee.
All plans also include a service fee of $85, which you can either pay online or directly to the technician who visits your home.
Overall, we found that the premiums quoted were lower than those of many competitors.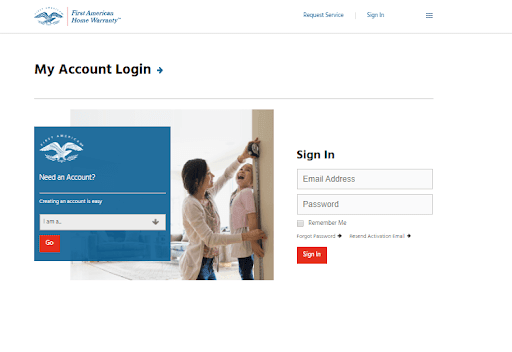 First American Home Warranty Alternatives
How First American Home Warranty Compares to Other Home Warranties
When we compared the provider to its competitors, we found that its premium prices were slightly lower than others in the market. In terms of other factors such as service call fees and contractor availability, it is broadly in line with others.
24/7 online and by phone during normal business hours
First American Home Warranty vs Choice Home Warranty
In terms of premium costs, First American came out on top against its competitor based on quotes—$372-$546 against $476–$660. When comparing pricing, however, it is worth noting that Choice does offer customers their first month's coverage for free. Both companies also offer broadly similar prices on service fees, with Choice quoting us $75-$85 and First American offering $85. Both companies also allow customers to submit a claim 24/7, either online or by phone. If you prefer to manage your finances online, you may be interested to see that neither provider has an app.
First American Home Warranty vs American Home Shield
As with many of its competitors, First American has the advantage over American Home Shield on premium costs. Based on quotes we obtained, First American could be well over $100 cheaper than its rival. Although both companies offer competitive service fees, there is a far greater range with American Home Shield; its rate could be between $75 and $125, while American Home Shield quoted us a flat rate of $85. One feature we were particularly pleased to see with American Home Shield is that it will automatically cover duplicate items on its plans. We were, however, concerned to learn that 95% of its reviews on Trustpilot are rated as "bad".
First American Home Warranty vs The Home Service Club
If you're basing your decision on premium prices, First American has a clear advantage, with premiums of $372-$546 against The Home Service Club's $552-$799. In terms of service fees, both companies are in line with industry averages as First American quoted us a fee of $85, while The Home Service Club provided a range of $65-$125. Unlike many of its competitors (including First American), The Home Service Club doesn't offer 24/7 phone support. When we tested The Home Service Club, we were impressed to discover that its plans include pest control, which is a feature not found with many providers, including First American.

First American Home Warranty Visit Site
Bottom Line
If you're seeking coverage for the systems and appliances in your home, First American Home Warranty has a great deal in its favor. In addition to offering a network of fully vetted tradespeople, it promises to cover items regardless of their age and has generous payout caps. The most significant downside we identified is that the provider only offers 2 plan types, while some of its competitors offer a far broader selection. However, this may not be an issue if you believe the plans meet your needs.