Liberty Home Guard Visit Site
Overview
Liberty Home Guard at a Glance
Optional Add-Ons
It's also possible to add the following extras to your plan, for additional cost:
Pool and spa
Sump pump
Well pump
Central vacuum
Additional spa
Septic system pumping
Standalone freezer
Limited roof leak
Lighting fixtures
Re-key
Gutter cleaning
Pest control
Carpet cleaning
Water softener
Lawn sprinkler system
Electronics protection
Swamp cooler
Ejector pump
Second refrigerator
Trash compactor
Ice maker (in-fridge)
Freestanding ice maker
Wine cooler/fridge
Saltwater pool
Generator
Plumbing fixtures
Grinder pump
Water dispenser water line
Instant hot water dispenser
Reverse osmosis water filter system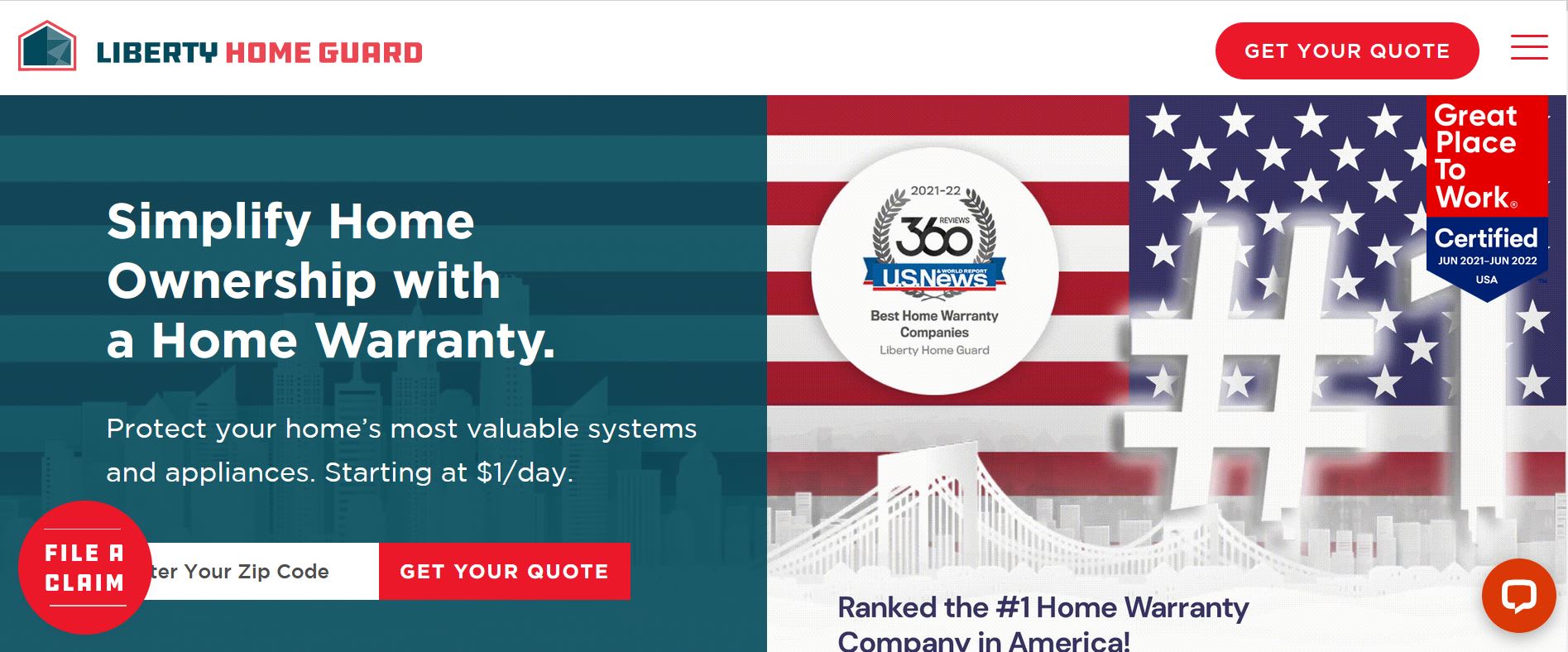 Plan Exclusions
Liberty Home Guard's warranty plans cover issues arising from normal wear and tear rather than a natural disaster or human damage. Individual systems and appliances have particular exclusions. For example, most appliances are only covered for mechanical parts rather than accessories like racks or shelves; for heating systems, outside piping is not covered. You can check the Liberty Home Guard website, where thorough details of exclusions are given.
How to Get Started with Liberty Home Guard
It's quick and easy to obtain a free quote from Liberty Home Guard, either online or by phone. You need to give your contact details, address, and the type and size of your home. You will also need to select any optional add-ons you need, decide your plan level and the length of coverage you want to purchase. You can then purchase your warranty directly from the site.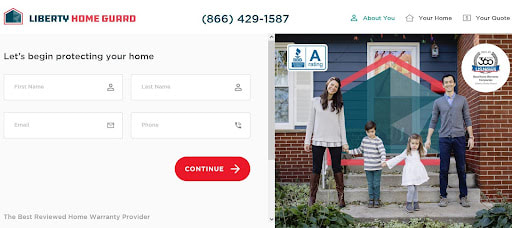 How to file a claim with Liberty Home Guard
You can submit a claim to Liberty Home Guard either on the phone or online, 24/7. After you pay the service fee, Liberty Home Guard will connect you with a technician, who should reach you within 24 to 48 hours.
In some cases, you may be able to find your own technician and claim for reimbursement, too. With 10,000 technicians, Liberty Home Guard's network is smaller than that of some competitors. However, workmanship is guaranteed for 60 days, during which time technicians can be recalled. The service cap included in a standard contract is $2,000 per item, with some exceptions.
Is Liberty Home Guard Legit?
Liberty Home Guard has a good reputation according to review websites such as Trustpilot (where the service has 86% excellent reviews, 2% good, and 12% bad). The company is rated A+ by the Better Business Bureau (BBB), where aggregated reviews are an average of 4.63/5. Overall, these are good figures, suggesting that Liberty Home Guard is a solid choice.
What's Unique About Liberty Home Guard?
Liberty Home Guard currently has several special offers. You can get 25% off when purchasing a plan with monthly billing, or 2 free bonus months with 1 year. You can get more free months when you buy more years in one go, from 3 to 6 months free as you increase your plan up to 5 years. You can also get free roof leak coverage with the purchase of a plan. There is a refer-a-friend bonus of a $25 Amazon gift card, and discounts are available on appliance purchases when you are a Liberty Home Guard customer.
Mobile App
Liberty Home Guard does not have a mobile app.
Help and Support
In addition to 24/7 phone and email, you can also talk to Liberty Home Guard's customer service team via live chat. This is a great feature that makes it easy to get help quickly. The website also has a thorough FAQ and helpful blog with tips and advice.
Liberty Home Guard Pricing
How Much Does Liberty Home Guard Cost?
We obtained quotes for single-family homes in Texas and New York City. Quoted prices were consistent across the locations. At the moment, Liberty Home Guard is offering 2 months free when you purchase a plan with annual billing. The number of free months rises as you add more years to your plan, to a maximum of 6 months when you purchase 5 years in one go.
The table below shows the costs for one year of Liberty Home Guard.
Single-family home under 5,000 square feet
Single-family home over 5,000 square feet
Optional extras can be added for $39.99-$299.99/year, depending on the chosen item.
Additionally, Liberty Home Guard now offers its customers home insurance quotes sponsored by Progressive.
Liberty Home Guard Alternatives
How Liberty Home Guard Compares to Other Home Warranties
Liberty Home Guard's annual premiums are similar to those offered by other companies, although its service fee can be more expensive (up to $150) depending on the plan you purchase. Its pool of in-network contractors is on the low side compared to competitors, but its excellent reputation suggests this doesn't hamper its service.
Liberty Home Guard vs Choice Home Warranty
While Liberty Home Guard is more expensive than Choice Home Warranty, you will save money with Liberty Home Guard when it comes to saving money on service visits. Both Liberty Home Guard and Choice Home Warranty have responsive live chat support, which is a helpful feature.
Liberty Home Guard vs Select Home Warranty
Liberty Home Guard has a $2,000 service cap, whereas Select Home Warranty offers $2,00 coverage per term on HVAC but only $500 per term on appliances, plumbing and electrical systems. Service fees for both Liberty Home Guard and Select Home Warranty are pretty much identical, so the choice may simply come down to what type of coverage you need and who is willing to give you the best discounts upon signing up.

Liberty Home Guard Visit Site
Bottom Line
Liberty Home Guard has an excellent reputation and it's easy to see why. It has a great customer service setup, with live chat, and a detailed and helpful website. The company offers a range of deals and discounts when you purchase a plan, including 2 free months when you buy a year's worth of cover. And the annual premium for a single-family home is comparable to competitors.
Liberty Home Guard offers home coverage that extends to all 50 states, as well as every city and zip code in the United States, no matter where you reside. You can have peace of mind knowing that your home is protected, whether you live in a bustling city or a small town.