In a Nutshell
American Home Shield offers you the chance to customize your home warranty with optional add-on plans and adjustable service fees. It also has a more inclusive policy than most, covering, for example, undetected pre-existing conditions. Despite some poor reviews highlighting low-quality service, American Home Shield is a long-standing player, and its benefits, including multi-home discounts, could make it worth considering.
pros
A range of add-on plans to customize your cover
Automatically covers duplicates of the same item
Covers older items, including rust and corrosion
cons
No repair timeframe guarantee
Some negative customer reviews
American Home Shield Visit Site
American Home Shield Plans
American Home Shield offers 3 main plans: ShieldSilver, ShieldGold, and ShieldPlatinum. In addition, you can add 1 of the optional plans to make sure all your appliances or systems are covered.
ShieldSilver
(best for basic systems cover)
ShieldGold
(best for systems and appliances)

ShieldPlatinum
(best for added extras and high price caps)

Heating and cooling systems
Free heating, ventilation, and air conditioning (HVAC) tune up
Unlimited air conditioner refrigerant
Coverage for code violations and permits
Optional Add-Ons
American Home Shield offers 6 optional add-on plans which can be bolted onto your base plan to provide extra cover where needed:
Electronics protection (home electronics and entertainment products)
Pools and spas (heating, pumping, and filtration systems)
Roof leak repairs
Guest unit (under 750 square feet)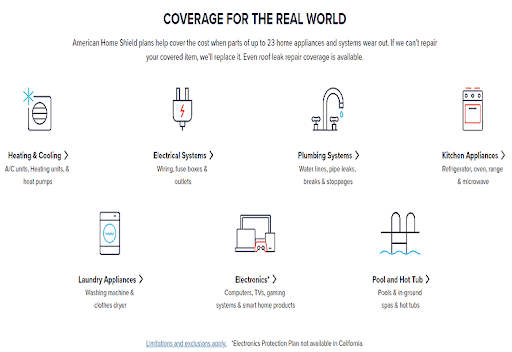 Plan Exclusions
Unusually for a home warranty service, American Home Shield will cover older items and those that have been neglected or have an undetectable pre-existing condition. However, there are some coverage limitations. American Home Shield will only cover residential properties, not those used for business or commercial purposes. It also won't cover any damage or malfunction caused by a third party such as a manufacturer, distributor, or builder. There are also additional limitations for particular appliances or systems; for example, plumbing cover doesn't include sinks or bathtubs.
American Home Shield Plan Pricing
American Home Shield lists its average annual premium as $500–$700 per year, with the exact cost dependent on the size of your home and the package selected. We obtained quotes for properties in California to compare to the company's quoted averages:
Annual premium, California
As our quotes show, the premium can be significantly higher in some states than in others.
Additionally, you can choose your service fee; either $75, $100, or $125. Choosing a higher service fee can mean a lower monthly premium. Including an optional plan will add $50–$258 to your annual cost, depending on what you choose.
How to file a claim with American Home Shield
You can request service through American Home Shield 24/7, either online or by phone. There's no limit to the number of service requests you can make, but there is a cap on the amount you can claim for some repairs. For example, American Home Shield will pay up to $1,500 per contract term to access, inspect, and repair or replace heating and air conditioning units. The ShieldGold package has a $3,000 cap for appliances. And the ShieldPlatinum plan raises this to a $6,000 cap for covered appliances, plus $1,000 for correcting code violations, $1,500 for roof leak repair, and unlimited air conditioner refrigerant cover.
Is American Home Shield Legit?
Reviews for American Home Shield are mixed. On Trustpilot, 95% of reviews are 'Bad'. Customer complaints include the quality of contractors and the slow speed of repairs. However, the 3% of excellent reviews note the quick and efficient service. On ConsumerAffairs, the average rating is 4.4/5. Again, it's a mixed bag when it comes to response times.
The Better Business Bureau (BBB) rates American Home Shield with a 'B,' with an average rating of 2.52/5 based on 8,876 customer reviews.
What's Unique About American Home Shield?
American Home Shield offers a number of benefits, including:
Refer a friend - referring a friend who goes on to purchase a warranty will get you a $25 Amazon voucher
Additional property discounts ($50 for each)
Discounts on buying new brand name appliances
50% off retail prices when buying air conditioning and furnace filters
Help and Support
American Home Shield has a useful blog covering home maintenance advice and a thorough FAQs section on its site. As a customer, you can reach American Home Shield 24/7 through your online account or by phone. You can also make queries by email.
What about the American Home Shield app?
American Home Shield does not currently offer a mobile app.
How to Get Started with American Home Shield
You can obtain a free, instant quote from the American Home Shield website by giving your address and confirming the plan you'd like to purchase, as well as the service fee you'd prefer.
How American Home Shield Compares to Other Home Warranty Services
American Home Shield is similar to its competitors in terms of the pricing for its plans, although its service fee can be more expensive if you opt for the lower premium option. Its network of contractors is decently sized. While 24/7 service is fairly standard in the home warranty industry, the add-on plans make it easy to customize your basic package, and American Home Shield offers more discounts and deals than some companies.
Complete Care Home Warranty
In-network (number not specified)
Service requests can be submitted online or by phone, 24/7
Service requests can be made online or by phone, 24/7
Service is available by phone, 24/7
American Home Shield vs Select Home Warranty
Select Home Warranty's premiums can be a little more expensive than American Home Shield, although in some cases the service fee can be lower. Where American Home Shield has an advantage is its larger confirmed network of contractors, which may make you more confident in its ability to find local service for you. American Home Shield also offers a stronger range of deals and discounts.
American Home Shield vs Choice Home Warranty
Choice Home Warranty is slightly cheaper than American Home Shield in terms of premiums and service fee. Its $3,000 cap on items is matched by American Home Shield if you're on the ShieldGold plan, but if you invest in the ShieldPlatinum plan, you can raise this to $6,000. Therefore, if you are keen to cover more expensive repairs, American Home Shield could be worth the extra money.
American Home Shield vs Complete Care Home Warranty
Complete Care Home Warranty is somewhat cheaper than American Home Shield, both in terms of premium and service fee, so could be a better choice if you're on a budget. However, we noted Complete Care Warranty's low service caps on a range of items (only $500), which might feel restrictive. Additionally, American Home Shield's add-on plans might suit you if you're looking for a simpler way to customize your cover.
American Home Shield Visit Site
The Bottom Line
American Home Shield offers solid coverage for the appliances and systems in your home and can ultimately save you money when things go wrong. What sets its service apart from competitors is its inclusive terms, covering items that are rusted or corroded or with undetected pre-existing conditions. Additionally, it offers add-on plans rather than a long list of single products, making it quicker and easier to customize your cover to suit your needs. Although it's important to be aware of some negative customer feedback, American Home Shield also has satisfied members and offers some attractive incentives like friend referrals. If you're looking for a customizable home warranty, American Home Shield could be the choice for you.