In a Nutshell
American Home Shield is the oldest standing home warranty provider, and that says a lot in this industry. It has amassed a huge customer following thanks to flexible pricing plans, exceptional customer service, and fast contractor dispatching. With a network of 15,000+ contractors covering all 50 states, AHS will have a reliable technician at your door in no time. The transparent terms and policies just add to this provider's popularity.
pros
45 years of dedicated service
No limits on number of repairs
Fastest service in the industry
cons
No pricing info on the site
No live chat
American Home Shield at a Glance
Annual premiums: $439.07
Plan types: Systems, appliances, combo
States: All 50 states
HVAC: Yes, with Systems and Combo Plans
Contractors: 15,000+, In-Network, Conditional Out-of-Network
Home inspection: No
Claims service fee: $75, $100, $125
Claims department: Yes
Workmanship guarantee: 60 days
Coverage
American Home Shield has a wide coverage policy. It will cover any make or model regardless of its age, and AHS will either repair the damage or pay for a replacement.
American Home Shield covers 11 systems and 10 appliances, as you can see in the table below. In addition to the items covered under your specific plan, you can opt for more coverage for things like electronic extended warranty, pools and spas, well pump, septic tank, and guest units.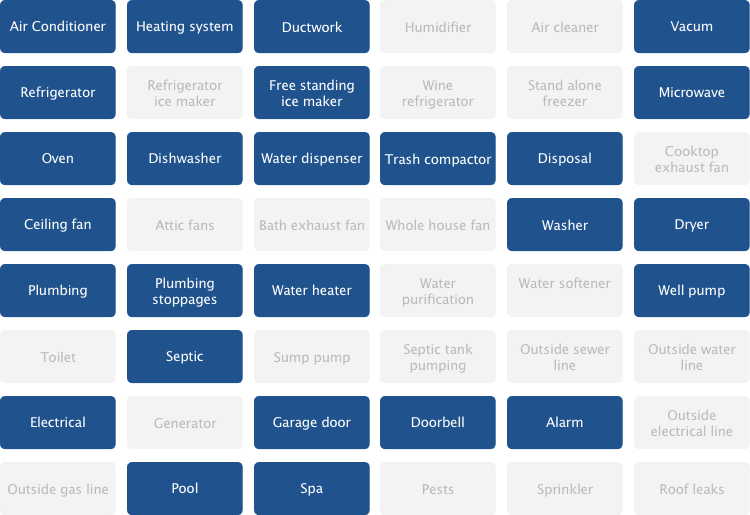 AHS coverage is limited to normal wear and tear damage. For systems, the coverage cap is $1500. Coverage begins 30 days after the policy is signed for. What's nice is that American Home Shield covers multiple appliances (i.e., a second refrigerator) without making you pay for an add-on. And AHS will dismantle and remove defective equipment, something that almost all other home warranty providers make you pay for.
What Appliances and Systems Does American Home Shield Cover?
Pricing and Onboarding Deals
10 essential home appliances
All 21 systems and appliances
*Last updated: May, 2019
The only downside we found to this company is its pricing information. You can't get anything online, you'll have to be in touch with AHS directly to get a quote. This is because the plans are tailored to fit your needs and pricing also depends on location.
What's good about American Home Shield is that it has a radically different take on pricing structure. It does have the fairly standard 3-option structure. This lets you choose a Systems Plan (that covers the 11 major systems around your home), the Appliances Plan (that covers 10 of the most important appliances around your home), or the Combo Plan (which obviously covers both). This breakdown is nice if you don't need the full coverage and are only looking to safeguard specific elements of your home.
But what American Home Shield does differently is the fourth option it offers. The Build Your Own Plan option lets you choose the systems and appliances that you want to include and quite literally build your own plan. There are also add-ons like pools, septic tanks, and guest units that'll you'll pay for separately.
Finally, AHS offers some great discounts to make the costs of service even more affordable. You can get an Additional Property Discount, plus fringe benefits like discounts on appliances and air filters or an Amazon gift card when you refer a friend.
In terms of canceling plans, American Home Shield offers a full refund (minus administrative fees) if you cancel your plan within the first 30 days. After 30 days, you can still cancel and will be given a pro-rated refund.
Electronics Plan by Asurion
AHS is now proud to offer a new type of coverage through Asurion that adds to any extended and manufacturer's warranty. If your covered product fails, AHS will repair, replace, or reimburse you for it.
Covered products:
Televisions: LED/LCD. Flat Panel/Plasma
Smart Home Products
Laptops
Tablets
Gaming Systems
Desktop Speakers
Home Theater Systems
Printers
Desktops
Home Routers
Keyboards and Mouse
And More
Plan coverage
Unlimited new and existing electronics
Mechanical and electrical failures due to normal wear & tear
Power surge protection
Defects in workmanship and materials
One laptop battery replacement annually
This plan is currently available in all states except NY and CA.
Contractors and Service
Customers can make a claim at any time with the dedicated claims hotline that is open 24/7. Another thing that sets American Home Shield apart is its dispatch time. This company guarantees that you will receive service within 48 hours of filing a claim, but it strives to serve you within 24 hours (and it usually gets there). That's half the time that many other brands offer and a quarter of the time for holidays and weekends. Guess you can do that when you have more than 15,000 contractors working with you.
In addition to the tremendous network of contractors, AHS may at times allow you to use an out-of-network contractor of your own choosing. This is something that most other home warranty providers will not allow, yet another notch in AHS's belt. American Home Shield will guarantee labor and parts for 60 days from the time of the original repair.
Another aspect that sets American Home Shield apart from the competition is the optional service fee flexibility. AHS allows customers to decide how much they want to pay per service call. You can opt to pay the standard $75, or you can pay a higher amount ($100 or $125) and get lower monthly premiums.
In addition to not requiring a home inspection prior to signing a contract, American Home Shield also doesn't make its customers show maintenance records. Both of these points are incredibly convenient for homeowners, especially people who haven't been keeping consistent records of maintenance and upkeep.
How Does American Home Shield Compare?
Annual premium (starts at)
Workmanship guarantee (days)
90 for parts, 30 for labor
What Do People Say About American Home Shield?
"I love using American Home Shield. I love that I pay only my deductible and the rest of what needs to be done is taken care of for me. I love having that peace of mind knowing that I won't be out of something important to me and my family because of not having the money to fix it when it breaks. This is a great service and very much worth having." Kim, March 2019
"American Home Shield has been a tremendous savings to us each year when one of our appliances breaks down. They are sure to assist us asap. They provide excellent customer service and takes care of their customers. Thank you AHS." Leslie, March 2019
"We had water leaking from the first floor to the basement. The online claim process with AHS was easy and the tech was out the next day. He replaced the wax ring on the toilet and after the repair we had no more plumbing issues." Jason, March 2019
American Home Shield Visit Site
Bottom Line
American Home Shield really goes the extra mile to make your home warranty as affordable, convenient, and pleasant as possible. Offering services like multiple appliances coverage, and defective appliance removal for free, shows that AHS is really on your side. The flexible service fee and multiple discounts also indicate that American Home Shield is trying to make home warranty as cost-effective as possible so that more homeowners can get the coverage they need. This home warranty service gets huge points for transparent terms, flexible pricing, and fast service.
About American Home Shield
Over the more than 45 years that it's spent in the home warranty industry, American Home Shield has built a base of over 1.7 million customers. With a focus on quality service, transparent policies, and customer dedication, it's not hard to understand why so many Americans love this company. American Home Shield holds a B rating with the BBB.