In a Nutshell
Since 2008, Choice Home Warranty has provided affordable home warranty services to homeowners nationwide. You can choose between two affordable plans that cover most of your home's appliances and systems, though it's worth noting that coverage is capped at $3,000 per item. Choice Home Warranty provides 24/7 claims support via phone and online. In addition, new customers receive a free month of coverage when they apply online or over the phone.
pros
Low premiums
First month free
24/7 online and phone claims support
cons
Coverage limit of $250–$3,000 per item
Not available in California or Washington
Choice Home Warranty Visit Site
Choice Home Warranty Plans
With Choice Home Warranty, you can select between two plans that cover most of your home's major appliances and systems. Its Basic Plan provides coverage for your small appliances, electric system, water system, and heating system. The cost of the Basic Plan starts at $46.66 per month. If you're looking for additional protection, Choice also offers a Total Plan, which offers extra cover for your refrigerator, washer, dryer, and air conditioning system, starting at $55 per month.
Basic Plan: best for small appliances and systems coverage
Total Plan: best for full-home coverage
Water heater (gas or electric)
Optional Add-Ons
If you want to customize your plan, you can buy additional coverage for the following appliances and systems:
Additional garage opener: $40/year
Additional heater system: $120/year
Additional water heater: $60/year
Additional A/C unit: $120/year
Pool: $180/year
Limited roof leak: $70/year
Central vacuum: $40/year
Spa: $180/year
Septic pump: $65/year
Septic system: $120/year
Standalone freezer: $40/year
Sump pump: $40/year
Well pump: $100/year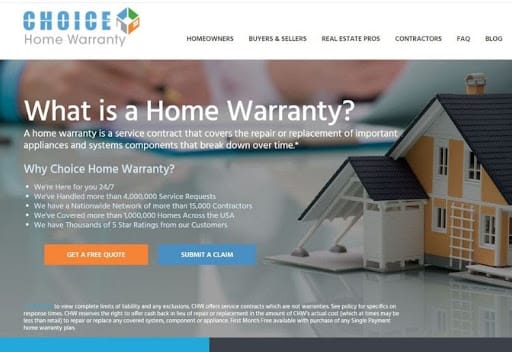 Plan Exclusions
Choice Home Warranty only covers damages that occur due to everyday wear and tear. All components must be located inside your home, with the exception of pools and spas, septic tanks, air conditioners, and sump pumps. Additionally, if your home is more than 5,000 square feet, you may have to pay extra fees. Choice doesn't cover commercial properties or pre-existing conditions.
Parts and features excluded from coverage include:
Garage door opener: door or door track assemblies
A/C, heating, and ductwork: well pump, outside piping, refrigerant line sets, fuel storage tanks, chimneys, insulation, collapsed ductwork, and damper motors
Water heater: holding or storage tanks, vents and flues, and energy management systems
Electrical system: security systems, telephone wiring, faceplates, and circuit overload
Plumbing system: outside stoppages, broken lines, bathtubs, sinks, showers, toilet lids and seats, jets, caulking or grouting, septic tanks, and water filtration systems
Choice Home Warranty Plan Pricing
Choice's plan pricing is in line with industry standards. If you call over the phone, you may qualify for an additional 15% discount. With this discount, its plans range from $39.66–$46.67 per month or $476–$560 per year. Its Basic Plan generally costs $46.67 per month or $560 per year. Meanwhile, the Total Plan typically costs $55 per month or $660 per year. In addition, Choice charges a service fee of between $75 and $85, depending on your service agreement.
Typically $46.67/month or $560/year
Typically $55/month or $660/year
How to File a Claim with Choice Home Warranty
To submit a claim, you can call Choice's customer service hotline or submit your request online. Choice provides 24/7 claim support online and via phone. Once you submit a claim, Choice will contact an authorized Service Provider to schedule your repair within 48 hours. Service fees are waived for 90 days for parts and 30 days for labor if you require a follow-up appointment for additional repairs. Choice Home Warranty will replace all items that can't be repaired with an item of similar value. If an item can't be replaced, Choice will provide you a cash offer equivalent to the replacement cost.
Choice limits the coverage you can receive for any one item to $3,000 per contract term. It also limits coverage for specific features, including:
Well pumps: $500
Limited roof leak: $500
Septic tank pumping: $250
Septic system: $500
Is Choice Home Warranty Legit?
Choice Home Warranty started providing warranty services in 2008. Since then, it's covered more than 1,000,000 homes nationwide and fulfilled over 4,000,000 service requests. Choice was awarded a 'B' grade from the Better Business Bureau. It's worth noting, however, that over the past three years, it has received more than 7,605 complaints. In addition, there's a pending lawsuit in Arizona that alleges Choice made false promises to customers.
What's Unique About Choice Home Warranty?
With Choice, you receive a free month of coverage when you purchase either its Basic or Total Plan. If you call to request a quote, you may also qualify for an additional 15% off your annual premium.
Help and Support
If you need help accessing your account, reviewing your coverage, or getting a quote, support is available over the phone from 6:30 am–7:30 pm, Monday–Sunday. Choice also provides 24/7 claims support online and via its automated telephone service. If you request a quote online during business hours, you can expect a call from a representative within minutes. On its website, Choice features blog posts and FAQs that answer many questions about its services and general home warranty topics.
What about the Choice Home Warranty app?
Currently, Choice does not have a mobile app.
How to Get Started with Choice Home Warranty
Although Choice provides services nationwide, coverage is not available in California or Washington. To get started, you can call its customer service center during normal business hours and qualify for coverage over the phone. Choice also allows you to request a free quote on its website. If you already know what type of coverage you want, you can submit an application online.
Your coverage begins 30 days after you apply and pay all applicable fees. You can cancel your plan within 30 days, and Choice will fully refund your purchase. However, the company does charge a $50 cancelation fee to cover administrative costs. If you cancel your plan after the 30-day introductory period, you can still receive a prorated refund.
How Choice Home Warranty Compares to Other Home Warranty Services
In-network only (number unspecified)
Choice vs. Liberty Home Guard
Compared to Liberty Home Guard, Choice Home Warranty's premiums are affordably priced. In addition, it features a larger network of contractors. If you want access to a larger network and cheaper full-home coverage, Choice is the right option for you. However, if you prefer to save money on service visits, Liberty Home Guard may be the better choice.
Cinch vs. Global Home Protection
Upon comparing the cost of their premiums, Global Home Protection is more affordable than Choice. If you want to save money on premiums and fees, Global may be the better option. However, Choice features a larger confirmed number of contractors. If you value knowing the level of coverage and support that you can expect to receive when components break, Choice could be the right company for you.
Cinch vs. AFC Home
When compared to AFC Home, Choice's premiums are a tad more expensive. In addition, AFC allows you to use contractors both in and out of its network. If you value saving money on your premium and the flexibility of choosing your own contractor, AFC Home is the company for you. However, if you want to save money on service visits, Choice is the better option, as its $75-$85 service fee is more affordable than AFC Home's $75-$125 fee.
Choice Home Warranty Visit Site
The Bottom Line
Choice Home Warranty offers home warranty coverage in 48 states, excluding California and Washington. While it only has two plans, it provides full home coverage for an affordable price. New customers qualify for a month of free coverage, and you can submit a claim 24/7 online or over the phone. However, it caps payouts at $3,000 per item per contract term.