Cinch Home Services Visit Site
Cinch Home Services at a Glance
Cinch Plans and Coverage
With Cinch, you can choose between 3 different home warranty plans. Its Appliances plan covers most of your home's major appliances, starting at $27.99 per month. The Built-in Systems plan covers your home's systems, beginning at $32.99 per month. If you need full home coverage, Complete Home combines Cinch's Appliances and Built-in Systems plans into one combo package. Pricing for Complete Home starts at $39.99 per month and new customers receive their first two months for free.
Best for major appliances coverage
Best for systems coverage
Best for full home coverage
Clothes dryers and washers
Trash compactors (built-in)
Heating system (including ductwork)
Instant hot/cold water dispenser
Whirlpool/jetted tub (built-in)
Homeowners insurance deductible reimbursement
A/C or water filter credit
Optional Add-Ons
For an additional fee, you can purchase additional coverage for the following features:
Swimming pools and/or spas (heaters included)
Septic system
Well pump
Premier Upgrade Package
The Premier Upgrade Package provides up to $2,000 of coverage per year (two claims of up to $1,000) when there are charges that are not normally covered under a home protection plan such as permits, code upgrades, removal and disposal costs, and more. See Cinch's terms and conditions for more details. You can add additional coverage before or 30 days after signing your agreement without a home inspection. After 30 days, a home inspection is required to add optional coverage.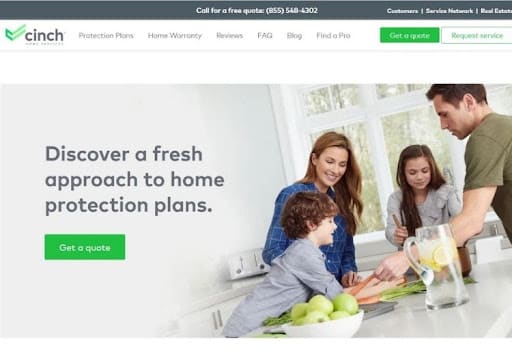 Plan Exclusions
Unlike most of its competitors, Cinch covers damage caused by rust or corrosion in addition to normal wear and tear and also covers unknown pre-existing conditions. Coverage is available for single-family homes, including condos, townhouses, and manufactured homes no more than 10 years old. Cinch does not cover commercial properties, mobile homes, residences listed on a historical register, or multi-family residences.
Components and parts excluded from coverage include:
A/C, heating, and ductwork: well pump, outside piping, refrigerant lines, window units, water towers, chillers including components, water lines, fuel storage tanks, fireplaces, portable heating units
Central vacuum: removable hoses and accessories, access and closing costs to floors, walls, and ceilings
Electrical system: components and wiring related to audio/visual/intercom/alarm/security systems, overload protection, face plates
Garage door opener: door and door track assemblies, cables, springs
Refrigerator: free-standing freezer, multi-media centers built-in to appliance, wine chillers
Plumbing: stoppages caused by damaged drains, outside lines, costs to locate and install cleanouts, fees for specialized cleaning, bathtubs, sinks, showers, toilet lids and seats, caulking or grouting, septic tanks, water softener, water filtration system, storage tanks, saunas, steam rooms
Water heater: storage tanks, energy conservation units
Cinch does not guarantee to provide an exact match in color, dye, lot, material, type, or brand when making repairs or replacements. In addition, Cinch will not pay the cost to dismantle or remove defective equipment, or recapture, reclaim, or dispose of refrigerant.
How To Get Started With Cinch
To purchase a home warranty with Cinch, you must either live in your home or be in the process of purchasing a new property. You will need to provide your name, address, contact information, and credit card information. You can call customer service to begin your application, or get a free quote on Cinch's website. If you use the website, Cinch will provide you with an instant quote after you enter your email and zip code. While Cinch offers coverage nationwide, its services are not available in Alaska or Hawaii.
If you are unsatisfied with your plan or simply wish to cancel your service, Cinch offers you a full refund within 30 days of your contract start date. After the 30-day introductory period, you can cancel your contract for a prorated amount minus a $25 processing fee.
How To File a Claim With Cinch
To file a claim with Cinch, you can call customer service 24/7 or submit your request online. Once you have submitted your claim, Cinch will attempt to contact an authorized service provider within 2 hours during normal business hours, and within 24 hours if the request is received outside normal business hours. Your deductible may be due in full at the time you submit the claim.
In total, the maximum liability Cinch will pay during a contract is $10,000. However, it also limits coverage on individual features in your plan. Individual limits per term include:
A/C and heating: $1,500
Kitchen/laundry appliances: $2000
Swimming pools/spas: $1,500
Septic tank pumping: $500
Septic system: $1000
Well pump: $1,500
Premier Upgrade: $1000-$2000
If you require additional service within 180 days for a repaired or replaced part or system, Cinch will waive the service fee for parts or labor.
Is Cinch Legit?
For 40 years, Cinch has provided home warranty coverage to homeowners nationwide. Its 180-day service guarantee is one of the best in the business. In addition, its pricing is more transparent than that of many competitors. Cinch is accredited with the Better Business Bureau, which awards the company a B+ rating. However, it received more than 3,145 complaints in the last 3 years. The majority of complaints mention delayed service requests and refunds for replaced appliances or services.
What's Unique About Cinch?
Cinch's website is one of the most transparent and easy-to-use in the industry. With its online quote feature, you can get an instant quote based upon your location for any of its three plans or service fee options without having to call and speak to an agent.
In addition, Cinch offers several promotions to new customers. All of its plans include a $25 credit to use toward filters for your A/C or refrigerator. It also provides new customers with a free water sensor that can help detect leaks inside your home. You may be eligible to receive the first 2 months of coverage for free with the purchase of any of its plans. To see if you qualify, request a quote online or over the phone with one of Cinch's customer service representatives.
Mobile App
Cinch doesn't currently offer a mobile app.
Help and Support
You can call Cinch customer service over the phone 24/7 if you need help submitting a claim or have questions about your account. If you prefer to send a message, email support is available at info@cinchhs.com.
Cinch allows you to create an online account to view and manage your home warranty. In your online account, you can:
Download your plan documents
Request a service
Check the status of any service requests
Update your payment method or contact info
It also features FAQs and blog posts on its website. The FAQs provide answers to some general questions, while the blog posts offer helpful tips on how to maintain your home.
Cinch Home Services Pricing
How Much Does Cinch Home Services Cost?
Cinch provides 3 home warranty plans for you to choose from. Each plan gives you the option to choose a $100, $125 or $150 service fee. The higher your deductible, the lower your monthly or annual premium.
Pricing is quite affordable for coverage, starting from $30.99 a month. Here's the price breakdown as of March 2023:
$48.99/month or $587.88/year

$47.32/month or $567.88/year
$38.99/month or $467.88/year
$55.99/month or $671.88/year
$52.32/month or $627.88/year
$43.99/month or $527.88/year
$66.99/month or $803.88/year
$63.32/month or $759.88/year
$54.99/month or $659.88/year
Cinch Home Services also has a VIP Complete Home plan, which will has a $1,000 deductible instead of the regular $500. The appliance cap on the VIP is $10,000 per year and you'll get surge protection up to $1000 per year. For more information on Cinch Home Services VIP Complete Home plan, get in touch with Cinch.
With this in mind, premiums can be higher or lower than those quoted here. In California, its Appliances plan starts at $27.99 per month or $335.88 per year, while in New York its Complete Home plan costs up to $96.99 per month or $1163.88 per year.
Cinch Home Services Alternatives
How Cinch Home Services Compares to Other Home Warranties
First American Home Warranty
Thousands of pre-screened pro companies nationwide
Network of prescreened, qualified technicians
Cinch Home Warranty vs. Select Home Warranty
Once you sign up for a home warranty service and something breaks, you want to get your home back in shape as soon as possible. Cinch provides the quickest response rates as repairs are scheduled within 2 to 24 hours. Select Home Warranty, on the other hand, schedule service appointments within 2 to 4 days. Select Home Warranty stands out in comparison to Cinch for their more affordable average annual premiums and service call fee.
Cinch Home Warranty vs. First American Home Warranty
If you're basing your decision on premium prices, First American has a clear advantage, with premiums of $372-$546 against Cinch Home Warranty's $335.88-$1,163.88. Cinch's service call fee is more expensive than First American's ($75). Surprisingly enough, both Cinch and First American Home Warranty don't provide service nationwide. Cinch's coverage isn't available in Alaska, Hawaii, and Indiana, and First American's service is only available in 35 states.
Cinch Home Services Visit Site
What Customers Say About Cinch Home Services
FAQs
When does Cinch Home Services coverage begin?
With Cinch, your coverage begins 30 days after submitting your service agreement.
How much does Cinch Home Services cost?
Costs vary by state and the service fee selected with your contract. Premiums range between $336 and $1,163.88 per year.
Can I choose my own technician for repairs with Cinch Home Services?
No, repairs must be completed by one of Cinch's 18,000 in-network technicians to qualify for coverage.
Bottom Line
Cinch Home Services is suitable for homeowners who value transparency and flexibility when choosing a plan. The plans are especially affordable for residents of California, comparing favorably to those of competitors. Its 180-day service guarantee is one of the best in the business, and you can get a full refund if you cancel your contract within 30 days. Although it charges a high service fee, most people should be able to find a plan to fit their needs and budget. You can file a claim 24/7, and Cinch will contact an authorized service provider within 2 to 24 hours to schedule your repair.
For more detailed information about coverages and exclusions check out Cinch's Home Service Agreement.