In a Nutshell
Guardian Protection professionally installs 24-hour monitored high-tech security systems at competitive prices. Guardian's smart, interactive system is controllable from a smartphone or computer and can expand to include energy-saving controls for lighting and thermostat. Guardian's 24/7 monitoring center experts initiate a response to any emergency signal in an average of 30 seconds or less, and can direct police, fire or EMS to your home.
pros
Worry-free installation by professionals
Free, no-obligation price quotes
cons
Not available in all 50 states
No online chat feature
Guardian Visit Site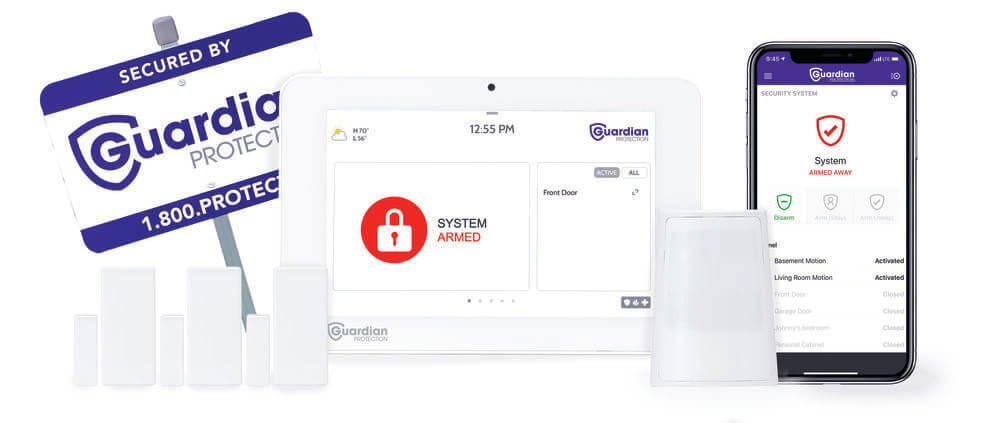 Ideal For
• Customers seeking trusted smart home security
• Those who want professional security installation by an experienced provider
What's on Offer
• Professionally installed wireless and cellular equipment
• Basic landline to all-inclusive security/smart home packages
• Mobile app
• Limited Lifetime Service Repair (LLSR) on most packages
For those who want a basic burglar alarm, Guardian easily fulfills the need. For those who want more, Guardian excels and gives you myriad ways to control your system: via the keypad; via your smartphone, tablet or computer; via your Apple Smartwatch and via voice commands to your Amazon Echo or Google Home. Consider the benefit of being able to tell Alexa to turn your security system on or off, close the garage door, and turn the lights on and off in your home. For additional peace of mind, smart security devices are linked to Guardian's 24/7 monitoring centers that direct emergency responders to your home if needed. These and the smart control devices will send you a text or email when they are activated.
Smart Home Security Devices
Color touchscreen keypad has emergency buttons for burglary, fire and medical emergency, plus smart features such as weather-to-the-panel and geo-service.
Door, window, motion and glass break sensors provide perimeter and interior intrusion detection and are pet-friendly so that dogs and cats under 60 pounds can freely walk through your home without alarming the system.
Image Sensors combine the features of a motion sensor and a still shot camera. They sense movement and take a snapshot of what activated the sensor, and they alert Guardian's 24-hour monitoring center.
Smart Sensors alert you when a specific item has been opened, such as a liquor or medicine cabinet. While these are usually programmed to notify only you, they can also be programmed to notify Guardian's monitoring center, for instance, when the sensor has been placed on a gun safe.
Smoke, heat, carbon monoxide and low temperature detectors work 24/7, so even when you're not at home they will signal the monitoring center in the case of abnormal smoke, heat, toxic gases and low temperatures. The monitoring center can notify both you and emergency responders.
Medical emergency pendant features a panic button and is specially designed to reduce the chance of a false alarm being triggered due to an accidental bump or nudge.
Remote key fob has buttons for arm, disarm and panic, plus a fourth button that can potentially be integrated with another aspect of your Guardian system, such as lighting control. This comes in handy when your arms are full.
Smart Home Control Devices
Video doorbell camera lets you see, hear and talk to visitors at your front door no matter where you are. When the doorbell is pressed, you'll receive a mobile notification and the camera will automatically start recording. It can also be connected to work with Guardian's smart door lock.
Surveillance cameras include indoor/outdoor fixed mount and pan-and-tilt models with night vision. Video clips captured by the cameras are automatically stored in your online account and the Share button in the mobile app lets you share specific video clips via message, email or social media.
Energy-saving thermostats and lighting modules help ensure that home is never too cold, too hot or too dark when it shouldn't be. Guardian's thermostat is cellular-supported and therefore won't stop working like some do when the WiFi goes out. Set On/Off/Temp schedules and change quickly from anywhere.
Smart garage door controllers free you from wondering whether you closed the garage door when you left for work and when you don't feel like getting out of bed to check. With Guardian's mobile app, you can open and close the garage door from anywhere.
Smart door locks let you lock and unlock doors via your smartphone and create codes so that you know when specific users come and go. When you arm your security system these can be programmed to automatically lock along with it.
Pricing
Guardian equipment prices vary, but typical base packages include several pieces of equipment and free professional installation for $99. Additional equipment can be purchased as well. Monthly monitoring ranges start from $45.99 giving shoppers the freedom to select from a simple, monitored burglary detection package to one with bells and whistles, including cameras or home automation. Contracts range from 36 to 60 months.
More Reasons to Choose Guardian
Guardian maintains a 24-hour repair fleet and customer service centers that are staffed by 100% U.S.-based Guardian employees allowing technical and billing questions to be answered live and personally.
For those who prefer self-serve, Guardian has a secure online dashboard where you can view and pay your bill, test your system, update emergency contacts, change your master alarm password, download a certificate of monitoring for your insurer, reference system manuals and check out FAQs.
Home security systems purchased directly through Guardian are designed, installed and monitored by Guardian's own U.S.-based employees. The result is a seamless, reliable buying experience because the same company owns responsibility for every step of the process. If you are a Guardian customer who is moving to an area where Guardian does not install directly, you can take your Guardian monitoring service with you to your new home. Guardian will arrange for a member of its trusted sub-contractor network to perform the installation while Guardian continues to provide you with its Five Diamond monitoring service. However, it must be noted that Guardian is not available in all 50 states. Guardian only directly services customers in its area of operation. In other areas, authorized dealers may provide service.
Guardian offers a Family of Guarantees: Theft Protection will give you up to $500 toward your insurance deductible if your home is burglarized while armed and monitored by their system; Quality Installation provides for a refund of your installation price and any monthly monitoring fees if Guardian fails to correct a reported operational problem with any component of your security system within the first 6 months; and Relocation will give you a free base Guardian security system for your new home plus a discount on additional devices if you happen to move within a year of getting your first system and agree to a new 60-month monitoring agreement in your new home. The guarantees have some terms and conditions, so be sure to check it out further if you sign up with Guardian.
What's Unique About Guardian
Guardian is the nation's largest privately held security systems firm. In business since 1950, it offers 3 types of monitoring—cellular, broadband and landline—and added a western U.S. operations center in 2015 to extend its hours of personal service and enhance the redundancy of the monitoring service.
Guardian has a Best Price Guarantee: Guardian will match any comparable written quote or qualified internet offer for the installation and activation of a base home security system that is to be 24-hour monitored and professionally installed by a recognizable, appropriately licensed security systems company.
Security Services
Guardian offers a range of security features, depending upon which package you opt for. All of its packages come with a touchscreen control keypad, as well as sensors on the windows and doors, and motion sensors in the house. It also offers the ability to arm or disarm the system from a computer or mobile device in all of its packages.
More advanced packages add in features, such as home automation, in which you can receive event-driven notifications. This function is especially useful for parents who wish to monitor the comings and goings of their children or household staff, such as cleaners or maintenance workers. Guardian's top tier packages offer a more advanced degree of automation and live video surveillance.
Monitoring Services
Guardian provides Intrusion, Fire, Medical and Environmental monitoring. Its monitoring experts are on the watch 24/7 for signals denoting potential burglary, abnormal levels of smoke, heat, carbon monoxide and low temperatures, plus panic situations and medical emergencies. Guardian initiates a response in an average of 30 seconds or less and will contact you and people on your emergency contact list per your pre-set instructions. Guardian also notifies police, fire and/or EMS as required.
Mobile Readiness
Guardian offers its own free mobile app which is rated 4-plus stars out of 5 in the Google Play and iTunes stores. Guardian's smart home systems are powered by Alarm.com and can be easily controlled through your smartphone or tablet. Turn the security system on or off from anywhere; receive notifications of an alarm when kids get home from school, and even when they open the video game console to play. Set unique passcodes on the fly for service providers; know when they entered and exited, and delete the passcode whenever you're ready. Look-in via your mobile device to see what your Guardian cameras are seeing. Set heating, cooling and lighting schedules via your mobile device, too.
Help and Support
Guardian's customer service centers are staffed by Guardian's own U.S.-based employees who can offer system, technical and billing assistance 7 days a week. That's in addition to its 24-hour monitoring center.
For those who prefer self-serve, Guardian has a password-protected online dashboard where you can view and pay your bill, test your system, update emergency contacts, change master alarm password, download a certificate of monitoring for your insurer, reference system manuals and check out FAQs.
Guardian does not offer a live chat support option as some of its competitors do.
Bottom Line
Guardian has depth of expertise, longevity, well-accredited monitoring, a highly-rated mobile app and state-of-the-art technology that form a strong foundation for its smart home offerings. Combine these with its U.S.-based customer support team and Guardian is a strong contender for any homeowner looking to have an affordably priced system that is professionally installed.
About
Guardian was founded in 1950 and is headquartered in Warrendale, Pennsylvania, about 20 miles north of Pittsburgh. Guardian is the nation's largest privately held security systems firm and is owned by the Armstrong Group of companies. Guardian helps to protect more than a quarter million residential and commercial customers throughout the U.S.
Guardian Visit Site
Physical Address
Guardian Protection Services
174 Thorn Hill Road
Warrendale, PA 15086
Contact Details
Phone: 877-342-1657