In a Nutshell
Guardian Protection offers custom home security systems with professional installation and 24/7 monitoring. You can control your security system with a mobile app and custom automations. Add to that a wide range of devices, including security cameras, smart locks, motion detectors, and more, and Guardian is a great choice to design your own perfect security system.
pros
Security packages tailored to your home
24/7 alarm monitoring
Activate automations with a tap
cons
Monthly monitoring fee
Only available in eight states

Guardian Visit Site
Guardian Protection Features and Highlights
Guardian Protection offers a wide range of security system packages that can be customized for your home or business.
Professional Installation
Every Guardian Protection security system is installed by a security expert. This ensures that your security devices are installed in optimal locations and saves you the hassle of setting up your security system on your own.
If you move homes in the future, Guardian home security can help remove your security system from your old home and install it in your new home.
24/7 Monitoring
All Guardian Protection plans include 24/7 monitoring. If an alarm is activated, Guardian Protection will attempt to contact you to confirm the alarm. If you cannot be reached or do not share your verification word with the dispatcher, Guardian Protection will activate a local emergency response.
Guardian Protection Equipment & Products
Guardian offers a wide variety of security products and sensors. Prices for these are not published online, so you'll have to get a custom quote from the company to find out which options are best for you.
Home Security Systems
Guardian Protection offers several home security packages, all of which can be customized to suit your home. All plans include 24/7 monitoring. Guardian home security devices include door and window opening sensors, glass break sensors, motion sensors, and a 110dB siren with a strobe light.
All of your security devices are connected to the IQ2 panel over WiFi. The IQ2 panel has a seven-inch touchscreen that you can use to arm and disarm your system and set up automations. It also includes a built-in security camera and glass break sensor. Usefully, the IQ2 panel can use Bluetooth to detect your smartphone and disarm your system automatically when you approach your front door.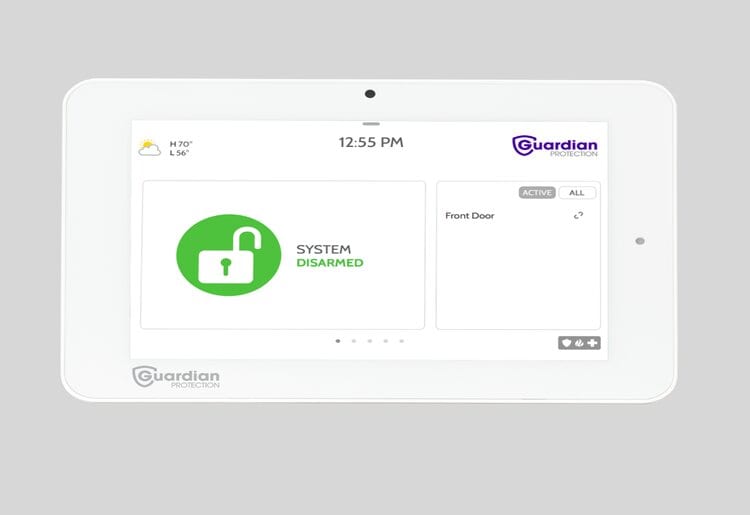 Home Security Cameras
Guardian Protection products for surveillance include indoor and outdoor cameras as well as a video doorbell. All cameras offer two-way audio through the Guardian Protection mobile app and issue mobile alerts when an alarm is triggered. They also start recording automatically when an alarm is triggered.
All cameras record in high definition and are equipped with night vision. You can save up to 3,000 video clips to your Guardian Protection account.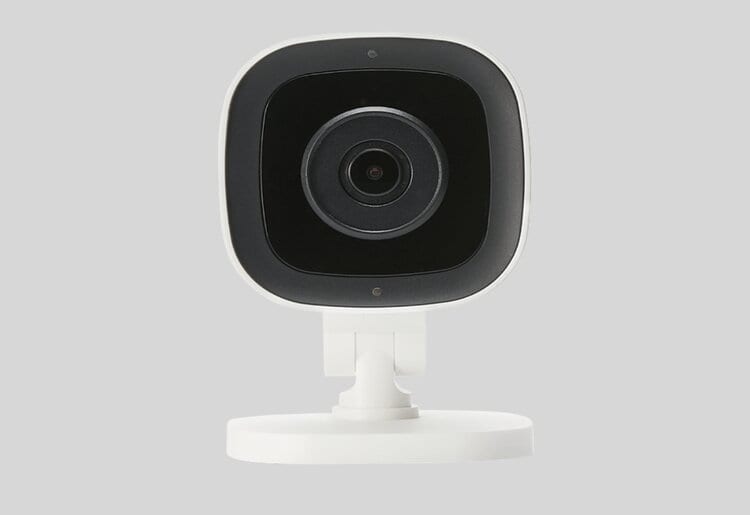 Life Safety Alarms
Guardian Protection offers a carbon monoxide detector, a smoke and heat detector, and a flood detector. All of these devices are monitored 24/7, so Guardian Protection can dispatch responders even if you don't see the mobile alert right away.
The company also offers a wearable medical alert pendant that's monitored 24/7. Simply press the button on the device to activate an emergency response.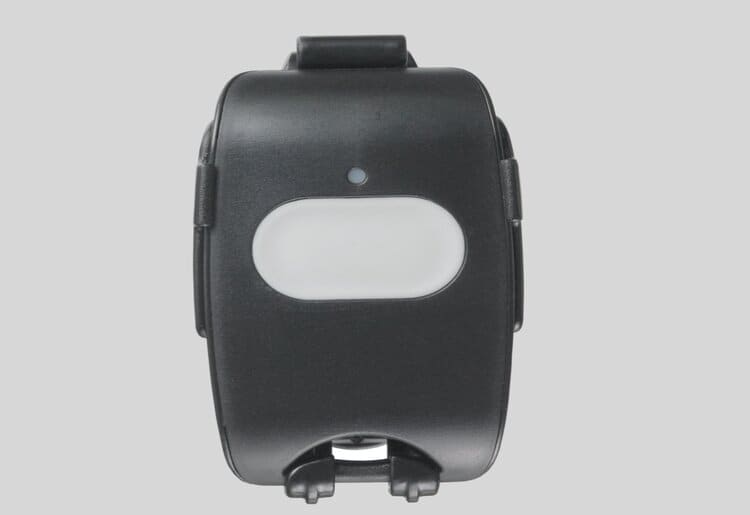 Smart Home Automation
With Guardian Protection, you can automate your home using devices like a smart garage door opener, smart door lock, smart thermostat, and smart switches that can be connected to your lights or appliances. All of these smart devices can be controlled from the Guardian Protection mobile app or IQ2 panel.
Notably, Guardian Protection lets you set up custom automations that activate groups of smart devices. For example, you can set up a "returning home" automation that unlocks the front door lock, opens the garage door, and turns on the lights. Smart light switches can also be configured to turn on or off depending on the time of day.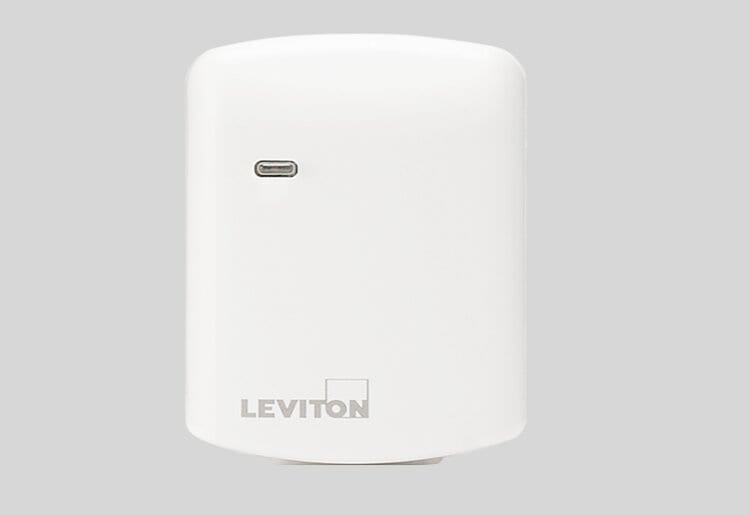 Guardian Protection Plans - Packages & Pricing
Guardian Protection requires you to contact the company in order to get a quote for your home. The company does not offer pricing details for individual devices or packages online.
Expect to pay an upfront installation fee as well as a monthly monitoring fee. These fees vary based on your security system, but start at around $100 for installation and $30 per month for monitoring.
Professional 24/7 monitoring
Entry, smoke, and CO detection
Guardian Protection Services
Guardian Protection offers 24/7 monitoring for every security system the company installs. Monitoring is available nationwide, although Guardian Protection is currently installing new systems in only eight states. Guardian Protection's monitoring center holds a Five Diamond certification from The Monitoring Association.
When an alarm is triggered—whether an entry alarm or a life safety alarm—Guardian Protection will call you to confirm the alarm. If the alarm was accidental or does not require a response, you can cancel the response by speaking your verification phrase. If Guardian Protection cannot get in touch with you or you do not know your verification phrase, the company will send local emergency responders to your home.
Alarms also trigger mobile notifications through the Guardian Protection app. You can view what device triggered the alarm and view live security camera footage.
Guardian Protection Home Security Mobile
Guardian Protection App
Guardian Protection offers a free mobile app for iOS and Android. The app serves as your primary touchpoint for your security system. You can view live security camera footage and recorded clips and communicate through any of Guardian Protection's security cameras. You can also arm and disarm your security system remotely.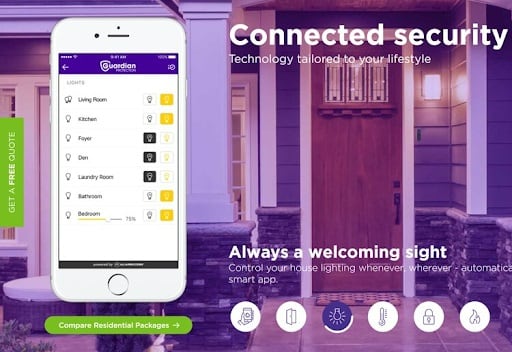 The Guardian Protection app enables you to set up and activate smart home automations as well as control your door's smart lock. The app also interfaces with the IQ2 panel via Bluetooth so that the system disarms automatically as you approach home.
Mobile Alerts
All alerts in your home security system trigger push notifications through the Guardian Protection mobile app. You can see which device triggered the alert, and, in the case of an emergency, confirm to Guardian Protection's monitoring center that a response team should be dispatched.
Guardian Protection Installation
Guardian Protection sends a security expert to professionally install every system. The price for this should be included in your quote for a home security system, and you can schedule the installation through your online Guardian Protection account after signing up for a plan. Installation typically takes several hours, but can take up to a full day for more comprehensive security systems.
If you move homes, Guardian Protection can help you remove your security system and reinstall it in your new home. Guardian Protection also offers service visits at your request, although these cost a minimum of $120 per visit.
At this time, Guardian Protection is only installing new security systems in eight states: Florida, Ohio, Maryland, Indiana, Delaware, Pennsylvania, North Carolina, and Texas.
Guardian Protection Contracts and Warranties
Guardian Protection offers long-term monitoring contracts for all security packages as well as no-annual-contract options for specific plans. Long-term monitoring contracts range from three to five years.
You must contact Guardian Protection's customer support team to cancel any plan. Canceling a long-term monitoring contract may incur early termination fees, which will vary based on your contract.
Guardian Protection offers a warranty on its security systems, but the length and coverage of this warranty vary based on your plan. There is no money-back guarantee.
Guardian Protection Support & Customer Service
Guardian Protection's customer support team is available by phone and email from 8AM-8PM (ET) Monday-Friday and 8AM-4PM Saturday-Sunday. We called and were able to get in touch with a customer support agent in less than two minutes.
The company's website has a detailed online knowledge base that includes sections for billing, automation setup, the mobile app, and troubleshooting your system. Guardian Protection also has a blog that offers ideas for how to optimize your smart home automation and tips for protecting your home.
How Does Guardian Protection Compare to Other Home Security Services?
Comprehensive security systems
Guardian Protection vs Ring
Ring offers a variety of home security devices that you can buy individually and install yourself. You need a monthly subscription to use Ring devices, but 24/7 monitoring is optional and starts from $20 per month. Whereas Guardian Protection has only a single video doorbell, Ring has seven different models available. However, Ring does not offer life safety devices like smoke alarms, carbon monoxide monitors, or flood detectors.
Guardian Protection Vs Vivint
Vivint offers custom security systems with professional installation and 24/7 monitoring, much like Guardian Protection. Vivint stands out for its smart home devices, which include lighting, a garage door opener, a thermostat, and more. In addition, Vivint's system works with Google Home, Amazon Alexa, and Nest.
You must contact Vivint for pricing, but monthly monitoring fees start at $30 per month. The choice between Guardian Protection and Vivint comes down in large part to which service is available in your area.
Guardian Protection Vs ADT
ADT offers comprehensive and custom security systems for homes, apartments, businesses, and multi-family buildings starting at $28 per month. The company offers a very wide range of security cameras, security devices, and life safety devices, plus smart automations.
ADT and Guardian Protection offer comparable security systems. It's worth contacting both companies for quotes to directly see which offers the best security package for your home.
The Bottom Line
Guardian Protection offers tailored home security systems with professional installation and 24/7 monitoring. The company offers a wide range of security devices, including security cameras and life safety devices. You can control your security system and set up convenient automations using the Guardian Protection mobile app.
You must contact Guardian Protection to get a quote, but monitoring fees for basic packages are comparable to competitors like Vivint and ADT. In addition, Guardian Protection offers both long-term contracts and no-contract plans. With its wide variety of devices and customizable automations, it will be great for those who want fine-grained control of their security system.