In a Nutshell
Brinks Home Security offers custom home security systems backed by modern technology, 24/7 monitoring, and professional installation. Along with motion and entry sensors, you can add security cameras, life alert sensors, and smart home automation tools. Custom solutions are available, and we'd recommend it if you're looking for professional 24/7 monitoring.
pros
24/7 monitoring
Centralized touchscreen management panel
Professional installation
cons
No medical alert devices
Warranty add-on costs extra
Brinks Home Visit Site
Brinks Home Security Features and Highlights
Brinks Home Security offers highly customizable home security solutions, and its packages are backed by a range of attractive features.
Brinks Home Security Home Hub
The Brinks Home Security Home Hub is a touchscreen device that acts as a centralized management tool for your entire system. It enables you to arm and disarm your system, view the status of connected hardware, and view notifications and alerts.
Video Cloud Storage
You can choose to have security camera footage stored in the cloud for future reference. Brinks Home Security uses highly secure cloud storage solutions, and you can rest assured that your data is safe from prying eyes. We'd suggest taking full advantage of this, as you may need to review old footage if you notice a theft or other issue a few days after it happens.
Live Video Streaming
By linking your security and doorbell cameras to your Brinks Home Security system, you can unlock live video streaming. This is available via the Brinks Home Security mobile app and lets you view real-time streams from your security cameras whenever you want.
Motion Sensors
With Brinks Home Security' motion sensors, you can quickly detect unwanted movement within your home. They can be placed in vulnerable areas such as passageways or halls. When coupled with items like indoor security cameras, they'll provide a maximum amount of information about any issues.
Brinks Home Security Equipment & Products
Home Security Systems
Brinks Home Security offers versatile security solutions that can be tailored to meet your exact needs. These are built around the Brinks Home Security Home Hub, with numerous hardware components that you can add on to it.
These include motion sensors, door and window alarms, garage door sensors, and glass break sensors. In addition, all systems come with 24/7 monitoring from a trusted US-based team, and the systems use Bluetooth technology for efficient, streamlined management. Extra tools such as automated door locks, smoke alarms, and security cameras can also be integrated with your base system.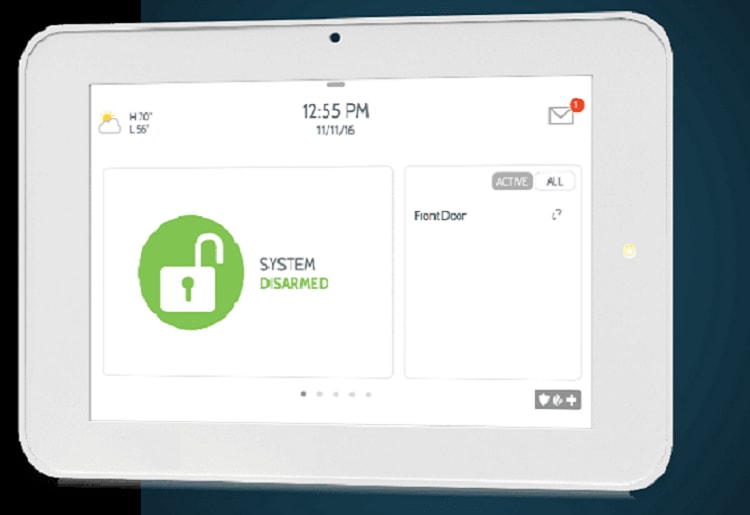 Home Security Cameras
Brinks Home Security has a selection of indoor and outdoor home security cameras that can be integrated with your system. These enable live video surveillance through the Brinks Home Security mobile app, and you can store recorded video footage either on the cloud or on an SD memory card.
For one, you can add night-vision outdoor security cameras to protect the perimeter of your property. Just having cameras significantly reduces the risk of break-ins or property damage, and the live surveillance feature is very attractive.
You can also install indoor cameras to keep an eye on your property, and there's a doorbell camera that enables you to see who's at your door without opening it, even if you're not physically there.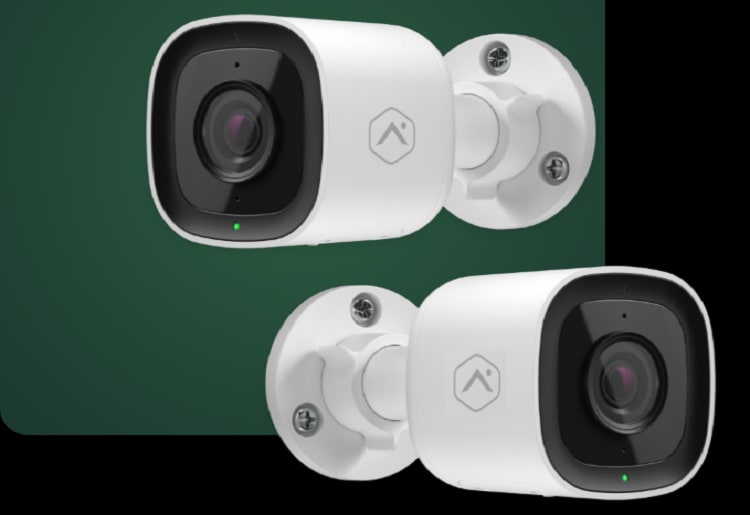 Life Safety Alarms
Brinks Home Security has no medical alert pendants or other medical alert systems, but there's a selection of life safety monitoring hardware. These include flood sensors, smoke detectors, carbon monoxide sensors, and fire alarms.
Each piece of monitoring hardware is easy to connect to your system and comes with full 24/7 monitoring. With this, the Brinks Home Security Home team can dispatch first responders to your location immediately if an issue is detected, although they will attempt to make contact with you first. You can also cancel false alarms in the Brinks Home Security mobile app.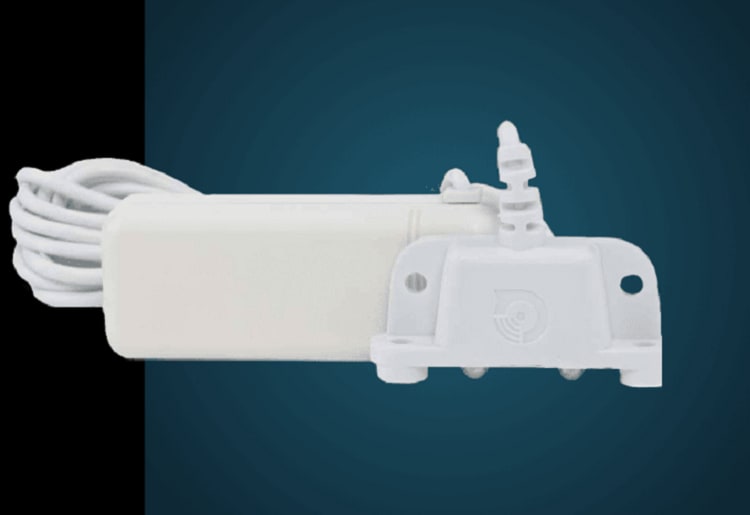 Smart Home Automation
Last but not least, Brinks Home Security enables you to add a suite of home automation tools to your system. These can be fully integrated with your security package, enabling you to manage everything from the mobile app or touchscreen control panel.
Some of the more popular home automation products on offer include smart thermostats, smart deadbolt locks, smart garage door openers, and more. We'd suggest speaking with the Brinks Home Security team to find out more about the home automation products that are compatible with your system.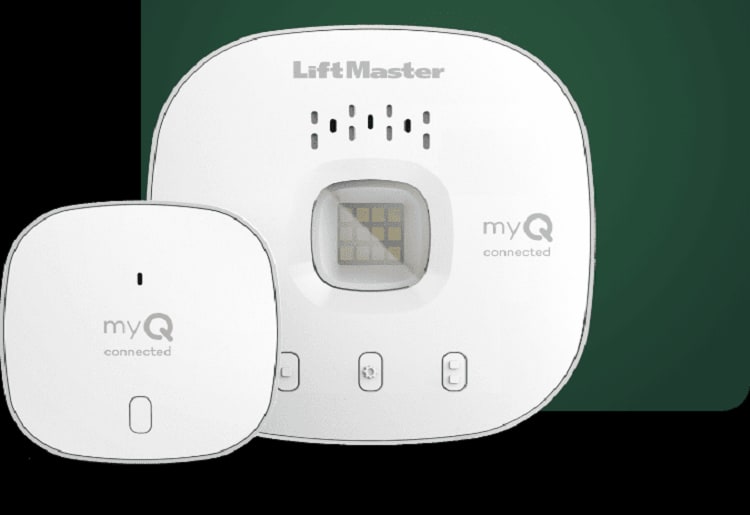 Brinks Home Security Plans - Packages & Pricing
Brinks Home Security offers custom solutions for all new clients, and you will need to speak with the sales team to find out more. It doesn't offer set prices or packages, and the amount you can expect to pay will depend on the size of your system and the level of monitoring you require.
However, there is a small informational article on the Brinks Home Security blog that provides an insight into how much you could pay. For example, it estimates that monitoring can cost anywhere from $15 to $65 per month. Equipment and installation fees for a basic system should come in around $300, but this can rise to $1500 or more with a more advanced package. Smart home security and other home automation features will add to your cost.
Financing options are available, and eligible clients will benefit from 0% APR interest on selected payment plans.
Brinks Home Security Services
Brinks Home Security offers professional installation and 24/7 monitoring with all of its security packages. Its knowledgeable sales team will help you put your package together, ensuring you get exactly what you require.
All monitoring services are through US-based response stations. The systems includes a cellular backup and built-in batteries to ensure you're property is safe even if your power or phone lines are out.
If an issue is detected, the team will be in touch immediately. If they can't reach you or you advise that there's a problem, they will notify the appropriate emergency response personnel.
Monitoring
All Brinks Home Security packages come with full 24/7 monitoring by a US-based response team. Its monitoring solutions include the following:
24/7/365 service

Fast response times

US-based monitoring centers

Emergency services dispatch

SMS alerts
Brinks Home Security Mobile
Brinks Home Security App
The Brinks Home Security app is available for free for both Android and iOS devices. It enables you to control virtually every aspect of your home security system, and it's intuitive and easy to use.
One thing we particularly like about the Brinks Home Security app is that it lets you view and manage the status of every connected device. You can also view live video streams from your security or doorbell cameras, and there are even Bluetooth-connected automatic locks.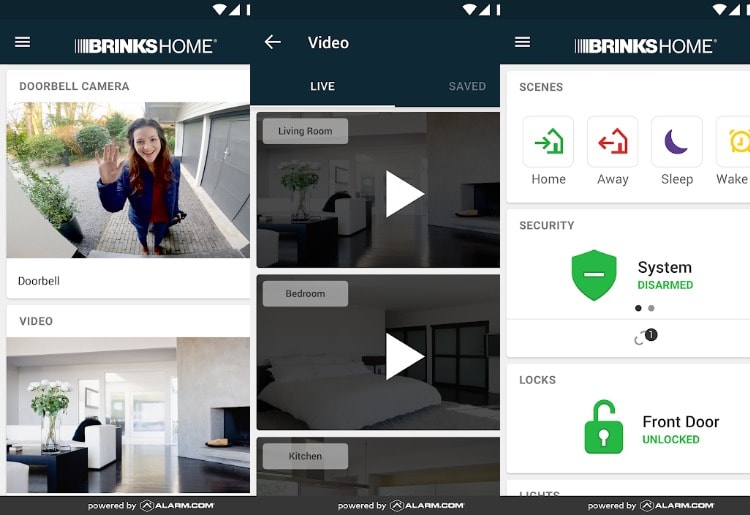 Mobile Alerts
The Brinks Home Security mobile app provides real-time push, email, and text notifications for emergencies such as a break-in or equipment failure. You can also set up custom notifications for certain events, such as leaving the garage door open or when your kids get home from school.
Brinks Home Security Installation
Brinks Home Security offers professional installation with all home security packages. To arrange an installation time, you will need to speak with the sales team when you're purchasing your new package. You will also need to ensure you've downloaded the Brinks Home Security Home Mobile app and that you have a strong WiFi connection available.
The Brinks Home Security' installation technicians will then install every component of your system. Individual parts of your system are tested one by one to ensure they're working correctly, and you will receive full instruction on how to best use it. All installation fees are included in your initial hardware cost.
Brinks Home Security Contracts and Warranties
Brinks Home Security offers a full warranty on all equipment. However, it's not included by default, and it costs an extra $5 per month. It covers all repairs, replacements, and services caused by malfunctions and normal wear and tear. However, it doesn't cover negligent damage, acts of God, and various other things. If you don't use your warranty, you can cancel at any time. However, you will be locked in for at least 12 months if you make a claim.
You will also likely be required to sign a long-term contract when you purchase a Brinks Home Security package. But because it offers custom solutions, this will depend on the equipment and services you require, and you should speak with the sales team to find out more.
It's worth noting that you will be required to pay a significant early termination fee if you want to cancel a contract. There doesn't appear to be a money-back guarantee, although you may be offered a special deal when you sign up.
Brinks Home Security Support & Customer Service
Brinks Home Security offers 24/7 technical support via phone. It also offers business-hours live chat from 7AM to 8PM, Monday to Saturday (CST). Based on our test, the live chat team answers within minutes, and you should be able to resolve simple issues in a fast, hassle-free manner.
There's also a large selection of FAQs and a comprehensive help center. Here, you will find a selection of self-help articles, but these tend to be short and may not be useful for dealing with more serious issues. However, there's also a blog containing loads of educational pieces.
How Does Brinks Home Security Compare to Other Home Security Services?
Fully-monitored home security systems
From $3 per month ($20 for professional monitoring)
Brinks Home Security vs ADT
ADT is a leader in the worlds of home and business security and, like Brinks Home Security, it offers attractive custom solutions. It can be a little expensive, but it comes with 24/7 monitoring and an all-in-one touchscreen management panel. Overall, ADT and Brinks Home Security offer very similar services, and they're best suited to anyone looking for a fully-monitored, professionally installed system.
Brinks Home Security vs Vivint
Brinks Home Security boasts advanced home security hardware, but it has nothing on Vivint, which has built its security services around the most modern technology available. For example, it's an industry leader for home automation tools, making it an attractive option for those who would like to integrate these with their security system.
Brinks Home Security vs Ring
Ring, which is owned by tech giant Amazon, is a leading choice for self-monitored home security. Its self-monitored solutions start from just $3 per month, and it presents as a leading option for anyone who wants to keep an eye on their property from afar for less.
The Bottom Line
As our Brinks Home Security review shows, this company offers a versatile selection of home security packages. When you speak with the sales team, you will be able to configure a security solution that meets your needs, and you can add cameras, smart home automation tools, and monitoring hardware as required.
We'd suggest having a chat with the sales team if you want a professionally-installed, fully monitored home security system.