In a Nutshell
At almost $400 for both testing and analysis, SelfDecode isn't the cheapest option on the market. But its tailored and personalized insights may make it a good deal for test-takers who are serious about using data-driven insights to optimize their lifestyle. With a mobile app and on-demand access to reports, SelfDecode can be a helpful companion if you want to track your wellness over the long term.
pros
Personalized reports and wellness plans
Up to 83 million genetic variants analyzed
Company led by AI, bioinformatics, and genomics experts
cons
Not for those on a budget
Recurring subscription costs
Types of Tests and Kits You can Get from SelfDecode
SelfDecode offers a single DNA test that uses a combination of wet lab and artificial intelligence technologies to analyze up to 83 million different genetic variations that influence your health.
This allows you to get information on genes that affect your vitamin uptake, immune system, sleep, stress levels, and more.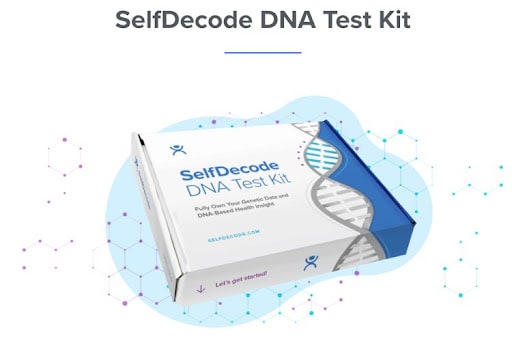 Other Features at SelfDecode
SelfDecode offers a few products along with its subscription and DNA test kit. While it doesn't include any genealogy tools like family tree makers, there's an extra helping of health and wellness tools.
Lab Test Analysis
If you have access to lab test results from blood work done by other companies, you can upload your data to your SelfDecode online account and get them analyzed. SefDecode's lab test analysis breaks down your results, helping you understand the finer details behind what they mean. If you have nutritional or vitamin levels above or below what's considered optimal, SelfDecode will provide personalized recommendations on how to improve them so that you get back within the optimal range.
Health Planning and Tracking
Using health recommendations from your test kit results, you can build a health regimen and set goals. SelfDecode's online platform, available via their website and mobile app, helps keep you accountable and can offer you reminders and recommendations on how to stay on track. You can also easily adjust your goals or make changes at any time so that you can double down on the lifestyle changes that work best for you.
In addition, you'll get unlimited wellness reports on an ongoing basis to help you track your progress toward your goals.
Third-Party DNA Test Analysis
For the same price as a SelfDecode DNA test (a $97 annual subscription or $297 lifetime deal), you can use SelfDecode's analysis tools even if you used another company's DNA test. Simply upload and import a GEDCOM file and you'll be able to get all of your wellness insights and reports on SelfDecode's website.
You'll also be able to plan and track your health goals over time to make sure you're meeting them. As you do, SelfDecode will track your progress and continue to offer ongoing, personalized health reports to help you stay on track.
How much does SelfDecode cost?
SelfDecode's single DNA test kit comes at a one-time fee of $99 with free shipping. The company's wellness plans come in two pricing configurations. You can either pay an annual subscription fee of $97 per year or opt for a lifetime fee of $297.
It's important to note that you can't buy the test on its own. To receive results and access tools, you must purchase the test and a subscription or lifetime access.
Here's a breakdown of the company's pricing and fees.
$97 per year or $297 lifetime
The test kit's $99 price tag puts it in the low to middle end of the market. However, the company's additional charge for wellness reports makes it quite steep. The all-in cost of $197 (for one test and a year of reports) or $397 (for one test and lifetime access to reports) puts the company's offerings on the high end of the market.
How to Get Started with SelfDecode
With SelfDecode, it's easy to sign up, purchase a test, and get your results.
The Sign-up Process
You can purchase a test by navigating to SelfDecode's site and then clicking "Get Started." Choose a package that works for you, add it to your cart, and then check out.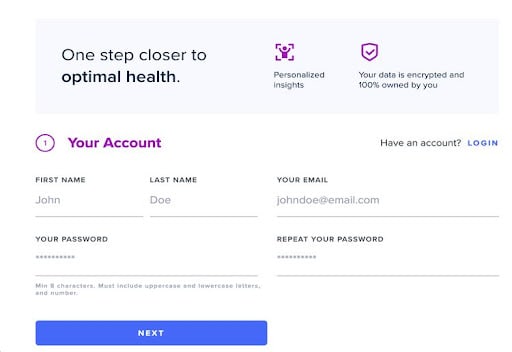 Upon checking out, you'll be prompted to create an account. You'll need to enter your full name and email. You'll also need to enter a password.

If you're purchasing a DNA test kit, you'll also need to provide your address so that it can be delivered to your door. When you receive your kit, you should register it so that you can ship it to the lab for analysis once you've prepared your samples.
What's in the box?
Inside every SelfDecode test kit is an instruction menu, a return envelope, a biohazard bag, and a tube for collecting your saliva sample.

On the outside of every test tube is a serial number you will need to input when registering your kit.
How to Collect your DNA Samples
Collecting a sample is easy.
Open the box and read the instruction manual. Make note of the barcode printed on the test tube. You will need this information when registering your kit.

Register your kit so it will be associated with your account. This can be done anytime before you send it back to the lab.

Collect your sample by spitting into the test tube until it reaches the fill line. In order to ensure your sample is not contaminated, you should not eat, smoke, drink, brush your teeth, or chew gum at least 30 minutes before sample collection.

Seal your test tube and place it in the biohazard bag.

Seal the biohazard bag and place it back in the box.

Put the box in the envelope, seal the envelope, and deposit the envelope in the mailbox. Make note of the tracking number you receive once your kit is in transit to the lab.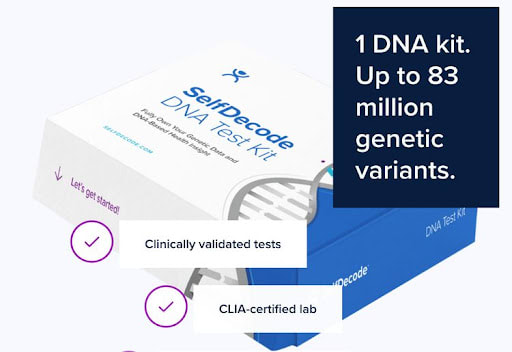 Getting The Results
Once your samples have been received by the lab, they'll take 6 to 8 weeks to process. When your results are ready, you will be able to receive them online by logging in to the account you created on SelfDecode's website when you subscribed.
Navigate to the Health Reports section, where you'll be able to view your DNA wellness reports across dozens of categories, from hormones and gut health to brain health, diet, heart health, nutrition, circulatory health, and more.
You can click on each category to learn more. When you do so, you'll be provided with intuitive and easy-to-understand information on what your results mean, including your propensity for developing certain diseases within each category.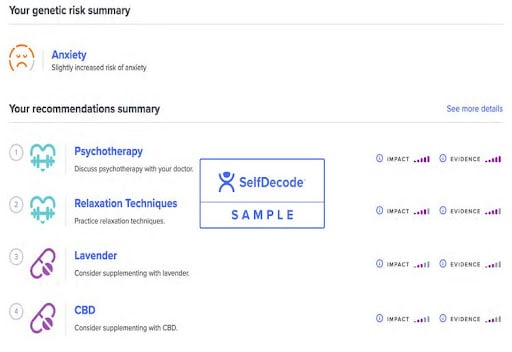 You'll also be able to view recommendations on actions you can take to mitigate your risk of developing these diseases. In addition, you can set goals and track your progress over time to see if you're taking the right steps toward optimizing your lifestyle.
How SelfDecode Protects Your Privacy
SelfDecode adheres to the strictest privacy standards. Your payment information is SSL secured, meaning that it's encrypted and can't be stolen by third parties. Your personal health information is likewise protected, and SelfDecode uses HIPAA-grade security.
SelfDecode doesn't sell or license any personal or genetic data.

SelfDecode doesn't provide data to insurance companies.

Users can delete their data from SelfDecode at any time.
For more information, you can visit SelfDecode's privacy page.
Help and Support
Getting in contact with SelfDecode's customer service team is fast and easy.
How to Contact SelfDecode
You can reach SelfDecode by email at support@selfdecode.com. While response times vary, you can usually expect to receive a response within several business days. SelfDecode does not have a customer service phone number or a live chat service.
Are FAQ pages available on SelfDecode?
SelfDecode has a thorough FAQ page with 22 articles. Additionally, the company has a Help Center that contains information on how to get started with your kit, how to troubleshoot your account, health concerns, legal queries, and more.
How SelfDecode Compares to Other DNA Testing Services
$99 test kit + $97 annual subscription or $297 lifetime
Health tracking and recommendations
SelfDecode vs Nebula Genomics
Nebula Genomics looks at 100% of your genome rather than just a select few genes. While pricey, the $999 whole-genome sequencing package generates over 100 gigabytes of data and sequences your genome 100 times for ultra-high accuracy. In comparison, standard DNA test kits have a sequencing depth of just 0.4.
This allows Nebula Genomics to provide a full picture of your genetic profile and detect even the rarest genetic diseases, mutations, and more. SelfDecode offers a standard DNA test that examines some of the more common genetic mutations, in addition to a wellness tracker that provides ongoing tips, resources, and insights on how to optimize your health.
SelfDecode vs InsideTracker
InsideTracker is a health-tracking tool that uses information from your DNA tests to provide personalized health and wellness guidance. Its algorithmic engines use your DNA, blood test results, and lifestyle as a starting point, and can help you improve over time as it tracks your progress.
Similar to InsideTracker, SelfDecode is an ongoing health and wellness reporting platform that uses your DNA kit results to provide you with tailored insights on how to improve your lifestyle, health, and more. However, SelfDecode comes at a lower price than InsideTracker and may be a better fit for more price-conscious consumers.
SelfDecode vs MyToolbox Genomics
MyToolbox Genomics is a DNA and epigenetic testing provider that provides you with insights on both your genetic profiles, plus the environment's effects on your health and well-being. For instance, the company's epigenetics test unlocks five different insights that provide a detailed look at your inflammation levels, hearing age, and more.

By contrast, SelfDecode doesn't offer epigenetic testing. Instead, the company provides you with personalized recommendations on how to improve your health based on your DNA. If you're looking for epigenetic testing, MyToolbox Genomics may be the best choice for you. However, if you want personalized health recommendations, SelfDecode may be the better offering.
Is SelfDecode worth it?
At $99, SelfDecode's DNA test kit is rather affordable. However, its mandatory $97/year subscription (or $297 for lifetime access) to its wellness reports makes the company's offerings rather pricey. Nonetheless, if you want tailored, holistic, and customized reports that you can access on-demand, the company may be a good choice for you.

In particular, SelfDecode isn't a one-and-done DNA test provider like many competitors on the market today. Instead, its wellness reports are long-term and aim to provide constant feedback on how to improve your health, diet, fitness, and lifestyle over an extended period of time. This helps the company stand out, and its steep price may be worth considering if you want a provider that you can partner with to optimize your health on an ongoing basis.