In a Nutshell
InsideTracker is a unique health company combining DNA testing for genes that may affect your health and blood testing to measure levels of health-related biomarkers. The platform uses this data to make recommendations about what to eat, which supplements to take, and how to work out. InsideTracker is highly personalized and can adapt to your goals over time. Sticking with the platform takes effort, but InsideTracker helps with daily reminders.
pros
Personalized health and fitness recommendations
DNA kit analyzes 261 gene variants
Does not share DNA data without permission
cons
Expensive kits that must be purchased repeatedly
DNA kit does not include health recommendations

InsideTracker Visit Site
Types of Tests and Kits You can Get from InsideTracker
InsideTracker offers two main types of tests: blood tests and DNA tests.
Blood tests are designed to track biomarkers in your bloodstream that change over time based on your diet, activity, sleep, and other factors. For any blood test-based kits at InsideTracker, you can choose to get tested at a local lab or have a mobile blood testing laboratory come to your home. With InsideTracker's Home kit, you can perform your own blood draw at home and measure seven health-related biomarkers.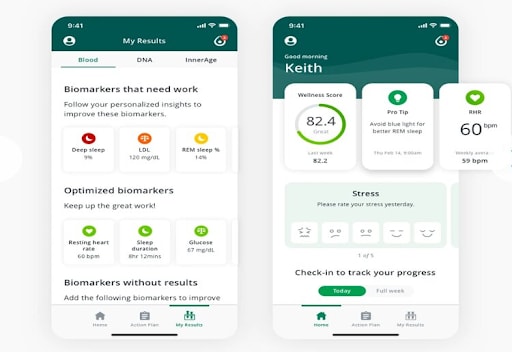 The most comprehensive blood test kit at InsideTracker is the Ultimate kit, which includes evaluation for 43 different biomarkers for fitness, metabolism, stress, immunity, aging, and gut health. The Shalane Flanagan Panel focuses on fitness and metabolism, while the InnerAge 2.0 kit evaluates biomarkers related to metabolism and heart health. The Immunity kit tests biomarkers related to overall health and your immune system functioning.
The company offers one DNA test, the InsiderTracker DNA kit, which evaluates variants of up to 261 health-related genes. This kit relies on an oral swab that you collect at home and then mail into InsideTracker for analysis. Your results are used to generate a report on more than 22 different traits including your ideal weight, your athletic predisposition, and your food sensitivities.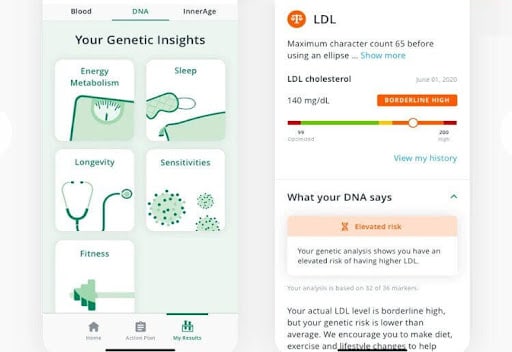 Other Features at InsideTracker
InsideTracker doesn't have a family tree builder or any focus on genealogy. Instead, it uses the data from blood and DNA tests to create a comprehensive overview of your health and fitness. You can track all of your test results in an online account or through the InsideTracker mobile app. The platform offers fitness, nutrition, and lifestyle recommendations that are backed by what the latest science says about your biomarkers and genetic makeup.
Goal-based Recommendations
InsideTracker enables you to set goals like losing weight, increasing fitness, reducing stress, or getting more sleep. The platform analyzes your biomarkers and genes to identify the most impactful changes you can make to reach your goals. It also issues daily reminders to help you stay on track towards reaching your health goals.
Personalized Recipes
One of the things I like most about InsideTracker is that it uses your data to identify foods and supplements that are most likely to help you reach your health goals. It then offers personalized recipes that include these foods to help you incorporate them into your diet. Each recipe is accompanied by an explanation of how it will propel you towards your goal.
How Much Does InsideTracker Cost?
InsideTracker charges a fee for each of its evaluation kits. Shipping costs are included, and you can get a discount if you purchase more than one of any kit. Keep in mind that you will need to purchase additional kits to re-measure your biomarkers and see how they change over time.
InsideTracker also enables you to upload results from a third-party DNA test for $29 or from a third-party blood test for $119.
InsideTracker's DNA testing kit is somewhat more expensive than kits offered by competitors. However, it includes analysis of a wider range of health-related genes rather than focusing on ancestry-related genes.
How to Get Started with InsideTracker?
Getting started with InsideTracker is easy. It starts with ordering the right kit for the type of data you want to collect.
The Sign-up Process
You can order an InsideTracker kit online through the company's website. InsideTracker provides a detailed comparison of its blood test kits to ensure you get the one that best suits your needs. The DNA kit is sold separately from blood test kits, but can be ordered in the same way through the InsideTracker website.
Once you order a kit, it typically takes 5-10 days to arrive.
You must also create an online profile on InsideTracker's website or through the InsideTracker mobile app. This profile includes basic demographic information and serves as a hub for your DNA and blood test results. When you receive your DNA test kit, you'll need to register the kit ID in your online account.
What's in the Box?
InsideTracker's DNA test kit includes a kit ID, oral swab, gloves, a vial of solution, a return shipping envelope, and detailed instructions on how to collect a sample.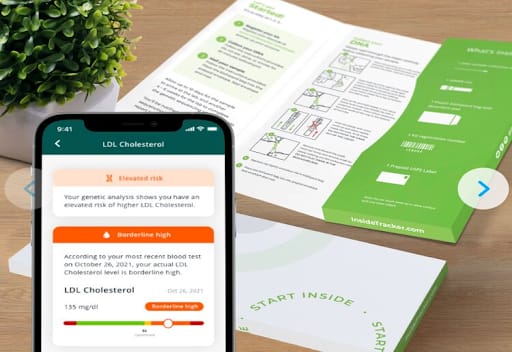 How to Collect your DNA Samples
To collect your DNA sample, place the swab in your mouth and swirl it around the inside of your check for 5-10 seconds. Then repeat swabbing on the other side of your mouth. When finished, place the swab inside the vial of solution and close it tightly.
Use the included return shipping envelope to send your sample back to InsideTracker for analysis. Your sample should be stable at room temperature for several weeks, so it's not a problem if you don't return it right away.
Getting The Results
InsideTracker takes 4-6 weeks to generate your DNA results. When they're ready, you can view them on your InsideTracker online profile page or through the InsideTracker mobile app.
Your DNA report includes information about your genetic predisposition for 22 different health- and performance-related traits. You can see if you have elevated or reduced potential for high metabolism, high LDL cholesterol, athletic endurance, deficiencies in specific vitamins, and more.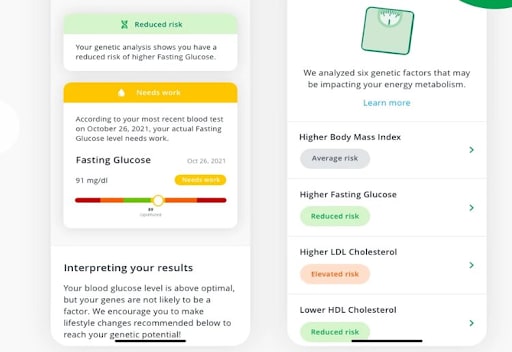 DNA results are not used to generate goal-related recommendations, such as diet or exercise plans. For these recommendations, you must take one of InsideTracker's blood tests.
If you have both a DNA test and one or more blood tests, InsideTracker will analyze how your blood test results relate to your genetic profile. For example, if your genes suggest that you have a genetic predisposition towards high LDL cholesterol, but your blood test shows that you currently have low LDL cholesterol, InsideTracker will highlight that you are overcoming this genetic predisposition.
How InsideTracker Protects Your Privacy
InsideTracker is HIPAA compliant. The company applies the same level of data privacy to DNA samples and test results as it does to blood tests and biomarker results, which are governed by HIPAA.
In addition, InsiderTracker encrypts all DNA data and stores it separately from other data that the company handles. All DNA data is anonymized and de-identified so that it cannot be associated with an individual.
What I found especially convincing is that InsideTracker does not analyze DNA samples for any traits other than the ones that it includes in its reports. In fact, users have to give explicit permission for their DNA samples to be used by any outside party, including researchers.
Help and Support
How to Contact InsideTracker
InsideTracker offers customer support by phone, email, and live chat from 9AM-5PM (ET) Monday-Friday. We got in touch through live chat and were connected with a support representative within two minutes.
Are FAQ Pages Available on InsideTracker?
InsideTracker has a very thorough online knowledge base. It includes in-depth answers about everything from how the platform works to how long it takes to get results to how the company handles your data.
How InsideTracker Compares to Other DNA Testing Companies
$99 + $97 annual subscription
Combining DNA and blood test data
Screening for genetic diseases
Health-related gene analysis
InsideTracker vs 23andMe
23andMe is primarily focused on ancestry DNA tests, but also offers a health DNA test. This is only available in conjunction with an ancestry test, but the combined product still costs only $149 compared to $249 for the InsideTracker DNA test.
The 23andMe health test includes reports on many genetic diseases, such as celiac disease, hereditary diseases, and cancer, that InsideTracker does not examine. InsideTracker offers a greater focus on nutrition and fitness-related traits.
InsideTracker vs SelfDecode
SelfDecode's DNA test analyzes your DNA for many of the same health and fitness traits as InsideTracker. It also goes much further, using AI to predict 83 million gene variations that can influence your health or put you at risk of disease.
The huge variety of traits analyzed by SelfDecode makes it somewhat more difficult to make sense of your results, although the platform offers reports to help with that. Unlike InsideTracker, SelfDecode does not offer health recommendations or blood testing to get a snapshot of your health at any given time.
InsideTracker vs AncestryDNA
AncestryDNA offers DNA tests exclusively for ancestry and genetic genealogy. The platform offers in-depth tools for analyzing your family's background and your geographic origins. It also enables you to connect with others on the AncestryDNA platform who share parts of your family tree.
AncestryDNA does not analyze DNA for any of the health or fitness-related genes that InsideTracker focuses on.

InsideTracker Visit Site
Is InsideTracker Worth It?
InsideTracker is a very unique platform that combines DNA testing and blood testing to provide an in-depth look at your health and fitness. InsideTracker's DNA test on its own is somewhat expensive compared to competitors, but it's the only platform I've seen that enables you to compare biomarker data—which changes over time—against your genetic makeup. This can be incredibly powerful for tracking changes in your health, fitness, or lifestyle over time.
InsideTracker can be especially worthwhile if you have specific health, fitness, sleep, or stress goals in mind and want to know how best to achieve them. The platform uses your data to develop personalized recommendations and offers consistent testing so you can track your progress.