In a Nutshell
23andMe offers outstanding options for DNA testing. The basic report gives ethnicity estimates and relative matches, like other brands, but it adds ancient haplogroups and Neanderthal DNA analysis. You'll also get fun facts on physical and other traits linked to your DNA. An upgrade to Ancestry+Health gives you insights into certain diseases. 23andMe does not have historical records for genealogy research, however.
pros
In-depth genetic health information
Autosomal, mtDNA, and Y-DNA testing
Insights into deep ancestry
cons
Limited family tree capabilities
Baseline test more expensive than other brands

23andMe Visit Site
Types of Tests and Kits You can Get from 23andMe
The 23andMe test uses a saliva sample to provide a range of reports.
The baseline test is Ancestry+Traits, which includes the following information:
Ancestry composition: A breakdown of your ethnicity across 2,000 global regions. The report is broken out by the percentage of your DNA from each region, down to 0.1% of your DNA.

DNA Relative Finder: If you opt into this service, your report will include a list of matches who share part of your DNA, sorted by level of relationship. From this list, you will be able to message relatives and see which ethnicities you share.

Ancestry Timeline: This report shows when your most recent ancestor lived from each population group, going back more than 8 generations. You can also explore haplogroups: the origins of your maternal and paternal-line ancestors. The report also includes your connections to famous relatives and an estimate of how much of your ancestry can be traced back to Neanderthals.

Traits: You'll receive 30 or more reports on your likely genetic traits, including physical features, taste and smell, and many others.
If you upgrade to Health+Ancestry, you will also receive the following reports:
Health predisposition: Ten or more reports on your chances of developing certain health conditions, including coronary artery disease, type 2 diabetes, and others.

Wellness traits: You will receive five or more reports on how your DNA might interact with certain lifestyle factors like exercise, diet and sleep.

Carrier status: You will receive 40+ reports on whether you carry genetic variants that you may pass on to your children, such as cystic fibrosis and sickle cell anemia
The Health+Ancestry service also includes the Family Health History Tree, which allows you to easily input and track your family's health history to share with your doctor.
23andMe+
With an upgrade to 23andMe+ membership, you'll receive all of the reports listed above, plus several additional features:
Pharmacogenetics reports:These give insights into how your genetic makeup may influence how your body processes certain medications.

Additional health predisposition reports: You'll get individualized reports on your likelihood of developing certain conditions like migraine, sleep apnea, and atrial fibrillation.

Advanced ancestry tools: With the membership, you'll gain access to advanced DNA Relative filters to sort your relatives by region, haplogroup, and ancestry composition. You'll also have access to up to 5000 DNA relatives (three times more than in the Health+Ancestry service alone).
Unlike other test companies that analyze only autosomal DNA, 23andMe also runs limited tests on mitochondrial DNA (mtDNA) (passed through the maternal line) and Y-DNA (passed from fathers to sons), so they are able to provide maternal and paternal haplogroup reports and an estimate of the amount of DNA you may share with Neanderthals.
23andMe Family Trees
The family tree feature on 23andMe is based on genetic connections reported through your test and is not a fully-functional family tree builder. You can add relatives, edit relationships, and search for new relatives using your DNA results.
While other big names in DNA testing, like MyHeritage and Ancestry, offer premium subscriptions to flesh out your family tree, 23andMe has more limited options, and no historical records library.
23andMe formerly had a collaboration with MyHeritage to connect their tree to the MyHeritage site, but that partnership has ended. Customers can link other family trees to their 23andMe DNA Relatives profile, but the full research features on those sites require a separate subscription.
Pricing and Costs
The AncestryDNA test kit has a list price of $99 and is currently on sale for $79. Standard shipping costs $9.95. When you order two or more kits, each additional kit is 20% off.
Frequent sales
20% each additional kit
$199 kit+$29/year + $9.95 shipping
$169 kit+$29/year+$9.95 shipping
The sale price of the basic Ancestry+Traits kit from 23andMe is higher than kits from MyHeritage and Ancestry. However, 23andMe offers haplogroup reports based on mtDNA and Y-DNA, which the competitors don't have.
Coupons and Promo Codes
23andMe runs several sales throughout the year, and also offers a discount when you sign up for their email list.
Getting Started with AncestryDNA
After you order your kit online, it should arrive within a week. The DNA collection kit includes:
Instruction manual

Saliva collection tube with funnel lid and cap

Clear plastic collection bag

Postage-paid return mailing box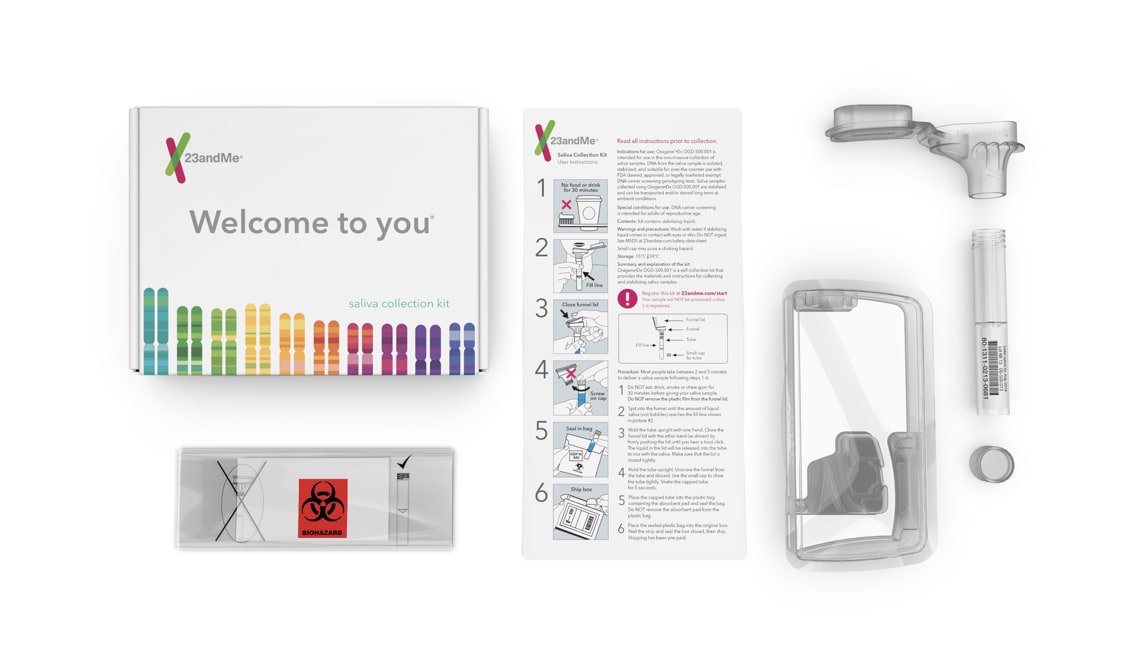 To get started, you'll need to register your kit online using the barcode on your saliva collection tube. Then, collect your sample:
Do not put anything in your mouth for at least 30 minutes prior to providing your sample.

Collect the recommended volume of saliva: 2 mL, or about ½ teaspoon.

Add the stabilization buffer within 30 minutes.

Cap securely before shipping.

Place the collection tube containing your sample in the plastic specimen bag, and then place the bag directly into the box.

Return your sample by dropping the package off at your local post mailbox, nearest FedEx drop-off location, or by calling FedEx to arrange a pickup.
Getting The Results
You should receive your results within three to four weeks of your sample arriving at the laboratory. When your results are ready, you will get an email with a link to view them. Whether using the 23andMe mobile app or the website, you'll need to sign into your account, then select from the following results:
Ancestry Composition Report: This is a list of your ethnicities and regions with your corresponding DNA percentages.

DNA Relatives: If you opt into this feature, you can find and connect with genetic relatives and view the specific DNA segments you share with them. Each relative is shown with the strength of the relationship and the percentage of shared DNA.

Traits Reports: Traits reports help you explore how your DNA affects a variety of traits, from hair texture to food preferences.

Haplogroup Reports: Women and men both receive a Maternal Haplogroup Report based on a limited analysis of mtDNA, and men also receive a Paternal Haplogroup Report based on a limited analysis of Y-DNA. These reports give insights into your ancient origins by examining genetic variants that originated tens of thousands of years ago. With each of these reports, you can click on the timeline that shows patterns of migration for your haplogroup, going back more than 100,000 years ago.

Neanderthal Ancestry Report: Research shows that humans interbred with Neanderthals about 60,000 years ago. The Neanderthal Ancestry Report will tell you how much of your ancestry can be traced back to Neanderthals.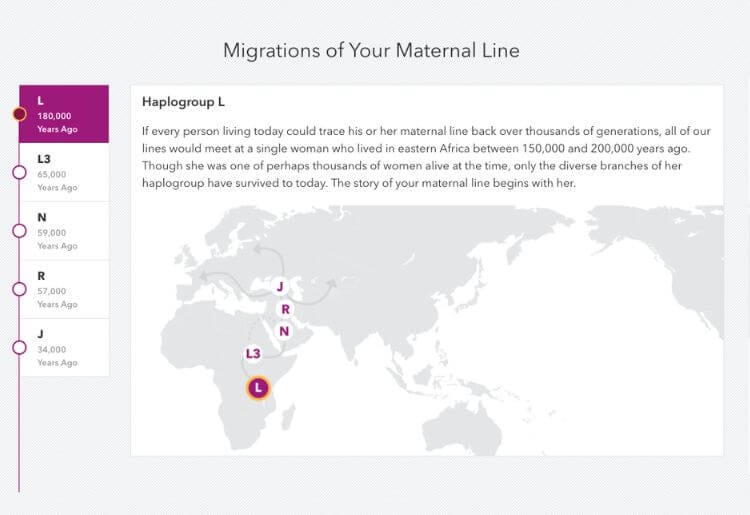 23andMe's Privacy Policy
23andMe has a thorough Privacy Statement on their website. Here are some of the highlights:
You can choose which health reports to view, when and with whom to share your information, and whether or not you consent to participate in research

You can delete your account and data at any time.

23andMe will not share your data with any public databases, employers, or insurance companies

They will not share your information with any law enforcement agencies unless required by law
Help and Support
The 23andMe website is full of useful FAQs and articles to help you through the process, from ordering your kit, to accessing your reports and using advanced features. Many of the articles have illustrations to walk you through your reports.
If you don't find what you need in the Help Center, you can contact a representative at 1-800-309-8081 or email them using their Contact Us form. Inquiries are usually answered promptly. They are also active on social media, responding quickly to questions and concerns.
How 23andMe Compares to Other DNA Test Kits
Price per kit
$79+shipping
Price per kit
$79+shipping
Price per kit
$59+shipping
Collection type
Cheek swab
Collection type
Cheek swab
Collection type
Cheek swab
DNA Test Type
Autosomal, mtDNA, Y-DNA (males only)
23andMe vs. MyHeritage
23andMe and MyHeritage are similar in several ways. Both look at autosomal DNA to provide detailed breakdown of your genetic ethnicity. Both reports provide a list of DNA relatives, and both have a similar turnaround time for results.
There are several key differences between 23andMe and MyHeritage:
23andMe has a larger DNA database: 12 million vs. 5.6 million for MyHeritage.

23andMe does not have access to genealogical research records; MyHeritage has a vast collection to help you research your family tree.

23andMe analyzes mtDNA and Y-DNA (in men) to provide insights on ancient origins through their Neanderthal and Haplogroups reports; MyHeritage is limited to data from autosomal DNA testing.
23andMe vs. Vitagene
23andMe and Vitagene are two different kinds of tests. While 23andMe is best for exploring your genetic ethnicities and discovering your ancient roots, Vitagene offers limited ancestry information but detailed tips for improving health and wellness based on your genetic information.
23andMe vs. HomeDNA
While 23andMe is a great test to cover a variety of bases, like exploring your ethnic roots and finding DNA relatives, HomeDNA is a good place to start if you are looking for more specific tests. They sell tests like GPS Origins, with detailed information for Africa and Asia, and focused health tests for skin care and food sensitivity.