According to the National Association of Professional Background Screeners (NAPBS), 96% of HR professionals reported conducting background checks of some kind when hiring new employees, making background checks "nearly universal."
Those employers stated their top reasons for conducting background checks as: public safety, improving the quality of new hires, and protecting their company's reputation.
Ensuring the safety of your employees and your reputation is essential to running your business safely. The following are ten 'red flags' you should be aware of when running a background check on a potential new hire.
» Want to know if a possible candidate really is a great fit? Check out our top picks for the best reverse phone lookup sites.
1. Credit History
Some employers may choose to review a candidate's credit history as part of a pre-employment background check. To accomplish this, you will first need to carefully consider what kind of financial history would constitute a red flag for the specific job position you're hiring for. For example, a history of unpaid debts would call into question a potential hire's qualifications for a financial management position.
It is important to note, however, that some states regulate the use of credit information for certain hiring decisions, although most state laws carve out credit checks for managerial positions and positions where the employee will be handling company finances. It is always imperative to ensure that you are in compliance with any relevant state laws, federal anti-discrimination laws, and the Fair Credit Reporting Act—a federal statute that regulates access to consumer information.
2. Criminal History
Many employers conduct criminal background checks on a potential candidate to uncover any past criminal charges or convictions. According to the Sentencing Project, up to one in three Americans have some kind of criminal record, while communities of color are "disproportionately affected" in the criminal justice system.
As an employer, you will need to think carefully about what kind of criminal history would constitute a red flag for the position for which you're hiring. As an example, a conviction for a violent felony could disqualify someone from a caregiver role. According to the U.S. Equal Employment Opportunity Commission (EEOC), the factors to consider when looking into a potential employee's criminal background are:
1. The nature and seriousness of the offense/crime
2. The time that has passed since the criminal offense or completion of the sentence
3. The nature of the job.
Some states restrict the way criminal history can be used in hiring decisions, so be sure to check your state's employment laws. We also suggest checking out the EEOC for more detailed information about criminal background checks and anti-discrimination laws.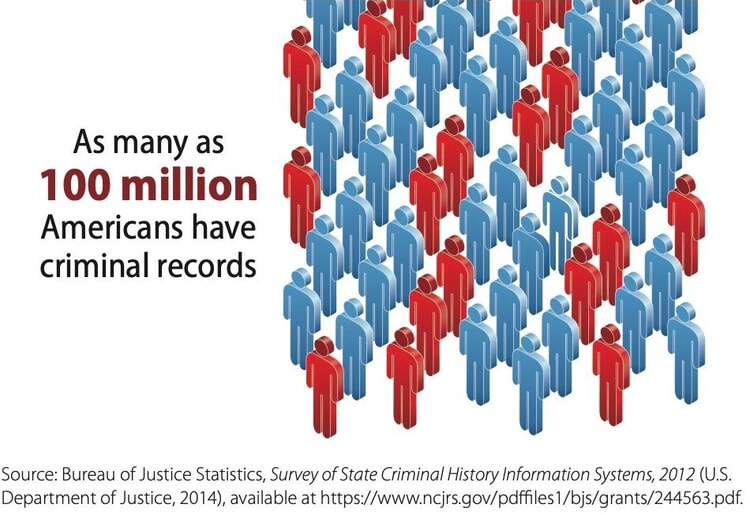 3. Social Media
You can use online background check services such as US Search to scour a person's social media presence for any number of reasons, such as looking for inappropriate interpersonal behavior, infidelity, or substance abuse.
As an employer, we recommend you use an FCRA-compliant background check service that includes social media screenings to search for violent or inappropriate posts.
Bear in mind that before performing such social media searches, you first need to decide what kind of content would affect job eligibility for a specific role. Whatever your decision may be, you will also have to discuss your reasoning with the candidate.
» You need to follow these background check best practices.
4. Driving History
If your potential candidate's job involves driving, conducting a motor vehicle records search for any history of traffic infractions is imperative.
Background check services like PeopleLooker include searches into a person's driving and traffic history. Always be sure that whatever service you use is FCRA-compliant. Again, you'll need to decide beforehand what types of infractions would affect job eligibility for the specific position for which you're hiring, but don't ignore any driving infraction that could endanger others.
In the event you find a potential red flag in a candidate's driving history, we recommend providing your candidate an opportunity to explain.
5. Sex Offender Status
People with certain sex crime convictions are required to publicly report information like their photo and address on various federal, state, and local databases.
But when it comes to hiring, employment law varies by state. According to Good Hire, some states, like California, bar employers from using sex offender status as a reason to deny a job offer, with certain exceptions like protecting a person at risk.
So, what if a background check reveals that your candidate is included on a sex offender registry? We recommend talking to a lawyer to help you understand how the law applies to you. You should also consider conducting different types of background checks.
6. Social Security Trace
Many employers conduct a social security trace as part of a pre-employment background check to help verify their candidate's identity. If a social security trace indicates your candidate is using a false or stolen social security number, it should be cause for concern.
Should such a situation arise, we recommend speaking with your potential employee, to ensure the issue is not the result of an accidental error. However, if the candidate intentionally tried to mislead you, they may be attempting to hide something. Whatever the reason they may be falsifying their identity, as the employer, you should consider how such behavior reflects on their character and your business's reputation.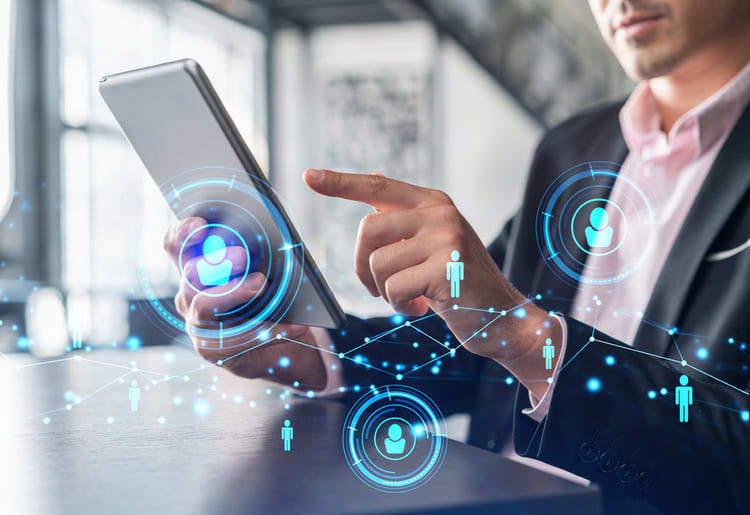 7. Using an Alias
If a potential candidate applied using a name other than their given name, it might simply be the name they're most comfortable using. But, they may also be attempting to cover up criminal or other records associated with their given name.
We suggest first asking your candidate whether they go by any other names and conducting a social security trace report to pull up any aliases. Make sure you run a background check on each name that surfaces.
If you're concerned about the cost of multiple background checks, you can check out our research on different pricing options.
» This is what a common background check includes.
8. Resume or Interview Misrepresentation
In a study of 400 job applicants conducted by Checkster, 40% reported they had misrepresented information during the hiring process or would do so in the future. This is why conducting reference checks are such an important part of any background check; you need to confirm that your potential candidate is being accurate about their skills and experience.
If any discrepancies arise, we suggest discussing them with your candidate. But we would also suggest taking any intentional dishonesty seriously when you make your hiring decision.
9. Education
In the same Checkster job applicant survey, nearly 40% of respondents said they would list a degree from a prestigious university on their resume instead of the university from which they actually graduated.
To avoid being misled, we recommend using FCRA-compliant background checks that include education verification. If discrepancies arise, raise them with your candidate.
Ultimately, it will be up to you as the employer to decide whether such an ethical breach as falsifying education information should cost a potential candidate the job offer.
10. Employment History
In this same survey, 42% of respondents said they had given a false reason for leaving a previous job, like saying they left when they were, in fact, fired.
You can verify a candidate's employment history by using an FCRA-compliant background check service that includes employment verification.
If it turns out your employee lied about their employment background, we would advise offering them a chance to explain. As previously stated though, in most circumstances lying or misrepresenting information should be considered a major red flag.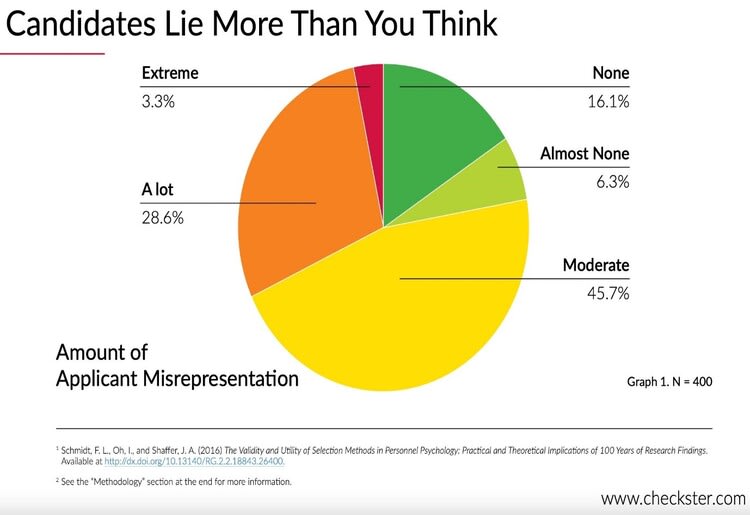 It's Your Job to Protect Your Company
No employer wants to hear that a candidate who is a great fit for their open position has potential red flags on their background check. The best advice we can give you is to consider any discrepancies in the context of the candidate's overall quality and skills, and to have an open conversation with the candidate should such issues arise during the hiring process.
Ultimately, it is your job as the employer to protect your company and your employees. Any of the red flags listed above generally indicate intentional dishonesty or misrepresented information that could potentially put others at risk, and thus should be taken seriously.
» Looking to increase workplace safety? Here's how you can run criminal background checks on your employees.