In a Nutshell
Weight Watchers has over 50 years of experience helping dieters lose weight. Their program is based on healthy eating and mindfulness, changing each person's diet and lifestyle to maintain smart eating habits which last.
pros
Choose from online, meetings or coaching options
Competitively priced
Perfect for any specialty diet or allergies
cons
No prepared meals available
Users need the time to shop and cook sensibly

weight watchers Visit Site
Weight Watchers Video Review - Proven to Help People Lose Weight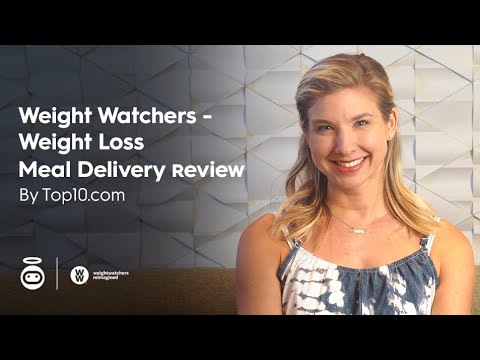 No more calorie counting, no more restrictions, all food can be enjoyed with the SmartPoints system, scientifically proven to help users lose weight in the first 12 months.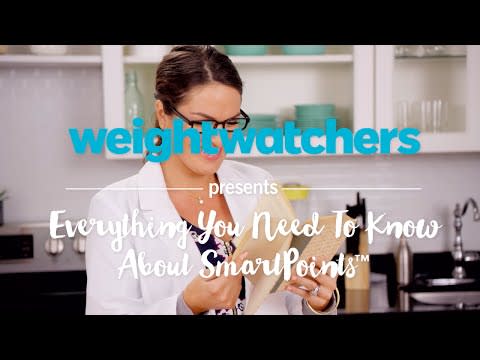 Ideal For
Men and women who want to experience long lasting weight loss
Anyone who wants help making healthy choices and learning nutritious recipes
People who enjoy sharing their weight loss journey, having peer or coach support
Why Go With Weight Watchers
The Weight Watchers diet plan is called the Freestyle program, and that sums it up nicely. The program is meant take users beyond simply looking at their calorie intake and weight loss, and start healthy eating habits which last a lifetime. There are no prepared meals here, users need to plan, shop and cook for everything they eat, and in doing so-they learn the skills they need to create a new, balanced, and nutritious lifestyle.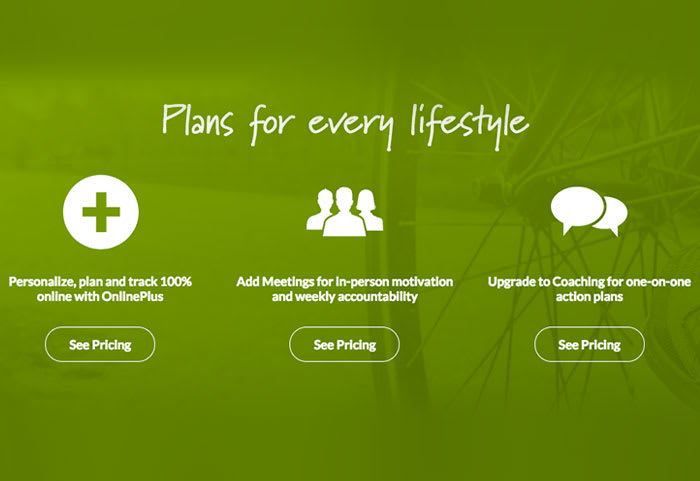 Weight Watchers understands that everyone approaches weight loss differently, and so the three plans cater specifically to three different kinds of people.
The online plan doesn't involve any meetings or coaching, and unlocks recipes, online support, community help and fitness tracking.
The meetings plan lets users go to weekly private weigh-ins, meet other weight watchers, and glean offline motivation and support with others.
The coaching plan is more dedicated, with one-on-one support including unlimited telephone help and morale boosting, as well as a tailored action plan for success with your coach.
What They Offer
Online diet plan with support, recipes and SmartPoints system
Weekly meetings with private weight-ins and community support
One-on-one coaching program for personalized diet planning
Over 5,000 recipes plus an activity tracker.
More Reasons to Choose Weight Watchers
SmartPoints
The SmartPoints system is simple, and it works. Each recipe or food is given a points value, and each member is given their daily and weekly allowance of points. This will be assigned once members are signed up, and is worked out with many factors, including but not limited to:
Height and weight
Age
Activity level
Weight loss goal
Points allowances will obviously vary from person to person, but a normal amount might be 25-30 points per day. General point allowances for meals are just 3 or 4 points for Weight Watchers mixed berry pancakes, 10 points for a cheesy lasagne, to just 1 for tomato, eggplant and feta stacks. The choices are endless, and they're all yours to make.
Points are worked out with the help of calories, sure. But it's a lot more sophisticated than that too. Points will be deducted if the foods are high in protein for example, or more points added if the level of saturated fat is more than the recommended. In short, it's a way to learn how to eat healthily for the long term, increasing the foods which work, and keeping treats in moderation.
Fitness and Activity
Beyond the Scale also looks at activity and movement. The points allowance will take into account how active each member is, for starters. Each user will also be given a fitness tracker. Your FitPoints will be logged on your tracker, with a weekly and daily goal to achieve. This can be done by traditional exercise such as running or the gym, or it can also be added to with dancing, shopping, even cleaning! It's fun to watch your activity levels rising, and users can even sync their own fitness watch or tracker to the program, so that nothing is missed.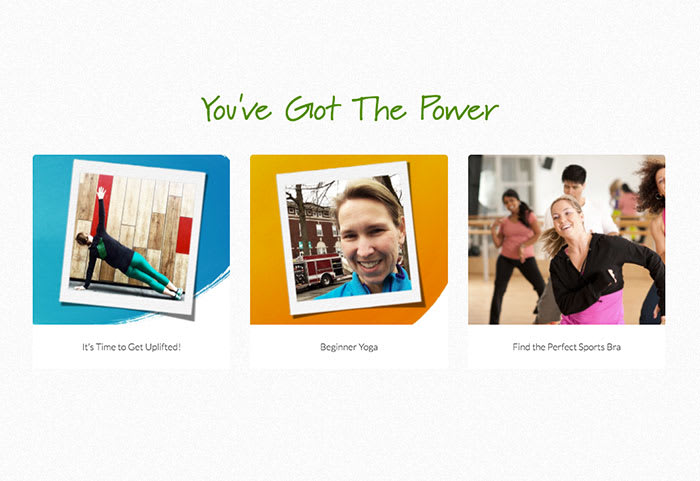 As activity and fitness is just as important as diet, the Weight Watchers website has plenty of support for different kinds of diets, exercise and well-being related issues, from blogs and articles, to how-to's and guides.
How it Works
Signing up to Weight Watchers is very simple. Users need to choose between a monthly sign up or three months, with a longer commitment reducing the cost. They will then be prompted to enter some personal information to get started. This includes:
First and last name
A unique username
Email address
Password
Don't forget to agree to the terms and conditions, which prove that users are above the age of 18, not pregnant, and not suffering from an eating disorder which would make them unsuitable for the program.
Members can choose to pay by credit or debit card.
Once members are signed up, they will be sent a unique activation code which allows them to log into the site as subscribed members. All elements of an account can then be handled from the website in the members' section. The whole process takes under 5 minutes.
Variety of Food Offered
One of the most tempting reasons to try Weight Watchers is that no food is off the menu. The SmartPoints system works with any ingredients, and all favorite foods, from pasta and sandwiches, to cakes, chocolate and more.
Signing up to Weight Watchers gives users access to over 5,000 recipes, categorized for ease of use. All recipes have the specific points system applied to them so that users know exactly how to prepare delicious food and what is going into their bodies.
The recipe categories make it simple to find what users are looking for. They include:
Baked pasta and casseroles
Chinese classics
Easy weeknight dinners
Cakes and cookies? Sweet!
Easy veggies
Eat with your fingers
Feed the whole family
Gluten free slow cooker meals
Your meatless menu
There are even seasonal recipes and specific diet requirement categories, such as a recipe collection for Passover. Absolutely nothing is off the menu. This makes the diet plan perfect for anyone with a speciality diet, no matter what that is.
Pricing Options
There are three easy to understand options at Weight Watchers. The Online plan includes food and activity tracking, personalized goals, community access, 24/7 chat support, syncing with fitness trackers and exclusive online content. This is $3.07 per week.
The recommended option is Meetings. This has everything in the online package, plus access to weekly meetings in your location, weekly private weigh-ins, and printed additional materials. The price for this package will vary depending on your location, but it should be approximately $7.00/week.
The Coaching plan is a one-on-one solution for weight loss and a personalized action plan for diet success. At $12.69 per week, it's a really competitive option for dedicated support on your journey.
Help & Support
There is a direct phone number to get in touch with Weight Watchers if users need any support which isn't on the website. Once members have signed up, they will also have 24/7 live chat access to staff. The website has a lot of information, and everything is straightforward to understand. This is true whether users are new to weight loss, or have tried out other diet plans in the past.
Weight Watchers are active on social media, and include links to Facebook, Twitter, Instagram and Pinterest, inviting members to get in touch. Of course, if users are on the meetings or the coaching plan, they will have in person support as often as they choose, which can be invaluable when it comes to keeping temptation at bay and keeping your mind and body on track.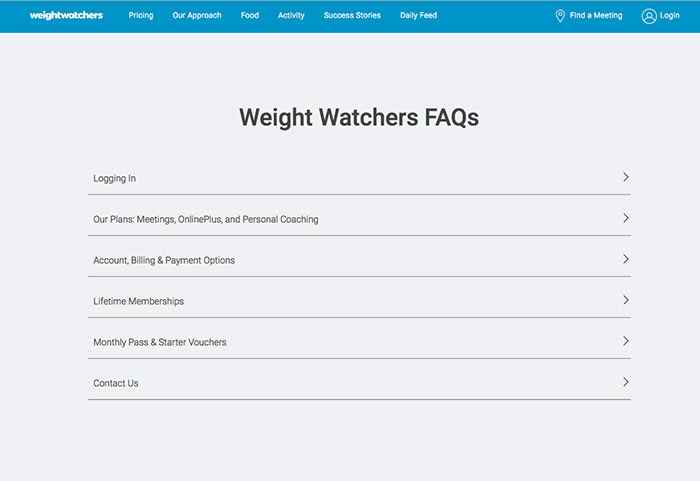 We recommend that users who are new to Weight Watchers take the time to read the FAQ which can be found in the help section.
What's Unique About Weight Watchers?
Most diet plans involve cutting out some of the foods which people love, or reducing portion sizes to the infinitesimal to keep within calorie brackets. Weight Watchers has consistently won awards for their weight loss strategy, which has been keeping them leaders in diet plans for more than 50 years.
The idea behind the Weight Watchers program is to establish healthy eating with high protein, low saturated fat, and the right number of calories for each individual members' height and shape, without the counting. As all foods are given a points value, it's easy to splurge when you're out at a special occasion, and make up for it with more sensible choices throughout the rest of the day.
We love how Weight Watchers also makes sure to take notice of fitness and activity, something which other diet programs too often ignore. Users can even sync their fitness tracker to their weight loss account, or manually include all the activity they do, from walking and sports, to dancing or shopping!
There's also an element of "every lifestyle" at Weight Watchers. If users have no time for weekly meetings, they can take charge of their own program with a fully online membership. Meetings are recommended for those who want peer support and weekly accountability, and the Coaching program works for those users who want someone to call when things get tough, plus skills training and personalized action plans.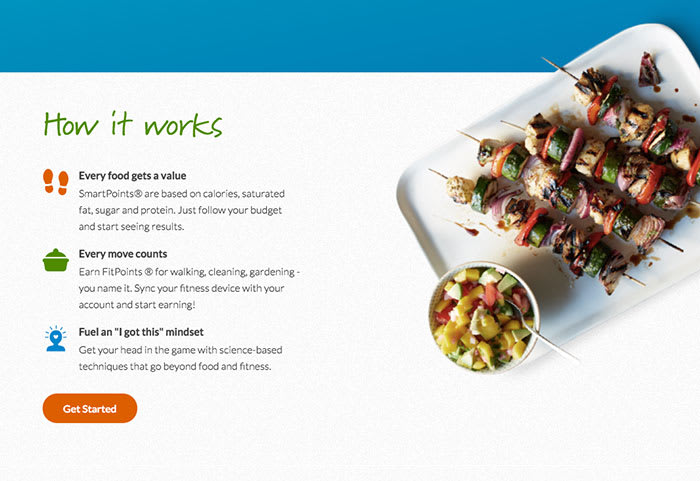 Review In Short
Weight Watchers offers three ways to lose weight for any lifestyle, with the help of their SmartPoints approach. Choose between all online support and recipes, merging online with meetings and peer support, or using the system with the help of one-on-one coaching. All food is assigned a points value, with more than just calories in mind, and user fitness and activity is tracked too. The online plan starts at just $3.07 per week.
About Weight Watchers
The name Weight Watchers is synonymous with a healthy weight loss program, and the company has been in business since 1963, giving them more than 50 years in the diet industry. Founded by Jean Nidetch, it has evolved many times over the years, most recently to their SmartPoints program. The president and CEO of the company is Mindy Grossman, and the company employs over 25,000 staff in more than 30 countries worldwide including the US and Canada, the UK, and Australia.
They experience significant success in helping people reach their weight goals, with studies showing that at 12 months, Weight Watchers sign-ups are more likely to have experienced weight loss than a control group.
Physical Address
Headquarters: 675 Avenue Of The Americas Fl 6. New York, NY, 10010 United States
Contact Details
Via contact us form from the website
Telephone: 800-651-6000
Facebook: https://www.facebook.com/WW/
Twitter: https://twitter.com/ww_us?lang=en
Pinterest: https://www.pinterest.com/weightwatchers
Instagram: https://instagram.com/weightwatchers