In a Nutshell
HelloFresh has a reputation around the globe as one of the best and brightest meal kit delivery services in the world. Delicious ingredients sourced from trusted suppliers, a variety of simple, easy-to-master recipes, a transparent pricing plans starting at only $6.99 per serving, and a flexible subscription model makes them one of the top names we could recommend.
pros
Deliciously simple, easy-to-master recipes take around 30 minutes
Vegetarian options available
The flexibility to pause or cancel at any time
cons
Only 8 options to choose from each week
Not for singles
Hello Fresh Visit HelloFresh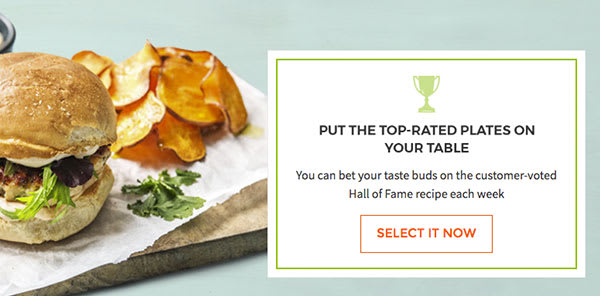 Ideal For
Busy couples who want to spend less time meal planning and grocery shopping men and women looking for a nutritious and balanced alternative to frozen supermarket meals
Anyone who wants to get inspired and actually have fun cooking deliciously simple meals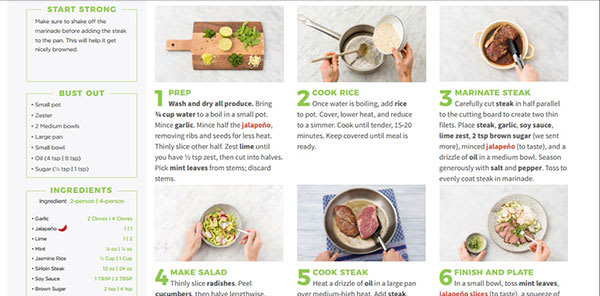 HelloFresh is a unique and fun option for anyone who feels like their eating habits are suffering due to a busy lifestyle or a lack of culinary skills. Users can order 2, 3, or 4 Classic Plan meals per week. These come in portions for either 2 or 4 people, making it perfect for both couples and families alike. The ingredients come pre-measured with easy-to-follow recipes that have just 6 steps and come together in around 30 minutes. There are vegetarian, gluten-free, nut-free, and vegan options, plus the option to customize a meal plan with Veggie, Family-Friendly, Calorie-Smart, Quick and Easy, or Pescatarian preferences.
What They Offer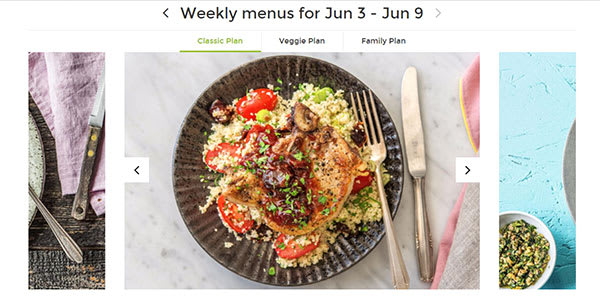 Delicious and responsibly sourced ingredients delivered to your door
Classic, Vegetarian, or Family Plans
The option to customize with Veggie, Quick and Easy, Calorie-Smart, or Pescatarian preferences
One Hall of Fame meal a week (the all-star recipe that customers love most)
One Premium meal a week (elegant recipes with handpicked selection of premium ingredients)
One Breakfast option a week (for those breakfast-for-dinner nights or weekend mornings)
More Reasons to Choose HelloFresh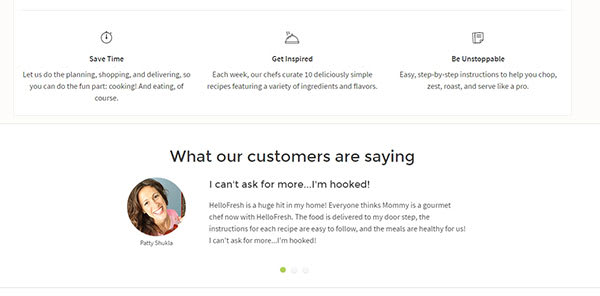 Eco-Friendly
One element of using meal kit delivery services that concerns customers is what happens to all the packaging required to send food cross-country every single week. HelloFresh thought about this when they developing their packaging by creating the following recycling guidelines.
Insulating Liners – The honeycomb paperboard is curbside friendly, while the summer lines will need to be taken to a recycling center. Winter liners can go in the trash.
Ice packs – Water-soluble contents can be emptied into the trash (not down the sink). The plastic pack can be recycled.
HelloFresh box – Can be folded and discarded with your regular recyclables
Separator and meal kits – All 100% curbside friendly.
Suppliers
We haven't seen a company which provides so much information about how and where their products and ingredients are sourced. The website has a whole section highlighting some of the suppliers they are particularly proud to work with, and they also have a lot of information on their FAQ page to highlight their responsible sourcing practices.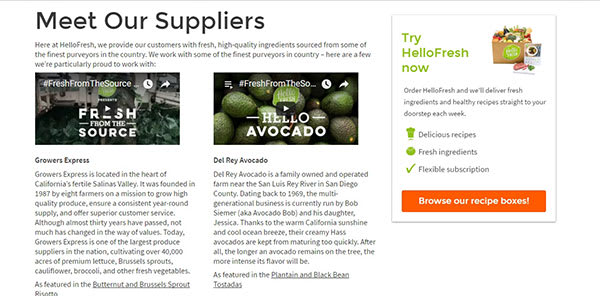 The company is committed to sourcing sustainable, ocean-friendly seafood (both wild-caught and farm raised) rated a Best Choice or Good Alternative by the Monterey Bay Aquarium Seafood Watch program. They require traceability on both how and where the seafood has been caught and have additional sustainability certifications, which include MSC (Marine Stewardship Council) and BAP (Best Aquaculture Practices). Representatives from HelloFresh personally visit each meat supplier to make sure the operation is food-safe and that the animals are antibiotic and hormone free, as well as ethically treated.
How it Works
To get started, users simply sign in using Facebook, or by entering their email address and choosing a password. Next, customers choose between the Classic Plan, Veggie Plan or Family, Calorie-Smart, Quick and Easy, or Pescatarian Plan. The Classic Plan allows the most choice with 8 delicious recipes each week compared to 3 handpicked recipes for both the Veggie and Family Plan. The Veggie Plan is simply meat and fish free, while the Family Plan will suit picky eaters and children, too.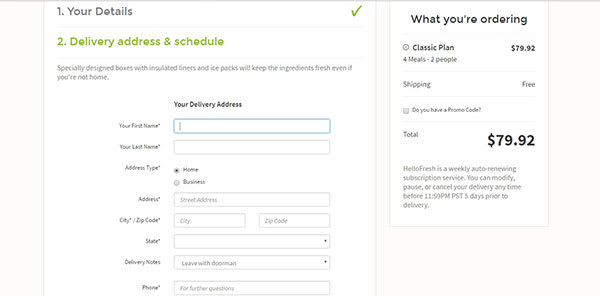 Choose between 2 and 4 people for the Classic Plan, and whether your household would like 2, 3, or 4 meals per week. Shipping is always free. Users will immediately be prompted to enter their delivery address, and will be shown available delivery dates and times. Unlike many other meal kit delivery services, customers can choose the delivery date that works for them. Lastly, customers choose to pay by either credit/debit card, or by PayPal. The plan will auto-renew each week. As a flexible service, orders can be paused or cancelled at any time with 5 days notice.
Variety of Food Offered
HelloFresh has a qualified team of chefs and dietitians on staff to craft delicious, balanced recipes simple enough to cook at home. They have a wide variety of meal options, and allow customers to make certain preferences and omissions clear. Customers can also choose from the following lifestyle preferences:
Calorie-Smart: The most wholesome, nutritionally dense and balanced meals on the menu (around 650 calories per serving).
Quick and Easy: The simplest and quickest recipes that take 30 minutes or less.
Pescatarian: No meats or poultry, just a combination of fish and seasonal vegetables.
The Classic Plan menu also includes the weekly Hall of Fame meal (the all-star recipe customers love most), Premium option (elegant recipe with a handpicked selection of premium ingredients), and Breakfast recipe.
There is also a Veggie Plan, which has less variety and no meat or fish. Instead, these recipes include plant-based proteins, hearty grains and seasonal produce. Customers can also opt for the Family Plan to receive meals that suit tiny tummies and adults alike. All meals can be viewed weeks in advance, and Classic Plan customers can choose between 8 weekly recipes. With a wide variety of meat, fish, poultry, pasta, produce and grains, there's something for everyone. All the pre-measured ingredients are sent with easy-to-follow, 6-step recipes complete with nutritional information and cooking tips.The only ingredients you won't find in the box are salt, pepper, sugar, oil and butter.
The recipes are marked by difficulty level to help customers choose what they would like for the coming week.
Pricing Options
The pricing is one of the best elements of HelloFresh. It's extremely transparent and very affordable. Servings cost between $6.99 and $9.99 and shipping is always free.
They are able to offer such competitive prices by sourcing seasonally, establishing direct relationships with suppliers to avoid markups and pre-measuring ingredients to avoid waste.
Help & Support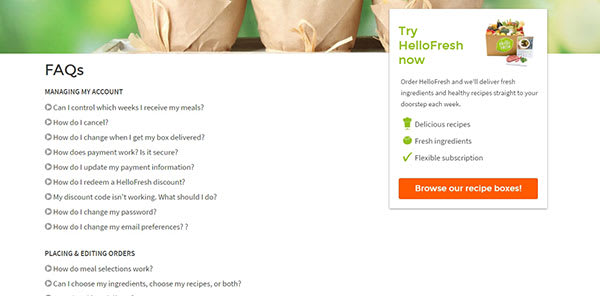 If users need any help, there are a few email addresses to use, depending what the issue might be. The account management section of the site can help with a lot of troubleshooting, especially when users are first starting out with HelloFresh. There is also a comprehensive FAQ section which really does cover everything a customer might want to know about the service. The categories include:
Managing My Account
Placing And Editing Orders
Delivery
Membership And Plans
Recipes, Ingredients and Packaging
Gift Cards
HelloFresh Shop
HelloFresh Wine Club
If users still can't find the help they need, they are encouraged to phone Customer Care or reach out by social media.
What's Unique About HelloFresh?
Blog
The HelloFresh blog, Fresh Times, is split into four fun sections. The first is aptly called Eat and covers everything from breakfasts and lunches to drinks and snacks. Recipes, ideas and guides are all here for users to check out and enjoy.
The Tips and Tricks section of the blog includes nutrition information and cooking tips, tricks and hacks These can vary from Thanksgiving shopping lists to and healthy eating ideas to information about recipes on the following week's menu.
Behind the Scenes is all about the HelloFresh suppliers and partners, telling users more about where and how the food arrives at their doors.
Review In Short
HelloFresh has a variety of options depending on what you're looking for. Preferences include Fit (around 650 calories per serving), vegetarian, and family- friendly. All recipes are outlined step by step, and ingredients responsibly sourced, pre-measured, and delivered weekly for 2 or 4 people. Although there are no options for desserts, there are options for dinner and breakfast that could make your life a whole lot easier.
About HelloFresh
HelloFresh was founded in Berlin, Germany in December 2011 by Dominik Richter, Thomas Griesel and Jessica Nilsson. The company has over 800,000 subscribers around the world and sends out almost 7.5 million meals per month, globally. They have a strong presence in Australia, Austria, Belgium, Canada, Germany, Netherlands, Switzerland, the United Kingdom and the United States. As the CEO of the company, Dominik Richter is still highly involved in this flourishing meal kit delivery service. They are known for their simple recipes, delicious ingredients, flexible subscription model which suits a wide user base. They were valued at around $2 billion in December 2016.
Physical Address
HQ: HELLOFRESH SE
37A SAARBRÜCKER STRASSE
BERLIN, 10405, GERMANY
Contact Details
For General Inquiries, email hello@hellofresh.com.
For Delivery Inquiries, email delivery@hellofresh.com.
For Billing Inquiries, email billing@hellofresh.com.
For Problems with your Latest Box, email errors@hellofresh.com.
1-800-733-2414
Facebook: https://www.facebook.com/hellofreshus
Twitter: https://twitter.com/hellofresh
Pinterest: https://www.pinterest.com/hellofreshusa
Instagram: https://www.instagram.com/hellofresh
#HelloFreshPics
Hello Fresh Visit HelloFresh