In a Nutshell
FightCamp is a platform that offers interactive boxing workouts. Professional boxers spend thousands of dollars per year paying personal trainers to design exercise regimes and ensure their technique is perfect. In this FightCamp review, I'll tell you how FightCamp manages to give you the same benefits without leaving home.
pros
Use the same advanced technology professionals love
Benefits of a professional coach at home
Challenging, flexible workouts
cons
Need to pay for content subscription and hardware too
Equipment requires a lot of space

FightCamp Visit Site
Best for: New or experienced boxers, MMA fighters
Workout Types: Classic, Sprint, Boxing Skills
Support: Email, phone live chat
Pricing: $39 per month
Special offer: Free shipping on all products
What's Unique About FightCamp?
Memberships to boxing clubs, which offer high-intensity training programs, are often even pricier than regular gyms. If you're tired of the cost and looking for a workout to knock you into aggressively good shape, FightCamp might be the thing for you.
This isn't any old fitness platform. FightCamp is a combination of boxing equipment, punch tracking hardware and a library of training videos. When all of these elements are put together, the result is an interactive digital workout system that can be used in the comfort of your own home.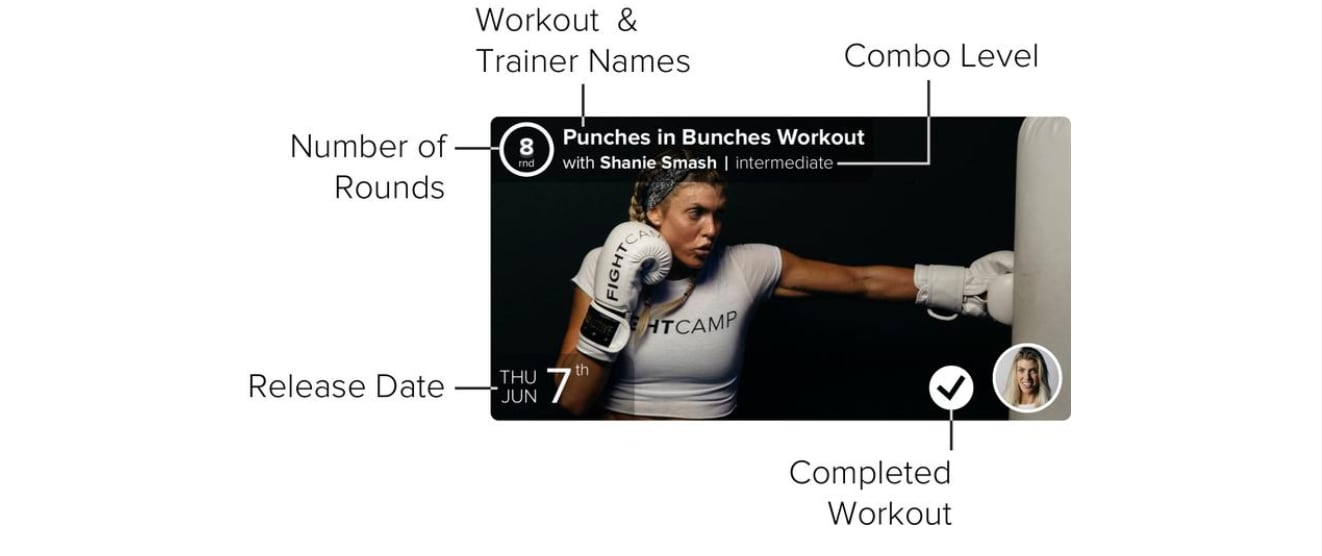 In short, FightCamp is to boxing what Peloton bikes are to cycling. Peloton bikes are home exercise bikes that play back digital workouts created by famous trainers to give you the experience of an exercise class in your living room.
FightCamp is the creation of boxing tech startup, Hysko. Conor McGregor and MMA superstar Daniel Cormier are two of Hysko's most famous clients. Both use its punch tracking tech, which is at the core of the FightCamp product, to improve their technique and stay in shape.
Fitness Fans Are Raving
Boxing is strenuous, but customers who put in the time required to get to grips with FightCamp see a lot of benefits. Experienced boxers notice the price difference between a traditional gym and FightCamp, while beginners love the motivation offered by FightCamp's digital instructors:
"I work out 6 days a week with Aaron Swenson, rotating his beginner 15-minute burnout class one day and his advanced 45-minute class the next. I've yet to try any of the other trainers because Aaron's workouts are just perfect for me." - Experienced boxer
"Boxing is my passion and love for over 3 years, but making it to a class became difficult for many reasons. Now I can work out whenever I want and it feels like I'm in a class!" - Working single mom
"With FightCamp, everything I need is in my home, but I feel motivation through the instructors' workouts just like in the kickboxing studio. It's fun and awesome and I don't have to worry about class times or drive time." - Kickboxing fan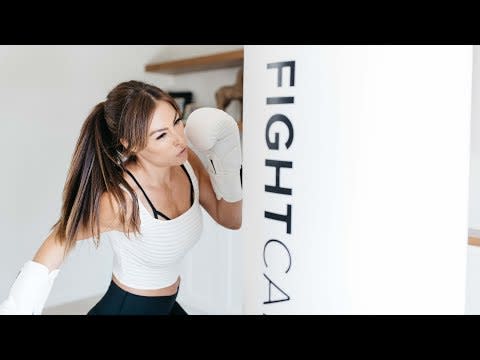 How it Works
Ready for your first workout? Before you can get started with FightCamp, you'll need to do the following:
1. Install the FightCamp App: To download FightCamp, you need an iPhone or iPad. You'll also have to create an account to keep track of your performance data.
2. Start a Subscription: As soon as you sign up you'll also be given access to the library of FightCamp workout content.
3. Get the Equipment: As well as punch trackers, you're going to need gloves, hand wraps, a floor mat, and a punching bag to use FightCamp correctly. If you already own your equipment that's great. If not, you can order it all from FightCamp.
4. Set Up Your Space: During your FightCamp sessions, you'll need to move around a lot. Your punching bag also might shift position when you hit it, so FightCamp recommends setting up an empty training area of at least 6' x 4' in size.
5. Connect to Your TV: You can play back content on iPhones and iPads or, if you own an adaptor, through your TV.
6. Activate the Punch Trackers and Start: Connect your punch trackers to your device, slide them into your gloves and select a piece of FightCamp content to begin your session.
What Workouts You'll Do
FightCamp's electronic "punch trackers" are a key part of every workout. They analyze each punch you throw and offer instant feedback so you can improve your technique.
If you're new to boxing, it's recommended that you follow FightCamp's Prospect Path 2.0 workout progression. This will give you a solid foundation to base your boxing moves on.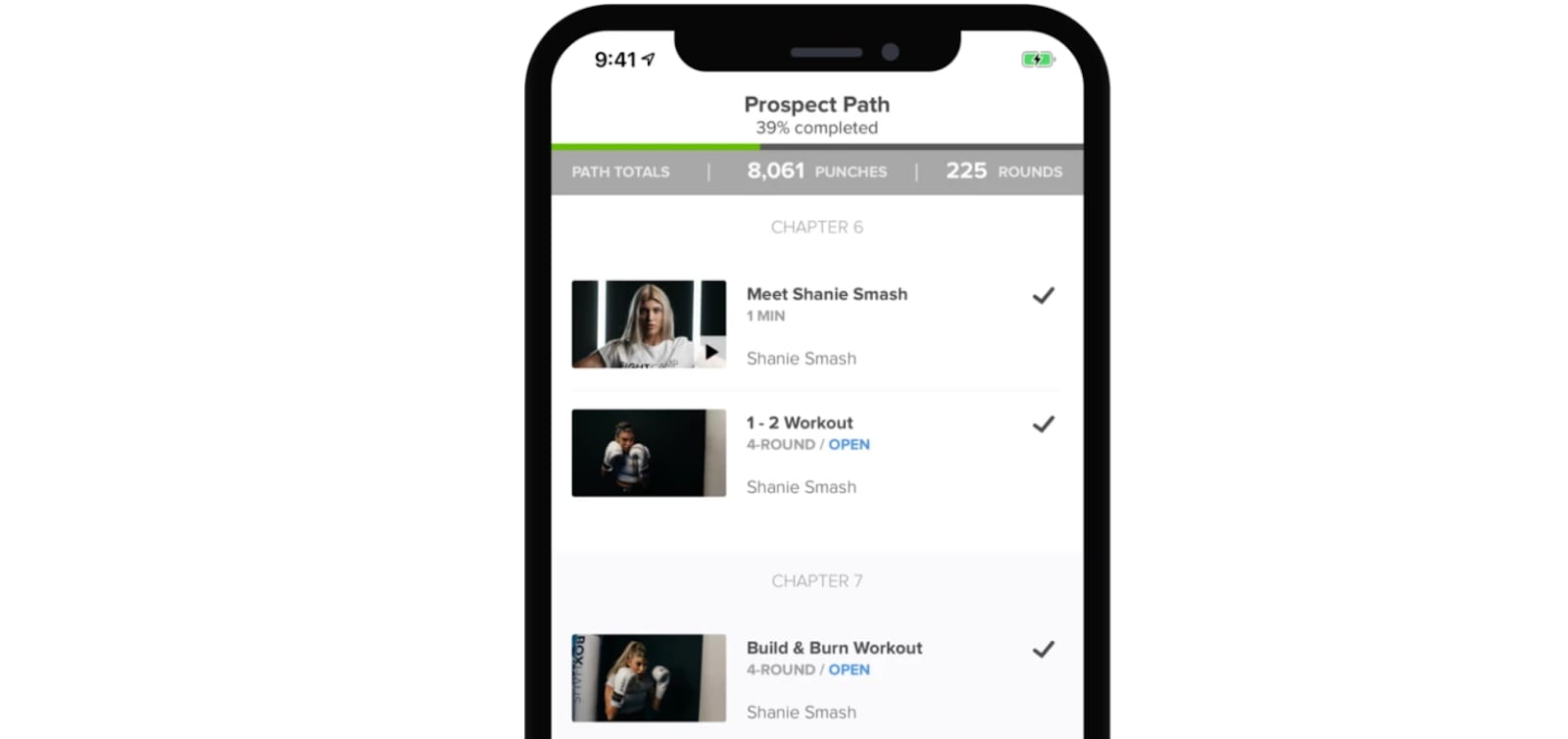 If you've already got some experience under your belt, you can choose between 4 different workout types. These include:
Classic Workouts: A mixture of HIIT and punching exercises with 3-minute rounds and 1-minute rest breaks.
FightCamp Sprints: Quick, intensive workouts that give you a punch or speed objective to reach.
Boxing Skills: Short technique lessons showing how to throw better punches and perform steps.
Boxing Base Workouts: Videos designed to reinforce techniques you already know.
Each workout fits into 1 of 3 skill levels to ensure you don't pick something too easy or too challenging to complete:
Open: Suitable for boxing-newbies or anyone with under 3 months of experience. These workouts are physically demanding but don't require advanced knowledge.
Intermediate: Content suitable for boxers with between 3 and 10 months of experience. Combination moves in this category consist of up to 10 individual steps.
Advanced-level: These workouts are designed to challenge expert boxers mentally as well as physically with lengthy combo moves that are tough to memorize.
Overall, FightCamp has a good selection of workout types that should ensure that you're constantly improving your form as well as fitness levels.
FightCamp Mobile App
The FightCamp app is at the front and center of this platform. It's free to download, but you'll need to be a subscriber to access any content.
The app is well designed, letting you easily filter by different workout types and levels. It also supports multiple accounts with a single membership, allowing you to share your equipment between friends and family. Just don't forget to wipe it down!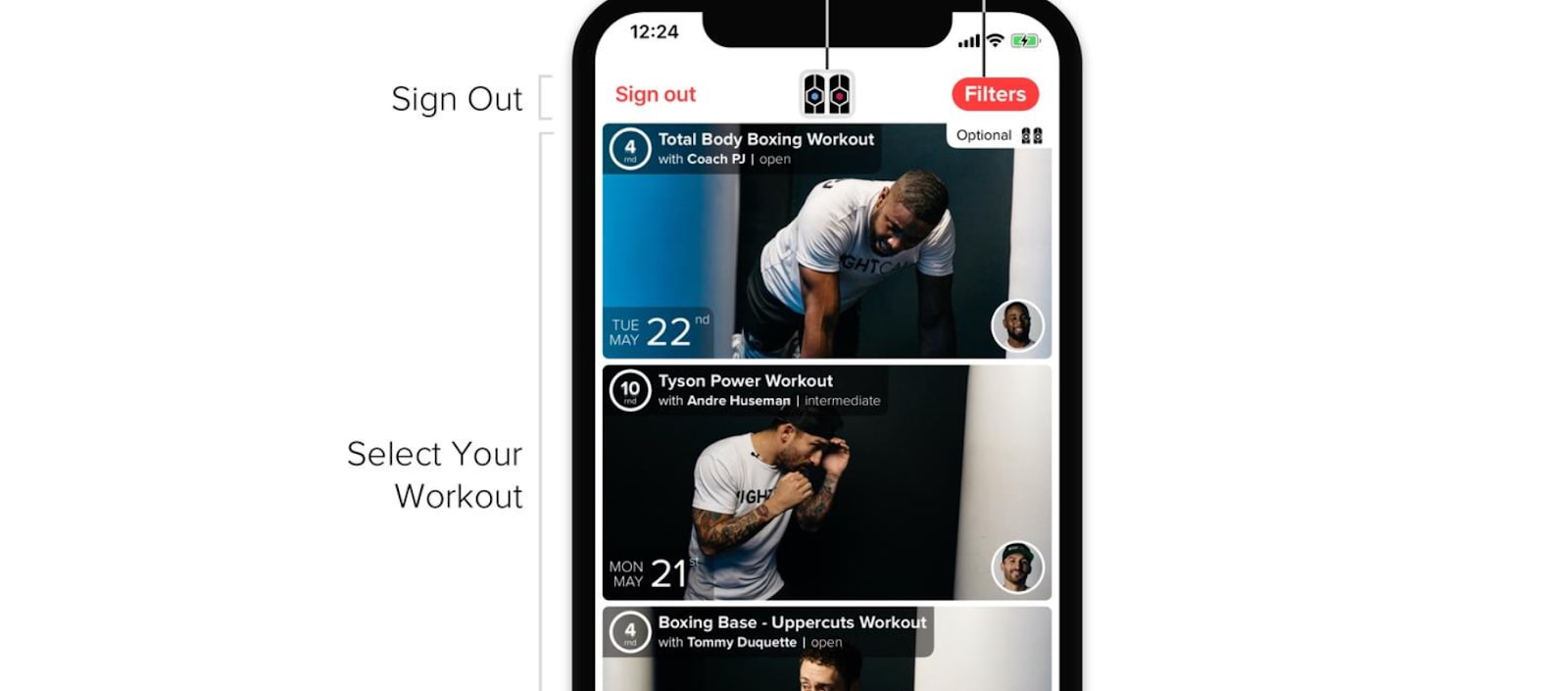 Unfortunately, for Android users, FightCamp is iOS 11+ only. You can submit a request form asking them to hurry up and create an Android app, but don't expect one anytime soon.
Pricing
To get access to FightCamp content, you must purchase a $39 per month membership. You can pause or end it at any time.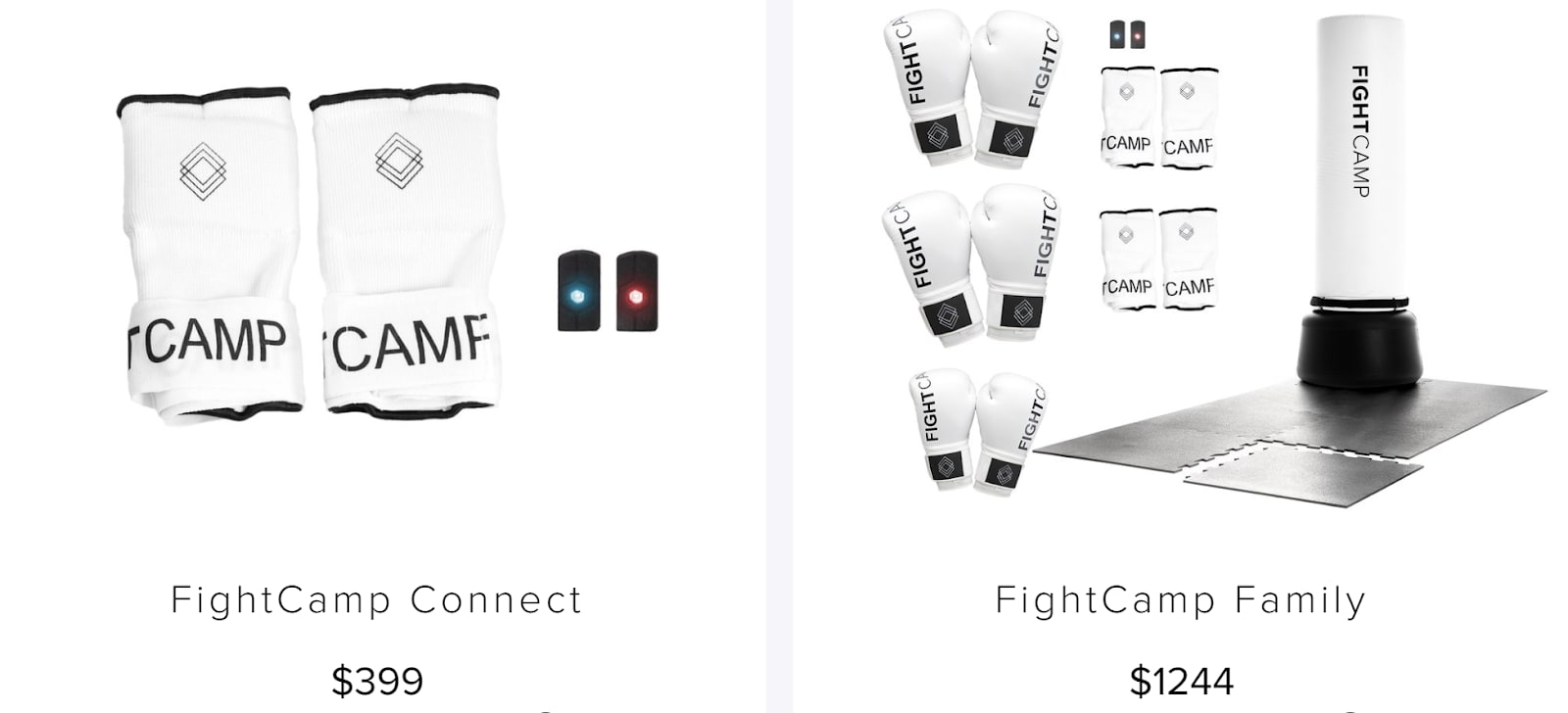 A low point of my FightCamp review was when I realized that FightCamp had stopped sending subscribers free punch trackers. Sadly, that means you'll have to purchase them separately in the form of the $399 FightCamp Connect package, which also comes with hand wraps.
Punch Trackers and Quick Wraps
FightCamp Connect + Punch Bag, Gloves, Workout Mat
FightCamp Gym + Extra Gloves and Wraps

FightCamp Visit site
Help & Support
The FightCamp team can be reached during standard Central Time office hours and is available by both live chat and email. There's also an active Facebook group where you can get advice from other users.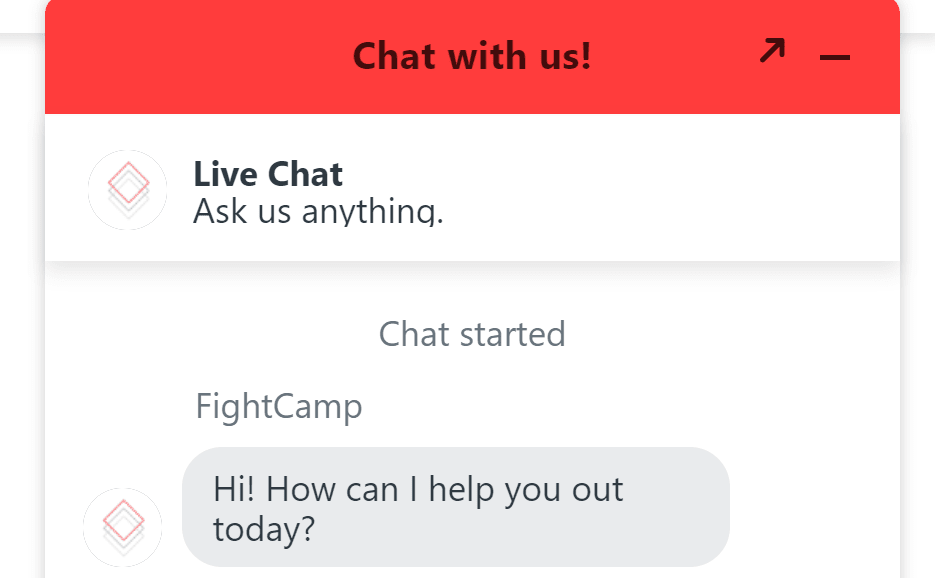 Here's the Skinny
FightCamp is on the pricey side compared to other interactive digital fitness systems. However, when you compare its cost to that of a personal boxing trainer, you'll realize that Fight Camp offers great value for money. The advanced technology this platform employs and the extensive catalog of workouts it offers are sure to help you become the best boxer you can be.