In a Nutshell
BodyBoss is a fitness program for women that revolves around high-intensity workouts and nutrition. Its one-time purchase guides are dedicated to helping you develop a toned and healthy physique without a personal trainer or gym membership. As you'll see in our BodyBoss review, the program is focused on health and fitness rather than just weight loss.
pros
One-time payment
Good for different fitness levels
Detailed and intuitive interface
cons
Extra cost for printed material
No mobile app
Some workouts are slightly longer than the promised 24 minutes
BodyBoss Visit BodyBoss
Best for: Women
Workout Types: High-intensity, Interval Training
Fitness Guarantee: Body transformation, fat burning, boosted metabolism
Support: Live chat and email
Pricing: 1-time fee prices begin at $27.90
Special offer: 30% off most online guides
What's Unique About BodyBoss?
BodyBoss is different from other fitness programs because its platform doesn't use a monthly subscription model. Rather, it offers flexible plans based on your personal goals.
Already have a fairly healthy diet and looking to tone rather than just lose weight? There are programs for both. Are you struggling with fat loss and need help maintaining a healthy diet? There's a plan, or 'guide,' as BodyBoss calls them, just for you.
Also, unlike most fitness systems, there's an extra pre-training program you might want to use if you're a bit out of shape. The pre-training materials will get you fit enough to complete BodyBoss's more intense routines.

The BodyBoss program is based on what it calls the #BodyEffectBoss, which is more commonly called the "afterburn effect." The afterburn effect happens after short, intense workouts. Essentially, your muscles are starving for oxygen post-workout and your body tries to pay them back. In doing so, you elevate your metabolism and you burn extra calories even long after you've finished your workout.
Fitness Fans Are Raving
"I feel so much better mentally, physically, emotionally. It's not just about losing weight to become small or skinny, it's about your overall health." - Dee Shanell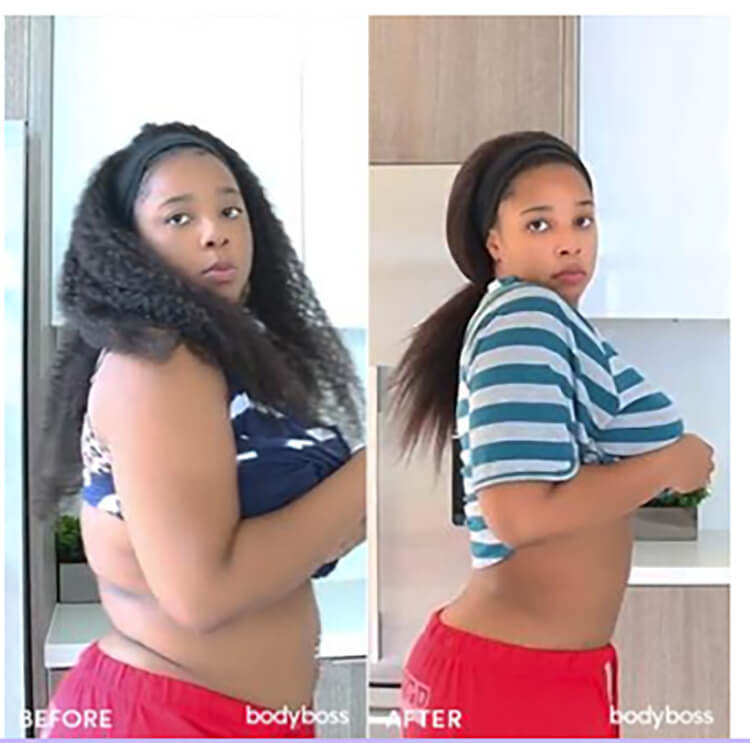 "Thanks to BodyBoss I enjoy being active, have more energy and feel SO much more confident. I went from a size 16 to a size 12, lost 30lbs and 15 inches total. I owe a lot to BodyBoss." - Catie
"I never thought I could get such a great result without ever going to a gym! I feel much stronger and energetic than before! I haven't lost weight, but I did lose 7cm of fat around my waist! Isn't that incredible?" - Patty
"I needed a program that would give me guidance, and that's exactly what BodyBoss did for me! It helped me stay motivated through two rounds of the program, and helped me lose 60 pounds, 4 pants sizes, and over 20 inches off my body!" - Katie
"For the first time in my life, I'm focused on being STRONG & not SKINNY, having more ENERGY & eating to feel powerful. It's the BEST feeling" - Shay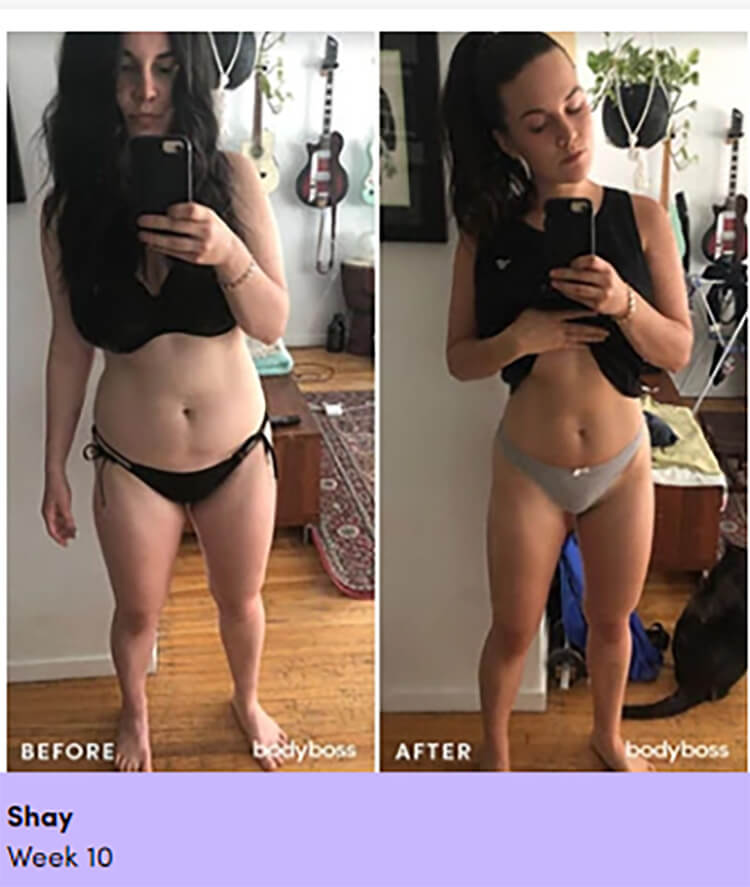 How it Works
Ready to become the boss of your body? Here's what you'll need to do to begin changing your lifestyle with BodyBoss:
1. Choose a guide or bundle: You can choose from a selection of individual programs or combine a fitness guide with a nutrition manual to save money. Consider options like the "30-Day Fit Challenge Guide," which integrates home and gym workouts, or the signature "BodyBoss 12-week Ultimate Body Fitness Guide."
2. Wait for materials to arrive: Your guide will come in the mail in the form of several booklets. Once you receive it, you're ready to get started. You'll also gain access to the BodyBoss online portal, which is simple, easy to use, and includes handy little exercise demo videos.
3. Look through the introductory material: There's plenty of informative stuff here, so give it all a thorough read.
4. Stock up on recommended foods: If you've opted for the nutrition plan, you'll get a grocery list of items that you should keep around the house. This is the perfect stage to stock up your pantry. BodyBoss puts a lot of emphasis on personal choice, so there are suggested alternatives if you don't like a food on the list.
5. Start working out: The included booklets break down the workouts you'll be doing and on which days to do them. All the instructions are easy to follow, and if you find the workouts a little tough, try the Body Boss prep-guide for a few weeks before switching to the actual fitness plan.
What You'll Eat on BodyBoss's Superfood Plan
BodyBoss recipes and meal planning tools will make food-preparation a lot simpler.
BodyBoss offers what it calls a "Superfood Nutrition Guide." This is a meal-by-meal plan that lasts 12 weeks and includes 3 meals and 2 snacks per day. It allows some flexibility for cravings and even lists options for cheat-meals you'll love.
The most exciting aspect of the nutrition plan is the food-swap guide, which shows you healthier versions of unhealthy classics. BodyBoss also comes with a guide to all of the superfoods you'll be eating and the nutritional benefits they provide.
The nutrition guide is non-restrictive, meaning it doesn't exclude macronutrients, like carbs or fats. So, you'll be more likely to achieve results and stay in a healthy state of mind.
Here's what you might eat on a typical day:
Breakfast: Smoked salmon avocado toast with lime and seasoning.
Snack: Cup of almonds.
Lunch: Taco bowl with quinoa, ground beef, spinach, hummus, and guacamole.
Snack: Frozen banana, peanut butter, greek yogurt treats.
Dinner: Chicken whole wheat pasta salad.
Pricing
BodyBoss also offers bundles that combine multiple guides. For example, you can combine the workout plans with the SuperFood Nutrition Guide, which comes with 2 different guides at a discounted rate. Here's an overview of what you can expect to pay:
Bundled with Nutrition Plan
Ultimate Body Fitness Guide
12-Week Exercise Program with Bonus Materials
30-Day Exercise Program with Kim Lyons
6-Week Gym and At-Home Exercise Program
Superfood Nutrition Guide
12-Week Meal Plan with Recipes and Substitutions
Help & Support
Customer support is available by chat or email, and there's a helpful FAQ page as well. You'll also find an active community support forum where you can ask questions and talk to trainers, specialists, and other course participants. If you like, you can even connect with BodyBoss through Twitter and Facebook.
Here's the Skinny
Over the course of our BodyBoss review, it became clear that this was an effective program for women who want a healthier lifestyle and slimmer figure. BodyBoss's nutrition plan is non-restrictive, and users report that the workout plan motivates and energizes them. This platform doesn't promise any miracles, but it does offer a practical guide to getting in shape. If you put in the work, you will see results.
BodyBoss Visit BodyBoss