In a Nutshell
Chef and farmers work together to get the most seasonal ingredients to your door – some of which you've probably never heard of but will absolutely love –and the tastiest food on your plate. Food comes uncooked and pre portioned, so all you have to do to make a stand-out meal is follow their simple step-by-step recipes.
pros
Recipes change weekly and are seasonal
Strong focus on environmental impact
Pause, skip or cancel your subscription any time
cons
No options for lunches, snacks or desserts
No options for more than 4 person families
Blue Apron Visit Site
What's On Offer
2 or 4 person meals delivered to your door
Environmentally conscious, seasonal and healthy ingredients
A cookbook of past recipes for extra inspiration
A marketplace packed with utensils, cookware, wine and ingredients to supplement any kitchen
Ideal For
Busy families who need some extra help planning and shopping
Couples who want to try some fun new ideas and recipes
Those who prefer a managed approach to eating fresh/healthy food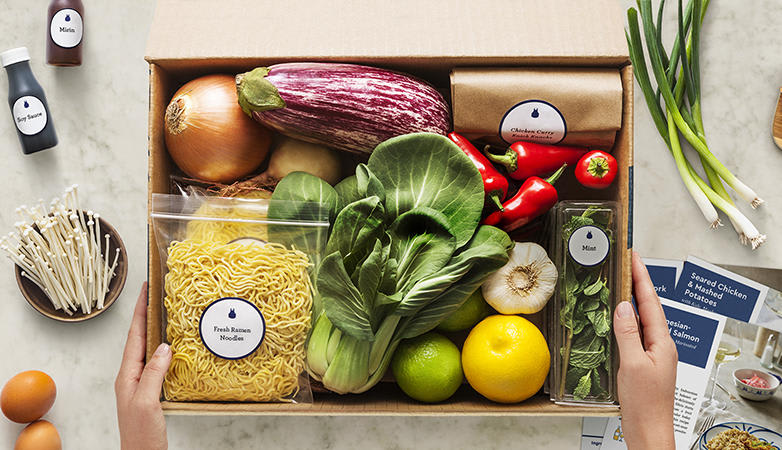 Keeping Track on the Move
Blue Apron has a great mobile app for iOS users. Using the app, customers can:
Check their account information
Look at unique hand-picked seasonal recipes
Watch how-to videos and tutorials
Read cooking tips
Understand more about where and how your food arrives at your door
Update and modify your subscription information, including deliveries.
Blue Apron does not currently have an app for Android or Windows Phones.
Environmentally Conscious Food
For anyone who cares about the environment, Blue Apron is taking huge strides to improve our world and our imprint on it via what we consume.
Better standards: Ensuring food is high quality and sustainable. This includes hormone-free meat, sustainable seafood, and non GMO produce.
Regenerative Farming. Putting more into the land than we take out. Blue Apron build menus around crop rotations, working with farmers to ensure the least impact on the soil.
Eliminating the Middleman: Blue Apron takes ingredients from farm to kitchen to you, eliminating the storage, wholesalers and retailers. Food is fresher, riper and on your table quicker.
Reducing Food Waste: Perfectly portioned deliveries means no wasted food rotting in your fridge.
Weight Loss Collaboration with WW (formerly Weight Watchers)
With its new collaboration with WW (formerly Weight Watchers), Blue Apron has opened up its tasty and accessible meal delivery service to anyone who's serious about losing weight. The partnership with WW means that Blue Apron's weekly menu will also feature meals that are approved by the celebrated weight-loss program and are in accordance with its well-known SmartPoints® system.
Every week, the Blue Apron menu will feature at least 3 meals bearing the WW logo. When you spot a WW meal, you can be assured that the recipe has been designed in strict accordance with the nutritional and weight-loss standards that have made WW a household name. Those already participating in WWs, or those interested in starting their path to weight loss, can simply scan the barcode of Blue Apron's WW-approved meals and track their SmartPoints® in their personal myWW+ plans.
How it Works
Blue Apron offers a simple service to get people cooking good nutritious food without having to think about meal prepping or shopping. Simply choose between the couple or family plan, and select the meals you want from their weekly menu and you're good to go.
Delivery boxes are sent entirely insulated and with frozen gel packs, so your food stays fresher for longer.
The food is sent with information on nutrition, the amount of servings it will make, and the cook time, as well as some background on the history of the food, step by step recipes, and even information on the cookware you will need.
Variety of Food Offered
The only downside to Blue Apron is the variety of meals offered each week. While the back catalogue of recipes is extensive and covers a lot of cuisine, the weekly menu consists of 6 choices for the 2 person plan, and 4 options for the family plan. This means that if customers order the 4 meals family plan, there is no choice in which meals they are sent.
Within the recipe bank, and amongst the weekly meals created by the chefs are a number of different types of cuisine, including Asian, Indian, Italian, Mediterranean, Mexican and much more.
Customers can also choose to browse recipes by season, or by main ingredient. This includes an option for vegetarian. It is much harder to find speciality diets such as gluten free, low carb or diabetic. There are no search filters for narrowing down the recipes, and no way to ensure that consumers will have enough options for a speciality diet once you sign up for a subscription. Blue Apron does allow customers to mark which of the main ingredients they cannot eat, and then sends out appropriate meal choices.

Pricing Options
Blue Apron offers two meal plans, one for couples and one for a family of 4.
The family plan can be modified so that customers receive either 2 or 4 meals per week, depending on what they prefer.
The 2-person plan includes 3 recipes per week, and costs $59.94, or $9.99 per serving.
For 2 meals, the cost is $69.92 per week
For 4 meals, the cost is $139.84 per week
Remember that shipping is always free from Blue Apron, and you can skip weeks or cancel your subscription at any point.
Blue Apron has a Freshness Guarantee which helps ensure value for money. Customers simply let the company know of any problems or missing products within 7 days, and the customer care team will sort this out, promising to make it right. They do request that consumers take a photo to send with the request, which will help staff make the right steps towards sorting out the issue and ensuring it doesn't recur.
Help & Support
Help Center with 24/7 support
Detailed FAQ page
Email support - contact@blueapron.com
What's Unique About Blue Apron?
Blue Apron is proud of their effort to pioneer a new model of the food to table journey. While food traditionally might sit in warehouses for weeks or months, or travel across many countries until it arrives at its final destination, Blue Apron is looking for the antidote to this. Eliminating wholesalers, grocery warehouses, and even the grocery stores, Blue Apron works directly with producers and farmers, and deliver the freshest produce and ingredients to your kitchen table.
Another glaring difference between Blue Apron and other food delivery and meal plan companies is the knowledge they are giving each customer about the food which they love.
Firstly, customers are picking up food prepping skills, recipe and nutrition knowledge and a love for new cuisine. Blue Apron also includes the history and background of each dish, and the ingredients within it so that consumers really get a feel for what they are cooking and eating.
This is food for the foodies, sharing a passion for cooking and a love of eating in the freshest and most exciting way.
Blue Apron Visit Site
About Blue Apron
Blue Apron was founded in 2012 by Matt Wadiak, Matt Salzberg and Ilia Papas. The company ships 8 million meals across the US every single month. They have been featured in the Wall St Journal, the Washington Post, and on Good Morning America.
The company began from the founders own apartments, and has grown to include thousands of employees who work across four offices in the US, in New York, Texas, California and New Jersey.
The values of Blue Apron are simple and clear:
Lifelong Learning. The logo of the blue apron is the mark of a French apprentice chef, and a symbol of lifelong learning in cooking and the kitchen.
Trust. Blue Apron call this the Toast, and it's the mark of a relationship between company and customer.
Quality. The company works with only the best produce and farmers to ensure the quality of the ingredients being sent out. Blue Apron calls this the Secret Ingredient.
Teamwork. Ensuring that your shopping, planning, shipping and delivery are all seamless, just like your own Family Meal.
Empowerment. Whimsically dubbed Season to Taste, customers are empowered to learn about recipes and food in a new way, and cook for themselves and their loved ones in half the time and with the help of Blue Apron.
Address
40 W 23rd St, New York, NY 10010, USA