In a Nutshell
The iPage website builder offers generic site creation solutions that are similar to those offered by many other low-end platforms. Its editor isn't great, and there's nothing to set it aside from the competition. But it does enable you to create a new website with a minimum amount of fuss and time commitment. The online store and blogging tools are functional, although basic, and there are a number of self-help resources to guide your journey
pros
Very easy-to-use editor
Decent self-help resources
Cheap ecommerce plan
cons
Terrible customer service

iPage Visit Site
What is iPage?
iPage is a well-known web hosting provider and domain registrar. It also offers website builder services, although these are basic at best. The company was founded in 1998 and boasts more than 2 decades of experience in the web development industry. It's currently owned by Endurance International Group, which is the parent for other well-known companies such as Bluehost, HostGator, and Domain.com.
Creating a website with iPage's builder is quite a simple process, but the editor is just too limited. There's a decent selection of self-help resources available to get you started, but don't expect too much help from the substandard live support team. Overall, it's a viable option for those who want to create a simple site fast, but there are better choices available.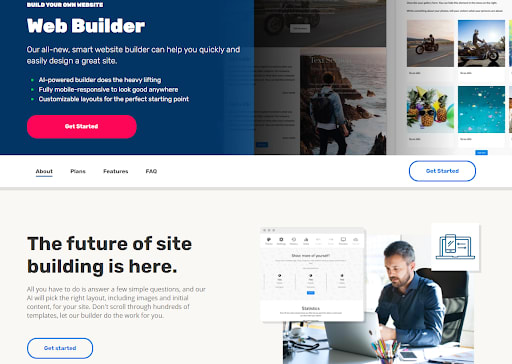 Using iPage
Overall, it's quite easy to use the iPage website builder. The signup and checkout processes are straightforward, and you shouldn't have too many issues here. Similarly, the user interface is tidy and beginner friendly. It lacks editing power, but you will be able to get a basic website online—with an emphasis on basic—in a short amount of time and with a minimum amount of fuss.
iPage Features and tools
The iPage website builder is one of the most limited we've used. It lacks advanced tools and features, but there are still a few things worth mentioning.
AI-powered builder
The iPage website builder boasts artificial design intelligence. In simple terms, this means that you will fill out a short questionnaire about your site and what you envision it looking like. You will be provided with a customized template based on your answers to these questions.
Free domain name
All website builder subscriptions come with a free domain name for the first year. This will only save you around $10-$15, but it's still a nice addition nonetheless.
Easy social media connection
Although advanced social media integrations are absent, iPage does come with a neat tool that enables you to link to your social accounts with the click of a button. Simply navigate to the social media tab within the website builder and add the relevant links.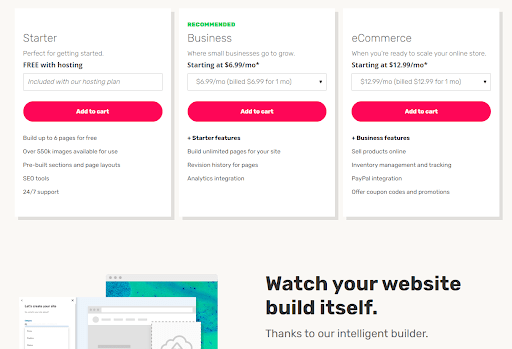 How to Create a Website with iPage
When you're starting a new website with iPage, you will have to fill out a short questionnaire designed to tell the builder exactly what your goals are. Then, you will be presented with a customized template designed for your needs, though you can also select a different option if required.
There are more than 100 templates available, but you can't switch themes once you've started editing. On the plus side, all themes are fully responsive and mobile-friendly, which is a must-have in the modern digital world.
Edit your new website with iPage's section-based editor. This enables you to add new content blocks where required, but you will be limited to your theme's pre-coded layout. Each section can be edited, and the editing options will depend on the type of content you're planning to add.
Basic guidance is provided within the editor, but don't expect anything too special. Advanced editing tools are also quite limited, and you will likely have a lot of trouble designing the exact site you want. You will be able to preview your website before you publish it, but there's no way to import or export to another platform.
The bottom line: the iPage website builder is functional without standing out above the multitude of other options on the market.
Adding Multimedia to Your iPage website
Most popular media file types can be added to your iPage website with the click of a button. There's a simple image editor, and you can upload multiple files at once if required. There's also a large stock media library with over 550,000 files. Videos can only be added by embedding a link to a file hosted on a third-party platform like YouTube. Overall, these multimedia features are fairly decent, if lacking advanced tools for video.
Marketing Functionality with iPage Websites
iPage doesn't include any special marketing tools with its website builder. There are no email marketing or newsletter tools, and advanced social media integrations are notably absent. On the plus side, there is a decent blogging tool that enables you to create and manage blog posts in a streamlined, hassle-free manner.
SEO Functionality and Add-Ons with iPage Websites
The iPage website builder comes with quite limited search engine optimization (SEO) functionality. You will be able to customize basic settings, such as meta descriptions and meta titles, but don't expect anything too fancy. However, there is an SEO Solutions add-on tool that you can purchase for more advanced insights, and connecting with Google Analytics is a very simple process.
Ecommerce
iPage enables you to create a simple online store, but, once again, you won't have access to anything too powerful or advanced here. The basic features you require, such as inventory and order management tools, are included. However, there's no way to integrate with third-party platforms such as WooCommerce or Shopify, and the store customization options are simple at best.
How much does iPage cost?
iPage offers three different website builder subscription options. The Starter plan is included with all of iPage's web hosting subscriptions, and it enables you to create a 6-page website. It also comes with a selection of integrated SEO tools and access to an excellent stock photo library.
The Business plan will cost you $6.99 per month for your initial subscription, with 1-month, 12-month, 24-month, and 36-month terms available. It enables unlimited pages and revision history for each page. The eCommerce plan (from $12.99 per month) adds a selection of online selling tools, including a PayPal integration.
According to the support agent we spoke with, you will need to purchase hosting separately from the website builder. iPage's shared hosting starts at $1.99 per month. The same agent stated that there's no money-back guarantee, and information relating to this was unavailable on the company website.
Free with purchase of hosting package
iPage Help and Support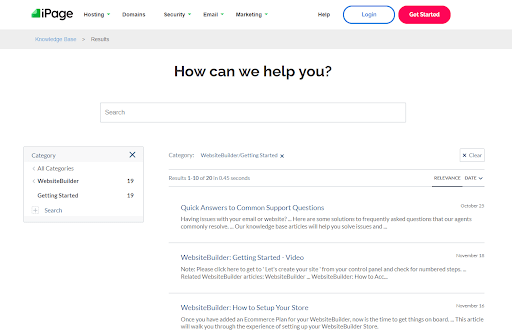 iPage offers 24/7 phone and live chat support. In our experience, the support agents lack knowledge about the company and its products, and we found it very frustrating to try and get clear answers to our questions. In fact, the live chat agent we spoke with gave us conflicting information that didn't match what was stated on the company website.
On the plus side, there's an excellent knowledge base that's packed full of self-help resources. Here, you will find clear articles outlining different aspects of the website builder, including a neat guide to getting started. Basic video tutorials are also available, and there's a company blog with a selection of informational articles.
How iPage Compares to Other Website Builders
Email marketing functionality
iPage vs GoDaddy
iPage and GoDaddy are both simple, beginner-friendly website builders that are designed for those who want to get a site online with a minimum amount of fuss. However, the similarities end there. iPage is overly basic, without any standout features to set it apart from the competition. On the other hand, GoDaddy boasts excellent marketing tools along with passable ecommerce and blogging features, and it's extremely easy to use.
iPage vs Weebly
Weebly is known for its excellent online store tools. It's one of the best website builders for ecommerce, and it far eclipses iPage in this regard. It is a little confusing to get started with, and the Weebly editor is somewhat limited, but it still stands out as a much, much better choice than iPage.
iPage vs Wix
Wix is arguably the most powerful website builder in the world, and the sheer number of features on offer is excellent. iPage, on the other hand, is overly basic and just can't compare with Wix on any level. Wix is a little more expensive overall, but at least it offers a free-forever plan that you can use to test the platform.

iPage Visit Site
Bottom Line
All things considered, the iPage website builder is a viable option for creating a new site, but it's certainly not one that we would recommend. It's very generic, and it offers nothing to make it stand out from the competition. The editor is overly simple, and you won't have access to any advanced tools or features worth noting.
On top of this, the iPage builder doesn't come with hosting included. The customer support team is terrible, and there's a clear lack of advanced social media integrations. On the plus side, there is a decent selection of self-help resources that you can draw on.
Ultimately, we just can't recommend using iPage's website builder. You will get much better value for money and a better website creation experience with an alternative like Wix or GoDaddy.