In a Nutshell
If you have next to no budget—or prefer to not spend any more than you have to, iPage is worthy of a look. In an apples-to-apples comparison with the top brands, iPage has essentially the same features and benefits as the competition at less than half of the price.
pros
Access to Weebly web builder makes creating your website a snap
Tools to make highly-responsive pages for mobile devices
cons
Too many add-on up-sells during account creation
SEO options are virtually non-existent
iPage Visit Site
Hosting
While most of my iPage hosting review has focused on the iPage Essential hosting plan, there are quite a few other hosting options available for you. Beyond the previously mentioned benefits, the Essential Plan comes with a security suite, around-the-clock network monitoring, and visitor analytics.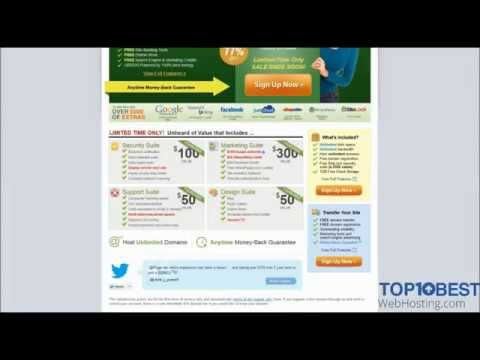 For added security and the agility to react to traffic spikes, you might need VPS iPage hosting. It costs a little bit more; but, you get greater storage, more pre-installed scripts, and the cPanel for your control panel. Dedicated iPage Web hosting offers the same features as VPS, just with completely dedicated resources for you to configure as you like and even further expanded storage capabilities. I've read quite a few iPage Web hosting reviews that find the dedicated plans to be excellent values.
Customer Support
There are mixed reviews for iPage's customer service. The company has live representatives available 24/7 via phone, email, and chat. While the phone help gets good marks, the iPage tech support through chat may sometimes cause a few headaches. A few reviewers seem to think that the chat service may be outsourced to non-English speaking countries, resulting in some responses getting lost in translation. Aside from that, the consensus was that the team was very knowledgeable.
The iPage help staff is internally monitored so that strict quality assurance standards are met. I find this to be an effective way to have consistency across the customer support team. All representatives are properly trained to answer your questions. If you stump them, they will direct you to an iPage tutorial rather than guess and exacerbate the problem.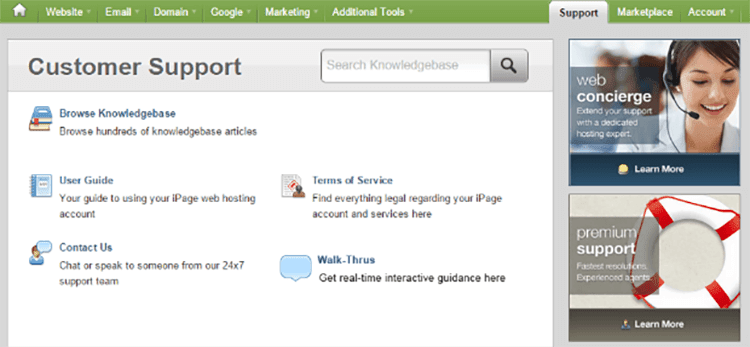 Which brings me to another aspect of its support. In the Control Panel, there is a page devoted entirely to customer support. You will find links to the searchable knowledge base, user guide, and interactive walkthroughs. You can also create and track help tickets. If needed, you can even upgrade to a dedicated hosting expert through its Web Concierge Program.
SEO Tools
You can't expect to get everything for $2.00 a month. The SEO package from iPage is not going to blow you away. However, you are going to get pretty much the same marketing tools and advertising credits that other budget hosting services offer. You won't find any SEO-specific assistance; but, you will receive $250 in credits for search engines including Google, Bing, and Yahoo. The company does set you up with a free Yellowpages.com listing, for what it's worth. Still, you could be getting these exact same SEO benefits and be paying maybe 10 times more for your hosting service. Because of that, I am not going to knock iPage for SEO tools too severely. I'm not going to do backflips over them, either, though.
Email Options
For a budget-priced hosting service, iPage email options fall in line with what you would expect. You'll get unlimited email addresses and POP3/IMAP email accounts that let you create email addresses for all individuals or positions within your organization. There are iPage email settings so that you can forward emails, customize spam filters, and run virus checks.
I appreciate the fact that you can check your iPage mail via WebMail, too. If you are like me, you are constantly on the go and need to access your mail from anywhere. The control panel has multiple iPage mail settings sections that let you create mailboxes, login to WebMail, establish catch-all filters, and manage spam.
One feature that isn't included is an iPage chat option. However, in the control panel, you can find chat add-on and plugins through MOJO Marketplace and Simple Scripts. If you need a chat feature on your page, grab one that you like and insert it into your site.
Industry Reviews
From what you can probably gather, iPage has enjoyed some very favorable reviews. Most of them involve some sort of accolades for value or iPage promo pricing. Offering the same services and features as your competition at a fraction of the cost will have that effect. You'll find reviewers that focus on conveniences like being able to use your iPage login to access your iPage WebMail from any computer. Speaking of convenience, the easy-to-use control panel is well-received by user and industry reviewers, alike.
The only real knock that I saw was for the iPage live chat for customer service. From what I could discern, the live chat service may have been outsourced and the representative may not have been from the U.S., thereby creating some language issues. Other than that, the responsiveness of the customer support rates very highly, consistently across industry reviews.
iPage Visit Site
Free Offers
I didn't come across any free iPage offers while I was working on this review. I'm not so sure that you need a free offer, to be truthful. With constant promotional pricing that reduces the regular pricing structure considerably—plus the fact that iPage is already charging a fraction of what its competitors are, why would it give it away for free? It doesn't have to. If about $2.00 a month is too much to spend, you can try the tactic that I inadvertently did and pause during the account creation phase until the sales staff contacts you with the $1.00 a month offer. If that is still too much to cough up, keep in mind the anytime money-back guarantee. Other than that, getting all of this value for less than a latte a month seems like a no-brainer.
Conclusion
As you can see, I am fairy bullish on iPage. It offers a comparable service in the budget-hosting category, run by experienced industry professionals for a price that simply cannot be beat. I was thrilled with how quickly I was able to get my Web page created and published online. The control panel and Weebly site builder were easy to use—even for someone new to both of them. My site was stylish, responsive, and easy to edit. I have no trouble recommending this company to anyone. The anytime money-back guarantee helps to alleviate any apprehensions, too. For $2.00 a month, why not, right?