In a Nutshell
SimpleSite is a fully functional website builder that does what it aims to, but most people will not find it very useful due to its extreme lack of design flexibility and the limited tools and features. The e-commerce tools are basic, the blog element doesn't do much, and there are no marketing or reporting tools. You might like SimpleSite if you want a barebones new website, but you should look elsewhere if you're expecting any power.
pros
Enables rapid website creation
Great 30-day free trial
Easy to use
cons
Limited design flexibility
Basic e-commerce and analytics tools

Simple Site Visit Site
What Is SimpleSite?
Danish-based website builder SimpleSite has been working in the industry for several years, but it continues to stay under the radar. Its beginner-friendly editor stands out because of its simplicity and extremely basic nature, which enables rapid site creation.
SimpleSite is a viable option for those with little to no web development experience. There are a few self-help resources to guide you through the site creation journey, but the editor is so simple, you should be able to get online within a couple of hours.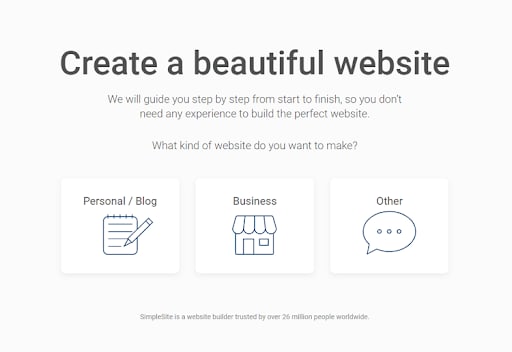 Using SimpleSite
The SimpleSite website is easy to navigate and contains clear information about what the website builder does and how much it costs. Setting up an account is simple, though you will have to go through a short setup process. You can either sign up with Facebook or with an email address.
Once you've registered an account, you will be guided through a short tour of the website builder interface. It's overly simplistic, which is to be expected, and you shouldn't have any problems figuring out how to use it.
SimpleSite Features and tools
SimpleSite is an extremely basic website builder, but it has a few standout features designed to make things easier for its users.
Step-by-step guidance
The SimpleSite editor includes full guidance to help you with every step of the site creation process. Every time that you add a new page or content block, you will receive tips about how to optimize and get the most out of it.
Mobile editing
SimpleSite enables users to edit their website from their mobile device. What's more, this is done directly within a mobile browser, so you don't even have to download an app.
Personalizable contact forms
Many website builders falter when it comes to adding flexible contact forms, but not SimpleSite. Its contact form tool enables you to customize your forms, adding the required fields and rearranging them as needed.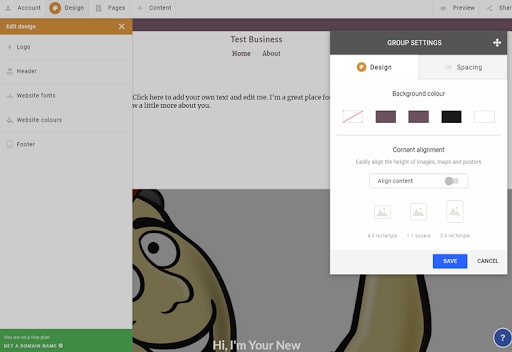 How to Create a Website with SimpleSite
To start your new SimpleSite website, sign up for an account and work through the guided setup process. It is relatively straightforward: it asks about the type of site that you're planning to build, you can specify font pairings and color schemes, and there are even options for adding pages and contact details.
As the name of the platform suggests, the editor is quite simple. It doesn't have any advanced editing tools whatsoever, and the block-based interface enables you to add a small number of different types of content blocks.
There are a few themes advertised on the SimpleSite main website, but it seems that these are examples and not designs that you can actually use. While testing, we had no option to select a theme during the sign-up process. There's also no way to switch designs once you've started editing.
All websites built with SimpleSite are fully responsive, which is good to see. You can edit your site with the mobile editor that's available through your web browser, and you can preview the mobile, tablet, and desktop versions of your site with the click of a button.
There are no keyboard shortcuts, and there doesn't appear to be any real design assistance, apart from the initial guided setup. Importing and exporting sites to or from SimpleSite seems nearly impossible.
Overall, the SimpleSite editor is underwhelming at best. It's extremely basic and underpowered, and the lack of advanced design tools is surprising. It could be a good option for those who want to get a very simple site online fast, but you shouldn't expect any real amount of freedom or design flexibility.
Adding Multimedia to Your SimpleSite website
SimpleSite enables you to upload small image files with a maximum size of 10MB. JPG, PNG, and certain other popular file formats are supported. You can only upload one image at a time, though, and there are no native editing tools. You can also search for stock photos to add from the Pixabay stock photo library.
Video files can be uploaded directly from your device, and these have a maximum file size of 1GB. You can also embed video media from Vimeo or YouTube by entering the URL. There's no ability to import media from Facebook, Instagram, Google Photos, or any other third-party platform apart from those listed.
Marketing Functionality with SimpleSite Websites
SimpleSite offers little in the way of marketing tools. You can get up to five professional email addresses with each domain purchase, but there are no newsletter or email marketing tools. Social media integrations are limited to embedded links, and analytics are limited to simple visitor number tracking. There is a built-in blog tool, but this is quite basic and does little more than enable you to add and manage posts.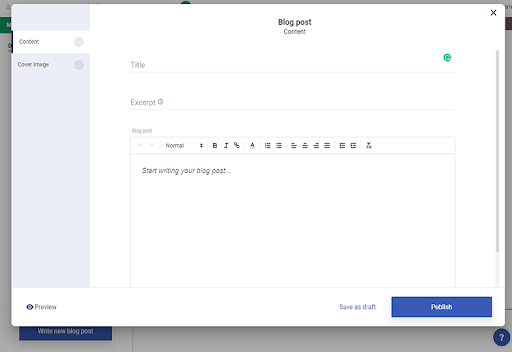 SEO Functionality and Add-Ons with SimpleSite Websites
Websites built with SimpleSite are simple and tend to perform well, which is good for SEO. However, there are no built-in SEO tools, and you can't integrate third-party apps to add extra functionality. Analytics and reporting are rudimentary.
E-Commerce
All SimpleSite subscriptions support e-commerce, but the cheapest plan only enables you to add up to five products. The online selling tools are not robust at all, and every product has to be added separately and manually.
You can add PayPal and credit/debit card payment gateways. But the store manager is rather limited, so don't expect to be able to do anything more than sell a few simple products.
How much does SimpleSite cost?
There are two SimpleSite plans, along with a 30-day free trial that you can use to test the platform. Prices range from $15.49 to $30.49 per month with monthly billing, or $11.25 to $26.25 per month with annual billing. Both plans come with a free domain name and support unlimited pages, unlimited video minutes, and premium support. There's a 14-day money-back guarantee for those who want a refund.
Professional email addresses
SimpleSite Help and Support:
SimpleSite offers email support, but live chat and phone are notably absent. It claims that all requests will be dealt with within two days, but it's clear that this isn't guaranteed.
There's also a short FAQ section, but it is limited at best because the questions and answers are overly simplistic. Within the website editor, there's a selection of quick help guides that provide basic tips on simple site creation tasks.
But there's no knowledge base or help center, and you are pretty much left on your own if you have any major issues.
How SimpleSite Compares to Other Website Builders
Email marketing functionality
SimpleSite vs WordPress.com
SimpleSite and WordPress.com are quite similar in that they target absolute beginners who want to create their own basic websites. SimpleSite is easier to use, but WordPress.com boasts many more templates, an excellent plugin library, and more competitive prices.
SimpleSite vs Web.com
Web.com's website builder is basic, overpriced, and difficult to use. Compared to SimpleSite, it offers slightly more design flexibility, but it doesn't have the tools needed to create an attractive website. SimpleSite may be limited, but it's easy to use and has everything that you need to create a very simple website.

Simple Site Visit Site
SimpleSite vs Wix
SimpleSite and Wix are two wildly different website-building platforms. SimpleSite sits at one end of the spectrum, offering extremely beginner-friendly solutions for those with little to no website-building experience. Wix is much more powerful, and while it's also targeted at beginners, it's more complex and offers much greater design flexibility.
Bottom Line
The SimpleSite website builder is functional and does what it aims to, but it's just too basic for our liking. The editor is simplistic, you don't have much design flexibility at all, and the online store tools are among the most rudimentary that we've seen.
What's more, you'll have trouble if you want to create anything more than a few-page website with simple text and media content. There is a blog tool but it's not that robust. Marketing, SEO, and analytics tools are almost entirely absent. Overall, SimpleSite is a viable option for those who just want to get online quickly without worrying too much about their site's design. But you should look elsewhere if you need any sort of editing power.