One of the best and most budget-friendly ways to create a party rental website and get it up and running in a short time is to use a website builder like Squarespace, GoDaddy, or SITE123.
Most website builders have an intuitive drag-and-drop editor that you can quickly get familiar with even if you're totally new to web design. In this article, we've included a mix of design ideas, examples, and ready-made templates to help you get started.
» Not sure which website builder would suit your needs? Take a look at our top picks for the best website builders.
1. Vintage by V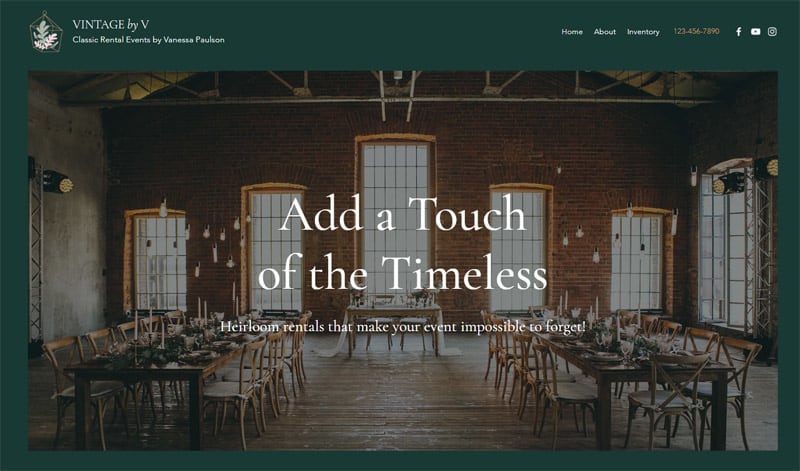 Vintage by V is a Wix template you can use straight out of the box to create your party rental website from scratch. It's perfect for rental businesses, party venues, and event planners, enabling them to easily show photos from their properties or previous events.
It also includes testimonials from satisfied customers. Visual and social proof are two of the best ways to sell, especially in the party rental industry.
This template is free with a Wix subscription.
2. Hale Pono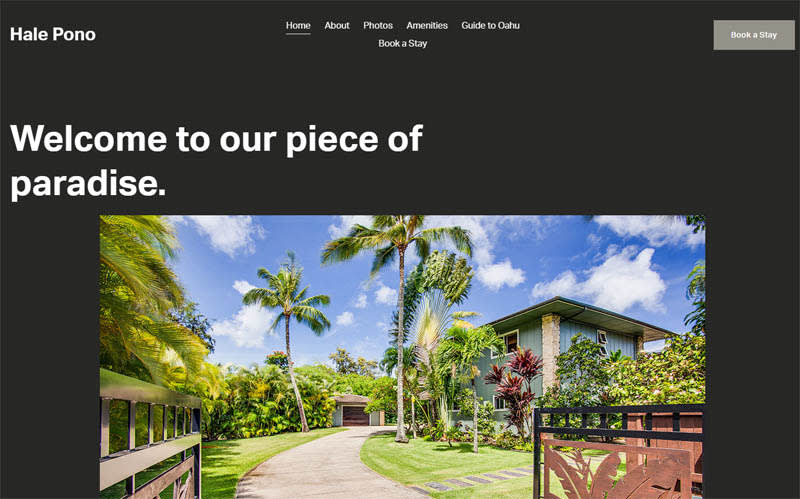 Hale Pono is a vacation rental property in Hawaii that has made good use of Barbosa, one of Squarespace's minimalist templates. The simplicity of the design makes the website easy to navigate, and the horizontal menu at the top of the page enables visitors to find what they're looking for quickly.
This template is free to use if you have a Squarespace subscription.
3. Merry Go Round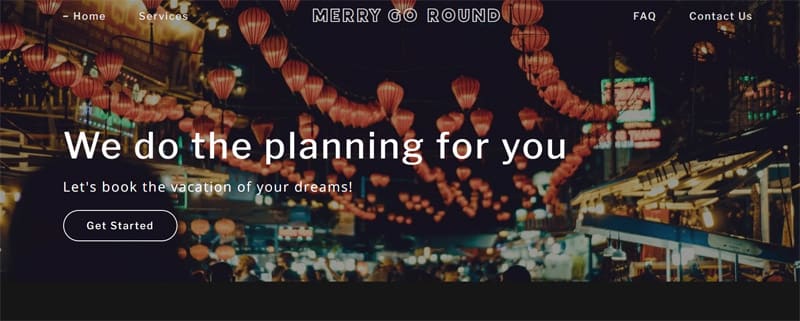 Merry Go Round is a GoDaddy template for travel agencies that you can easily customize to fit your party rental business. It's simple, sleek, and intuitive, and enables you to integrate a booking functionality where visitors can quickly book your party planning services or a rental property for their events.
4. Rent Event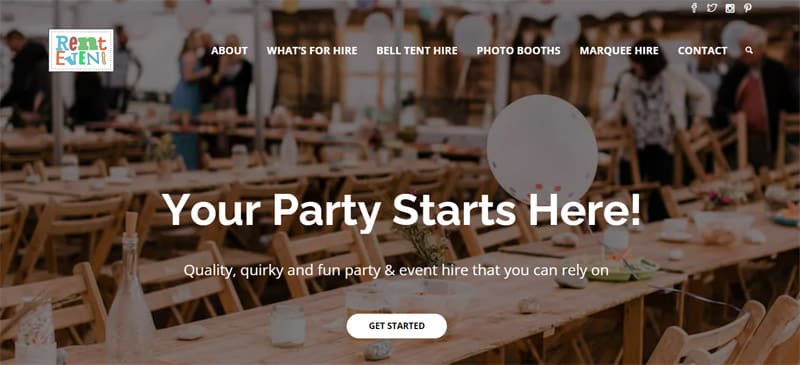 Rent Event is a UK-based party rental business that has a simple and effective website featuring plenty of information to help you pick the right services and props.
What's particularly impressive about their website is the "What's for hire" section where you can see photos of all the different equipment and tents they offer, including igloo pods, bubble tents, stretch tents, and more. Photos help visitors visualize what they'll be getting and build excitement around the different options.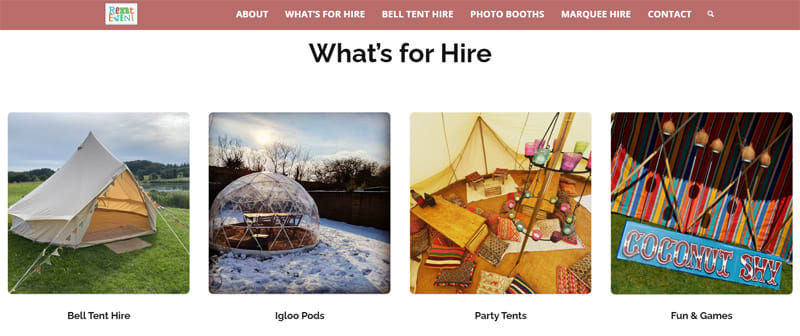 With a website editor like Wix or Squarespace, it's easy to build a similar website that is easy to navigate and gets your message across.
5. Top City Apartments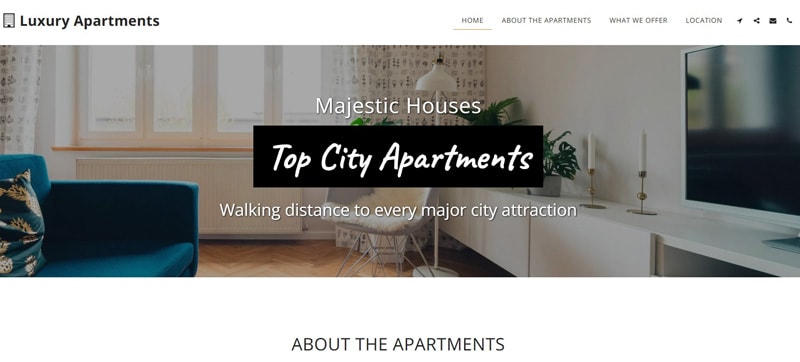 SITE123's templates are super simple and intuitive, and you can get started literally in minutes. They may not be the best choice if you're looking to build a more customized design. However, they're ideal if you need to get your website up and running as soon as possible.
The Top City Apartments template enables you to build a website to list the party rental properties you're managing and specify all the services you offer. It can also be used for real estate or vacation rentals.
6. Abbey Rents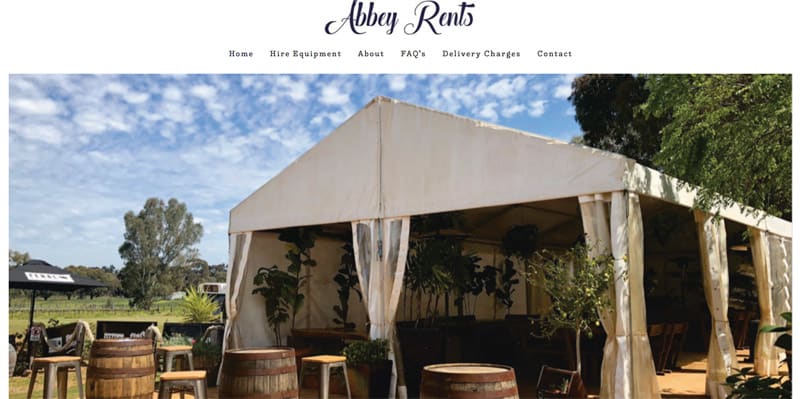 Abbey Rents is an Australian company offering equipment for parties, weddings, and other events. Their website is elegant and functional, with a menu at the top of the page that enables visitors to hire equipment quickly or find out more about the delivery charges.
You can replicate this simplistic design with a template from any website builder. Laurie by Squarespace or Belle Weddings by Wix are just two of the many great options.
7. Creating Unforgettable Memories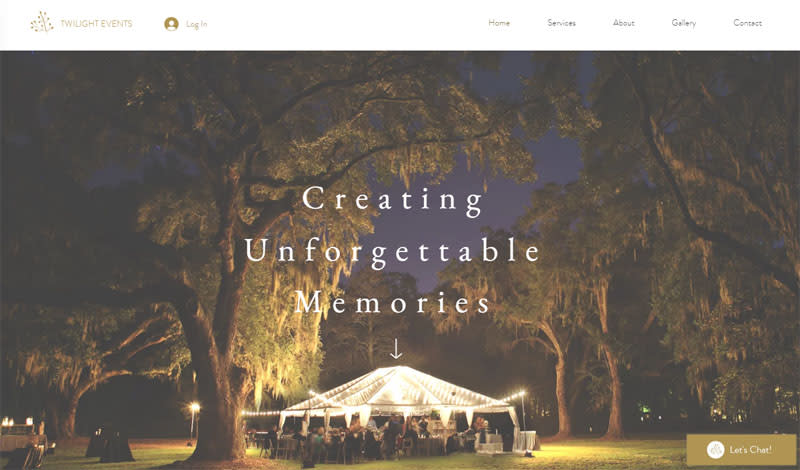 This is another classical Wix template that you can customize and use with very little effort, making it suitable for beginners or busy business owners.
It features the key elements you need, such as testimonials, a gallery, and sections that show visitors the services you have to offer and where to place a booking.
8. Villa Rental

This sleek, professional Web.com template is designed for vacation properties but can easily be adapted to party rentals. It enables you to list multiple properties and services and upload beautiful photos to show prospective customers what you have to offer.
Web.com is a website builder that offers decent design customization options and pre-built content blocks, but keep in mind that it's on the more expensive side and that you might need to pay for basic features.
9. Upstate Getaways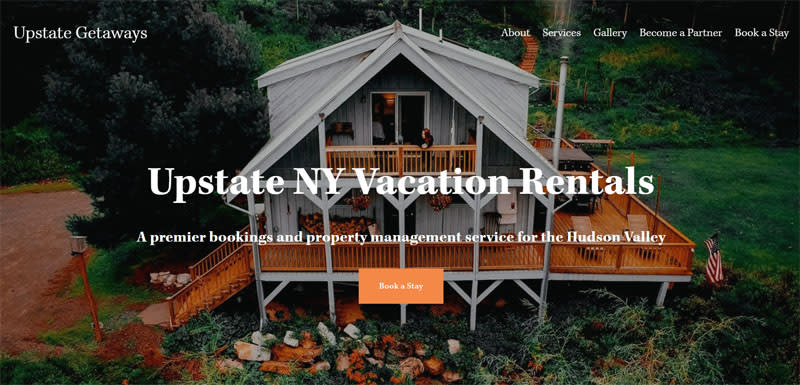 Upstate Getaways is another website that shows just how good Squarespace's templates can be. The company used the Bailard template to build this page, and the result is a beautifully-designed, professional website that puts the rental properties in the spotlight and makes it very easy to book. The same template can be used for free with a Squarespace subscription for any party rental site.
As you can see in this example, it's important to know how to define your brand voice and pick a template that matches it.
10. Party Houses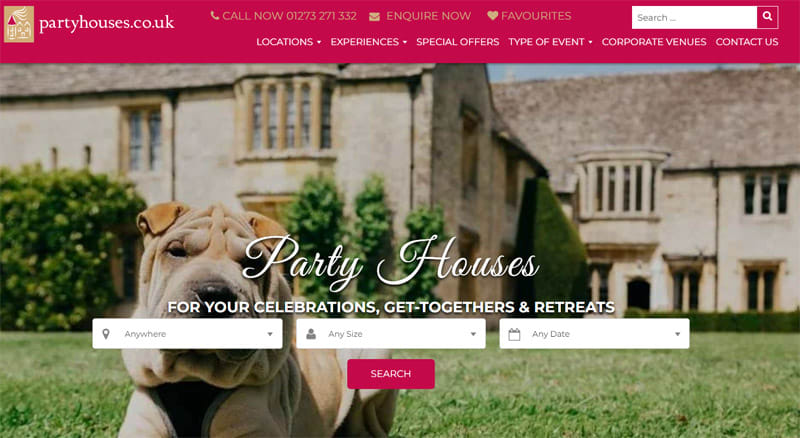 Party Houses is another UK-based party rental company that does a terrific job at presenting their properties and services in a way that's incredibly intuitive and easy to navigate.
It features a search bar at the top of the page and a search menu that visitors can use to quickly check locations and availability. While the website is custom-made, you could offer a similar experience to visitors if using a website builder with the right plugins and apps.
Build Your Party Rental Website the Easy Way
As you can see, small business websites need to be simple and efficient. In fact, the easier it is to navigate, the better. Therefore, a website builder is exactly what you need to get started quickly.
If you're unsure how to pick the right one, check out our list of the best website builders for small businesses and make sure you know how to choose a domain name that suits your business and helps it grow.