Readings aren't about predicting the future, but rather provide valuable insight into your burning questions.
What is a Tarot Card Reading?
During a tarot card reading, the reader will shuffle the deck and lay out the cards one by one, using the pictures and the order in which they appear. There are 2 sorts of tarot readings; question readings and open readings. In a question reading the tarot reader uses the cards to answer a question, while with open readings you ask the big picture questions – a new relationship, career, or any other life-changing event that you want to gain some insight into. Some examples include' ''Should I quit my job and start a new career?'' or ''Should I end my relationship or give it one last chance?''
Online Tarot Reading Tools to Avoid
Tarot card readings have been around for centuries, but having your cards read in a dingy tent by an eccentric old lady is a thing of the past. Nowadays, there are plenty of online tarot reading tools and it's easy to see why they are popular — you'll get all your burning questions answered from the comfort of your living room.
However, like many resources online, you need to be savvy about finding an authentic service. The internet is filled with free psychic readings that are ultimately unreliable, and there may always be psychic readers trying to take advantage of you. That's why it's vital that you weed out the bad readings from the good.
If you've ever typed "free tarot readings" into the search bar, you know there are thousands of sites offering free tarot readings. Although the word "free" might be tempting, many tarot card readings online offer inaccurate and untrustworthy advice. Some sites, for instance, give users computer-generated tarot card readings. A computer generated tarot reading is one in which you're essentially doing a reading for yourself as there is no other person to guide how you're interpreting your results. The software program will be offering you most often completely worthless advice. Just hit the shuffle button and a computer algorithm will shuffle your cards. Then you can select your cards. Once all of those cards are selected, you view the card by card meanings. Again, there is no experienced reader on hand to offer specific guidance to what the chosen cards mean.
Computer generated readings don't come close to reaching the wisdom of a real tarot reader who will draw on their intuition to interpret the messages from the cards and apply it to the situation. When it comes to important life-altering advice, you want to make sure you have the real thing.
Another downside to using these types of computer automated websites, like Astrology.com for instance, is that they are totally generic and non-specific. Astrology.com sells itself by offering straightforward advice in the form of yes or no answers. All you need to do is pick a card and the computer will give you an answer. If you have an important decision to make, you might not want a computer deciding for you!

Although there are some unreliable online sites, not all is lost in the world of online tarot readings. Stay away from free computer automated sites, and stick to a professional reader from one of the top tarot card reading sites who will bring some soul into the reading.
Recommended Online Tarot Readings - Free Deals
Psychic Source is one of the most respected tarot reading services out there, and it offers a large pool of certified readers. Once you find a tarot reader that you like, just hit the call, chat, or video button to connect with them immediately. Psychic Source has packages which offer 3 minutes free, and the site is so confident in its accuracy that if you're not satisfied with any part of your reading, you'll get a full refund. Nothing on this site is computer generated and every psychic you talk to has been through a thorough screening process. You can also choose from a range of communication methods, including video chat, which helps you feel like you're really there with the reader.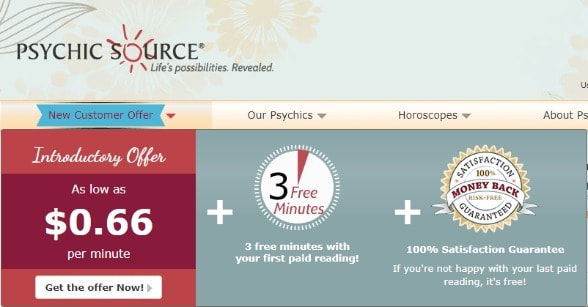 Another psychic site that offers tarot card readings with some great package deals is Kasamba, which offers a real-time chat platform that lets you chat with your psychic advisor instantaneously. Kasamba also offers 3 free minutes of readings with top-rated tarot card readers, and 50% off the rest of your chat.

If you're looking for a quick and accurate answer on your love life, dating, career or other aspects of your life, AskNow lets you ask 1 free question which is sent to a live advisor to answer. You'll receive your personalized answer almost immediately. If you'd rather have a longer, more in-depth tarot reading, AskNow offers 2 different deals, both of which will give you 5 free minutes. This is a smart way to discover whether you click with your psychic. If not, you can easily end the call and try another psychic, all without losing a penny.

Not everyone however, feels brave enough to pick up the phone and chat with a reader. For those of you looking for a more discreet yet reliable service, Hollywood Psychics lets you chat online with a tarot reader and get advice without the pressure of having a spoken conversation. When you connect with a psychic online for a reading, your identity is completely anonymous to the psychic, and your conversation cannot be overheard by anyone around you. With Hollywood Psychics you'll receive 3 free minutes and can easily search for the right psychics by specialty and approach.
Face Your Future
A tarot reading should leave you feeling as though you have a much better grip on what is happening in your life, and why you currently feel the way you do. There's no point wasting time and effort on a site that's not going to give you the advice you need. An honest and accurate reading should allow you to make fast and effective progress in whatever areas of life concern you most, and more importantly, empower you to face your future with confidence and positivity.