In spiritual cultures, dogs represent devotion, loyalty, unconditional love, and deep spiritual wisdom. They teach us how to care, nurture, and love. Therefore, creating a deep connection with your dog is of the utmost importance for the duration of your mutual spiritual journey. Spiritual advisors or pet psychics can provide a psychic reading to help you connect with animals on a deeper level.
Until then, we have compiled a list of methods you can use to deepen your connection with your dog.
» Want pet advice from a psychic? Check out our top 10 picks for the best online psychic reading websites and services.
1. Be Patient With Your Pup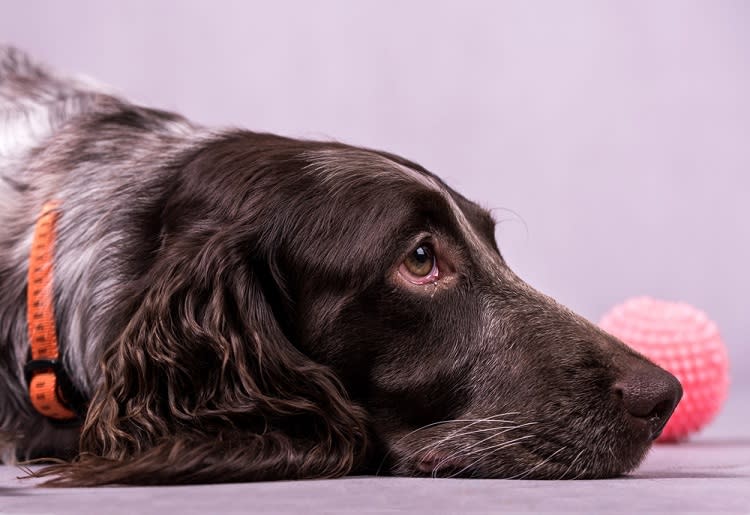 Remember that your dog is not human—you speak different languages and may misunderstand each other at times.
You should know how to have patience with a dog. Whether you are at the beginning stages of training your dog or deep in adulthood, it is important to understand that they can still mess up and frustrate you. Have patience, control your actions and words, and trust that your dog will pick up on your cues when the time is right. Your calm energy will deepen the connection with your dog, making him feel safe.
2. Exercise and Play Together
Playing with your dog is essential. Just like humans, dogs have the same dopamine receptors that are stimulated when exercising. They need consistent movement and play time to blow off steam and feel happy and content.
Taking your dog for a walk often or bringing them on your run is great for bonding and, as such, will deepen your connection. The happiest dog is the one that gets to play outside with their favorite toy.
» Want to talk to a pet specialist? Try a pet psychic.
3. Find Friends for Your Dog
Many often wonder: "How to find a friend for my dog?" It is important for your dog to feel as if you are their best friend, but it is also beneficial for your dog's self-esteem to socialize with other dogs. Dogs love to play with each other and show off their skills and talents. They enjoy competing and communicating in their own tone and language. It is healthy for your dog to have consistent meet-ups with other dogs to encourage socialization.
So, call up your friends that have dogs and enjoy time at the park together where your dogs can play and be free with each other. This will make your dog feel appreciated by you and help deepen your connection.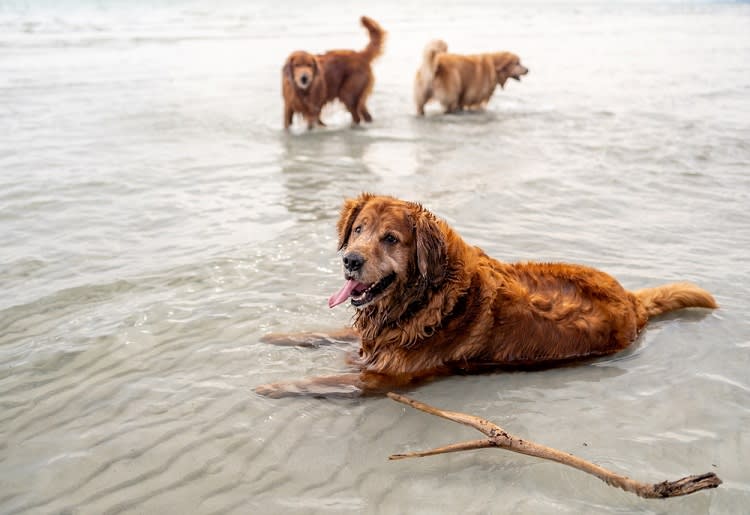 4. Provide Nutritious Food
Tasty and healthy food will keep your dog happy and content. Feeding your dog nutritious food that provides clean energy and healthy digestion is important. Do not treat your dog like a garbage can for your scraps because some human foods can severely harm their tummies. Feeding your dog nutritious food is an act of love, and providing occasional treats will deepen the bond you share.
Here are some of the best foods for dogs you can find in your home:
Fish
Organ meats
Cooked eggs
Bone broth
Kale
» Want high-quality insights from a psychic? Try California Psychics.
5. Commit to a Routine
Routine for dogs is essential, and a sudden change in habit can disorient your dog and make them feel neglected and unloved. A dog deserves the same devotion and loyalty they give to their owners.
If your dog is used to you coming home every day at a specific time to feed her and take her for a walk, try to avoid changing up the routine suddenly without a backup plan. Not showing up for your dog at the time expected can make the dog feel abandoned and neglected. Committing to a routine will create trust between you and your dog, resulting in a deeper connection.
6. Teach Your Pup Different Tricks and Commands
Training your dog and teaching it commands will create a great sense of trust between you and improve your bond. There will be less frustration and stress when your dog knows exactly what you want, how you want it, and when.
There is a level of excitement that comes with the positive reinforcement you give your dog after they have done something you approve of or completed a desired task or command—especially when treats are involved!
Here are some easy-to-learn tricks to teach dogs:
Sit
Heel
Fetch
Roll over
Lie down
» Want to understand the spiritual side of your dog? Here are questions to ask an animal communicator.
7. Hang Out Together
Knowing how to hang out with your dog is a great skill for bonding. Allow your dog to sit with you when you are doing your own thing. Whether you are cooking in the kitchen, watching your favorite TV show, reading a book, or running errands, allow your dog to join you. Your dog will feel loved and appreciated being able to spend time with their favorite human. She will also feel in tune with your lifestyle, helping her learn and understand you on a deeper level.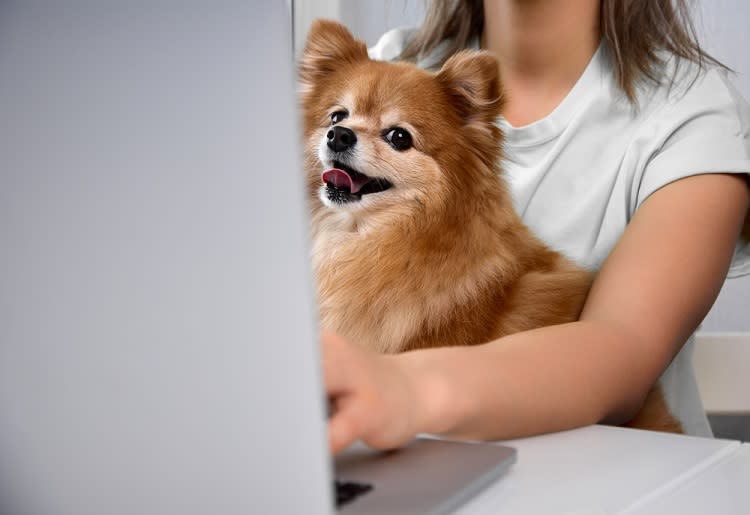 8. Communicate Clearly
Be clear with your communication, especially when training your dog for the first time. Your dog is learning a new language as it spends more time with you, so be clear with your communicative gestures. This can help you avoid stress and frustration.
How to communicate with your dog? Start by speaking firmly but lovingly. Never use unnecessary disciplinary language or measures when your dog does something they weren't trained to avoid doing.
» Want a money-back guarantee for a psychic reading? Try Keen.
9. Share Your Emotions
You should share emotions with dogs. Dogs are just as spiritual as humans are. All living species have a soul that comes with a level of intuition and emotions. Dogs can pick up on your feelings, whether you are angry, sad, happy, or stressed. Sharing your emotions with your dog and telling them how you feel will strengthen your bond and increase their affection and devotion towards you.
In a spiritual sense, dogs represent unconditional love, so your vulnerability will be appreciated.
10. Give Your Dog Lots of Loving, Cuddling, and Petting
Attention, touch, and care are essential for creating a deep connection with your dog. Taking time for cuddling with dogs or rubbing their tummies, backs, and faces will strengthen love and trust. Chances are your dog will return the favor by cuddling with you or even licking your wounds when they feel you need extra love and affection.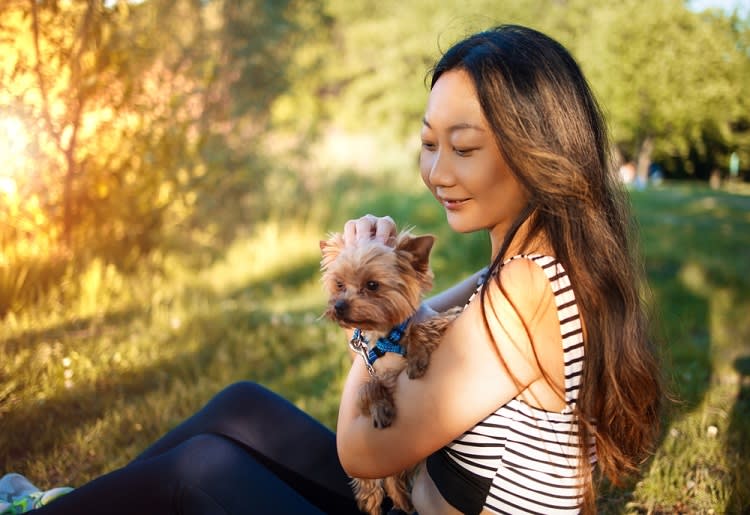 How Confident Do You Feel About Your Connection With Your Dog?
Now that you understand how to strengthen and deepen the connection with your dog, are you ready to embark on your spiritual journey with your pup? If you still feel that you lack information or need to understand how your dog is feeling or what he is thinking, reach out to a psychic specializing in animal connection.
» Haven't seen a psychic before? Here's what to expect from a psychic reading.