The thing is though, just because you're living single doesn't mean you need to subsist off fast food, pizza, and chinese take-out. With the best meal delivery service you can get new, creative, and exotic recipes every week—and you never have to wait for inspiration to strike. And since all of the ingredients are pre-portioned, you never have too little or too much, or have to try to figure out what exactly to buy at the store.
Now, you're probably thinking, most of these meal kit companies only offer recipes for 2 people or more. This is true, but for a single person this is a great way to plan out your meals for the week—giving you recipes that'll cook up a great dinner and a solid, home-cooked meal for work the next day.
And besides, who says you won't have company? So what are the best meal kitcompanies for singles? Let's take a look at the top options.
1. Purple Carrot
Why Purple Carrot is great for singles: 100% plant-based meals are simple to prepare, healthy, and provide tons of energy.
Purple Carrot's mission resonates with many of today's young singles. It subscribes to a philosophy of clean eating and environmental awareness, which results in 100% plant-based meals that are thoughtfully designed to provide you with vitality, energy, and a clean conscience.
The meals themselves include flavors from all around the globe. The menu features dinners like Korean tofu tacos to Japanese yam sushi bowls as well as breakfasts such as a bananas foster treat made with Ancient Grain granola and maple syrup. Purple Carrot's meal plans offer singles the chance to stock up for a week without running out of fresh foods to eat.
May we recommend:
Japanese Yam Sushi Bowl with Citrus Aioli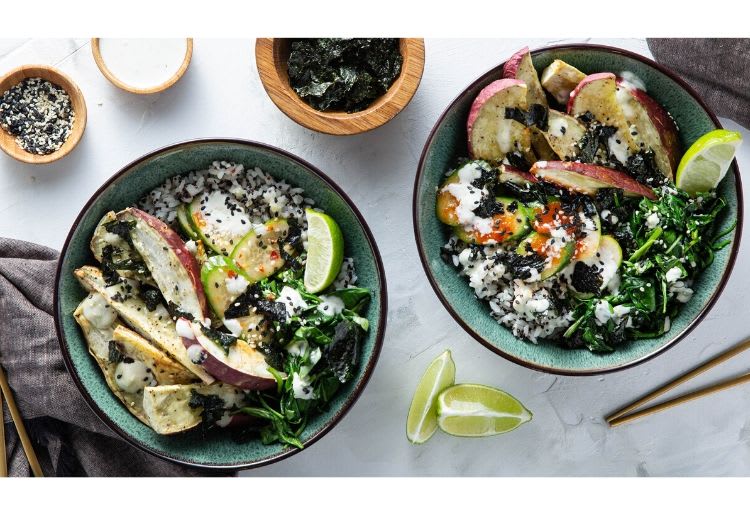 Prep and cook time: 30 minutes
Difficulty level: Easy
Calories 730; carbohydrates 131 grams; protein 14 grams
Read the full Purple Carrot review
Purple Carrot Order Now
2. Plated
"Enjoy your day. Tonight is taken care of."
Why Plated is great for singles: Because you can enjoy dessert with your Plated meal kit.
You might be cooking for one, but you can still make meals worth writing home about. Plated has become one of the top meal delivery companies by combining premium ingredients with phenomenal recipes that will make you feel like you're eating out even in your own apartment.
You get 20 different recipes to choose from each week, with a wide variety of tastes and styles that should be able to please even the most distinguished single diner. And no matter what you order, the portions are precise so you don't have to worry about over or under-ordering. Plated also goes out of its way to frequently ship its customers organic, seasonal, and fresh produce and every week you can pick from 2 different desserts to satisfy your sweet tooth.
May we recommend:
Soy-Glazed Steak with Sweet Potato Fries and Wasabi Mayo
Prep & cook time: 30-40 minutes

2, 3 or 4 servings (no single servings available)

Difficulty level: Easy

$9.95-11.95 per serving

Calories 750, carbohydrates 57 grams, fat 42 grams, protein 37 grams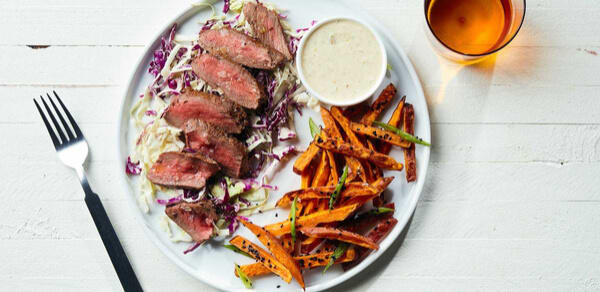 We want to tell you about this Japanese-inspired Plated recipe, but you might want to sit down first.
With this recipe you get 2 premium steaks, basted with butter and soy sauce and some sweet potato fries with a side of wasabi mayo that might just have you doubting the existence of ketchup. It's a little bit steakhouse, a little bit sushi joint, a little bit "oh man did I just make this in my own damn kitchen?"
And since you're cooking for one, the next morning you can take some of the leftover steak and fry it up with eggs and the fries for the type of breakfast that might have you calling in for one of those "sick days" you spend at the beach.

Plated Order Now
3. Blue Apron
Why Blue Apron is great for singles: Busy singles can still hone their cooking skills and impress friends with Blue Apron's easy Mediterranean recipes
Blue Apron was at the forefront of the meal delivery trend and continues to innovate with its convenient-yet-sophisticated offerings.
The most appealing elements of Blue Apron are the meals themselves. Easy to make yet loaded with flavor and global influences, Blue Apron's Mediterranean dishes bring with them a sense of refinement and sophistication that's sure to appeal to young singles. The menu, which rotates weekly, includes signature recipes like Mexican spiced steak with cilantro sauce and Provencal-style salmon. The meals include all the necessary ingredients, easy-to-follow instructions, and require just enough participation to make singles feel like they're preparing their own home-cooked meals.
May we recommend:
Mexican-Spiced Steaks & Cilantro Sauce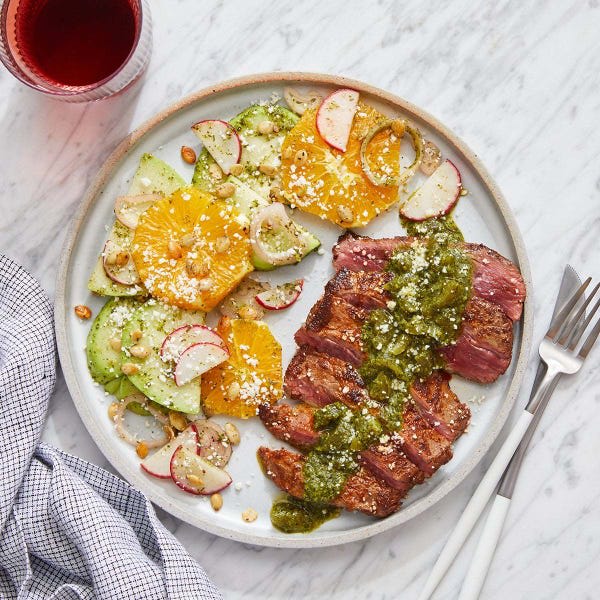 Prep and cook time: 40 minutes
Difficulty level: Moderate
570 calories, 27g of carbohydrates, 39g of protein
Read the full Blue Apron review

Blue Apron Order Now
4. Freshology
Why Freshology is great for singles: Meals focused on health and weight-loss can keep singles stay fit and trim
Freshology's portion-controlled meals are great for singles trying to stay in shape. Its meal plans are catered to a wide variety of dietary and lifestyle needs, offering straight-to-your door meals that eliminate the need to constantly look up healthy recipes and scour the supermarket aisles.
Aside from the health benefits, Freshology's meals are prepared by professional chefs. The signature Balance meal plan, which is primarily tailored to those trying to lose weight, features a ton of entree selections that are both hearty and nutritionally balanced. Whole grain pancakes, Tuscan turkey boats, and Aztec rice bowls are just a few of the dishes that will help singles balance their time and budgets while eating well and staying in shape.
May we recommend: Tuscan boats with turkey
Read the full Freshology review
Freshology Order Now
5. Factor 75
Why Factor 75 is great for singles: Fully prepared paleo, keto, and vegetarian meals allow you to eat great while saving time
Factor 75 offers a nice balance between convenience and home-cooked comforts. Its meals, which range from Moroccan vegetable stews to green enchilada bowls, are hearty and filling while rooted in nutritional science. Better still, they arrive fully prepared, so all you have to do is heat them up and enjoy them.
May we recommend:
Moroccan vegetable stew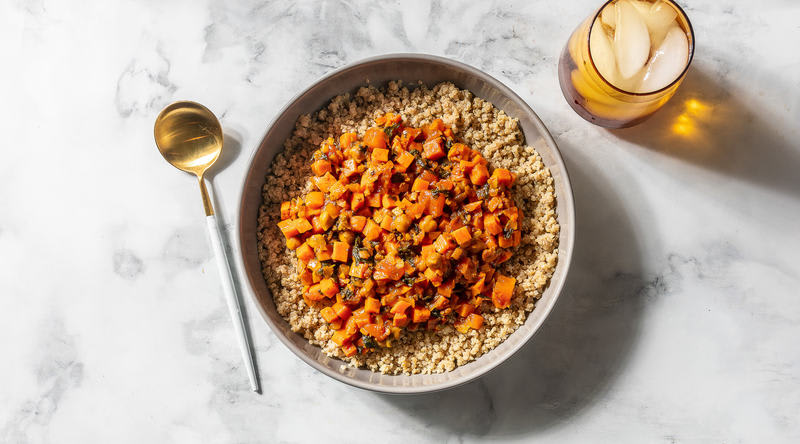 Prep and cook time: Premade
Difficulty level: Easy
300 calories, 55g of carbohydrates, 10g of protein
Read the full Factor 75 review
Factor75 Order Now
Let's Fire up the Kitchen
Having your own place is a joy all its own. It's your own little corner set up just the way you like it—but if you really want to make that house feel like a home—the key is in the kitchen.
Cooking for one can be tough, but as we've shown you, the best cheap meal delivery service can make things easier than ever. You always order exactly what you need so there's no waste or having to run out to the store because you forgot one little thing. And while each meal kit delivery company's recipes are for a minimum of 2 servings, this just means leftovers—which can be like a great sequel if the meal is good enough.
It's all really a matter of taste, so take a look at these meal kit companies and find the one with the recipes and the ingredients that really speak to you.
Bon Appetit!