In a Nutshell
With a slogan of "feed people the way you'd want to be fed," Terra's Kitchen makes its views on quality and reliability pretty clear. A relatively new face on an already busy scene, Terra's Kitchen is bringing more than a few innovations with it to propel itself to the top. With mouthwatering recipes that are easy to follow (and recreate, FYI), entertaining extras, and earth-friendly packaging, Terra's Kitchen is making waves.
pros
Cool, innovative, and environmentally-friendly packaging
Options fit for every diet (vegetarian, vegan, keto, etc.)
Fun, informative, easy-to-follow recipes
cons
Heavy delivery packaging
Only free shipping on orders of $100+

Terra's Kitchen Visit Site
Ideal For
People who'd like to learn how to cook
People with no time to grocery shop and prepare wholesome meals
Dieters, vegetarians, and those looking to eat healthy
What's Unique About Terra's Kitchen?
Terra's Kitchen has only been around for a few years, but it's been at the top of the charts almost since its launch. That's because the company takes quality seriously, offers delicious, flavorful, and healthy meal options fit for various eating lifestyles, and comes with a decent price tag. Aside from delivering healthy options that can also help you lose weight, here are a few things that really make Terra's Kitchen stand out:
Pre-Chopped
Terra's Kitchen isn't the only service that offers fresh produce with your orders. However, it's one of only a few meal delivery services that gives you ingredients such as healthy greens pre-chopped. Cutting up salad greens and other veggies can be a burden, so having this part of the task done for you cuts down on loads of prep time. Note that some things like potatoes don't come pre-chopped, but everything is pre-washed and peeled when required by the recipe.
The Vessel
Terra's Kitchen has hands down the coolest packaging you've ever seen. Your food comes in individual boxes set up neatly on pull out trays organized inside a mini-fridge! You open the latched doors to reveal the neatly stocked shelves. You can just slide the shelves out and stick them on the shelf in your fridge. Not only does this system keep your food the freshest of any meal delivery service, but it's also environmentally sound. The Vessels are reused up to 100 times before being thrown out. Delivery packaging waste is a major problem caused by the online retail industry, so Terra's Kitchen's system is actively combatting this issue.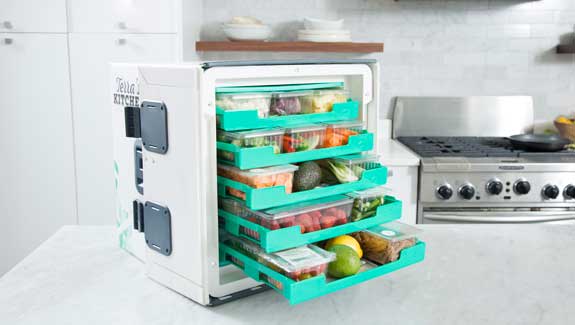 Learning Experience
In addition to being one of the best meal delivery services, your membership with Terra's Kitchen could also be an educational experience! Not only does each recipe come with clear instructions and numbered details to help you learn how to cook and follow the recipes to a T, but Terra's Kitchen goes one step further, providing interesting, fun facts about the ingredients, trivia questions, and anecdotal stories about the ingredients or dish you're making. This isn't a necessity in food prep, but it is a really nice addition, and it'll make for awesome dinner conversation if you're entertaining friends or guests!
How It Works
We were impressed with the quality and detail of the food. All proteins are GMO, hormone, and antibiotic-free as well as sustainably sourced. Terra's Kitchen uses organic ingredients and fresh farmer's market produce. Food even comes with expiration dates, so you definitely consume it before it goes bad, cutting down on waste.
In terms of dealing with the service, the ordering process is simple and straightforward. That being said, the only issue is that there isn't a clear list of areas that are delivered to—to find out if Terra's Kitchen is available in your area, you'll have to type in your zip code. You'll choose between I Like it All or Vegetarian menus and select 1-2 people meals or 3-4-person meals. After that, you can select a delivery date.
Terra's Kitchen has a filter system in place for selecting specific dietary preferences. You can select meals by cooking time, allergies, cuisine type, protein sourcing, and ingredients. It's this kind of thorough attention to detail that is really impressing about the service.
Once you've chosen your meals and additional items, you can check out and wait for delivery. Options will vary depending on your zip code. Open your Vessel, and you can have your meal ready in 15-30 minutes. All recipes come with clearly-labeled ingredients lists and instructions.
Meal Options
As mentioned, the Terra's Kitchen meals are all based on the Mediterranean Diet, so you can rest assured you're getting a healthy option no matter which meals you pick. Choose from a variety of more than 50 different recipes with paleo, gluten-free, low-calorie, vegetarian, and vegan options thrown into the mix. You have a ton of variety ranging from tofu, chicken, pork, and fish dishes, to a variety of salads and vegetable-based meals. And Terra's Kitchen meals are as convenient as they are healthy. You can have your entire meal prepped in 15-30 minutes, so last minute plans are easily covered.
You can also add more side dishes or additional proteins if you are hosting a lot of people or love your veggies already prepared. Additional sides range from $3-$7, with fully-prepared salads costing $8 or $9. In addition to full meal kits and individual items, you can enjoy some healthy snacks and smoothies from Terra's Kitchen as well. These "Grab-n-Go" items range from $3.99-$9.99 and include snacks like granola, vegetable sticks, soups, yogurts, and salted caramel slices.
Favorite Terra's Kitchen Meals
All of the dishes on the Terra's Kitchen menu look scrumptious. Below are 3 of our favorites:
1. Hawaiian Chicken Tacos
Cost per serving: $13.99
Prep & cook time: 15 minutes
Calories per serving: 483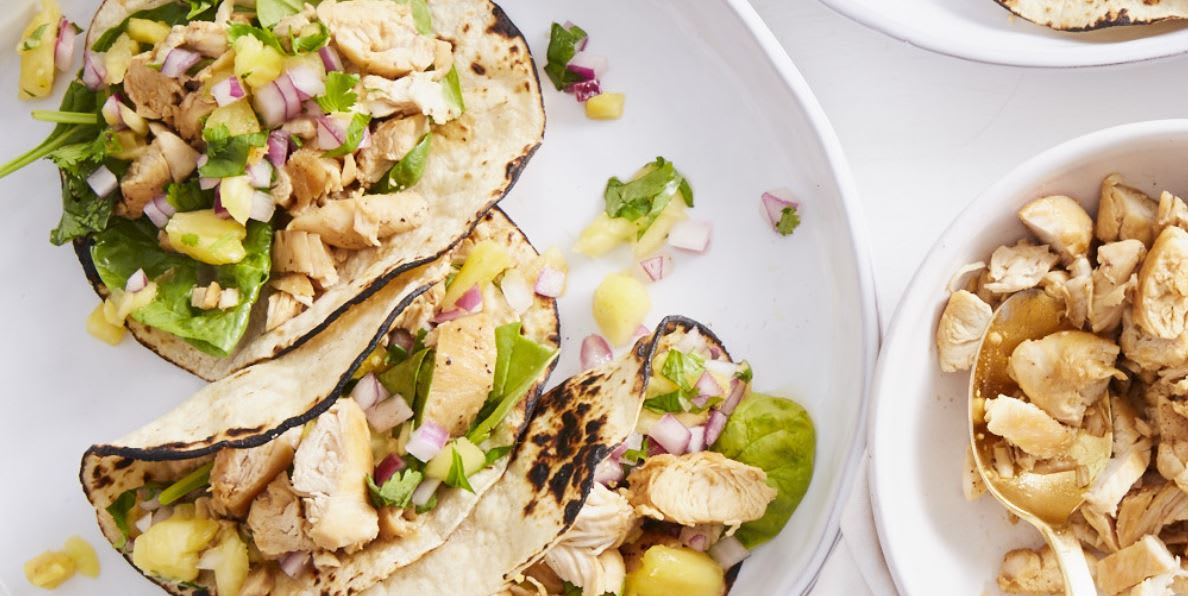 2. Crispy Sesame Tofu and Bok Choy Stir Fry
Cost per serving: $11.49
Prep & cook time: 30 minutes
Calories per serving: 608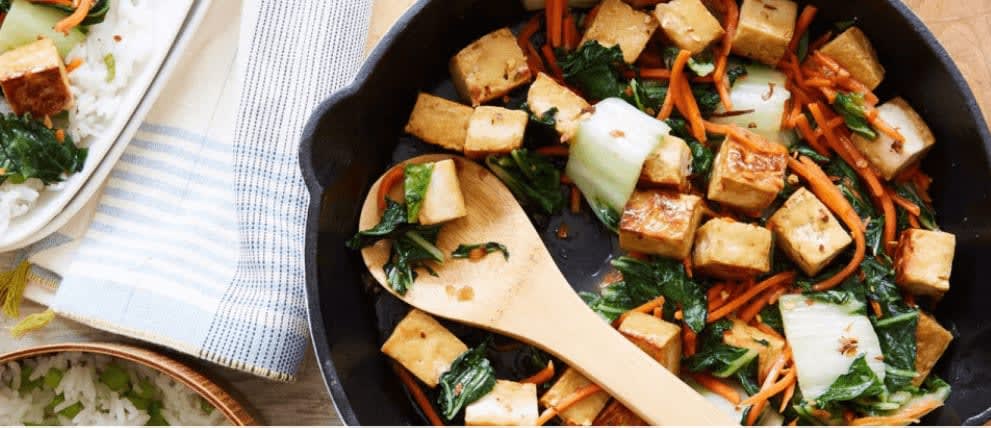 3. Orange Glazed Salmon with Minted Spring Vegetables
Cost per serving: $16.99
Prep & cook time: 20 minutes
Calories per serving: 358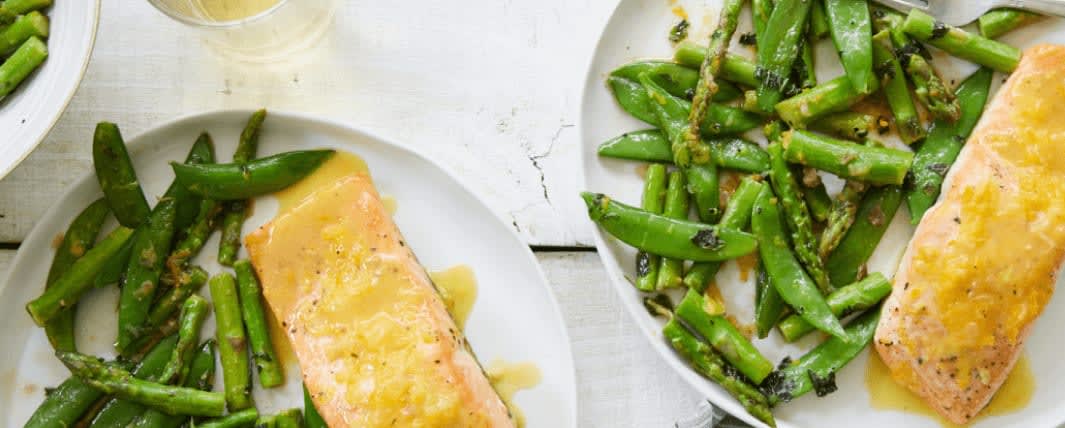 Pricing
Terra's Kitchen isn't the cheapest meal kit delivery service, but it's certainly not the most expensive either. Meals start at 9.99 per serving and go up to about $17. You can get meal plans for two or four people and either 2, 3, or 4 meals depending on the plan you choose.
Shipping is free for your first order. After that, it'll cost $6.99 for an order of less than $100. Shipping on orders of $100 and up is free. The minimum order is $72 though, so you can hit that amount for most shipments.

Terra's Kitchen Visit Site
Help & Support
Customer support is available via email or phone at 844-485-FOOD.
Terra's Kitchen - It's What's for Dinner
Terra's Kitchen is bringing a lot of great things to the table. With sustainability, quality, and flavor as its most prominent features, it's understandable that Terra's Kitchen is quickly making a great name for itself. The Vessel delivery packaging wins big points for being convenient, Earth-friendly, healthier, and smarter. Mediterranean Diet-based meals are healthy and quite frankly delicious, and Terra's Kitchen earns even more clout for all of the fun and useful information it includes. Bottom line, Terra's Kitchen is a great way to get good food on the table any day.