In a Nutshell
Grubhub isn't like any meal delivery service you know. This innovative food service offers customers a delivery service from local restaurants, so you can get your favorite restaurant food in minutes. This is a big convenience for people who don't have time to pick up food or for folks who live outside of the normal delivery range. With Grubhub, you get local favorites, faster service, and no hassle deliveries wherever and whenever you want.
pros
24/7 customer care
Exclusive coupons, deals, and promos
Excellent mobile app
cons
Number of options can be overwhelming
Doesn't deliver everywhere

GrubHub Visit Site
Ideal For
Anyone who hates waiting for their food

People who live outside the normal delivery range

Professionals who don't have time to pick up their meals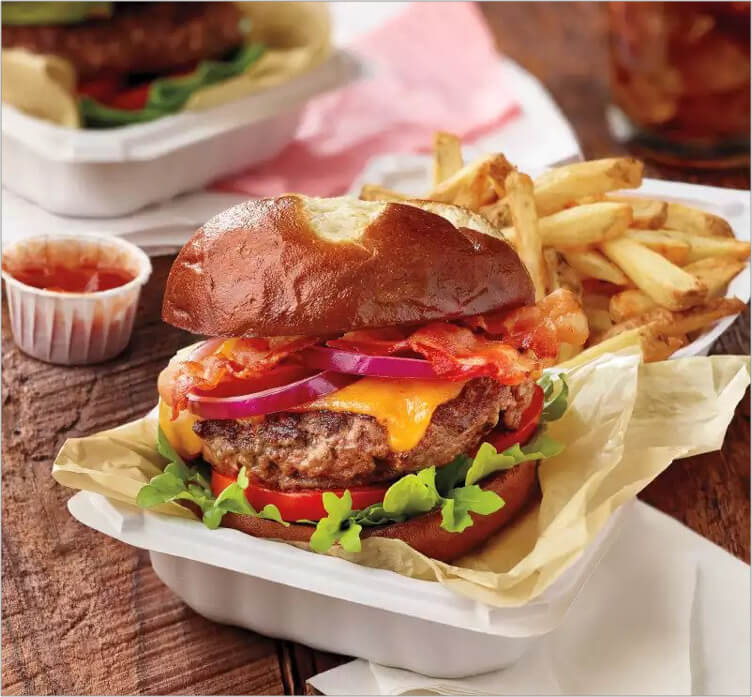 What's Unique About Grubhub?
Grubhub is one of many restaurant meal delivery services available today. So, what makes this one unique? Well, first of all, it boasts a huge network of restaurants, offers friendly customer service, and features a simple app with an intuitive interface. Here are a few more things we thought you should know about Grubhub:
You're hungrily scanning the menus of restaurants in your area when you discover that no one will deliver to your area. Sound familiar? You won't ever have to worry about your grumbling stomach again because Grubhub broadens the delivery range dramatically. Since Grubhub employs a host of deliverers, chances are likely that there's someone in your neighborhood, so your food will get to you even faster. Speaking of faster...
Customers love how fast Grubhub makes the delivery process. Oftentimes, restaurant deliveries take over an hour. Even if your food is ready, you'll have to wait until there are enough orders to make delivery service worthwhile. On the other hand, Grubhub deliverers work on a one-to-one basis, so you get your food as soon as it's ready. That means that your meal is fresher and hotter when it arrives at your door. Yum.
Most delivery services allow you to place your orders online, which is pretty convenient, but nothing there's nothing like ordering straight from your smartphone. That's why the Grubhub app is so fabulous. It was designed to make the entire ordering process faster and easier, and it definitely succeeds. That app contains features that allow you to your save payment information, star your favorite restaurants, and save your previous orders therefore streamlining the entire food ordering process. You can even save multiple addresses in case you want to deliver meals to your office at certain times and your home at other times.
Finally, Grubhub has exceptional deals, including introductory offers, family specials, and coupons for specific restaurants, Grubhub does its best to help customers save more. You can also refer a friend and claim a hefty $12 off any order for both you and your friend. These are generous offers that you won't find with other meal delivery services.
How It Works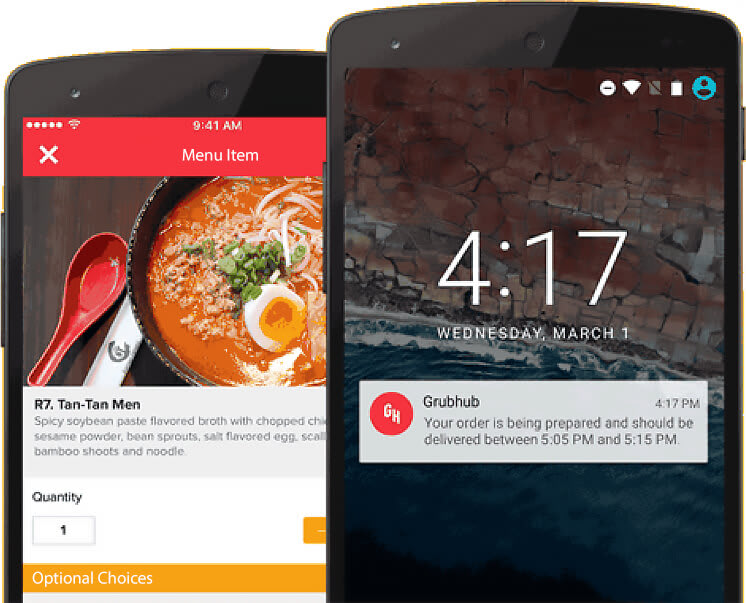 Ordering with Grubhub is fairly straightforward:
Enter your zip code.

Grubhub will give you a list of which restaurants are available in your area for delivery or pickup.

Choose a restaurant and place your order.

A Grubhub delivery person will bring you your food as soon as it's ready.
The beauty is how easy and fast the whole process is. Everything is done online either from the website or via the Grubhub app. The app is available for both iOS and Android devices, and it's really well-done. Everything is organized, orders are easy to place, and there are tons of extra things you can do through the app that you wouldn't even expect, such as order gift cards, call up previous orders, and review saved meals for faster and easier.
Meal Options
Grubhub only allows you to order from local restaurants. If you live in a highly populated area with lots of restaurants, you shouldn't have a problem though. Grubhub advertises more than 125 different cuisines, so you'll never run out of options. Some of the restaurants and food styles that collaborate with Grubhub include:
Asian food

Chinese food

Desserts

Diners

Healthy food stores

Ice cream parlors

Indian food

Italian food

Japanese food

Late night deliveries

Mexican food

Lunch menus

Organic food shops

Pasta dishes

Pizza parlors

Sandwich shops

Steakhouses

Sushi bars

Thai food

Vegetarian options

Breakfast bars

Afghan food

BBQ joints

Cajun style

Caribbean food
The site itself is organized nicely, so you can browse by type of food, name of restaurant, and area. Grubhub also allows you to search according to special dietary restrictions. So, if you need gluten-free, low-carb, vegetarian, or kosher, for example, you are in luck. There are even kid-friendly menus for the busy mom on-the-go.
Pricing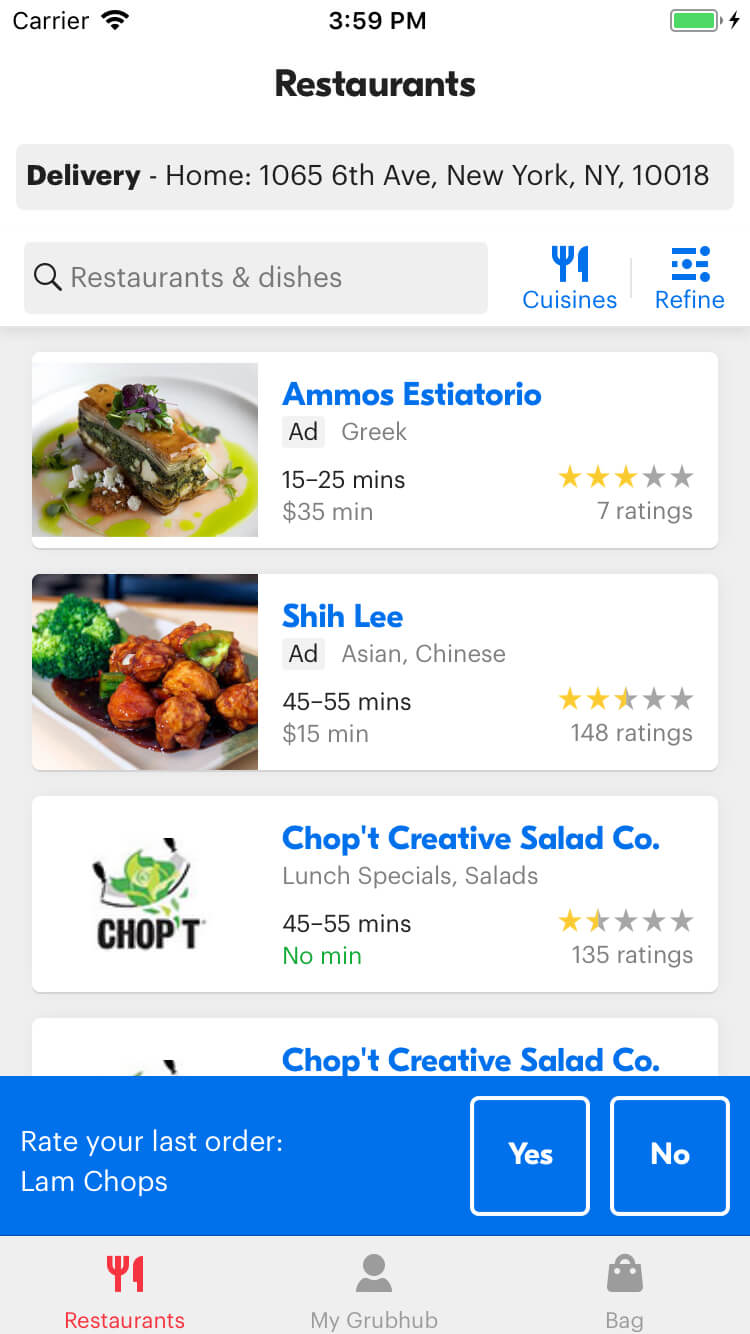 It's hard to compare pricing for services like Grubhub because most of the money you spend is based on the food you ordering. So, if you order a lot of food or purchase a meal from a more expensive restaurant, you'll end up paying more and vice versa.
However, one thing is for certain, Grubhub is cheaper than a lot of places. That's because it doesn't charge its own delivery fees. The restaurant meal delivery service is free to use from Grubhub's end. You only pay the restaurant's delivery fee. So no matter what, you'll be paying less for this service than you would for many competitor services. Delivery charges range from roughly $4-$8, depending on where you live and which restaurant you choose.
Unlike a lot of other delivery services, Grubhub accepts tons of payment options, including PayPal, Venmo, Apple Pay, Android Pay, American Express, Visa, MasterCard, and several others. You can even buy Grubhub gift cards for yourself or friends. Gift cards are also useful for parents who want to offer their kids a dining allowance without giving them free reign.

GrubHub Visit Site
Help & Support
Grubhub's customer support service is excellent. You can reach someone via the app or online at any time of the night or day. When your delivery doesn't arrive, you'll be relieved that you can call to check on the status of your order.
Bottom Line
Grubhub provides an inexpensive, easy, and fast way for customers to order their favorite meals directly to their door. The mobile app is top-of-the-line, the deliverers are friendly and fast, and the 24/7 customer support team is always ready to help.