In a Nutshell
Fresh Start is a branch of the popular Home Chef meal kit delivery service. Already known for its varied menu, helpful customization options, and easy recipe kits, Fresh Start adds another notch to the Home Chef belt: smart, diet-friendly meals. Fresh Start meals are dietician-designed for optimal weight loss and healthier eating. Meals are nutritionally balanced to give the right daily caloric intake to let you lose weight without the prep.
pros
Lots of customization options
Get oven-ready kits with all prepped ingredients
Nutritionally balanced for weight-loss
cons
No free shipping
Can only select your meals after payment

Fresh Start Visit Site
Fresh Start at a Glance
Number of meals offered: 30+
Price per serving: From $6.99 per serving
Meal options: Lunches/dinners
Subscription options: Flexible, weekly
What's Unique About Fresh Start?
Home Chef is already popular because it provides you with oven-ready meals, but Fresh Start takes it a step further. Incorporating dieticians into the equation, Fresh Start delivers oven-ready meals that are also healthy for you. The meals are all designed to give you the optimal daily macronutrients your body needs to lose weight and stay healthy. With pre-portioned meals, you'll be eating the right number of calories for each day.
Fresh Start also has a boatload of customization options. Aside from the fact that you can skip, pause, and cancel your weekly subscription at any time, Fresh Start lets you customize your meals. You can swap out proteins, pick the appropriate menu for your dietary preferences, and create a tailored list of ingredients to exclude from your menu each week. So, there's a lot of flexibility in the menus, making it easier for you to keep to the diet plan.
How It Works
Fresh Start is a 1-2-3 process. Here's how to order:
Start by selecting the Fresh Start meal plan from Home Chef.
Next, choose calorie or carb-conscious preferences (you can choose one, both, or none), and void anything you want to leave out of your menu. You can skip out on things like shellfish, tree nuts, and the like. You can even swap out pork for organic chicken, or USDA-approved beef.
Now you can start customizing your meal box. For starters, you can select 2, 4, or 6 people to cook for. And you can also choose between 2-6 recipes to have delivered each week.
Enter delivery and payment details.
Finally, pick your meals and customize according to your preferences.
Once your pre-prepped meals arrive, pop them into the oven and follow the cooking instructions.
Meal Options
Fresh Start has over 30 meals to choose from each week. Choose from a variety of menus, including low-fat, protein-packed, low-cal, low-carb, low-sodium, vegetarian, gluten-free, and more. Fresh Start has lunch and dinner meal options.
What's also nice about Fresh Start is that regardless of which Home Chef plan you choose, you'll still be able to access the entire menu. So, you're not limited just because you want diet-friendly food.
Favorite Fresh Start Meals
Here are a few of the top Fresh Start meal options:
1. Pecan-Crusted Chicken with BBQ Green Beans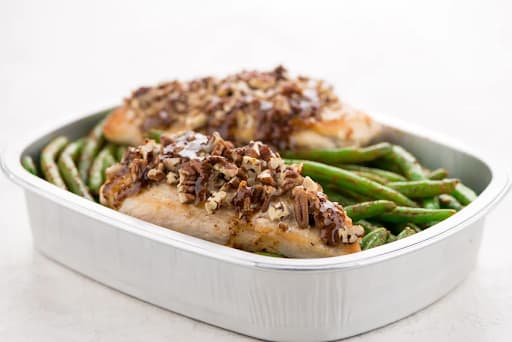 Cost per serving: From $6.99
Prep & cook time: Prep under 3 minutes, cook 30-40 min
Difficulty level: Easy
Calories per serving: 539
Other available info: Everything ready to cook and even comes in the pan, this meal is as easy as it is mouth-watering.
2. Chipotle-Cheddar Chicken with Hatch Chile Crema and Cilantro Rice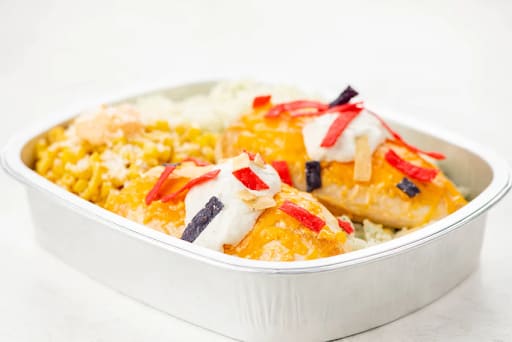 Cost per serving: From $6.99
Prep & cook time: Prep under 3 minutes, cook time 25-35 min
Difficulty level: Easy
Calories per serving: 648
Other available info: Prepare to be amazed by this delectable dish that highlights a creamy goodness your palate will adore.
3. Mini Carnitas Flatbreads with Lime Crema and Corn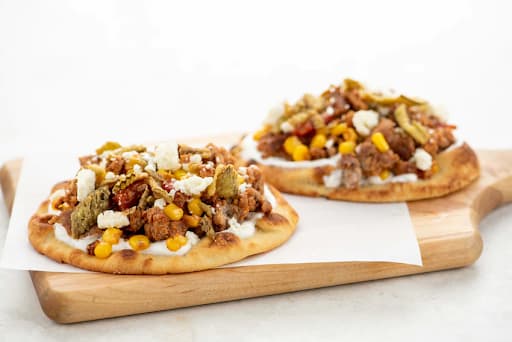 Cost per serving: From $6.99
Prep & cook time: 10-15 min
Difficulty level: Easy
Calories per serving: 856
Other available info: Ground pork is flavorfully seasoned with taco spices and topped with shredded cheese and crispy jalapenos.
Pricing
Fresh Start offers several box options to feed 2, 4, or 6 and between 2 and 6 recipes a week. So, you have plenty of options. Meals range from about $6.99-$8.99 per serving, with most falling in the $8.99 range.
No of people →
No of weekly recipes ↓
One downside is that Fresh Start charges a flat rate of $7.99 for shipping no matter what, no freebies.
Help & Support
Fresh Start has a large help center on the website with most of the questions and answers about relevant topics, including shipping and deliveries, account settings, and meal selection. You can also reach out to customer support by phoning the numbers below, or by sending an email using the online contact form.

Fresh Start Visit Site
Phone Support:
872-225-2433
855-949-3049 Toll-Free
Standard Support Hours
Monday-Friday: 9am-6pm CST
Saturday: 10am-2pm CST
Sunday: Closed
Bottom Line
Fresh Start is a great way to get just that; a fresh start on eating healthy and losing weight. With pre-portioned meals, Fresh Start makes sticking to a healthy diet easy. And since all the ingredients are either pre-chopped or meals entirely prepared, Fresh Start saves you time, food waste, prep time and clean up.